Earth Day has so many opportunities to weave engaging Earth Day activities and lessons that truly captivate kids.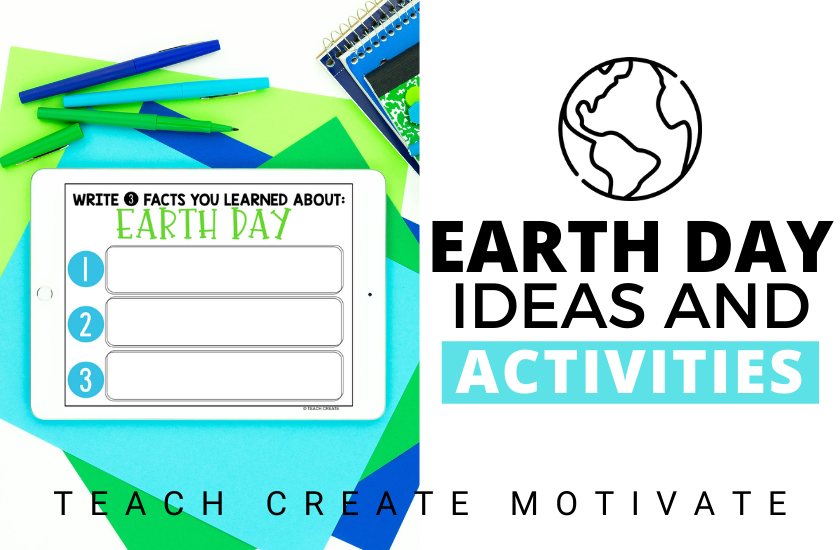 As a teacher, Earth Day lessons are so fun to teach, and kids enjoy the learning part too. It's a great chance to teach them about the gift of our planet and discuss concrete ways to care for it. Hearing students share about what they love about the Earth, brainstorming ways to care for it, and seeing their eyes widen when we discuss the effects of pollution are just some of the rewards you will see as you use these kids Earth Day activities.  There are so many different directions you can go with this theme!
You can incorporate math, science, writing, reading, art, and more into your Earth Day study! As a teacher, what more can you ask for in cross-curricular lesson plans?!
Here are some easy-to-implement resources for you to bring to your classroom for Earth Day this year.
If you just need digital kids Earth Day activities to share with your students, this resource will be perfect. This completely paperless download is made in Google Slides and can be assigned in Google Classroom.
It has:
reading passages
linked articles
linked videos
reflection questions
writing prompts
and MORE!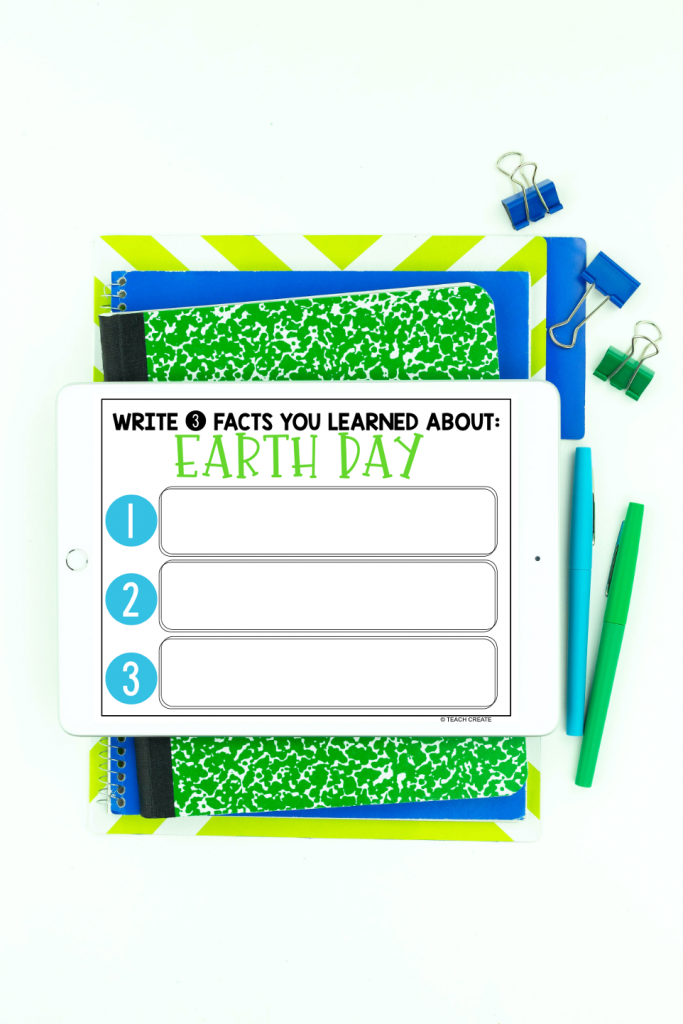 If you haven't yet tried Nearpod with your students, what are you waiting for? Nearpods have the special power to make every lesson interactive by using quizzes, polls, videos, collaborative boards and more!
This digital resource is also in my TpT store and is an instant download. Check out the full listing by clicking below to learn about all of the components included in this listing!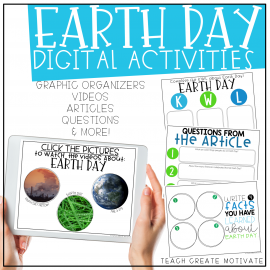 Kids Earth Day Digital Activities
Themed writing prompts are my go-to activity when we are preparing for a holiday. In these Google Classroom slides, there are 12 powerful prompts to get your kiddos thinking about our Earth. Each prompt has a related and thought-provoking image for your students to reflect upon while they write.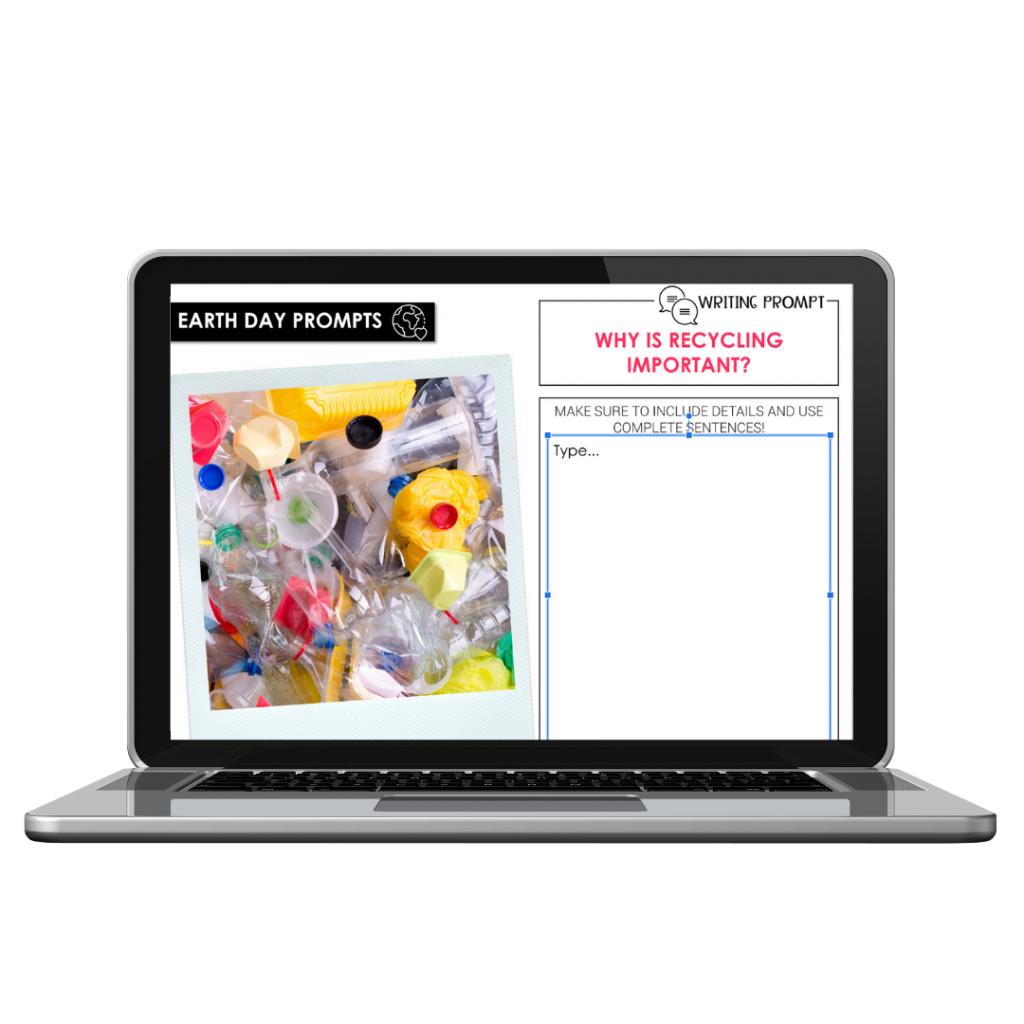 Have them write a persuasive piece about the importance of recycling or ask that they use their newly learned Earth Day vocabulary when they write about how pollution hurts our Earth. You can even have your kiddos revisit their letter-writing skills by having them write a letter to a friend stating why we need to save the environment.
In this Earth Day Bundle, there are resources in printable and digital formats. I've made it so easy to customize your Earth Day lesson to the needs of your classroom. The Earth Day Bundle has graphic organizers, KWL charts, Earth Day vocabulary cards, non-fiction passages on Earth Day themes, opportunities to draw and hypothesize about what Earth will be like in the future, and so much more!
Some of my favorite components of this Earth Day bundle are the resources that focus on the book Just a Dream by Chris Van Allsburg. The main character, Walter, struggles to respect the Earth and does not appreciate its beauty. As a read-aloud, this book presents many opportunities for meaningful classroom discussion. In addition, you can build on its theme and introduce reading and writing activities.
Click HERE to read more about the book companion activities for Just a Dream and to also grab a FREEBIE Earth Day writing activity.
Are you looking for other ways to make Earth Day more meaningful for your kiddos? How about challenging them (and their parents) to a "litter-free" lunch? Share some of these statistics about waste and tell them to only pack lunch items that include items that are 100% compostable or reusable.
Did you know…?
The average brown-bag lunch from home generates 65 pounds of garbage per child per school year.
Lunch waste is 1/3 plastic, 1/3 paper, and 1/3 food.
Waste-free lunches cost almost 40% less to make than lunches filled with pre-packaged foods.
Your students are sure to love this conscious effort they make as individuals and as members of the classroom community.
I hope these Earth Day activities and ideas help you plan some fun an engaging lessons for your students!