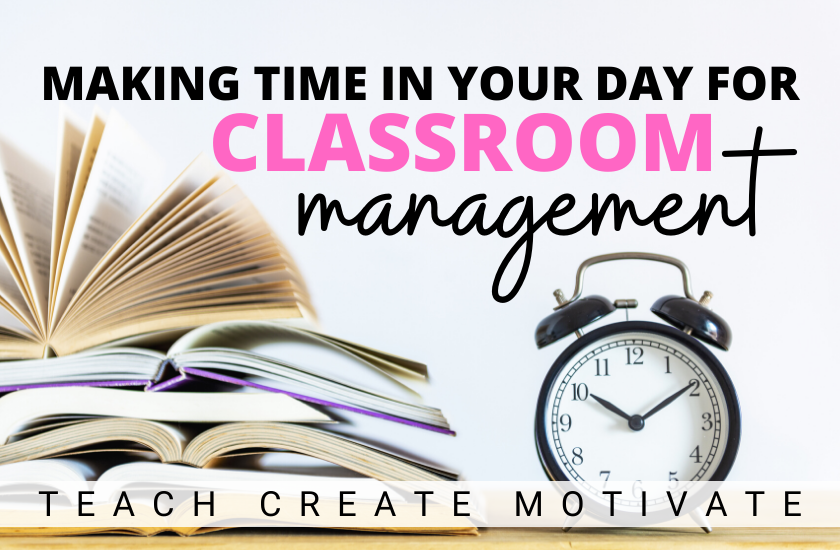 Do you struggle with making time for classroom management in your day? When I talk to teachers about classroom management strategies and success one common thing I hear from them is how tricky it can be to find the time to implement and see changes in their classroom environment.
Making time for classroom management in your day is so much easier than you think. Once you are aware of these little opportunities you will see a change in your students and classroom.
Start the Year off Right
This is the very FIRST thing to consider and remember when making time in your day. I know that sounds kind of weird.. how does something I do at the beginning of the year make more time in my day for classroom management later on? That's just it. The more you put the work in at the beginning of the year to set expectations with your students, model, and practice those classroom management strategies the less you will have to do later on.
This makes MORE time for not only more classroom management needs but..hello..everything else.
Weave it into Instruction
This is a must. Classroom Management strategies and tools should always be weaved into your instruction and teaching. While sometimes we may need to set aside time for specific class meetings, introducing new tools, or for specific strategies, for the most part our classroom management should be a PART of our teaching. Example: If you are playing Transitions Classroom Management Bingo and you see that your students transitioning has earned them a new piece, give them that bingo piece during that transition or quickly after to not disrupt the entire moment of learning.
Small Groups
Time with your small groups has so many benefits! One being weaving in time for classroom management! YES! This is totally possible. I know your small group time is valuable so here are some ideas for how you can do this:
Use the first or last 1-2 minutes only
Remind them of expectation reminders like putting their name on their paper, where things get turned in, or how important it is to transition quickly and quietly
Ask them for input-this does not take long!
Compliment them-this could be that individual group, one or two students, or the entire class as you meet with each group at a time
Put it Back on Your Students
Find ways to let your students lead, release some control, and watch them shine.
Giving students leadership opportunities helps them play an important role in the classroom.
This releases some of the pressure on you and easily makes time in the day for classroom management.
This can be done in many ways! Here are a few:
during station activities
class jobs
during independent work time
morning routines
Adjust & Model
While this task can seem daunting when we already have so many things taking up our days with our students, little adjustments when needed can do wonders for your classroom management. If you see an area that needs revisiting like lining up quietly, or you notice a classroom expectation that is just not working for your students this year, adjust things or remodel them. The more we put this off the greater classroom management damage we are actually doing. Take 2-5 minutes, as needed, out of your day to do this. My suggestion is having these quick classroom meetings during:
morning meeting
in between lessons or activities
during packing up
right before dismissal
Classroom management during each teaching day can feel overwhelming. Don't let the myth of needing tons of time and long meetings with your students stop you from reaching classroom management success!
Are you ready to calm the chaos and transform your classroom management into a calm and student led classroom environment? I have the best news for you! I have been working for over a year to create an online teacher course, Classroom Management Academy, just for YOU!
This is a bingeable, self paced program that will help you learn how to maximize classroom time, foster independent learners, and create a positive learning environment. It includes a complete roadmap of strategies, PDF downloads, weekly live Q & As, and TONS more bonuses to help you and your students.
Classroom Management Academy officially launches in mid July! Get on the waitlist below so you don't miss it!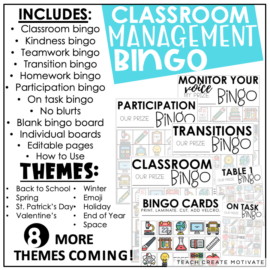 Classroom Management Bingo
Classroom management can be a doozy! I wanted something fun and engaging to help my students stay engaged and focused. I love changing up what I use in my classroom to help my students manage behaviors. These classroom bingo boards are perfect!
You can pin this post to come back to later!