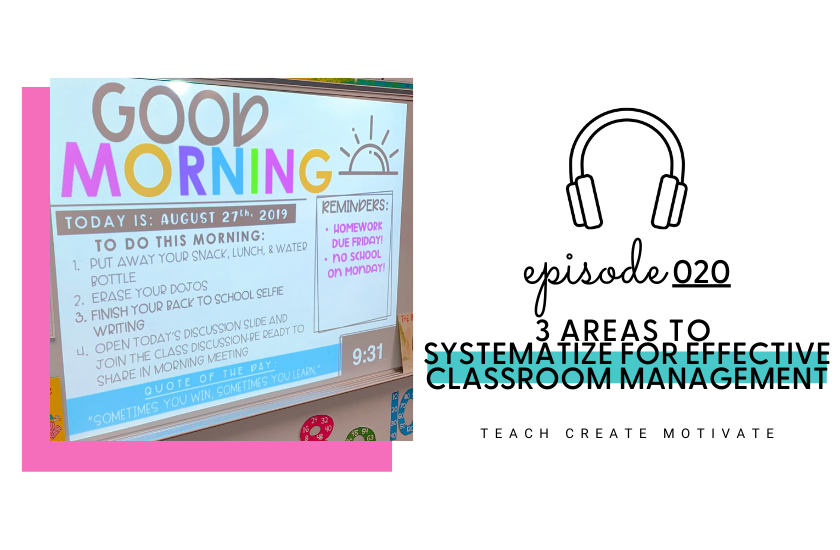 Show Notes
Are you always looking for ways to improve how the day-to-day operations go in your classroom? Having effective routines and expectations in place makes a HUGE difference in your overall classroom management. These things also save you so much time throughout the day which allows you to maximize student learning time.
If you're feeling like your classroom could use some help in areas such as morning routines and transitions, there are small and simple changes you can make today. I'm sharing tips on how you can quickly get systems going in your classroom that will give students a sense of ownership and benefit everyone.
In this episode you'll learn:
3 areas to systematize for effective classroom management

How to set clear morning expectations

Examples of using games to improve transitions 

Getting your students involved in setting expectations
Join the waitlist for Classroom Management Academy at teachcreatemotivate.com/coursewaitlist!
Links Mentioned in this Episode
Subscribe and Review in iTunes
Have you subscribed to the podcast? I don't want you to miss an episode and we have a lot of good topics and guests coming up! Click here to subscribe on iTunes!
If you are feeling extra kind, I would LOVE it if you left us a review on iTunes too! These reviews help other teachers find the podcast and I truly love reading your feedback. You can click here to review and select "Write a Review" and let me know what you love best about the podcast!