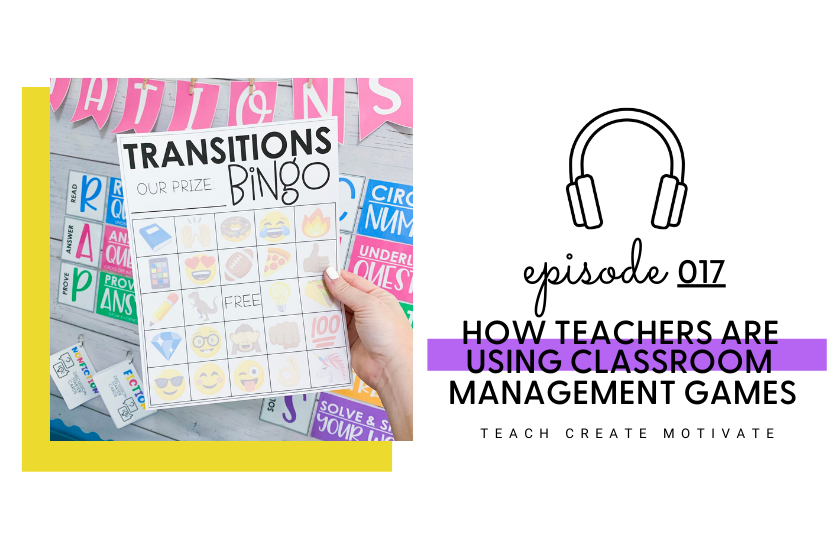 Show Notes
Games are one of my favorite ways to manage classroom behaviors and expectations. They are an easy way to keep things fun and engaging for you and your students! I love creating behavior management games so that you have low-prep ideas for your classroom. 
Today I'm joined by two classroom teachers, Lydia and Amy. Lydia is a third-grade teacher, and Amy teaches both second and third-grade. They both use some of my classroom management games daily with their students and are on the podcast to share their experiences with you!
In this episode, we discuss:
Which classroom management games are their favorite

How they use the games in both in-person and virtual teaching

What kind of prep it takes to set up and manage 

How the games have made an impact on classroom management, student behavior, accountability, and engagement

Using the games in whole group and independently 
Which classroom management game is your favorite? Tag me on Instagram @teachcreatemotivate and let me know!
Join the waitlist for Classroom Management Academy at teachcreatemotivate.com/coursewaitlist!
Subscribe and Review in iTunes
Have you subscribed to the podcast? I don't want you to miss an episode and we have a lot of good topics and guests coming up! Click here to subscribe on iTunes!
If you are feeling extra kind, I would LOVE it if you left us a review on iTunes too! These reviews help other teachers find the podcast and I truly love reading your feedback. You can click here to review and select "Write a Review" and let me know what you love best about the podcast!