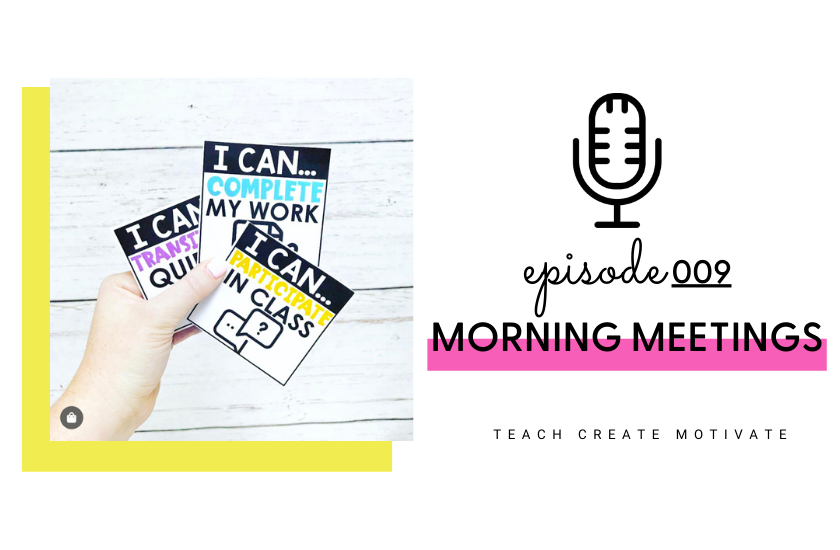 Show Notes
Have you been looking for a way to incorporate morning meetings into your classroom routine? Or maybe you already do, but you're looking for some ideas to spice it up!
In this episode, I'm filling you in on how I like to run morning meetings, exactly how it can look in your classroom, as well as different activities you can start implementing TODAY! The goal for this episode is to help you feel confident to start morning meetings in your classroom if you haven't already, feel the urge to stay consistent with these times with your students, and excited to try some of the ideas in your own classroom!
My Top Tips for Starting Morning Meetings Include:
Stay consistent
Include a greeting or classroom community activity
Check in (1-5 on hands or emoji feelings chart)
Then I like to include a quick activity with my students. You can pick and choose what works for you, but some things that I like to include are:
Read alouds
Character building activities
Deep classroom discussions
Parent Teacher conference forms
Class Jobs
Classroom management systems
I hope this episode will provide you with some good ideas of ways to start morning meeting in your classroom or even to some fresh ideas of what you can keep doing with your students if you already do this.
Listener Spotlight

Subscribe and Review in iTunes
Have you subscribed to the podcast? I don't want you to miss an episode and we have a lot of good topics and guests coming up! Click here to subscribe on iTunes!
If you are feeling extra kind, I would LOVE it if you left us a review on iTunes too! These reviews help other teachers find the podcast and I truly love reading your feedback. You can click here to review and select "Write a Review" and let me know what you love best about the podcast!