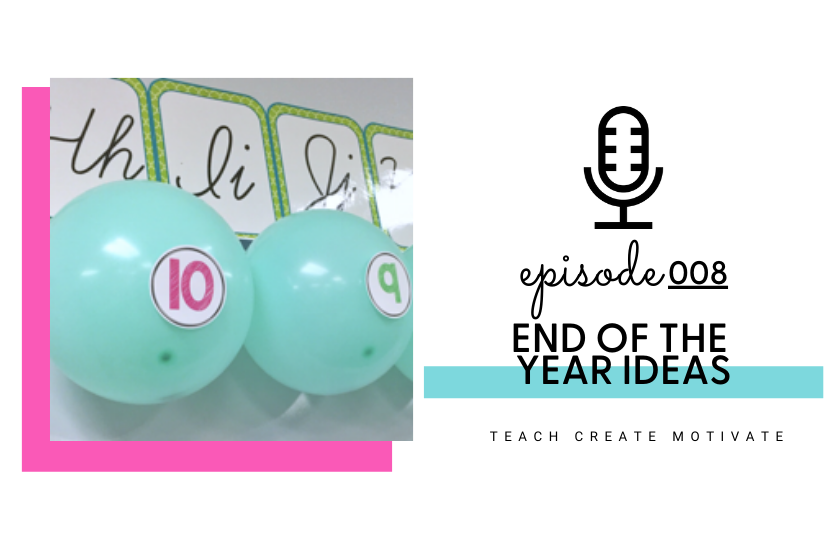 Show Notes
The countdown is on. If you're a teacher, you know exactly what countdown I'm talking about. THE END OF THE YEAR.
Yes, summer break is on the horizon. We can finally envision our days when we will be able to sleep in, drink our coffee before it gets cold, take as long as we want eating our lunch and go to the bathroom when we need to. Yes, those days are almost here. But first, we have to make it to the last day of school.
How are you celebrating in your classroom? Are you celebrating? I know there is some controversy about how and when to celebrate or if we even should be celebrating but I think it's super important to make sure that we celebrate all the hard work that we've accomplished throughout the year. I don't think all learning should stop when we start "the countdown," but it's a great way to celebrate your year together and to have fun while doing it.
In this episode, I'm filling you in on what I do in my own classroom to celebrate the end of the school year. I talk about how I keep my students engaged, writing and how I keep their behavior in check. If you followed me, you know that I LOVE everything classroom management, so why not incorporate the end of the year and classroom management together?
Anything we do in the classroom should have purpose and meaning behind it. Even when we do those "fun" things, there should be a reason behind it and a way that it's benefitting our students. All of my ideas today are meaningful and intentional.
You'll leave this episode with tons of ideas that you can take into your classroom to finish the year strong
My Ideas Include:
How to keep your students writing and engaged while doing it
A classroom management system that is also a fun countdown
How I celebrate and congratulate each individual student and make them feel special for the day
End of the year gift ideas that won't cost you an arm and a leg
Listener Spotlight

Subscribe and Review in iTunes
Have you subscribed to the podcast? I don't want you to miss an episode and we have a lot of good topics and guests coming up! Click here to subscribe on iTunes!
If you are feeling extra kind, I would LOVE it if you left us a review on iTunes too! These reviews help other teachers find the podcast and I truly love reading your feedback. You can click here to review and select "Write a Review" and let me know what you love best about the podcast!