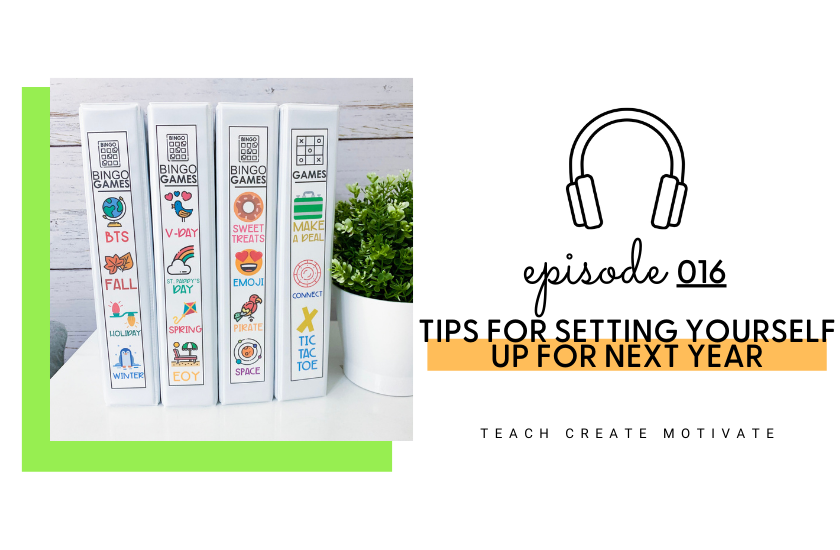 Show Notes
Happy end of the year! While the end of the year is so exciting, the days leading up to it can bring on a great deal of stress and overwhelm. Final grades need to be put in, your classroom needs to be packed, and the list goes on and on. All you want to do is welcome summer and enjoy your much-needed break, right? 
Even though it may seem counterintuitive, I encourage you to do a bit of organizing before you call the year quits. Yes, it will take some time upfront, but it will save you SO much more time at the beginning of the next school year. I'm going to fill you in on my favorite ways to purge, organize, and set yourself up for success before summer break begins. I promise you, your future self will thank you!
In this episode you'll learn:
What you can purge to make your teacher life a little less chaotic 

Specific ideas of what to focus on organizing at the end of the year

Things you can prepare now for the first few weeks of school

The benefits of making certain resources digital
Subscribe and Review in iTunes
Have you subscribed to the podcast? I don't want you to miss an episode and we have a lot of good topics and guests coming up! Click here to subscribe on iTunes!
If you are feeling extra kind, I would LOVE it if you left us a review on iTunes too! These reviews help other teachers find the podcast and I truly love reading your feedback. You can click here to review and select "Write a Review" and let me know what you love best about the podcast!