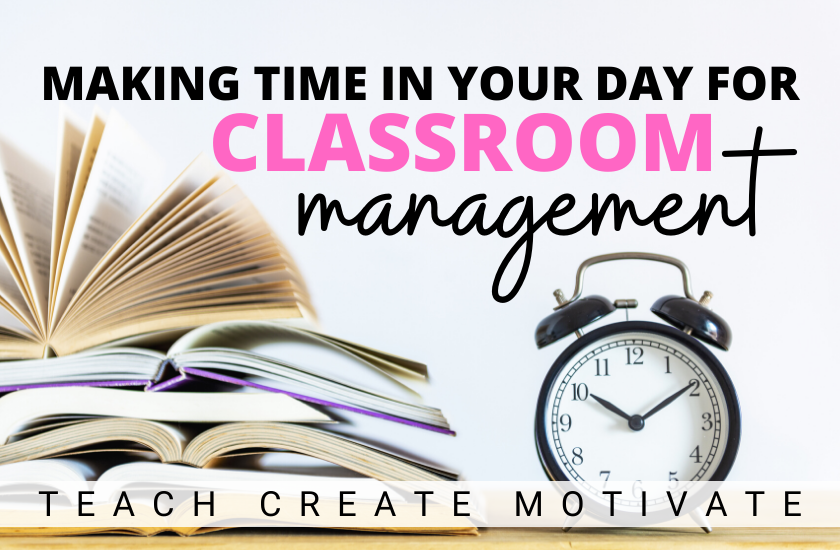 When I talk to fellow teachers, I often hear how there's not enough time to establish effective classroom management. These 5 tips cover practical solutions to this problem that you can start implementing right away!
1. Start the Year off Right
Set aside time during those first few weeks to establish expectations by modeling and practicing classroom procedures. This is the very FIRST thing to consider when starting your back to school planning. When you devote the first part of the year to establishing your routines, your classroom will run so much more smoothly!
Take advantage of small opportunities throughout the day to create a structured routine with your students.
2. Make it A Part of Your Instruction
Classroom management strategies should be weaved into your teaching whenever possible. While sometimes we may need to set aside specific time for introducing new tools or routines, our classroom management should simply be integrated into our teaching.
Example: If you implement Classroom Management Bingo for transitions, have students grab their new bingo piece during independent work time or after they pack up. This will ensure that teaching time is not held up by classroom procedures.
3. Utilize Small Group Instruction
Small group instruction allows you to talk with students on a more personal level. Here are some ways that you can efficiently use this time to reinforce effective classroom management:
Review procedures during the first or last 1-2 minutes of your small group time
Quickly check that students are meeting expectations such as writing their names on their paper and properly following assignment directions
Take the opportunity to discuss any issues you've noticed, such as a group that is being disruptive
Ask for student input on current classroom expectations
Give compliments! You can either recognize a group or pull aside 1-2 students at the start of a transition to thank them for their efforts.
Small groups are a great opportunity to connect with your students on a more personal level. Effective classroom management starts and ends with positive relationships!
4. Let Your Students Lead
From encouraging collaboration to helping everything run smoothly, there are so many benefits to having a student-led classroom! Class jobs are a great way for students to step up and take charge. By handling most of the daily and weekly tasks for you, it will give you more time to focus on building connections with your students.
Giving students leadership opportunities promotes classroom community and allows your students to shine.
There are so many ways that students can take ownership and responsibility in your classroom, including:
wiping down tables and counters
sharpening pencils
stacking chairs
updating the daily schedule
passing out student devices
filing papers
keeping the class library organized
refilling classroom supplies as need
This post goes into more detail about which jobs I have in my classroom and how I set them up!
5. Adjust & Model
As your students continue in their leadership roles, ask them for their input on current routines. Students often have helpful suggestions on how classroom procedures can be improved. Being open to their feedback will not only strengthen your class community, but also help your classroom run even smoother.
If you notice that your students are struggling with a procedure, it can be helpful to model exactly what you want them to do and have them practice for a few minutes. It might also mean that it's time to switch it up and try a new procedure. Taking the time to reflect and make changes as needed will not only create more efficiency, but also help you gain confidence in your classroom management.
The time that you invest into your classroom management will pay off for the rest of the year!
Are you ready to calm the chaos and transform your classroom management into a calm and student led classroom environment? I have great news! I have been working for over a year to create an online teacher course, Classroom Management Academy, just for YOU!
This is a bingeable, self paced program that will help you learn how to maximize classroom time, foster independent learners, and create a positive learning environment. It includes a complete roadmap of strategies, PDF downloads, weekly live Q & As, and TONS more bonuses to help you and your students!
Get on the waitlist for Classroom Management Academy to be notified when the doors open again!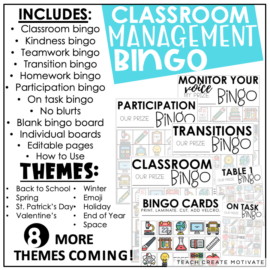 Classroom Management Bingo
These classroom bingo boards will keep your class management routine fun and fresh. These come in printable and digital formats, making it easy to implement ASAP!
Click the image below to save this post for later!