One of my favorite ways to build classroom community is by intentionally teaching character traits. So if you're trying to establish a culture of kindness in your classroom, character education is a great place to start.
There are so many different ways you can incorporate character education into your day: morning meeting, class meetings, or a designated social-emotional learning time. How you introduce character traits really depends on the needs of your students, the time you have, and what you are seeing in your classroom.
SOCIAL-EMOTIONAL LEARNING
I've heard some schools have a designated social-emotional learning time, which I LOVE! Social-emotional learning is SO important when considering the whole child in our classrooms.
It is so easy to sprinkle in SEL during the day, week, or month, no matter your schedule. It's all about being intentional! By picking just one trait to focus on, you can cover it without a problem in a week or month.
FOCUS TRAIT: KINDNESS
Let's focus on kindness this month! It's always needed in elementary school students, middle school, or even older students.
My interactive character trait resource includes different pieces to use throughout the month of that focus. The kindness ideas can be sprinkled throughout the day over a week or month you teach kindness.
"Caught Ya Slips" – Give these kindness cards to students when they show simple acts of kindness or good deeds.
"Kindness" Bingo Board – One way to get students excited about kindness is to start a kindness challenge! Every time a student shows kindness, they can choose a piece to put on the bingo board. Students can even give shout-outs if they see someone being a good friend, saying kind words to one another, showing kind behaviors to classmates, or any other random act of kindness! After you get a bingo, the class gets a prize. This is an easy and fun way to reward kindness that only takes a minute or two here and there throughout the day.
Kindness Posters – Display while you're learning all about what kindness is and how students can use it in the school community. Then, keep it somewhere year-round as a gentle reminder to show kindness to one another. You could even designate a specific bulletin board all about character traits.
Quote Squares – The quote squares can be given at the beginning of just introducing kindness or as you wrap up learning about it.
MORNING MEETING
The best way to introduce character traits throughout the year is during morning meeting at the beginning of class. This is a natural time to talk about social-emotional learning and build classroom community.
If you hold a morning meeting daily and consistently, you can easily cover the kindness lessons over a week. However, if you want to cover it over a month, assign character traits a day of the week, like Tuesdays, so students know you'll be discussing character traits every Tuesday.
Here's what a month or week schedule could look like:
To introduce the character trait use the interactive slide with definitions and examples to discuss kindness.
Another day, pick a book from the kindness read-aloud list to read with your class.
The next week/day choose a discussion slide and have students write responses on sticky notes, and facilitate a turn and talk to share.
After a few sessions of learning about kindness, complete a kindness journal page together and assign one for morning work the next day.
There are so many ways you can use the interactive resource to teach kindness.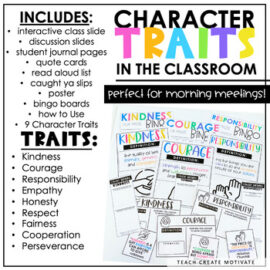 Character Education Bundle
This interactive character traits resource is great to teach during morning meetings. Use the slides, discussion and writing prompts, read aloud list, caught ya slips, and more to accompany your character education lessons in the classroom.
CLASS MEETINGS
Class meetings can differ from morning meetings. In general, I would suggest having morning meetings more often & consistently vs. class meetings. Class meetings can happen once a month or any time you have a class problem that needs to be worked through, like lack of kindness in the classroom.
Sometimes classes just need a reset. For example, if your class is really having some serious problems being kind, spend one afternoon or morning and do a reset.
Spending an hour or two on these activities and discussing kindness can make a big difference. Yes, this will take up some instruction time, BUT if unkind behaviors are already getting in the way of learning, this will save instruction time in the long run!
KINDNESS BOOKLIST
Read-alouds can really support conversations around kindness and are one of the best ways to teach it! They are a great place to start to help students see it modeled in different situations by the characters in the story. While reading, pose some open-ended questions about kindness and see what students come up with. These read-alouds are some of my favorites for discussions around kindness.
The Invisible Boy by: Trudy Ludwig
I Walk with Vanessa by: Kerascoëet
We're All Wonders by: R.J. Palacio
Have You Filled a Bucket Today? By: Carol Mccloud
The Gardener by: Sarah Stewart
Those Shoes by: Maribeth Boelts
What Does it Mean to be Kind? by: Rana DiOrio
Find these books and more character trait read-alouds HERE!
KINDNESS CHARACTER TRAIT FREEBIE
If kindness is something you want to focus on with your class, I have a freebie for you below! This freebie includes the kindness class slide, and the "caught ya" slips.
Teaching students the value of kindness in the classroom with simple activities can be a great way to impact the whole class. For example, incorporating a kindness activity in your lesson plans for morning meeting, social-emotional learning time, or setting aside time for a class meeting can really help build a positive classroom community.
Pin the image below to visit this blog post later!