Oh BOY I am so excited to be linking up with both Angie & Ashley AND Blog Hoppin!!
My classroom is something I spend a lot of time, effort, blood/sweat/tears, and love on…as I am sure all of you do! I am so excited to reveal it to you! I moved classrooms this year and have more space PLUS 2 new windows… *swoon* See captions for where to buy or download resources!
Instagram Board
Back of the Room
Near the back of the room I have tables and stools for laptop use. This space has kind of become a makerspace in my room! The kids have been using it for everything-completely on their own! Reading, station time, independent work, partner games, etc! They really love these stools from Ikea! ($5!) I made these positive quote posters last year and I just love them!!
Our sweet behavior tray is for when we get compliment "cupcakes" as a class! I'm loving how my birthday "chart" turned out as well. I am considering posting this on my blog as a freebie! It is so easy to see what birthdays are coming up!
Calendar
Supplies Cart from Sam's Club
The picture below is my new "bravo" board! I just love hashtags so I had to incorporate some somehow! My class wrote what they are the most excited about for this year and I put those up for now! This display is SO easy. 12 by 12 cardstock from Hobby Lobby. Laminate. Add their name to a clothespin. DONE!:)
My Desk Area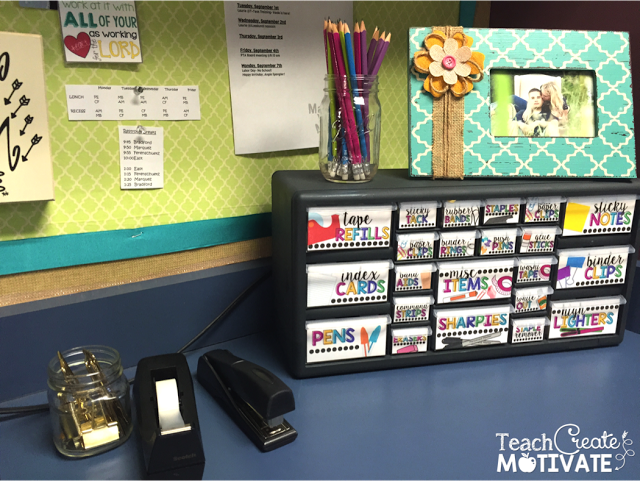 Classroom Posters
I may be a little obsessed with posters in my classroom! I have my kids reference them ALL the time. Pretty soon, they are going up to them as a reminder while working on their own! The next section of my classroom is where we turn in homework, our schedule, rules, blooms posters, etc! Parts of speech posters here!
Stations Board
The other side of that bulletin board is our stations board. It is where my students go each week to know what stations to complete in LA and Math. All of their materials are there on the table as well!
Organization/Storage
Organized storage is REALLY important to me! 😉 I like to label everything!! Here is our math manipulatives storage that I keep near the front of the room, and our extra classroom supplies that are in the back!
In my classroom I only have student desks… I put them together to make tables. This works really well to build classroom community! My name plates can be found here!
I really love Amy's posters for reading comprehension! Next is the right side of my whiteboard. After that is my vocabulary board (adding some math words TODAY thanks to Jillian at Starr Spangled Planner, and I put up our LA vocab for the week as well!)
This is a space that an old TV used to go in…  however, I tried to cozy it up a bit! Two wood signs are from Hobby Lobby and baskets are from Target!
Book Nook
I hope you loved my classroom tour!! Off to read about other fabulous teachers' classrooms!! 🙂