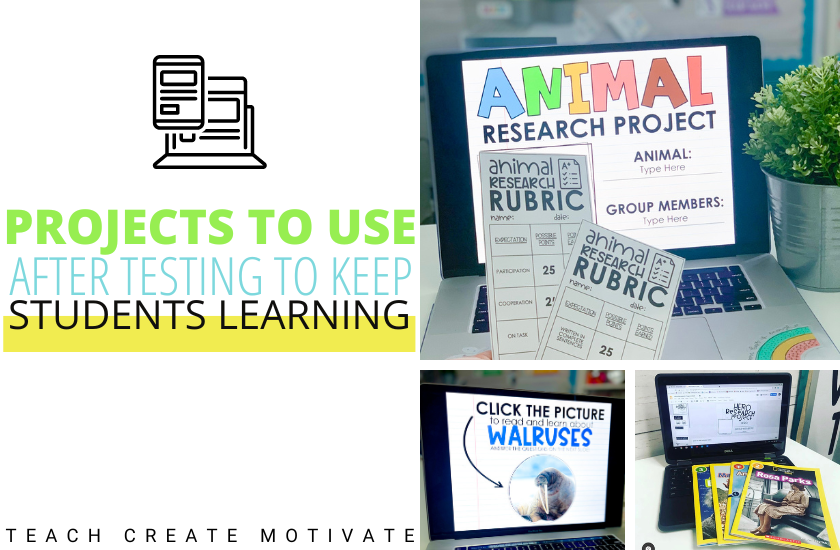 Testing is over, the year is starting to wrap up, and you need a "brain break!" All of that test prep can really take it out of you and your students! An independent project is just what you and your students need.
Planning projects after testing mixes it up for students and can be a great way for them to apply all they've learned throughout the year.
Encourage Student Choice
Encouraging student choice is important throughout the entire year. But, when assigning end-of-the-year projects after testing, giving students complete autonomy over what they work on can make all the difference for engagement!
High-Interest Cross-Curricular Projects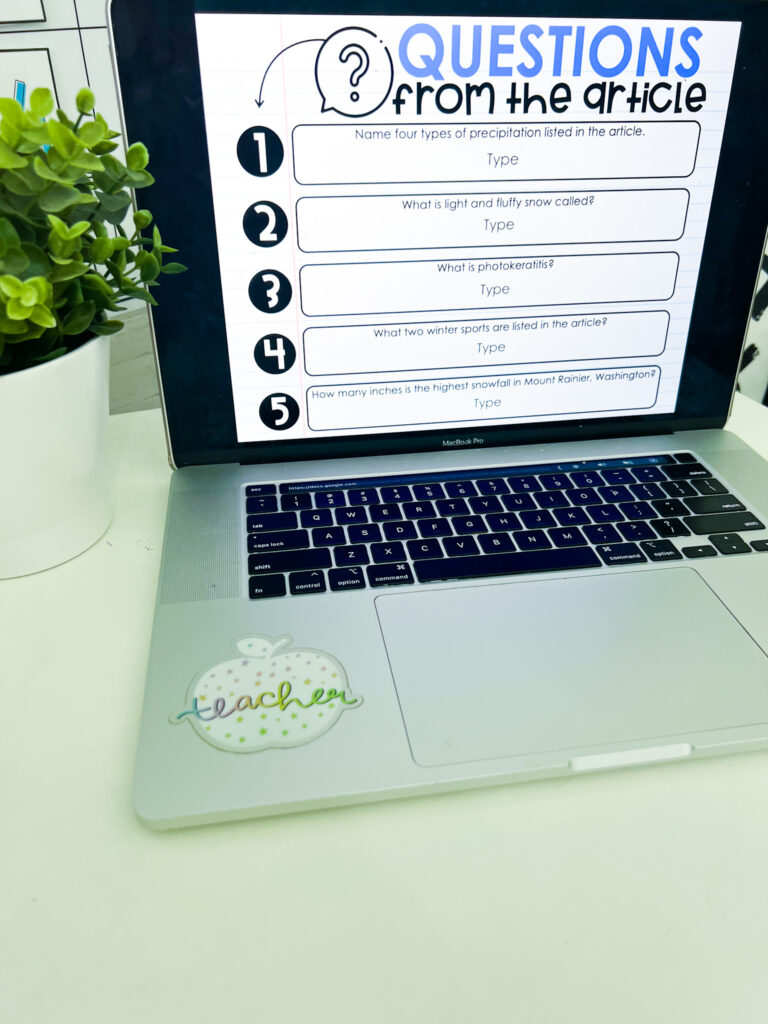 Using high-interest topics in reading and science is a game-changer for student engagement! Unfortunately, reading and science can be a bit boring for some students. Not with these projects!
These subjects are presented in a way that encourages students to dig in for more. It can make all the difference!
Project-based learning with Reading and Science Activities can benefit cross-curricular integration success. Here are some of the topics students can explore!
Seasons – Students can read up on the changing seasons and learn something new while applying skills.
Arctic Animals– Students will love learning about Arctic animals and seeing how the information applies to popular Arctic-themed picture books. Perfect for the animal-loving student!
Snow– Student questions about snow…answered! Great for the weather-loving student!
Bats– Paired with two read-alouds, students apply their knowledge about bats in the ready-to-use project.
Pumpkins– Have students interested in plant cycles? This would be a good fit for them!
The topics are perfect for science content with a focus on reading skills. What's included:
Suggested mentor texts
Activities/worksheets paired with the suggested mentor texts
Graphic organizers for the recommended mentor texts
Vocabulary slides
Videos with comprehension questions
Article with comprehension questions
Passages with comprehension questions
Writing prompts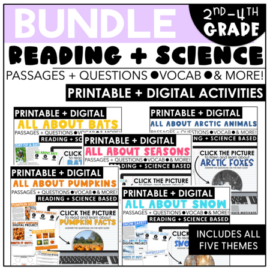 Reading & Science Activity Bundle
This bundle is the perfect mix of reading and science! The topics are perfect for science content with a focus on reading skills. These ready-to-use seasonal activities are a great way to integrate science and reading. Each topic has a variety of activities to keep students engaged.
"THE SUN" READING & SCIENCE ACTIVITY FREEBIE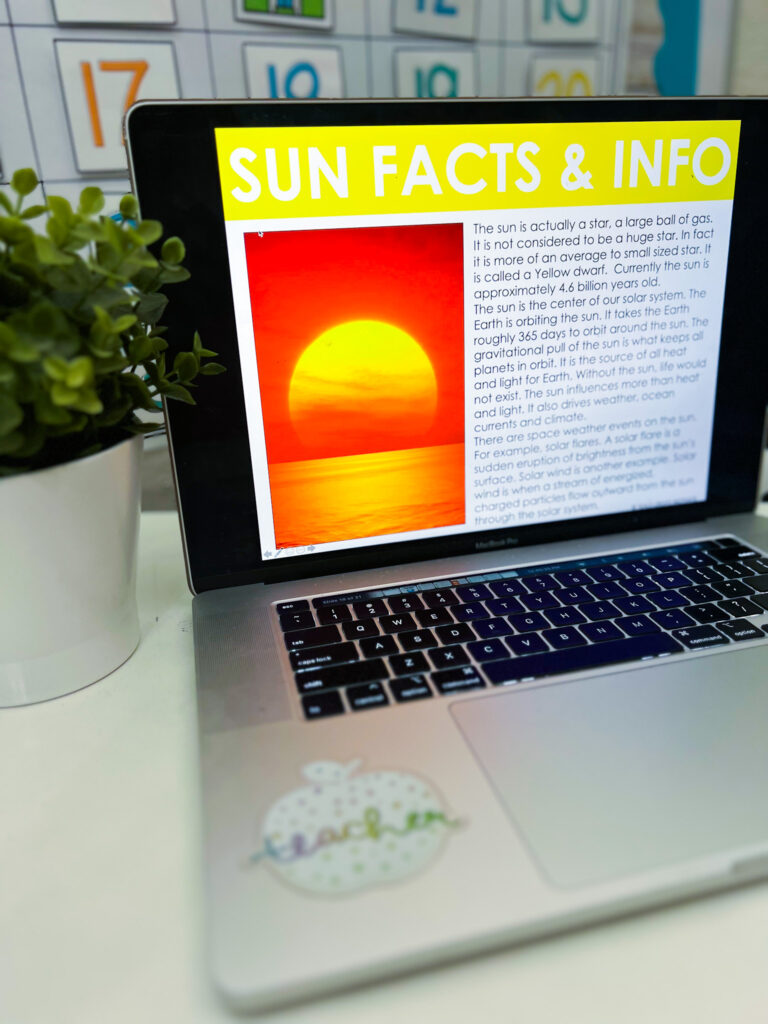 Try out the reading and science activities with your class! Grab the "The Sun" project for free!
This project is so easy to assign because it's NO PREP. Here's what's inside…
Web Chart
Words to know (vocab)
Suggested mentor text: Sun Up, Sun Down

Graphic organizers to go with the text

Linked articles & videos
& MORE!
Easily integrate science and reading with the "The Sun" digital project! Your students will love getting all the facts.
Enter your info below to get it sent straight to your inbox!
Meaningful & Engaging Research
A digital project will be one of your student's favorite end of the year activities. They are all easy prep for you, and students can stay engaged in learning in a meaningful way right before the summer break.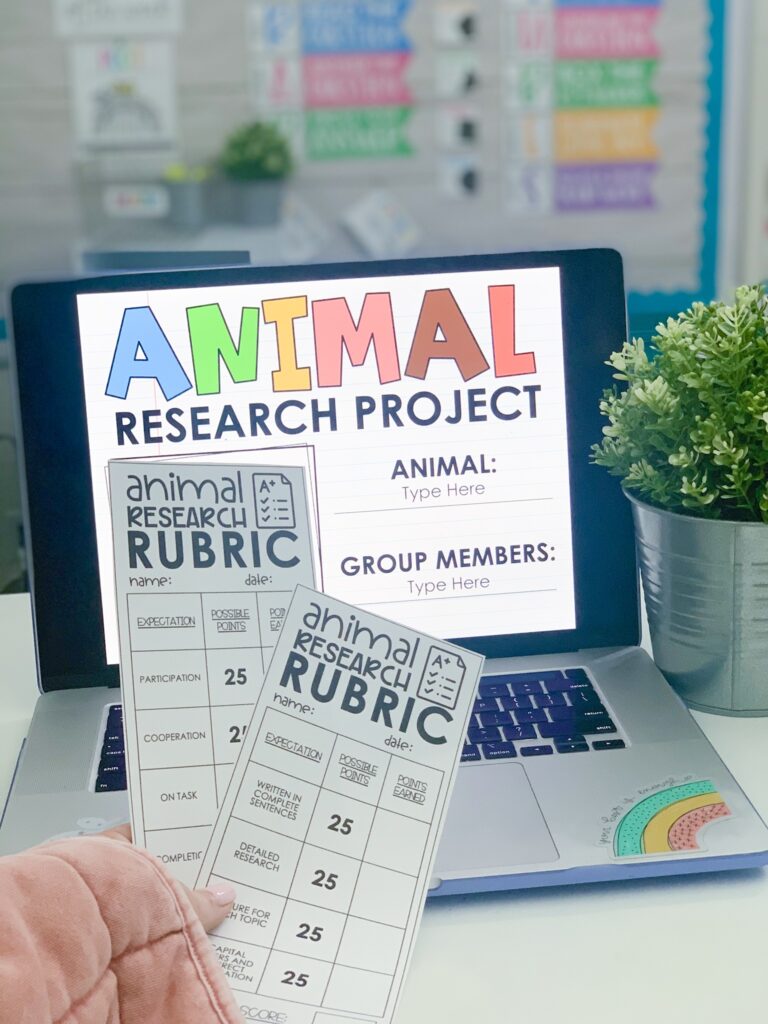 Digital Research Projects
Environment – In the digital or printable Environment Research Project, students will research different environments and apply vocabulary learned earlier in the year and/or in this project.
Women in History – The Women in History Digital Research Project allows students to learn all about influential women in history and apply the research, reading, and writing skills they've learned throughout the past school year.
Weather and Climate – This Weather and Climate Research Project is such a fun activity for the end of the year because students choose a vacation destination and research all about the weather and climate of that location. Maybe one location will match up with their summer plans!
Hero/Important Person – In the Hero/Important Person Research Project, students pick a hero/important person and complete slides on that person. A video and article are already linked for each person so students can learn more about their person.
Growth Mindset – Now that we are wrapping into the school year, you may have explored growth mindset with your students during morning meetings through read-alouds and other fun activities. However, the Growth Mindset Digital Project really allows students to dive into and reflect on growth mindset.
Animal – The Animal Research Project is a student favorite! First, students pick 1 of 25 animals to complete research on. Then they complete slides on their chosen animal.
Winter Sports – Some students probably know a little about baseball, football, soccer, and basketball, but what about winter sports?! This project is sure to grab the attention of any sports fan in your classroom!
Natural Disasters – Students love learning about natural disasters in the world around them! This research project allows students to use that love for forces of nature to create a meaningful project they can be proud of.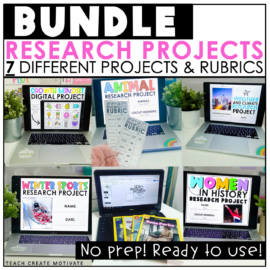 Digital Research Project Bundle
Digital research projects are the perfect activities to keep your students ENGAGED in learning and to review topics they have learned about. This BUNDLE include 9 DIGITAL research projects that have articles and videos LINKED and ready to use. Just assign in Google Slides and go! Rubrics are included for every digital research project!
Extreme Weather Digital Project Freebie
Easily integrate science and reading with the "Extreme Weather" digital project! Your students will love getting all the facts on high-interest weather events like tornadoes, blizzards, and hurricanes.
Each weather event has BOTH an article and a video already linked up for students to use in their research.
Students will then fill out the slides with the information they learned.
5 research questions
Words to know
How are ___ formed? Where are ___most common?
3 interesting facts
Enter your info below to get it sent straight to your inbox!
Using digital projects after testing is a great cumulative activity for the last weeks of school, but you also don't need many supplies, just a computer or tablet! So if you are running low or ready to send items home, digital projects are great this time of year!
Pin the image below to visit this blog post later and save ideas for projects after testing to keep students learning!