I put together a quick list of some of my favorite fashion must-haves for teachers! The best thing about all these pieces is that they are timeless and can be mixed and matched to make lots of outfit choices!
A good pair of black jeans-this is a must! Get yourself a good quality pair of black denim. They go with everything! Old Navy is my go to for these!

ALL the dresses! Dresses are comfy, quick to throw on, and make you look put together! I get my dresses from Old Navy and Amazon!
A puffer vest-this can dress up a comfy outfit so easily! Old Navy has the BEST vests!
LEGGINGS! Spanx faux leather leggings are my go to for a comfy but cute outfit! I also love Amazon for some more casual leggings.
A quality army jacket-this can go with SO many outfits! It is a staple in any teacher closet. Mine is from Old Navy!
Cute tennis shoes-As teachers we are always on our feet! Get some cute but comfy tennis shoes-these are Nike and I love them!
Layering pieces-I love simple and solid layering shirts for cardigans and jackets. Again, Old Navy for the win!
Comfy sweaters-Look put together but be super comfortable at the same time. PERFECT for teaching. American Eagle is my favorite place for sweaters!
A denim jacket-need I say more? Old Navy and Amazon are my favorite places to get these!
A chambray shirt-wear this with black jeans, white jeans, leggings, open, closed, etc!! Every teacher needs one!
Tory Burch sandals-my favorite item in my closet EVER. I wear them out. They go perfect with jeans, dresses, and leggings. They are cute AND comfy!

A good pair of non distressed denim-need I say more?! Old Navy, American Eagle, and Abercrombie are my favorite places to get my jeans!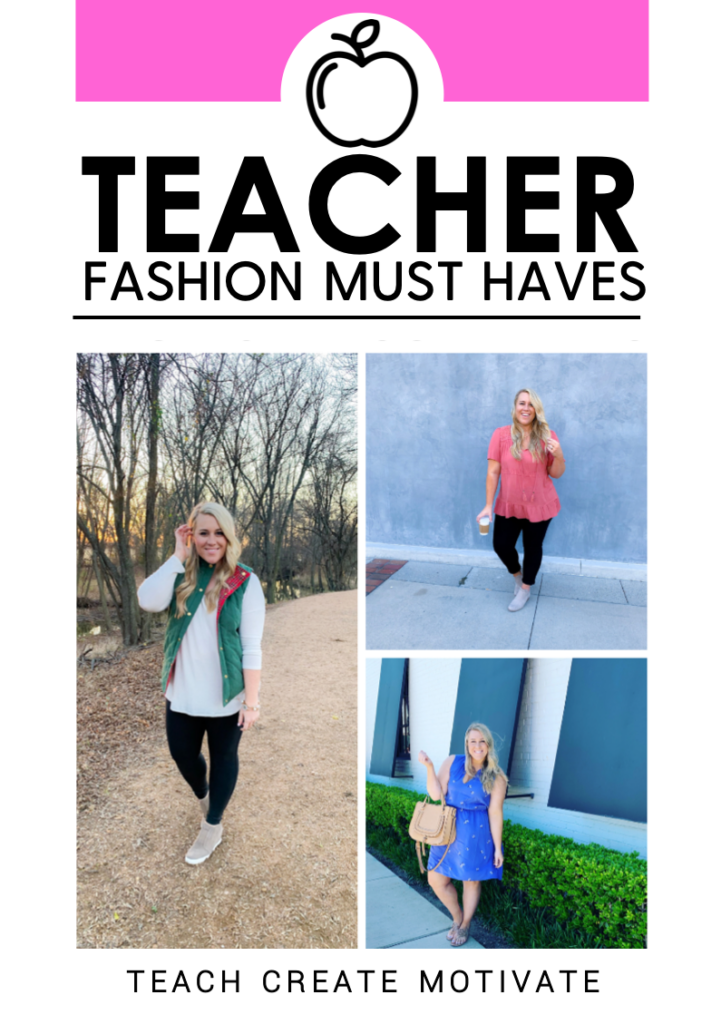 I hope this list helped you add some staples to your teacher closet!

Happy teaching!