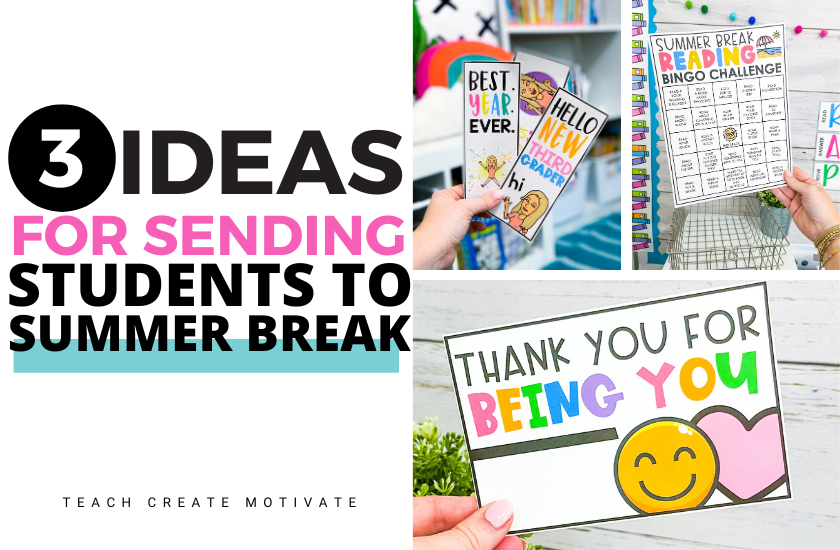 The end of the year can quickly become a whirlwind – parties, field trips, awards, and the list goes on! Even with all of the craziness, it can be fun to send your students into summer break with a little something special.
Simple ideas like postcards with a personalized note or bookmarks can end the year on a positive note. It is also important to not feel like you have to spend a lot of money to give students a little summer send off gift. Finding inexpensive but worthwhile items shouldn't consume your time at the end of the year.
Finding ideas that can be used over and over each year is a bonus!
End-of-the-teacher tired is REAL! Keep the end of the year simple but meaningful for a big impact on students!
KEEP STUDENTS READING
A great way to keep students reading is to add a little flair to it. Summer Reading Bingo is the perfect way to keep students reading and make it a little more fun! Students get to choose a bingo that they are most interested in and start reading! Some students will try to get more than one bingo just because the bingo options are so fun!
Not only will students enjoy the reading challenges from the Summer Reading Bingo, families will love joining in too! You can download this summer bingo for free below!
HAPPY MAIL BEFORE THE BREAK
As summer break gets closer, planning a summer send off can get pushed to the back burner because everything can feel so overwhelming and exhausting. Making students feel special doesn't have to take a long time or a ton of effort. These student postcards are so easy to prepare sweet notes to give to each student. It's also fun to keep a few extra to give to co-workers for their birthday or to send a thank you note!
There are two options:
type your note – copy and paste to make it super quick
print the postcards and hand write notes for students
Either way, students love getting notes from their teachers! Not to mention that the Postcard Pack has so much more than just summer notes! There are postcards for back to school night, first day of school, fall, winter break, birthdays and more.
If you like the postcard idea – printing a few styles to keep on hand makes teacher life a little easier.
Keeping birthday and brag mail postcards ready to go saves time and makes it so much easier to do the little extras that students and families (and teachers) love!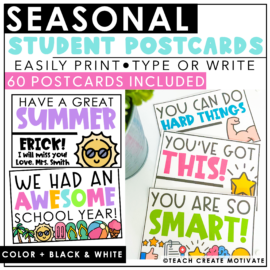 Student Postcards – Teacher Notes – Year Long Themes
Postcards are a great way to connect with students and families! This postcard pack offers a variety of postcards to use all throughout the year! Postcards are a great way to offer students encouragement or to celebrate their achievements.
PERSONALIZED BOOKMARKS FOR STUDENTS
Sending students into summer with a Summer Reading Bingo can be perfectly matched with giving each student their own bookmark! Bookmarks are always a hit with students, especially when you add your Bitmoji. If you have some extra Scholastic book order points or find a good deal, pairing a new book with the bookmark can give students an extra boost to read over the summer.
These bookmarks are fun and easy to prep. They take minimal effort to prepare and will have a big impact on students! A student favorite is always "HELLO NEW __ GRADER!" (1st-6th grade is included). That little phrase gets students SO excited for the next school year.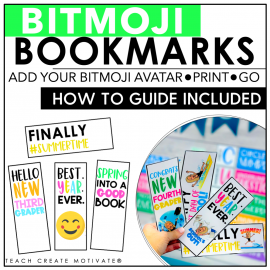 Bitmoji Bookmarks
These adorable and relatable bookmarks are sure to make your kids smile! Use them as gifts, prizes in your class store, or classroom behavior incentives! A How To Use Guide is included in the resource to help you with making and inserting your Bitmoji Avatar into the editable bookmark template! *NO Bitmojis ARE INCLUDED IN THIS RESOURCE. This is meant to be personalized with any image of your choice!
PREPARING FOR SUMMER BREAK SHOULD BE EASY + FUN
The end of a school year is such a bittersweet time. You and your students have spent a year together full of ups and downs. As a teacher, it is second nature to want everything to be perfect. BUT…don't forget to slow down and enjoy the last few days before you send your students on to the next grade.
A sweet and simple sendoff can leave a lasting impression on students. You are an amazing teacher!
Pin this image to save this blog post so you can refer to it later!