As summer break gets closer, it's easy to get wrapped up in end of the year paperwork, grades and all the things teachers need to do. One thing I like to make a priority is focusing on students. Reflecting on the year as a whole class which can bring up so many great memories. End of the year student celebrations don't have to be overwhelming!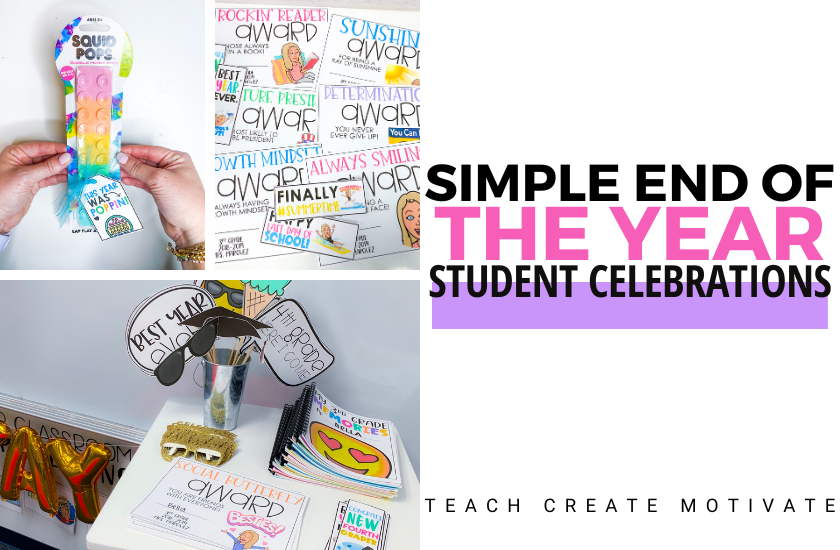 Personalized Students Awards
It is great to acknowledge the strengths of each student in your class. As you have gotten to know your students, you have picked up on what is special and unique about each of them. Making each student feel special is such a great way to wrap up the end of the year. Giving classroom awards can be as serious or fun and creative as you want! Sharing a strength of each student makes them proud and more confident!
A few of my favorite awards…
Hard Worker
Engineer
Dedicated Reader
Future Author
Incredible Artist
Clean Desk Award
And whatever else you can think of!
Awards are a simple gesture that shows each student you really care and understand them. The bond teachers and students share is one that can make a positive impression on both sides. Handing a student a special award (with a bitmoji!) and seeing their huge smile is TOTALLY worth the little amount of time it takes to prepare the awards. A small and inexpensive gesture with a BIG payoff!
End of the Year Awards
Make end of the year student awards fun and personalized! Find the perfect award for your students and encourage them to continue shining! These end of the year student awards are a great way to end the year with funny, thoughtful, and unique student awards! The awards are available in both printable and digital versions.
Smile…Photo Booth Props Are Always A Hit!
You and your students have worked hard all year. The end of the year is a perfect time to let loose and have a little fun! One simple and fun way is to use photo booth props and take pictures. Students always enjoy taking photos with each other, by themselves and especially with you! The props are a fun addition to get students to have a little fun with each other. Who knew something so simple could be so fun!?
An easy trick to print the photo booth props and tape them to wood sticks or rods. That makes them easier to handle. These are perfect to use at class parties, after an awards ceremony or just for fun! One prop everyone loves to use at the end of the year is "___ (1st – 8th) grade here I come" speech bubble! It's a great way to get kids excited for the next school year.
Sharing the photos with students and families is a great memento of the year shared together. Emailing, sharing them on Class Dojo or printing them only takes a few moments. Another idea is to add a few photos together and put them on a Classgram as a quick and easy gift to send with students.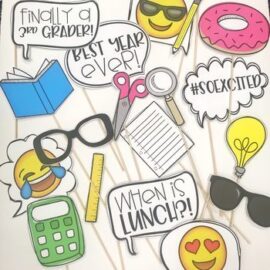 Photo Booth Props
120 + pages. Print & go props to accompany your classroom photo booth! They are perfect for classroom parties, St. Patrick's Day, 100th day of school, Open House, winter party, Christmas party, meet the teacher, open house, the first day, birthdays, and various classroom events.
An end of the year class party is a perfect time to use the photo booth props but what else can you do during party time that is easy, low prep but highly engaging? End of the year activities! There are 10 activities that are SO FUN and they all have slides ready to display and play! These activities are things like directed drawings, reflection questions and activities for the year and compliments for each student just to name a few.
Cute and Inexpensive Gift Ideas
What better way to celebrate making it through a school year than giving students a fun gift that isn't going to break the bank. Add a cute gift tag with a catchy phrase and you are done! Remember to always check the dollar stores first. Since the gift tags have several catchy options to choose from, it makes finding the gifts a lot easier. It can be fun to try to stick with what was popular among the students that year. This year students were all about pop-its, so that is a perfect gift for them! If you're lucky, you can find a bulk set on Amazon fairly inexpensive.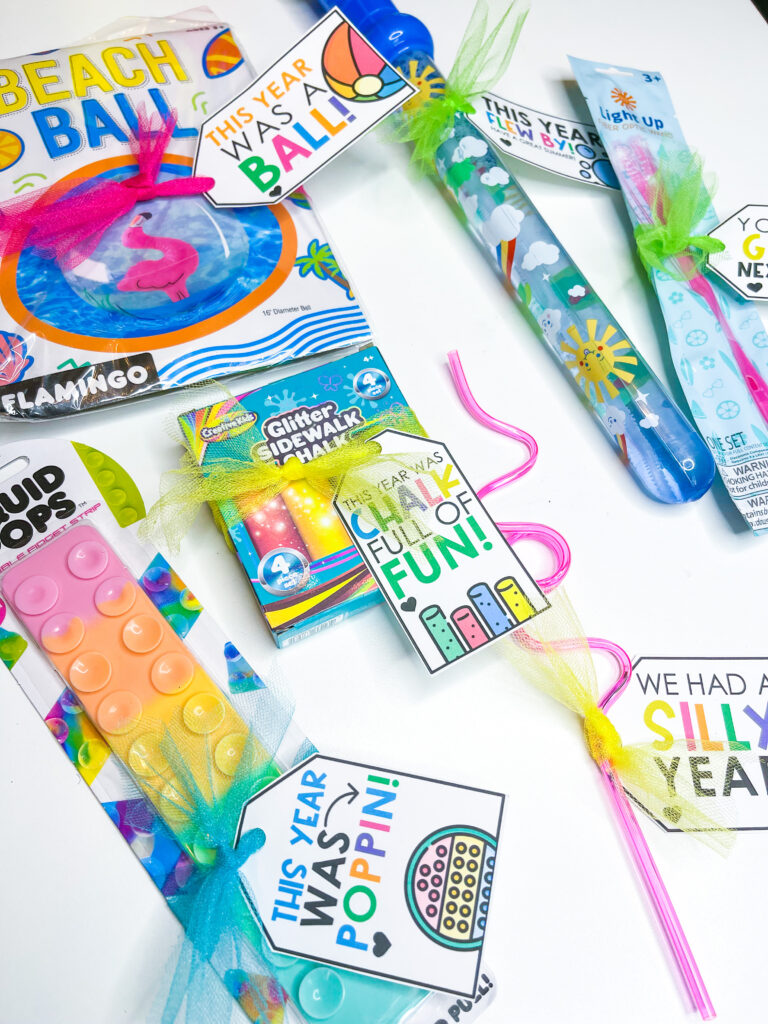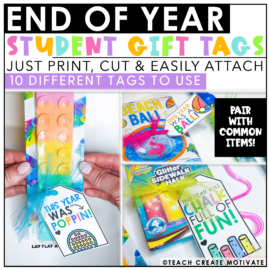 End of the Year Student Gift Tags!
If you plan on giving your students end of year gifts, these colorful and cute end of year gift tags are the perfect addition! The gift tags have a cute phrase paired with an image to match. These gift tags are the perfect touch to add to an end of the year gift.
While it's fun to give presents, the real gift is the memories you made with your students. Your year togther is one neither of you will forget! Teaching truly is a work of heart!
Pin this image to be able to come back to the blog post to read again!