Effective classroom management and student choice go hand in hand. Student choice allows students to have a voice and a sense of ownership in the classroom. There are many simple ways to give choice in the classroom daily. Here are three easy ways to start giving choice if it isn't something you usually do!
WHY STUDENT CHOICE?
When teachers incorporate student choice, students will be more accountable for their learning. But, of course, you, the teacher, decide what options the students have.
This is not about letting the students do whatever they want when they want. If the goal is to complete an assignment, everyone will complete the assignment. It's more about how the assignment is completed.
There are so many benefits of student choice in the classroom! Just a few of these benefits include:
Fostering a positive learning experience
Creating student ownership
Supporting different learning styles
Student choice is a powerful tool that fosters a positive learning environment where all students are involved and engaged. When students are engaged in their own learning, the teacher has more time to focus on small groups or individual students.
1. MENUS
Using student choice menus in your classroom is such a great way to foster student choice independence. It also helps that you don't constantly reinvent the wheel on weekly activities for stations, centers, or independent work.
Providing students with choice boards gives them the freedom to work on certain things in specific orders, but you still ultimately decide the assignments. The goal is to complete the tasks. So does it really matter what order they do it in?
Giving students choice in their work creates the buy-in you want and need in your classroom.
Using menus with your students is easily done in different ways. Whether you use printable or digital choice menus, making a template for yourself will save you so much time and easily make it to where your students are working through various activities and assignments.
PRINTABLE CHOICE MENUS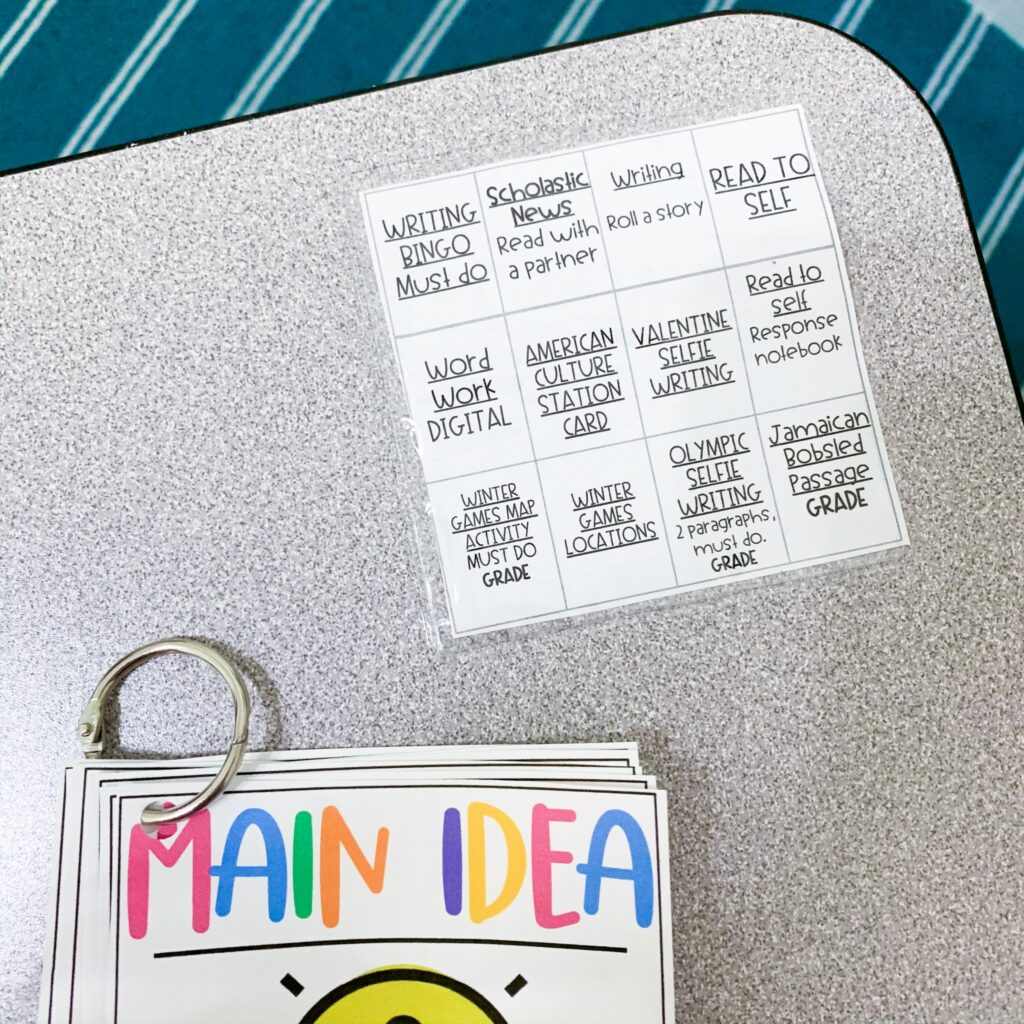 Creating choice menus is so simple. You can easily create a table with different amounts of rows or columns depending on how many choice of tasks you want to provide your students. For example, at the beginning of the year, you may want to give six simple choices and then, eventually, give 12 or more.
Use the Target adhesive pockets for students to keep their menus on their desks. This makes it easy to see and easy to find.
DIGITAL CHOICE MENUS
One of my favorite ways to give students a choice is with digital choice menus because you can easily add and change out all types of choices. For digital student choice menus, linking up activities and assignments is so easy! You can provide your students with links to:
Google Classroom activities
Podcast episodes
Epic
external websites
Seesaw assignments
Articles or current events to read
& MORE!
When students are able to choose which activity to work on, they are more engaged in their learning and are more likely to take ownership of their work.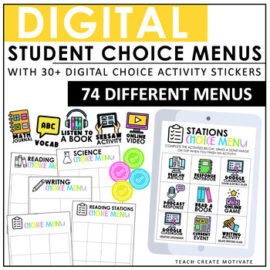 Digital Student Choice Menus
Giving students choices in their learning is an amazing tool in engagement and classroom management. I have always loved using student choice station menus in my classroom, and now they are digital! Use any of the menu templates and activity stickers to create your own student choice menus for your students. Simply link up the stickers or text boxes for students to go to any activity of your choice.
TIPS FOR USING STUDENT CHOICE MENUS:
make it clear which activities are graded or MUST DO activities
Keep the same format to stay consistent
give students a new menu weekly or monthly
allow them to highlight which activities or assignments they are going to work on first or those that are must-do academic choices
for printable menus, have them write their initials on the back in case they get misplaced
have students cross off menu choices as they complete them or turn them in; for the digital versions allow them to drag a "done" image on top after they have completed that box
Read more about using choice menus here!
2. PLACES TO WORK
This one is definitely not for everyone or even every class. Every student has different learning needs, but I encourage you to give it a shot! Remember, YOU are in charge of the expectations, the time of day, and the choices.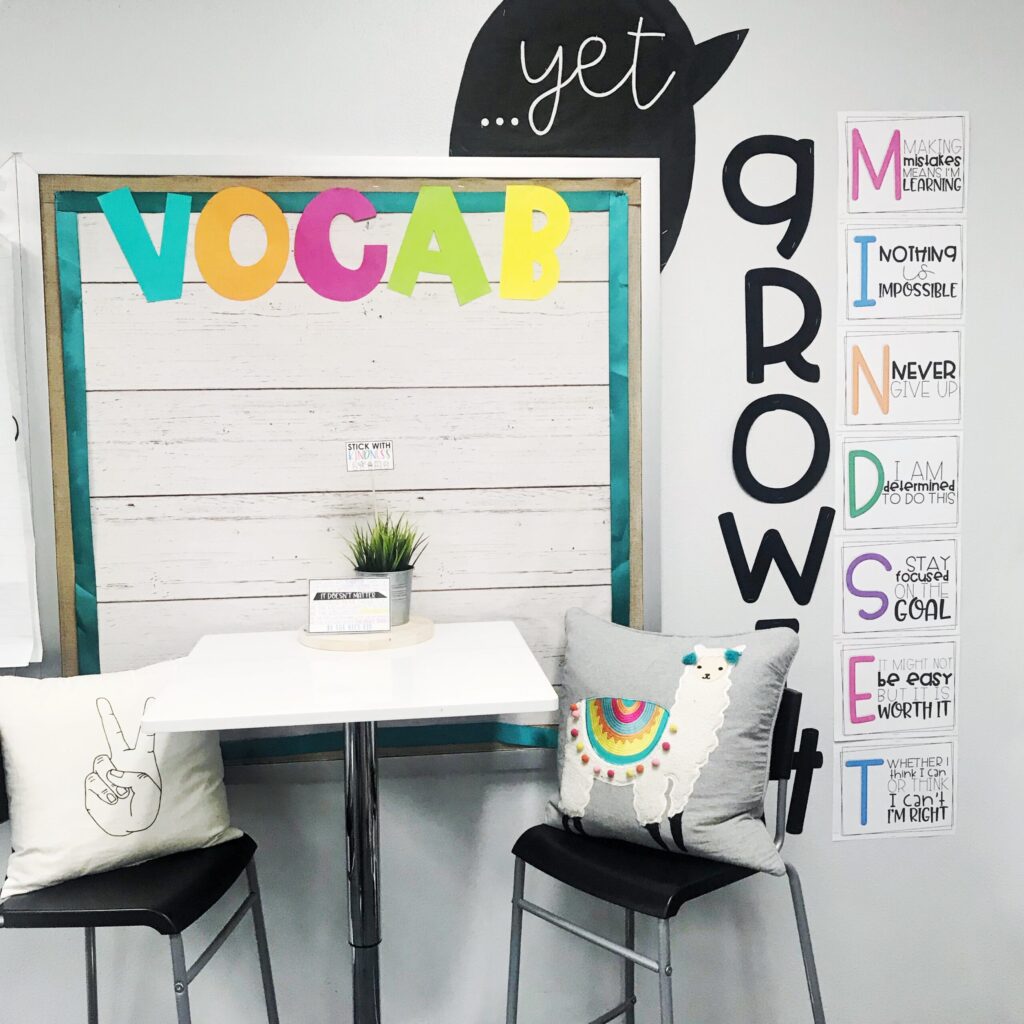 WORKSPACE CHOICES
Seated at their desk
On the floor
Standing at their desk
Flexible seating
Under a table/desk
These are all spaces students can choose to work in. The best time to give this choice is during stations, independent reading, or independent work time.
When giving students choices about places to work, it's so important to set high expectations. Thinking about the 5 "W's" is a good rule of thumb for establishing these expectations with your students.
WHO – Can students sit together? Who gets to sit where?
WHAT – What does it look like when students work in their chosen space? (standing at a desk, under a table, etc.)
WHERE – Where can students choose to work?
WHEN – When can students choose a space to work in other than their desk? (independent work, stations, etc.)
WHY – Always explain the WHY behind expectations. Students will have more buy-in if they know why an expectation is in place.
3. WORKSTYLE
Another easy way to give students choice is to let them choose their work style. Again, this choice won't work for every assignment or every student, but it can be offered when it fits!
paper or digital assignment
work with a partner or independently
PAPER OR DIGITAL
Many assignments and resources are now available in digital and printable versions. Some students find it more manageable to complete their tasks digitally, while others prefer to use paper and pencil.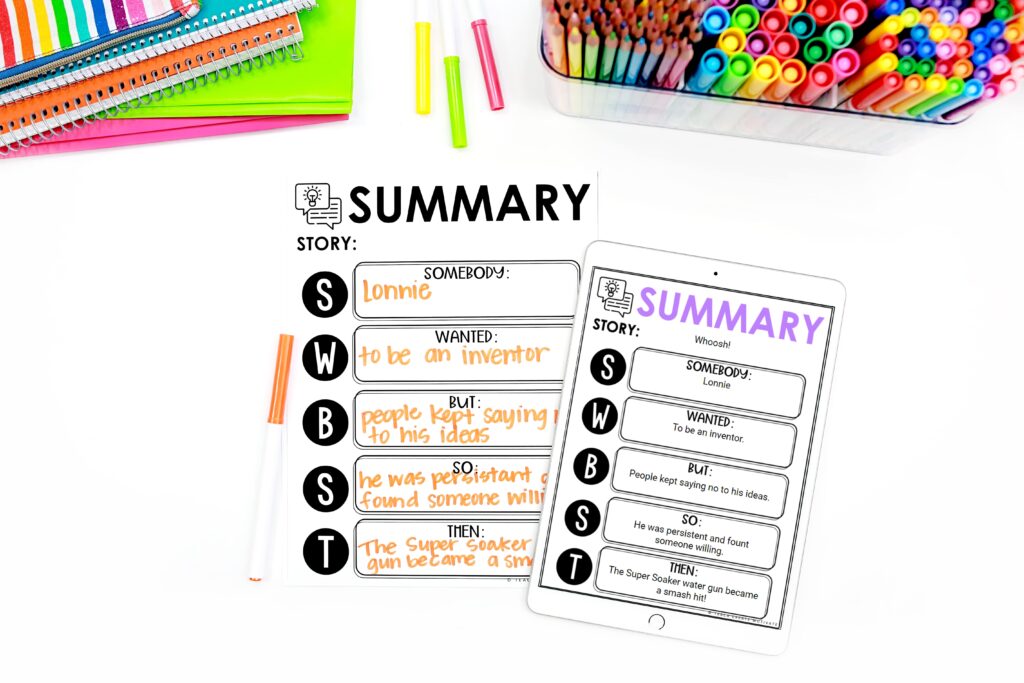 Let's say you've assigned your students a graphic organizer that goes along with the text you're reading. Assign it digitally on your online learning platform for students who wish to complete it that way, and have copies available for students who want to complete the graphic organizer on paper.
PARTNER OR INDEPENDENT WORK
Give students a choice to complete an assignment with partners or independently. Some students thrive working with others, and some prefer working alone. Give them a choice!
Of course, this comes with setting some expectations first. I always remind students to be aware of others' feelings. For example, don't tell one person you're working by yourself just because you don't want to work with them, and then go and work with someone else. That can be hurtful! Instead, try working with both classmates.
There are so many ways you can create and foster student choice and independence in your classroom. Remember that this will help with classroom management and increase student engagement because students are taking ownership of their learning.
Bring Student Choice to Your Classroom
How can you bring student choice into your classroom for more effective classroom management? Consider Classroom Management Academy. It is an online course you can take from the comfort of your home! You will learn how to foster student choice in your classroom, among many other effective classroom management strategies.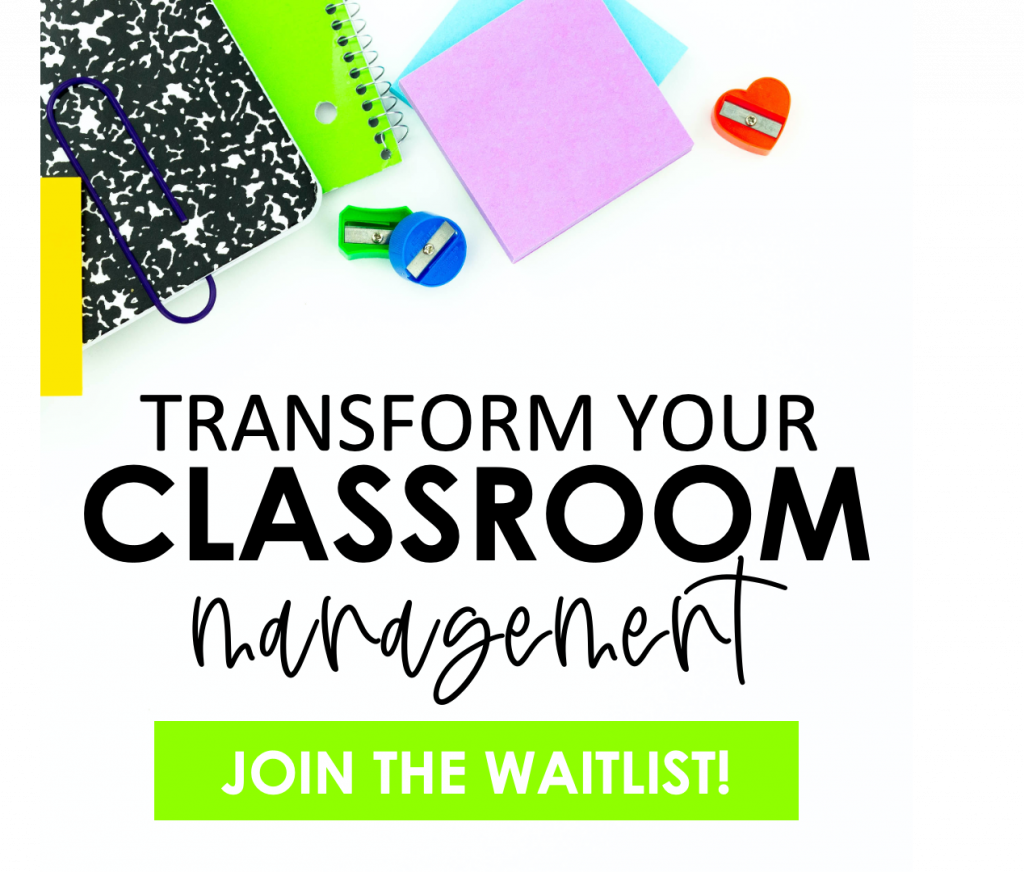 This self-paced program will help you learn how to maximize classroom time, foster independent learners, and create a positive learning environment. It is a complete roadmap of strategies, PDF downloads, live weekly Q & As, and TONS more bonuses to help you and your students!
Classroom Management Academy will be launching July 18th! Get on the waitlist, so you are the first to know when it's open!
Pin the image below to revisit this blog post later!