Classroom management is my jam! Some of my favorite classroom management strategies stemmed from Amazon finds. So this week, I wanted to share all things Amazon and classroom management. There's something for managing groups, getting students' attention, keeping management tools organized, and more!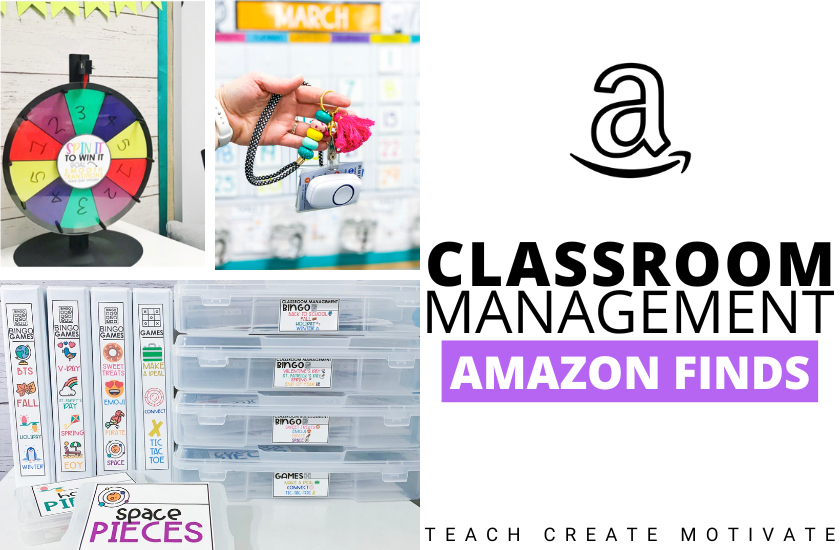 Table Group Classroom Management
One of my top classroom management strategies for table groups is something I like to call Table Sparklers! This strategy can go by many names: table sparklers, points, or sparkles.
All you need is a jar for the sparkle (points), buckets for however many tables or groups you have, labels, pom poms, and that's it! I place them somewhere easy to see but not in the way. Like under the calendar, for example!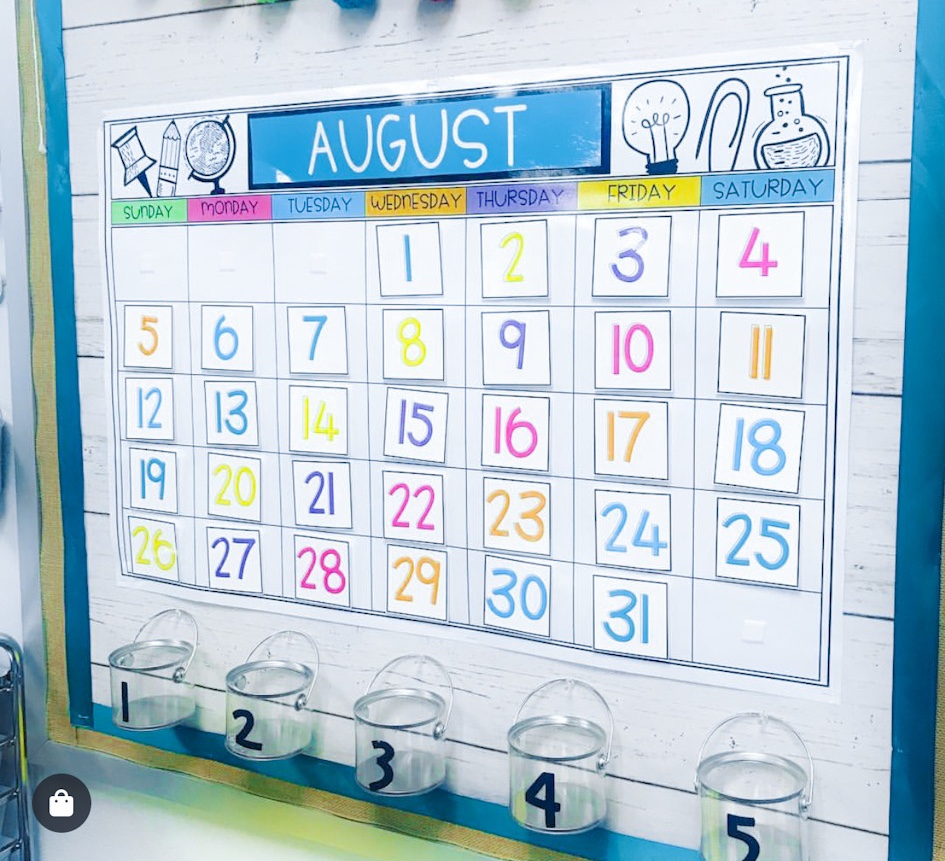 You might already have many of these things around your classroom, but if you're interested in what I use, options from Amazon are linked below!
How Students Earn a Sparkle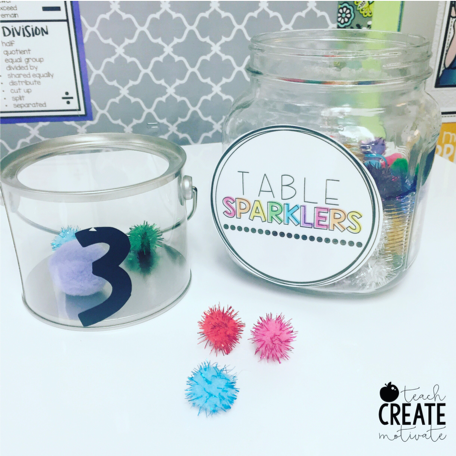 Anytime table groups are working well together, they get a sparkle (point.) This might look like students working together, on task, following directions, being kind, or any behavior that is making that group shine! The only catch is that it has to be the whole table working together.
The first table group to 10 (or whatever you and the class decide) gets a prize! Groups can decide on different prizes, vote as a class for one prize, let them pick a prize from a choice menu, let them spin the prize wheel, etc.
Once one group reaches 10 and wins a prize, start over! Also, start over anytime you move table groups around.
Classroom Management Games Prep & Storage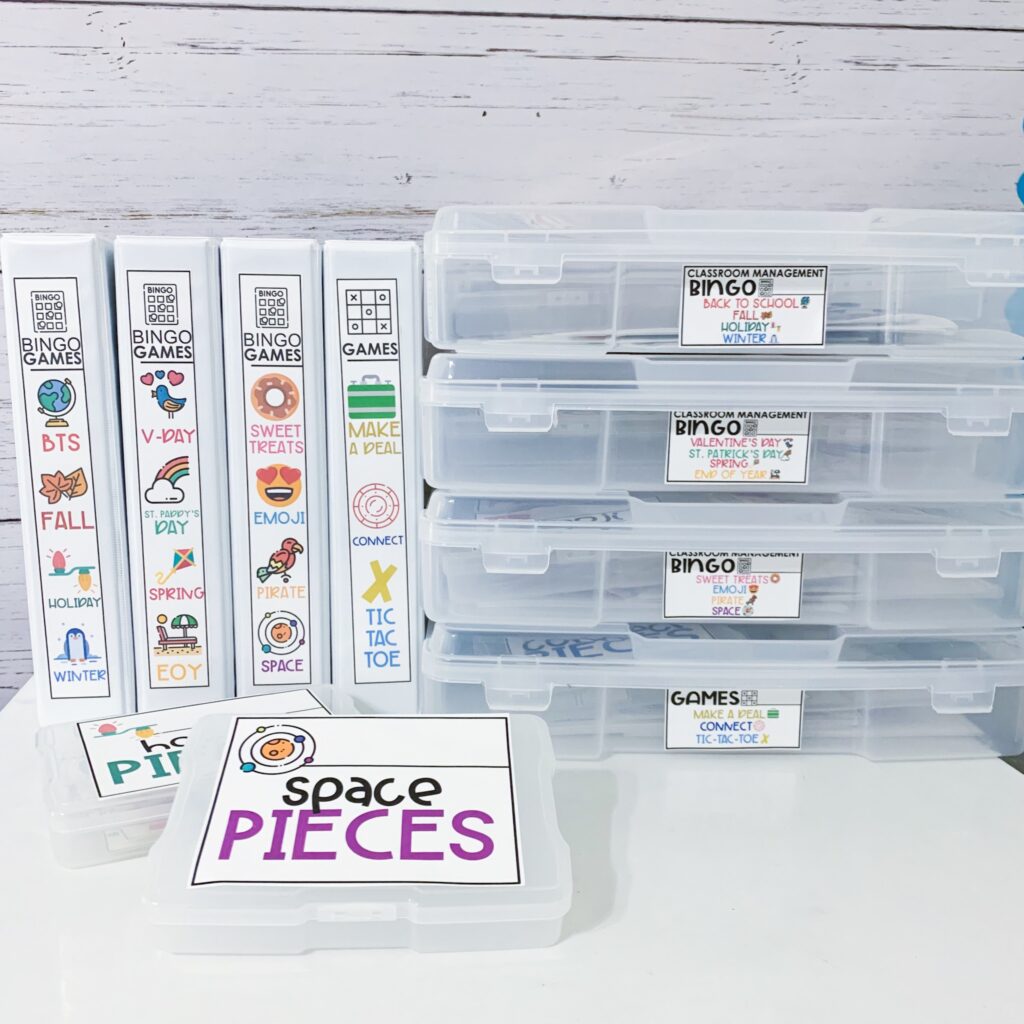 If you've been a part of this community a while, you know I have a lot of classroom management games! The key to using them year after year is good storage and initial prep!
Tips for Prepping the Games
My top Amazon finds for prepping the games:
When printing the games out, I highly recommend printing on cardstock! This will make the games last year after year. Laminate the game boards and pieces. Then, place velcro dots on the backs of the game pieces and where they belong on the game boards.
This will take you some time initially, but you'll have a resource that will last you year after year without any prep in the future!
Storing the Games
The games come with many pieces, so organized storage is key! I have a few different methods for storing the games. Do what works for you!
Binder Storage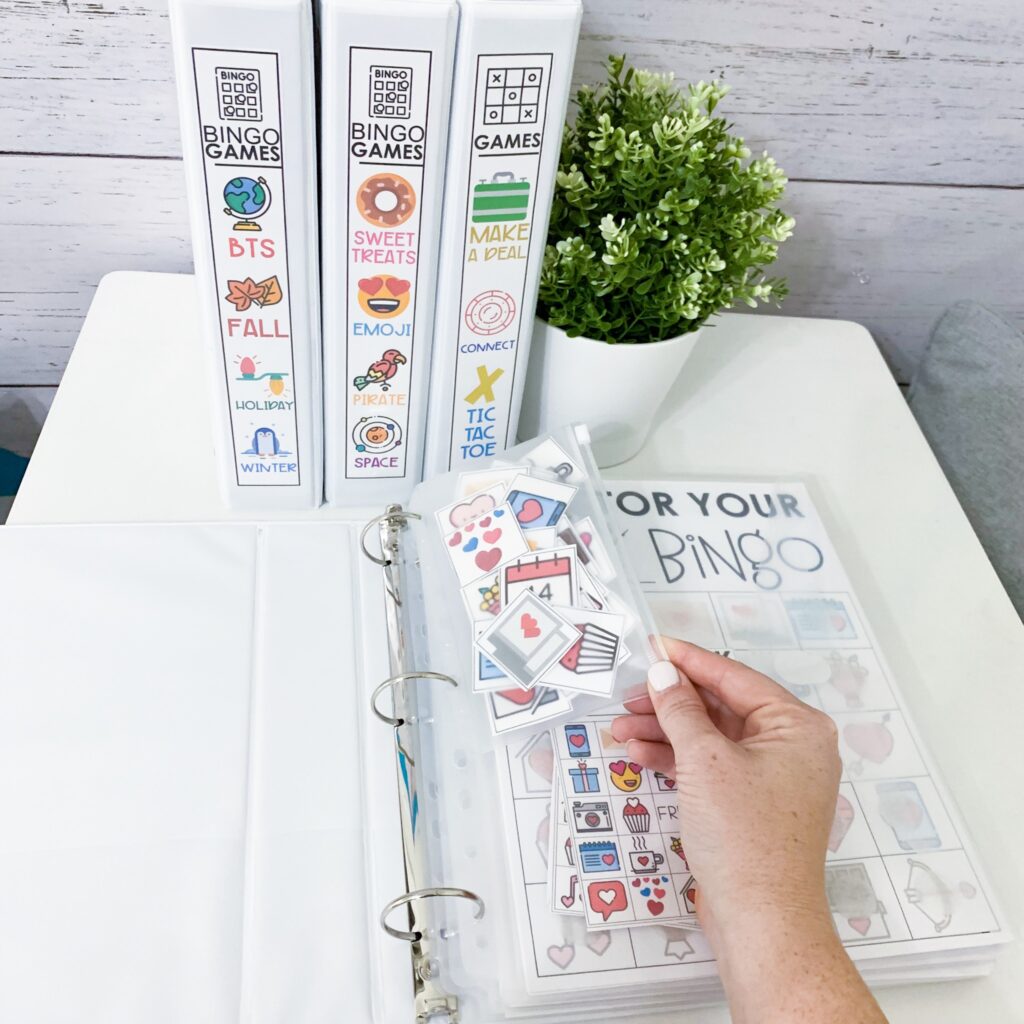 One way you can store your games is binder storage! You need binders, plastic envelopes with holes, and small plastic binder pouches.
The plastic envelopes have a velcro closure on the side to easily store your games without falling out of the binder! A game-changer from using page protectors.
Container Storage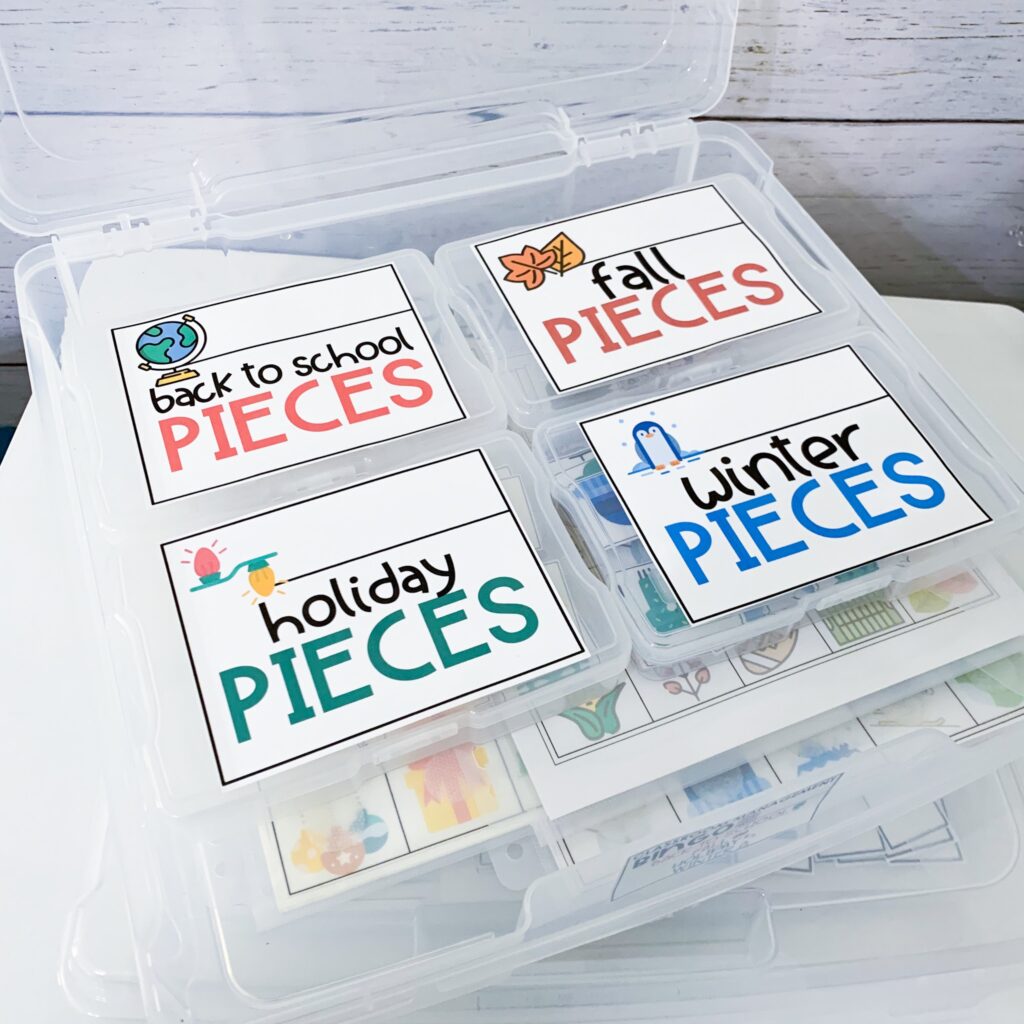 Another option for storing games is container storage. These clear plastic containers in the large and small sizes are my absolute favorite. They stack on top of each other, and the small containers fit inside the large ones!
I use the small containers for the pieces and the large containers to store the game boards and small containers.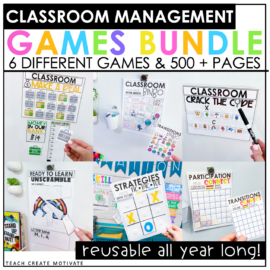 Classroom Management Games Bundle
This bundle comes with all of the classroom management games to keep things fun and engaging to help your students stay engaged and focused.
Resources included in the bundle:
Classroom Management Bingo
Classroom Management Connect
Classroom Management Tic-Tac-Toe
Classroom Management Money Deal
Classroom Management Unscramble
Classroom Management Crack the Code
Grab Students' Attention with a Doorbell
This doorbell is what classroom management dreams are made of! This thing is pure genius.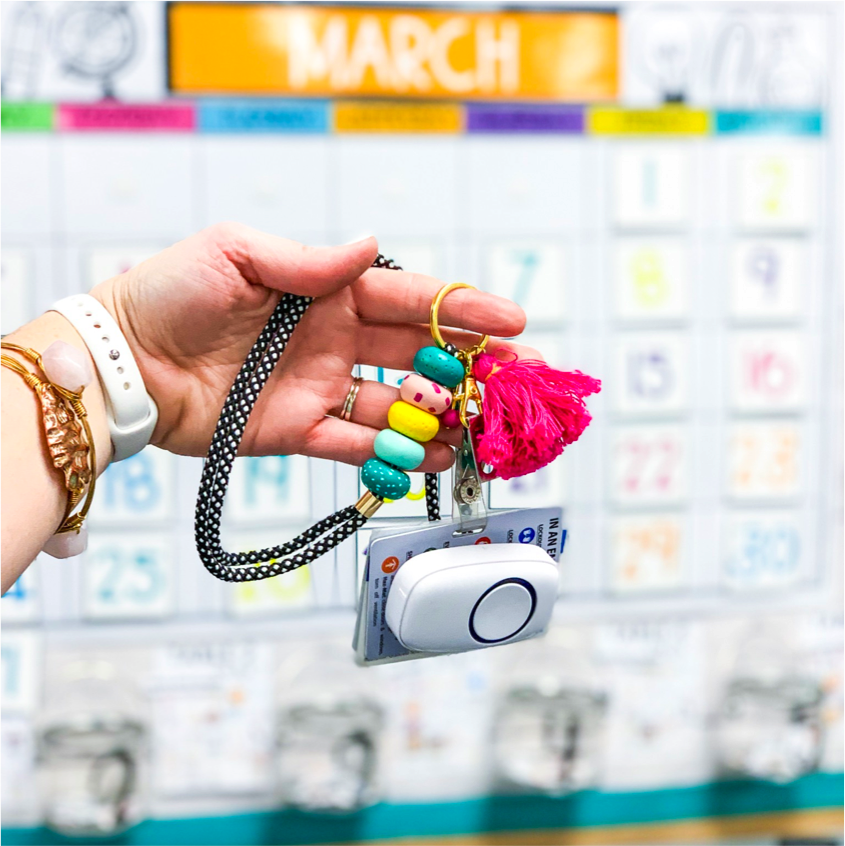 I attach my remote to my lanyard and use it as an attention-getter. The doorbell comes with lots of chimes and volume options. Change them up periodically when your classroom management could use a little refresh.
This tool is especially great when students are working in groups. Just ring the doorbell, and students stop what they are doing, and eyes go to you. This will take some practice, but you can make it fun at first. Soon enough, when you ring the bell, you'll have the full attention of your class!
Prize Wheel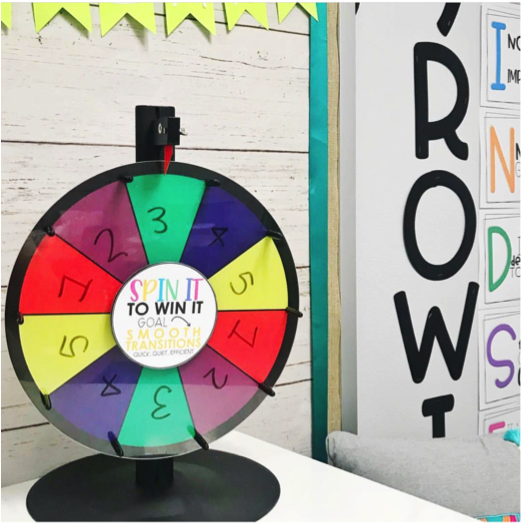 This is for sure another classroom management favorite! However, my favorite part about this prize wheel is that it's DRY ERASE!
It has so many uses beyond classroom management you can read about HERE, but here are a few ways you can use it to manage different areas in the classroom.
Partners: Have every student have a "colored" partner and spin to tell them which partner they are working with at that time!
Lining up: Write things like born in ____, longest hair, wearing blue, etc. and spin to line up/grab clipboards/pick a spot to work in/etc.!
Random Student Prizes: Write different prizes on the wheel like no shoes, sit anywhere, pen all day, classroom economy amount and then spin during lessons for participating students, being a class leader, etc.
Manage Team Games with Buzzers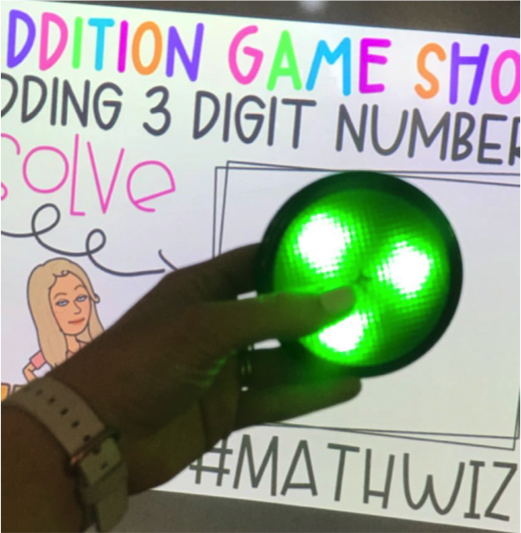 These buzzers are a must-have if you hold competitions or play games with students in groups! It makes the game so much easier to manage. For example, when a team is finished answering a question, they tap the buzzer to let you know they're ready instead of shouting out.
Amazon Prime Day Event 2022
Amazon Prime Day is July 12th & 13th! This will be the 6th year I will be seriously GLUED to my computer to share the best deals!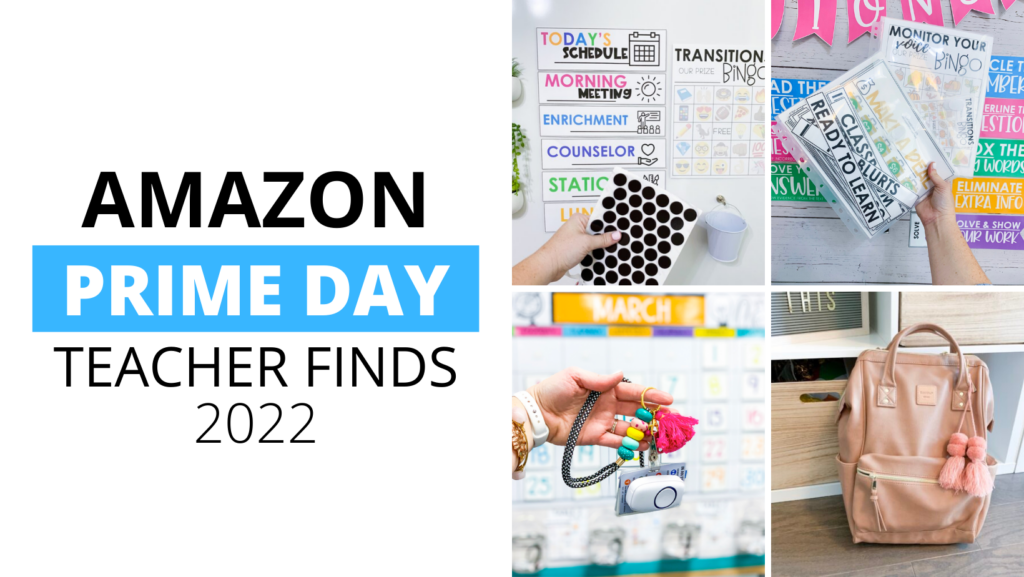 I will be sending various emails to any of you who want me to alert you of some of the best Prime Day classroom deals. So enter your info below if you want in on the fun!
Classroom Management Academy
Looking for more classroom management tips? Consider Classroom Management Academy to transform your classroom management. It is an online course you can take from the comfort of your home!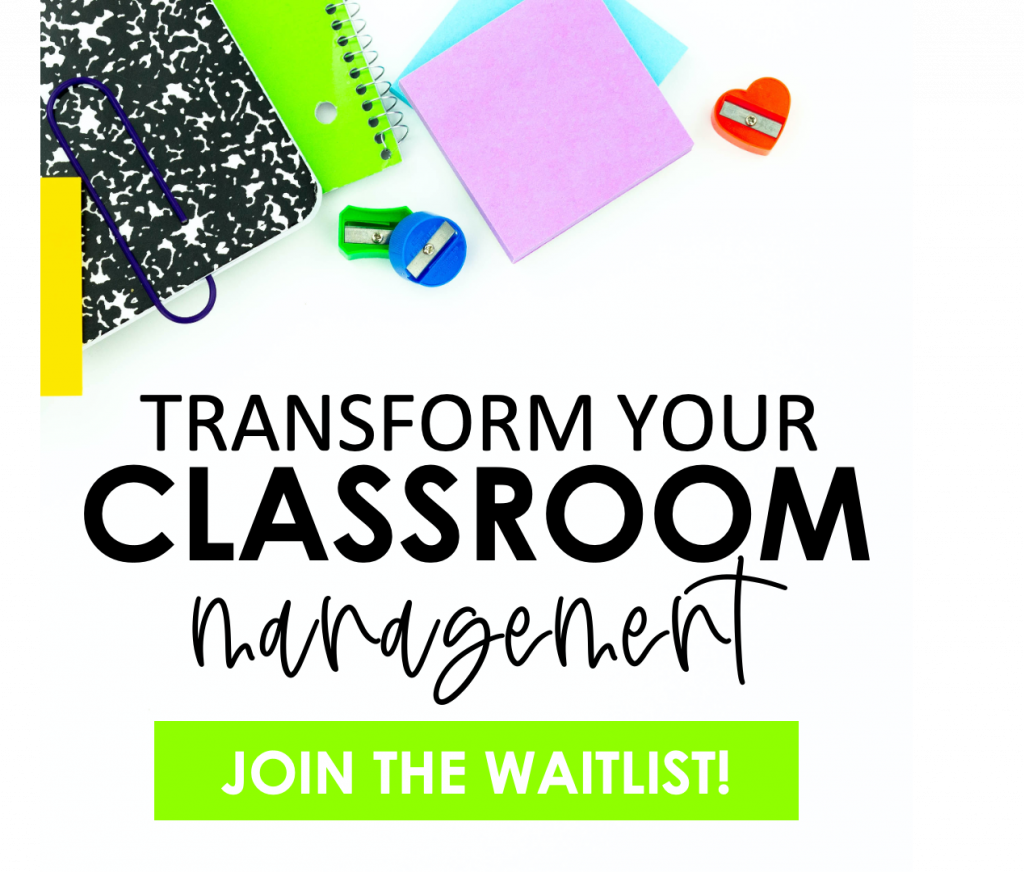 This self-paced program will help you learn how to maximize classroom time, foster independent learners, and create a positive learning environment. It is a complete roadmap of strategies, PDF downloads, live weekly Q & As, and TONS of bonuses to help you and your students!
Classroom Management Academy will be launching again soon! Get on the waitlist, so you are the first to know when it's open!
Pin the image below to revisit this post later!