It's the best time of year! Classroom Management Academy doors are open! (Okay, maybe because it's summer break, too!)
By now, you have probably heard and seen all about Classroom Management Academy! However, maybe you still have some lingering questions and wonder if it is a good fit for you?
Here are five things that you may not know about Classroom Management Academy: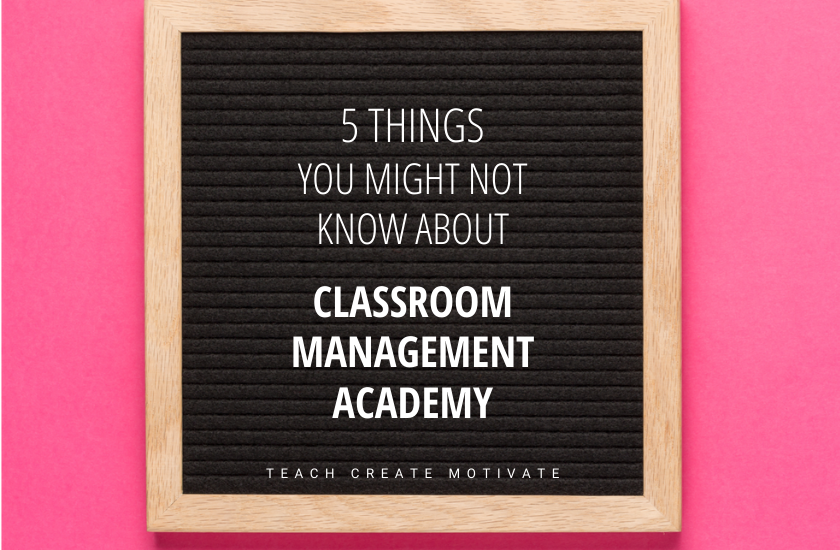 1. What You Learn
Classroom Management Academy consists of six modules!
The Basics of Classroom Management
The 3 Key Bases to Overall Classroom Management Success
Creating an Organized and Systematic Classroom Environment
Keeping Yourself (and your Class) on Track!
Giving Students Ownership in the Classroom
Creating Small, Consistent Changes for Big Results
Module 1: The Basics of Classroom Management
In this module, you'll learn how to improve and foster student relationships and maintain positive relationships in your classroom. It will also cover all the basics of effective classroom management.
Module 2: The 3 Key Bases to Overall Classroom Management Success
You'll learn effective strategies for whole group management, small group management, and individual management. These 3 bases combined lead to a self-run classroom!
Module 3: Creating an Organized and Systematic Classroom Environment
Inside this module, I'll walk you through my exact organization systems that have helped all of my classrooms be self-run by my students.
Module 4: Keeping Yourself (and your Class) on Track!
You'll learn how to create time expectations and management plans that foster a calm and understood environment and how to get your students to manage their OWN time!
Module 5: Giving Students Ownership in the Classroom
In this module, you'll learn how to implement student jobs, responsibilities, and choices inside your classroom so that your students are committed to the class' success!
Module 6: Creating Small, Consistent Changes for Big Results
Small changes lead to BIG results inside the classroom! Inside this module, you'll identify the small changes you can implement right now to create a more positive classroom environment. Remember — no win is too small, teacher!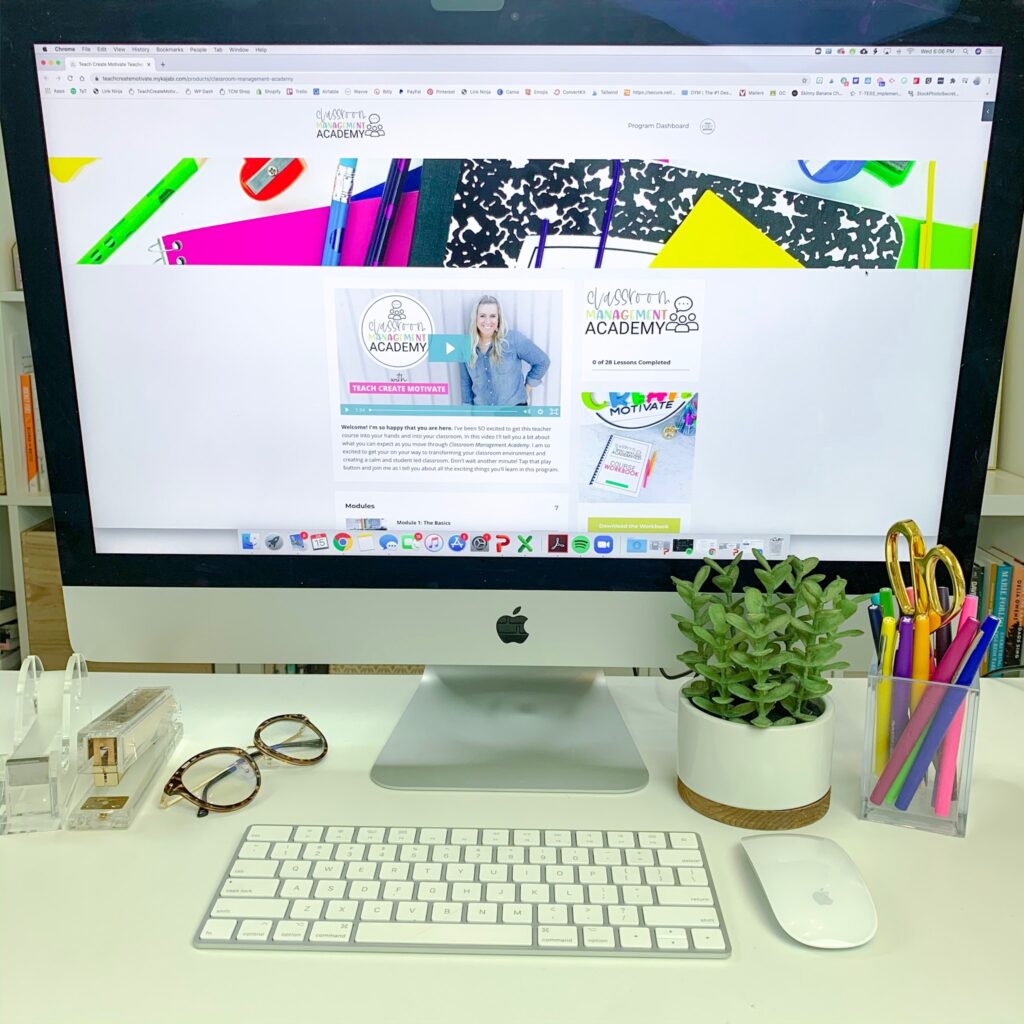 2. Lifetime Access
One of the BEST things about Classroom Management Academy is that once you're in, you're IN!
CMA is not a subscription, there are no renewals, and there are definitely no yearly fees. Once you enroll, you have access to the course and are a community member for LIFE!
3. Bonuses
Not only do you have access to Classroom Management Academy forever, which is great by itself, but you also get access to member-only bonuses!
Some of these bonuses include resources that cannot be found in my TPT store. They are that exclusive! Here are just a few of the bonuses you get in addition to the course:
Editable Station Menus
Exclusive Fall Table Bingo
LIVE Classroom Community Training presented by Flocabulary
6 Weeks of Coaching and Accountability Inside Our Private Pop-Up Facebook Community
4 Weeks of Live, Group Q&A Calls with Me
10 Hour Professional Development Certificate
You need classroom management strategies no matter if you are a first year teacher or a veteran. TCM Academy equips you with the BEST. The freebies and any time access are icing on the cake!!" -Angela, 4th Grade
4. Self-paced
Worried you won't have time to go through six modules? Don't worry! Classroom Management Academy is completely self-paced.
I've broken the videos down into short, easy-to-follow chunks, so it's completely anti-overwhelm. And I've made sure that this releases this summer, so you can get through the program before school starts up again in the fall!
On the other hand, summer may be when you do not want to think about anything school-related, especially after the year we all had! So, enroll in the academy now and save it for a few weeks from now, or even a few months! Remember that lifetime access? When you're in, you are IN!
5. What Teachers are Saying
Ashley's classroom management resources have been a lifesaver in my classroom. As a new teacher, I struggled with finding methods that engage students and increased positive reinforcement. All of my students, including my grade 8 students, enjoy her resources. They have made managing behaviors much easier and more engaging for my students." -Elizabeth, 8th Grade Teacher
"I'd like to believe that I have great classroom management already. I joined because I love learning how others run their classroom and I love learning new ways to improve my own class. I'm a second year teacher now in fifth-grade and I would like to be better at classroom management. Our school has tons of behavior issues and I think the academy will help with that even if it's just a little bit! I have the bingo already and my kids absolutely love it. So why not go all in?" -Deja, 5th Grade Teacher
"The hardest part is being vulnerable with the fact that you need help with your classroom management. Ashley's approach really helps you implement strategies that not only work, but are transformative for your mental health, your workload, and a positive, student-run classroom." -Briana, 3rd Grade Teacher
Classroom Management Academy
I hope this helped answer your questions about Classroom Management Academy! 
Classroom Management Academy will help you revamp your classroom after a year of virtual learning to get you back on track! It will help you create a calm, student-led classroom that allows you to teach more and manage less.
You will have six weeks of coaching and accountability inside our pop-up Facebook community where you can connect with other teachers and get guidance on your classroom management.
For your time, you will recieve a 10 hour professional development certificate, which you can submit to your administration for continuing education hours!
The doors open only once a year! So, if you are ready for a classroom management refresh just click the button below to join us!
Doors close on July 14, 2021 at midnight until next year!
Pin the image below to revisit later!