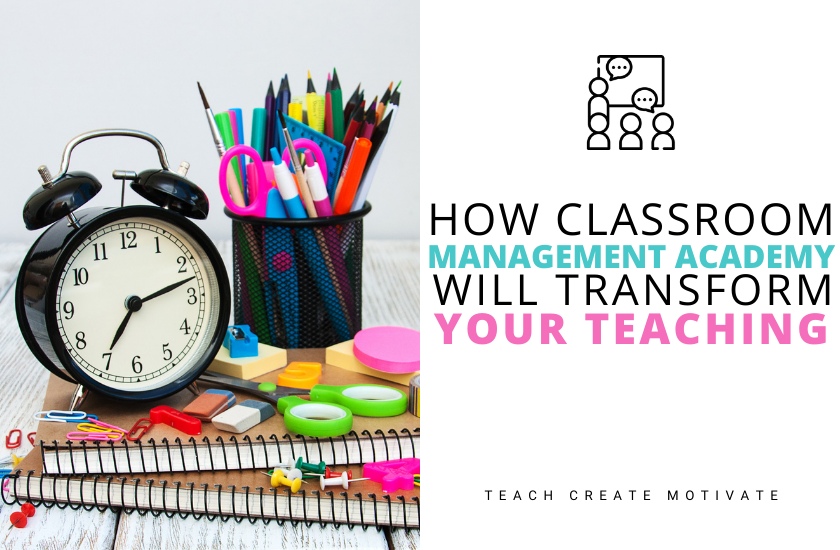 So many teachers are frustrated, burned out, and overwhelmed by classroom management. They feel like they've tried every strategy, every game, every tool… and nothing works.
They feel like a bad teacher because they can't create the classroom environment they want so badly.
Does this sound familiar?
What if I told you that creating a student-run classroom that was a calm, positive place to learn isn't just possible… it can be done WITHOUT frustration, overwhelm, and taking MORE time away from your teaching?
This is where Classroom Management Academy comes in!
What is Classroom Management Academy?
The Classroom Management Academy is a roadmap of proven systems and strategies to help teachers create calm, student-led classrooms that allow you to spend more time teaching and less time trying to get your class under control.
One of the best parts is that it is a completely self-paced course, which means you are in full control of how much time it takes you!
The videos are broken down into short, easy-to-follow chunks, so it's completely anti-overwhelm. And it releases this summer, so you can get through the program before school starts up again in the fall!
This course is full of useful tips and tricks, as well as tried and true practices and tons of extra resources! The self-paced modules are easy to follow and contain wonderful visuals and ideas for classroom management. I will definitely be referring back to CMA, and having lifetime access allows me to do just that!" -Amanda, 2nd Grade Teacher
Why Classroom Management Academy?
Can you imagine a classroom where…
Your students keep themselves on task and hold each other accountable.
Your class transitions quickly and quietly without you having to ask five times!
You don't spend your time picking up pencils, turning on lights, and keeping everything in order… because your students do it themselves!
Your students manage their OWN time, so YOU can manage yours!
Classroom Management Academy will help you implement effective management that lasts.
Effective management is about building healthy relationships between you and your students and between the entire class. It's about having a self-run classroom with independent learners.
With the right strategies and activities, you can get your students on board and start maximizing your teaching time.
The Classroom Management academy has been great to help me extend my abilities to manage my classroom. I have great new fun ideas to keep my students engaged and create a classroom community where the students buy in all the time. My students have been so excited this year to participate and create a strong classroom environment!!" -Katie, 5th Grade Teacher
What's included?
I've broken my proven Classroom Management strategy into six easy-to-follow training modules that show you exactly how to set your classroom and students up for success. Consider this your roadmap to a classroom that's student-led!
The Basics of Classroom Management
The 3 Key Bases to Overall Classroom Management Success
Creating an Organized and Systematic Classroom Environment
Keeping Yourself (and your Class) on Track!
Giving Students Ownership in the Classroom
Creating Small, Consistent Changes for Big Results
✨Exclusive Bonuses✨
On top of the strategies above, you'll get ALL of these amazing bonuses when you enroll!
Editable Station Menus
Exclusive Fall Table Bingo
LIVE Classroom Community Training presented by Flocabulary
6 Weeks of Coaching and Accountability Inside Our Private Pop-Up Facebook Community
4 Weeks of Live, Group Q&A Calls with Me
10 Hour Professional Development Certificate
Find out more about these exclusive bonuses by clicking here!
Are you ready to revamp your classroom management from last year? Are you looking for ways to keep your students engaged? Completely transform your classroom with Classroom Management Academy! 
Doors are OPEN!
Here's the best news yet… Classroom Management Academy is OPEN!
Classroom Management Academy enrollment is open from July 5th to July 14th!
Don't panic if you don't have time to take the course right now! Once you are enrolled, you have lifetime access to Classroom Management Academy! This is a completely self-paced course. The only time-sensitive things are the 6 weeks of coaching inside the private Facebook community and 4 weeks of LIVE, group Q&A calls.
Effective management can be hard for most teachers no matter how long they have been in the classroom. This program will teach you new things and help you revamp the systems you may or may not already have in place. There is no better time than now to improve your classroom management!