A new school year can sometimes be stressful for students (and their families). They are meeting a new teacher and classmates, learning new content, and adjusting to a new grade level. There are many unique ways to introduce yourself to your students so that they feel comfortable and confident entering the new school year.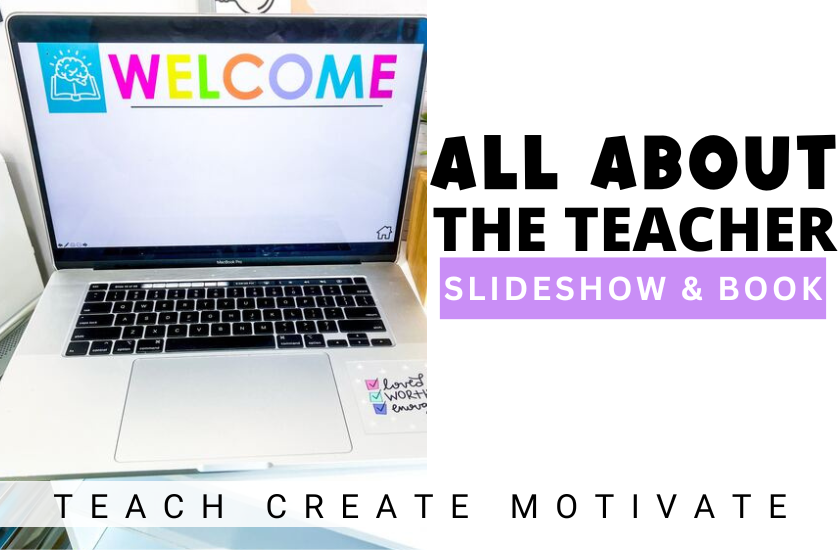 ALL ABOUT ME SLIDESHOW
Back to school time is already SUPER busy for you. It's hard to think about adding anything else to your plate. Creating a slideshow – all about me – can make a big impact on your students without taking too much time! This slideshow is a teacher template that can be filled out with any information you want to include and is the best way for your students and their families to connect to you right from the beginning of the school year.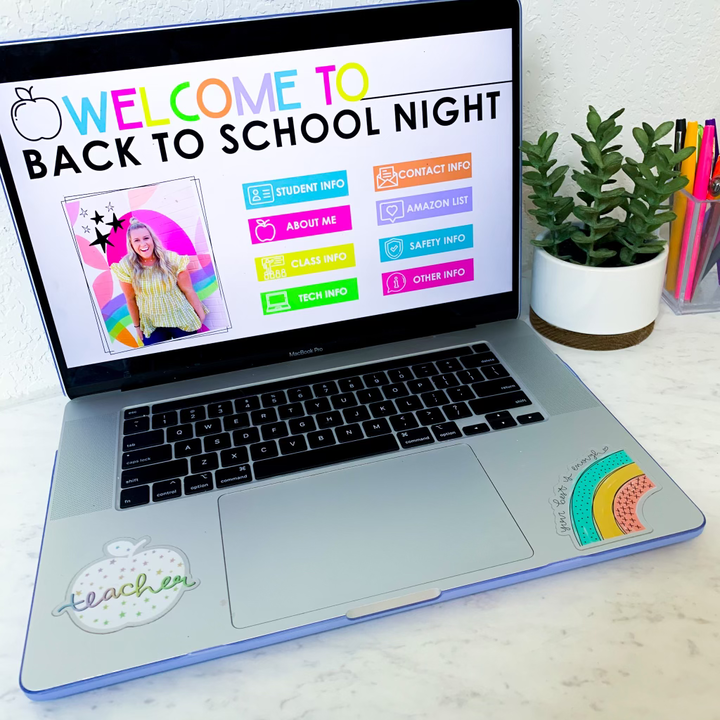 Add a personal touch to Meet the Teacher Night by letting your students learn some facts about you…
About me
My family
My friends
My pet
My pets
My favorites
My hobbies
School days
Fun facts
Snapshots
SHARE ABOUT THE SCHOOL YEAR
Not only can you help families get to know you, but you can also share about the school year, grade-level expectations, and daily activities. Important information about curriculum, class parties, volunteering and so much more. It can be helpful to use this slideshow first thing if you have to present on Meet the Teacher Night, so you can introduce yourself and don't accidentally skip anything.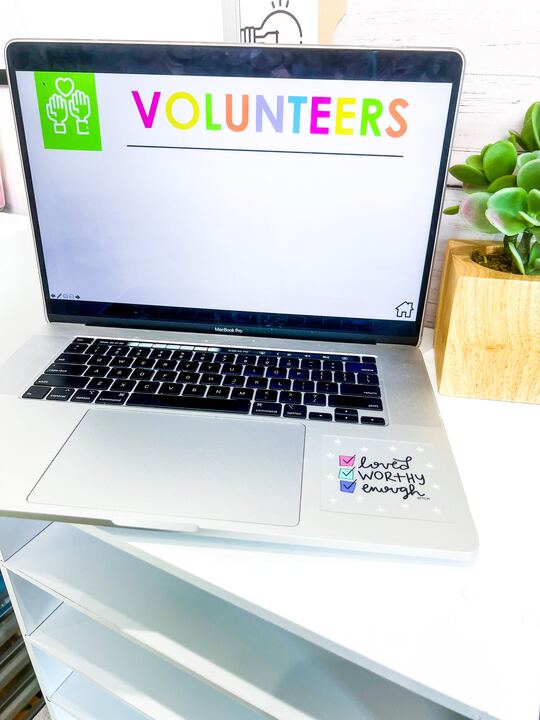 Another idea is to let the slideshow play throughout the night as families and students wander in and out. You can easily share the slideshow through your online platform so families have access to the information all year long or if they weren't able to make it! Don't forget to include your email address if they have any questions!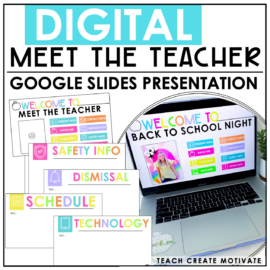 Meet the Teacher Slideshow
Everything you need to share about you and the new school year at back to school night! Add your information to premade templates for an easy meet the teacher night!
ALL ABOUT ME BOOK
Setting out an all about me book on Meet the Teacher Night is a sweet way for students and families to learn about you, outside of formal greetings. It is a unique way to give a little insight to their brand new teacher. Instead of listing information after a bullet point in a slide show, you can use the editable template to write about yourself and include pictures of your daily life for students to get to know you. They will be excited to learn their teacher's name and favorite color, along with other fun facts.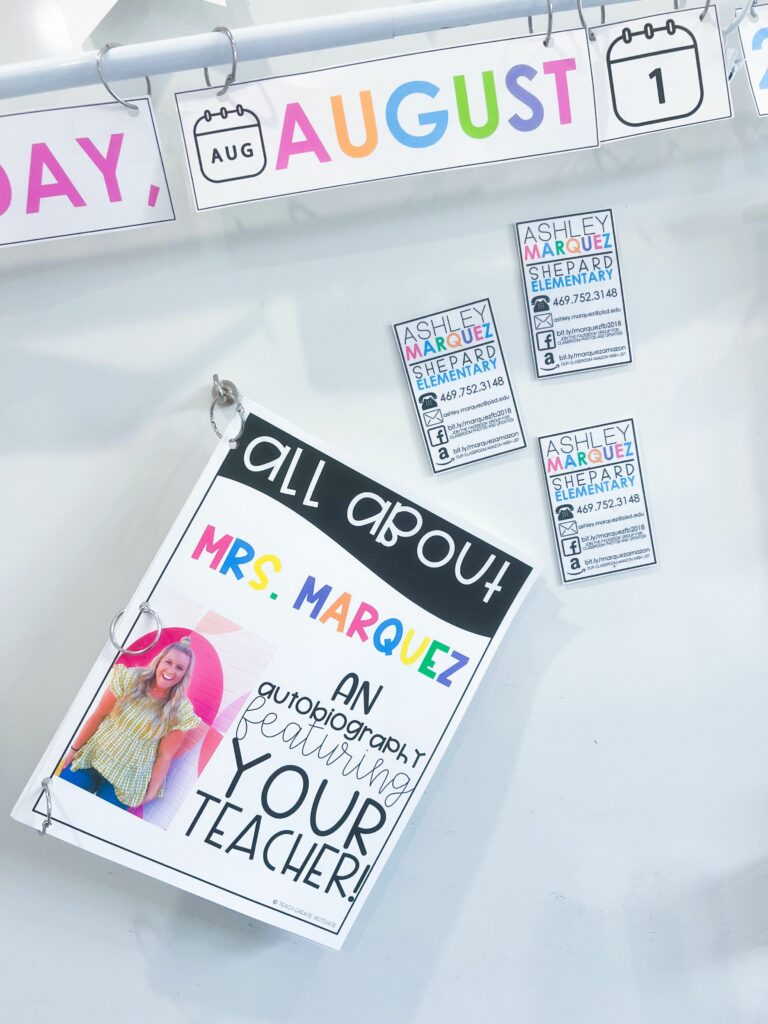 Not only is the book perfect to set out at Back to School Night, (or even as a station) it is great to leave it in your classroom library all year long. Students always love looking at the pictures over and over again during class time! Even older elementary students love these books!
Teachers like you are saying…
"I love using this during the first week of school for the kids to get to know me. Then I print and laminate all the pages and make a book for my class library so they can go back and read it if they want. I've saved all of my versions over the years! It's awesome to look at them to see what has changed :)"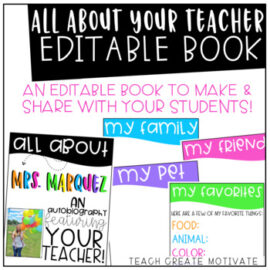 All About Your Teacher Book
This book is perfect to set out at Meet the Teacher/Open House. The students and parents love to read all about their teacher! After open house, keep it in your classroom library so students can enjoy the book all year long!
SEND A FRIENDLY REMINDER
Students love learning about their new teacher almost as much as they love getting mail from their new teacher! Use these (FREE!) postcards to send reminders about Back to School Night or have a sweet and simple note on their desk waiting for them. You can even send these out before the first day of school so that students come to class so excited to meet you. This simple gesture will get them excited and feel like they are being invited to a special occasion.
Meet the Teacher Night can be special for you and your new class. There are many different ways to introduce yourself, and these simple additions can make a BIG IMPACT on your new class of sweet students. Just enter your info below to grab the postcard freebie!
Pin this image so you can come back to the blog post later!