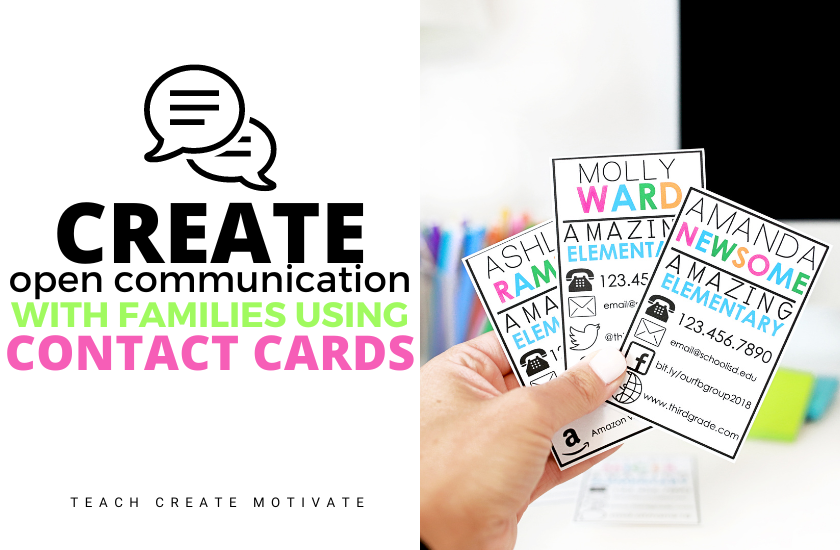 Creating open lines of parent-teacher communication is SO SO SO important with student families. Finding a way to allow families to easily get in contact with you can encourage two-way communication between home and school. One super simple and effective way to share your contact information is to use contact cards. Getting this information out at back-to-school night will start the year off on the right foot!
Teachers, students, and their families are a powerful dynamic that can achieve so much when working together!
Teachers, students and their families are a powerful dynamic that can acheive so much when working together!
SIMPLE & EFFECTIVE
The contact cards are super simple to make. They take minimal time and no extra effort to create, but can be used by families for communication all year long. All you have to do is enter your information and print! After printing (I prefer cardstock), it is a good idea to laminate them. This can ensure the cards last all year long! Another trick is to put magnet dots on the back. Using magnets makes it so easy for families to throw the contact card on the fridge for easy access.
The good news is that these contact cards can encourage regular parent teacher communication and parent involvement because each platform or point of contact can be listed for easy access. When parents and families have access to important information regarding, field trips, student progress, parent-teacher conferences, volunteer opportunities, and the school community, it encourages family involvement and is the best way to support student success.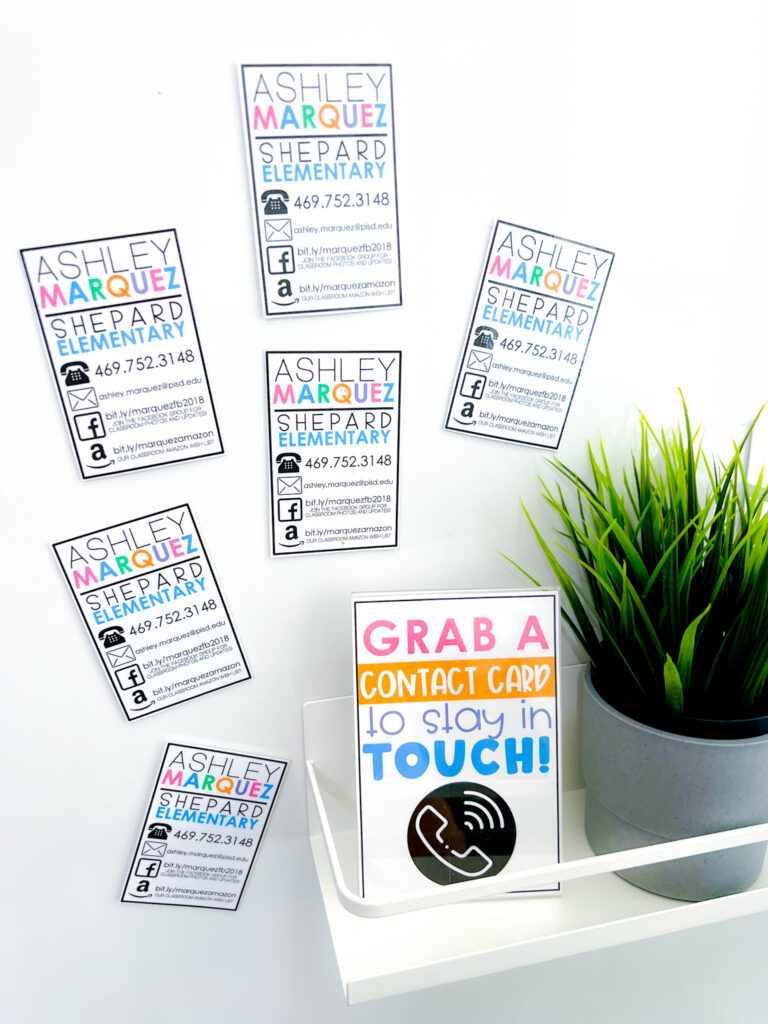 SO MANY OPTIONS!
Setting up the contact cards is very easy and customizable! You can decide what best meets your needs and input that info.
Phone
email address
Facebook
Amazon
Instagram
Social media
website
Twitter
Remind
Bloomz
QR code blank space (you could use this space for Class Dojo as well!)
Google Classroom/Online learning platform
Online class meeting
Google Site
GET IN THE HANDS OF FAMILIES
Once the cards are created, now it's time to get them to families! Setting them out at a station for Meet the Teacher Night is a great way to make sure families get the contact cards. It also ensures parents are aware of all of the communication strategies and platforms you use for your classroom are in one place. A cute display on the whiteboard shows families they are magnetic and easy to grab!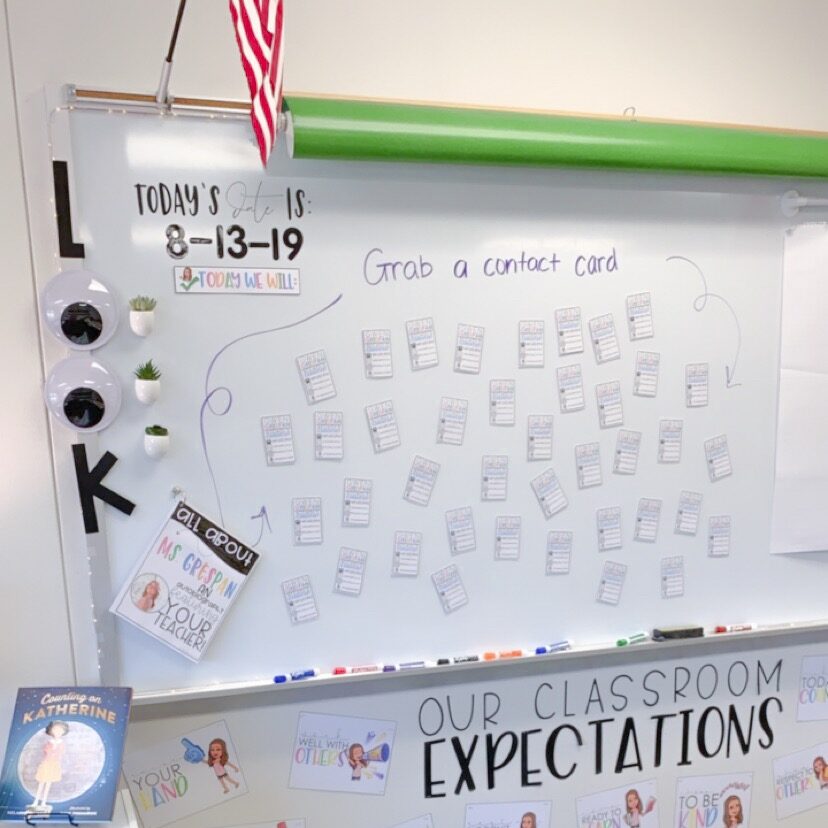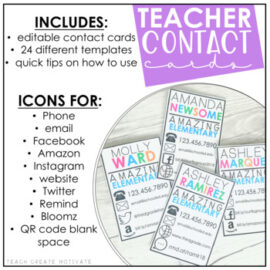 Teacher Contact Cards
Make meet the teacher night and back to school easy with these editable teacher contact cards. These teacher contact cards are perfect to give out to parents during back to school season! Simply input your teacher details and your parents will be set up with everything they need to keep in touch.
Teachers like you are saying, ⭐️ "This was the first year I did a contact card separately from my usual handout that I give to my parents at Back to School Night. This was such a fantastic idea to use and my parents LOVED this! Thank you for all of the different formats and arrangements of teacher information. I definitely will use this again next year!" ⭐️
Another effective communication tool for families is sending postcards. Sending a postcard to invite parents and families to meet the teacher night is a great way to start fostering strong relationships between school and home. These postcards can encourage family members to attend school events at the beginning of the school year and are a fun way to get students excited for the new school year. Also, the postcards are editable! So you can add personal notes for each child and share how excited you are to meet them! Fill out your info to get the free postcard!
Students and families will appreciate the easy access to your classroom contact information and having it readily available for the entire school year.
Pin this image to read the blog again later!