Meet the Teacher Night can be such a whirlwind of excitement and nerves – prepping, organizing, setting up your classroom and the list goes on and on. If only there was an easy way to make Meet the Teacher night successful without adding anything else to your plate…there is! STATIONS!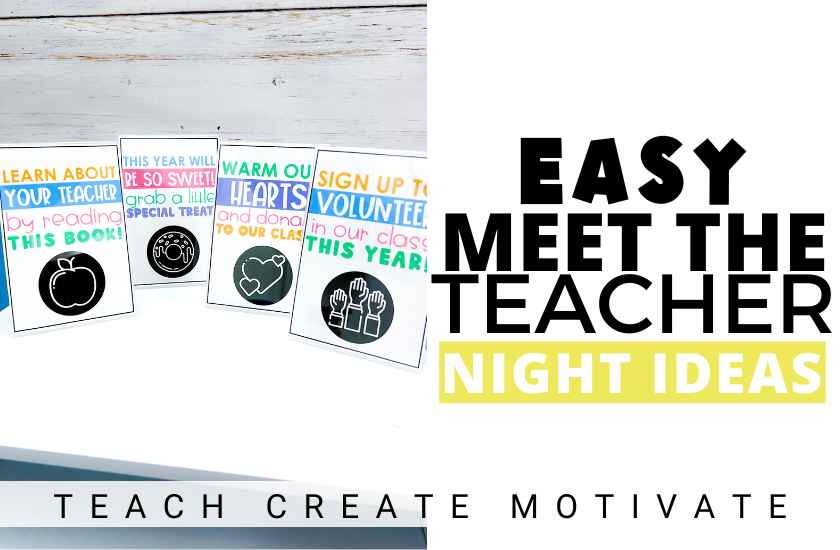 FREE & CUTE STATION SIGNS
Setting up stations for a Back-to-School Night allows you to be free to move about the room, greeting your new students and their families for the first time, while all the "things" are happening around the room. These cute station signs are a free download, and the perfect addition to your Meet the Teacher event! Enter your contact information below to grab these cute free station signs!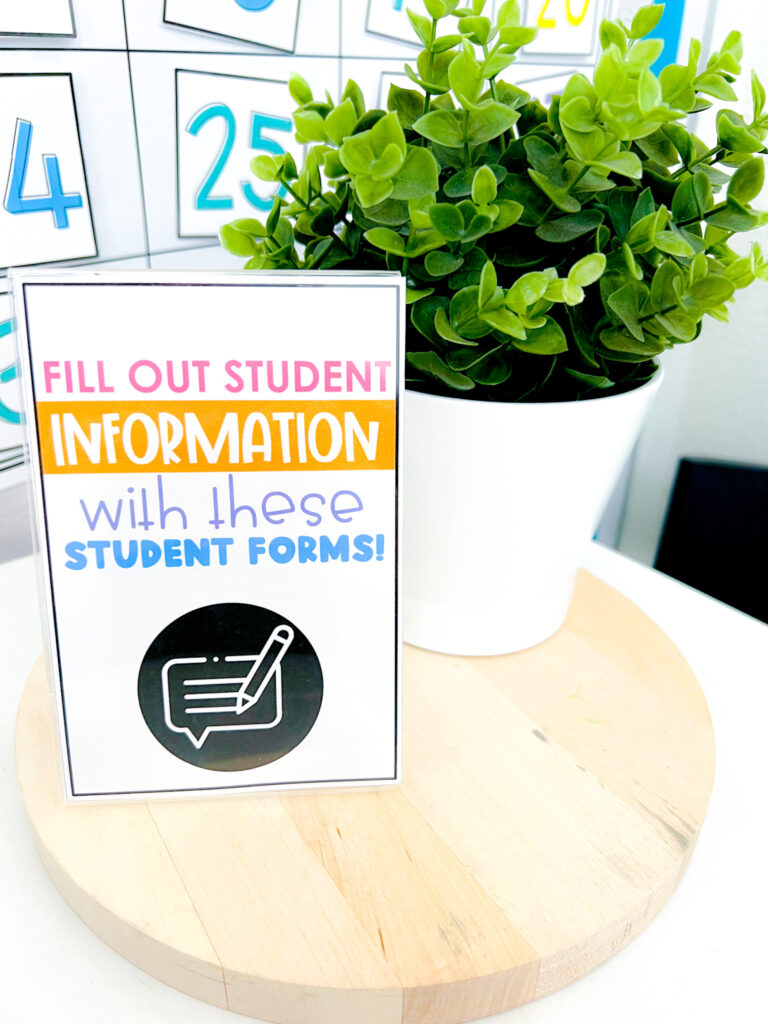 Setting up the stations is pretty simple. And they can be used year after year, making Meet the Teacher Night stress free for years to come!
Grab some stand up photo frames from Amazon (or wherever).
Print the free station signs you need. I suggest you print 2 sets!
Put the signs back to back and insert them into the photo frames. That makes them viewable from both sides for a busy classroom!
Set out pens, bins, technology or any other needed items for each station.
Enjoy meeting your students while your classroom is running itself!
TAKE AND GO ITEMS
Several stations will allow students and their families to take items home. One of the BEST take-home items is contact cards. Contact cards are a great resource to put out for back-to-school night. They are a super simple way to get your information out to families. For example, they can contain information like your email address, class schedule, classroom phone number, or website. You can even stick a magnetic dot on the back so families can hang them on their fridge at home. It's always a good idea to share your contact information at the beginning of the school year, and these cards are a perfect way to do that.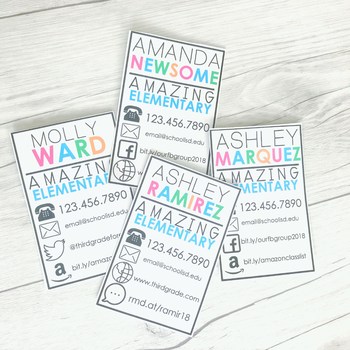 Also, putting out a classroom wishlist station is a good way to let families know the needs of your classroom. If this is something you are interested in, fill out and print the apples with items your classroom will need throughout the year.
FORMS & IMPORTANT INFO
One of the first stations you will want families to see when they come into your classroom on back-to-school night is a sign-in sheet. A simple form with a couple of pens set out is a sure way families will sign in! In addition, you can add any parent forms or school forms that you want families to grab right next to the sign-in sheet. Don't forget to set out a few clipboards for parents to write on as they are filling out the forms!!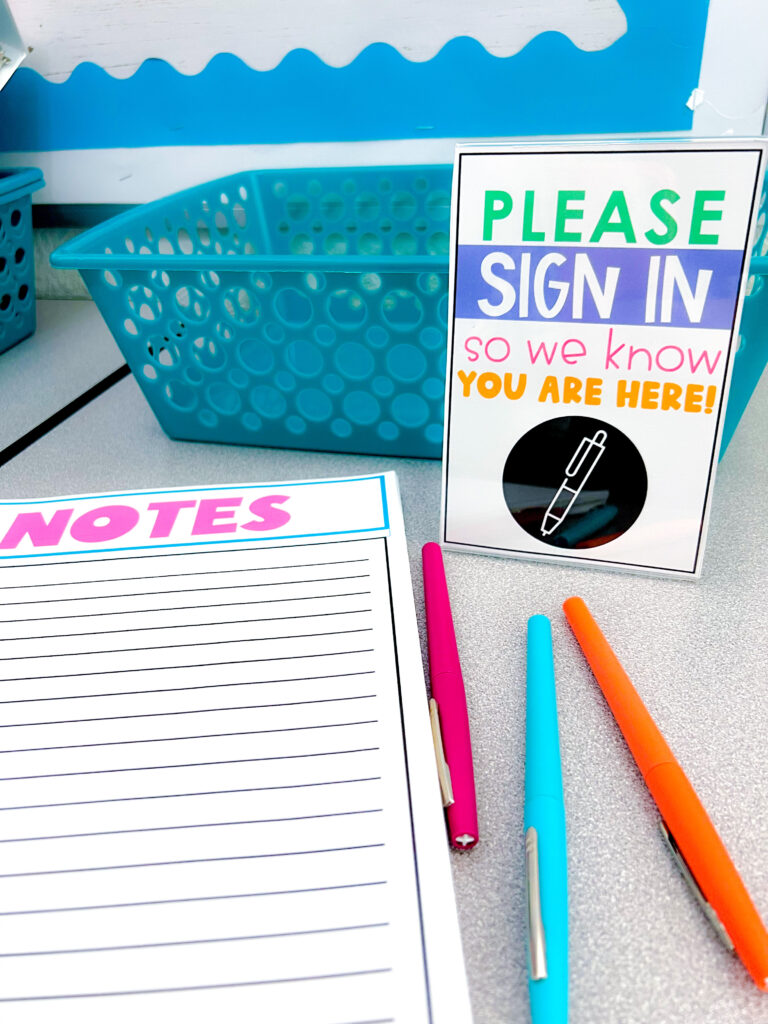 Setting out stations for forms and important info is a lifesaver! Keep pens at the stations and baskets to turn in completed forms and sign-up sheets. This encourages families to fill out the forms right then! It's also the perfect way to get volunteers and parent helpers to sign-up for various events like field trips, parent teacher conferences, and school district functions throughout the school year.
STUDENT SUPPLIES
Unpacking student school supplies is the BEST station! It is going to save so much time and help organize your classroom quickly. Designate an area for community supplies like tissues, baggies, hand sanitizers, etc using some cute labels.
Finally, at the end of the night, you can put these items away so when school starts you have one less thing to worry about. You can also have students put their supplies in their desks or just leave their supplies on top of their desks so everyone can unpack and organize together on the first day of school. Either way, it's a win-win! Don't forget to print out a class list in case your students are numbered! That way, if they have to write their number on any items they can find it easily.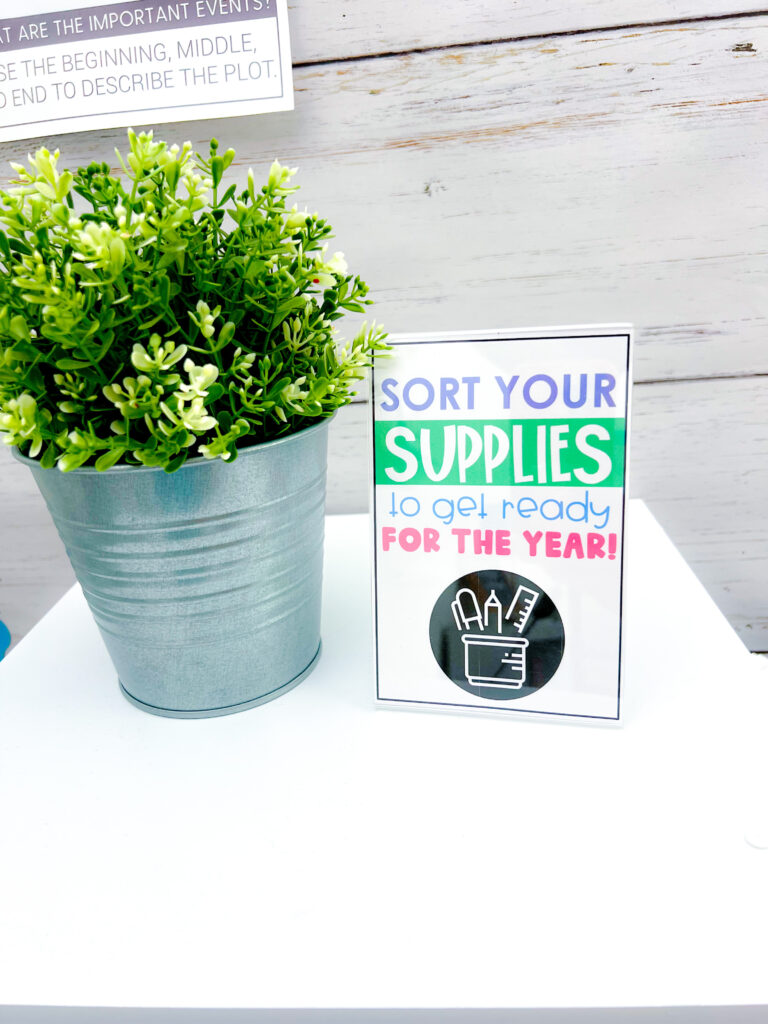 A LITTLE SOMETHING FUN
Another fun station families always love is the photobooth and photobooth props. Setting up a photobooth is a creative way for families to make special memories to start the school year off right. It is also a great opportunity for you to snap some fun photos with your new students! Setting up a photo booth is the best way to add a little fun to the night and will surely leave a lasting first impression of the classroom.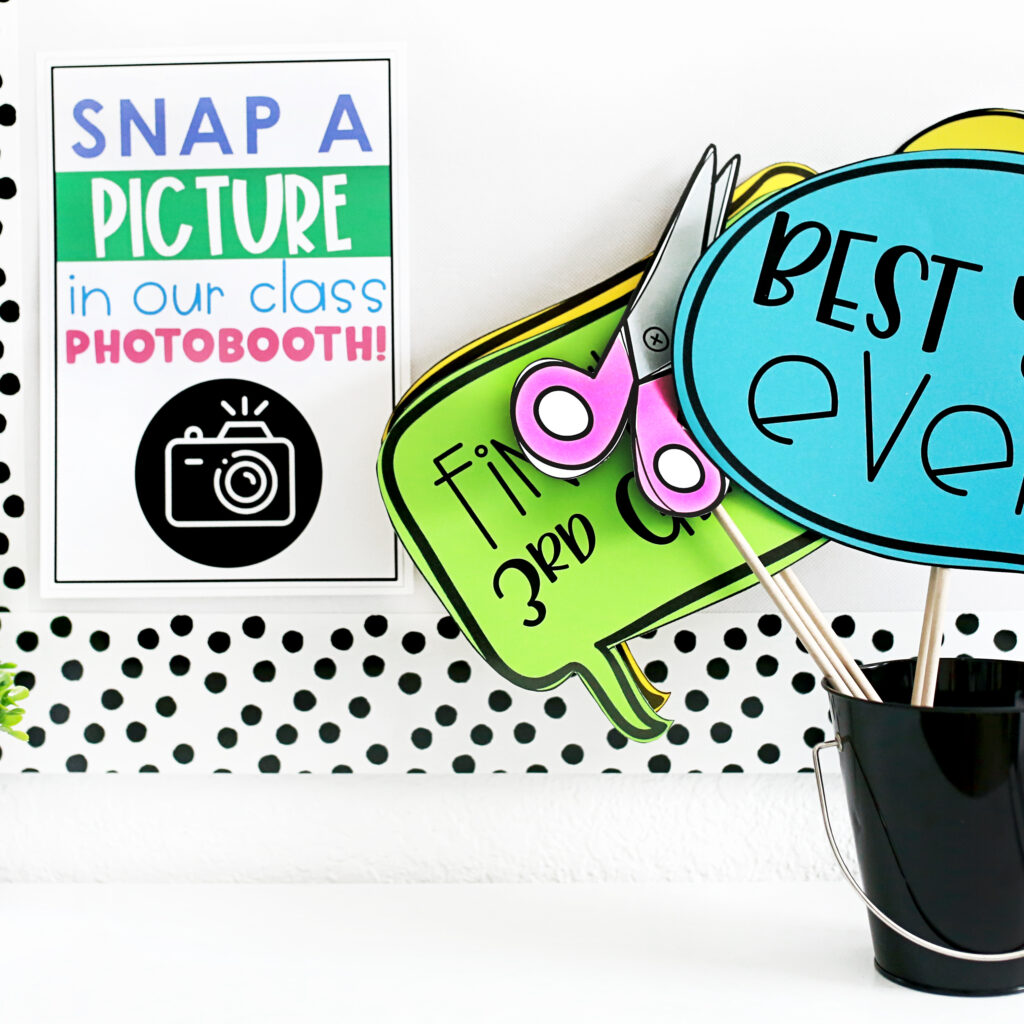 One final station idea (that is totally optional) is to set out a sweet treat on Meet the Teacher night. This is a "sweet gesture" to create a welcoming atmosphere. Something as simple as hard candies or chocolate kisses would be a great idea!
Meeting a new teacher can be a little scary for students sometimes. Making a station have an all about you book is a quick way to give students and their families a little insight into who you are. Students LOVE learning about their new teacher and it can give them something to connect with. You can even add a qr code with a virtual Meet the Teacher video, powerpoint presentation, or google slides presentation that they can watch and get to know some fun facts about you.
A little extra special step is sending your future students a Meet the Teacher postcard! Not only will your students be super excited to get a note from their new teacher, but it can also serve as a great reminder for families to attend the special night! Fill out your name and email below to snag this super cute free resource!
I hope these Meet the Teacher station ideas can be helpful for you! The Back to School season is such an exciting time, and these stations are a great way to take a little stress off your night. They allow you the chance to a deep breath and enjoy meeting your new families. Here's to hoping you have an awesome back-to-school night and an even better school year!
Pin this image to revisit the blog again and again!