It's time for the second annual Amazon Gift Guides! You all loved them last year, and I am so excited to bring you more holiday gift ideas-ALL from Amazon! Eventually this post will contain gift guides for teachers, her, him, and kids! Check back often for the updates!
If you have been following me for anytime at all, then you know how much I looove sharing my favorite Amazon finds! So Amazon gift guides were a MUST! Easy shopping? YES PLEASE! Everything pictured in the gift guides are numbered and linked below…shop for teacher friends, your husband, MIL, or yourself! BONUS: send this link to anyone shopping for you so they know what to get you! Happy shopping!
Quick Note: By using my links I do earn a small commission. I am so appreciative of you using my links if you plan on purchasing from this post, since it does not cost you any extra to do so. 🙂 It helps me keep sharing my favorite amazon finds with all of you!
Teacher Gift Guide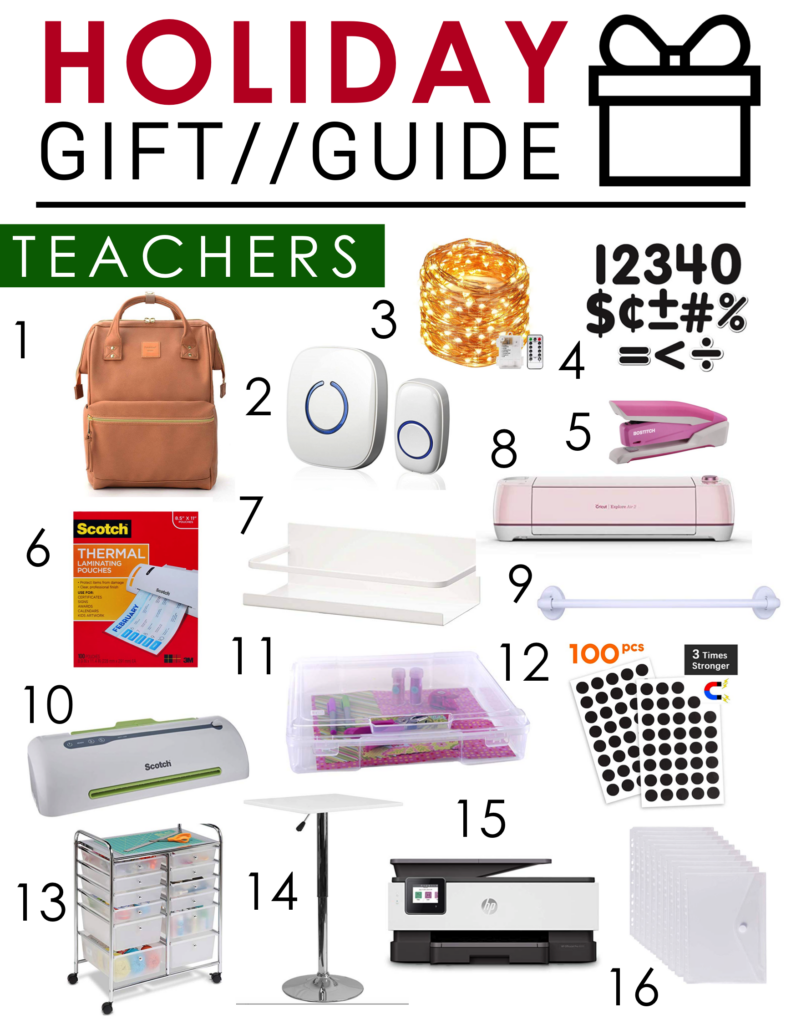 To see more gift ideas for teachers you can check out ALL my favorites HERE!
For Her Gift Guide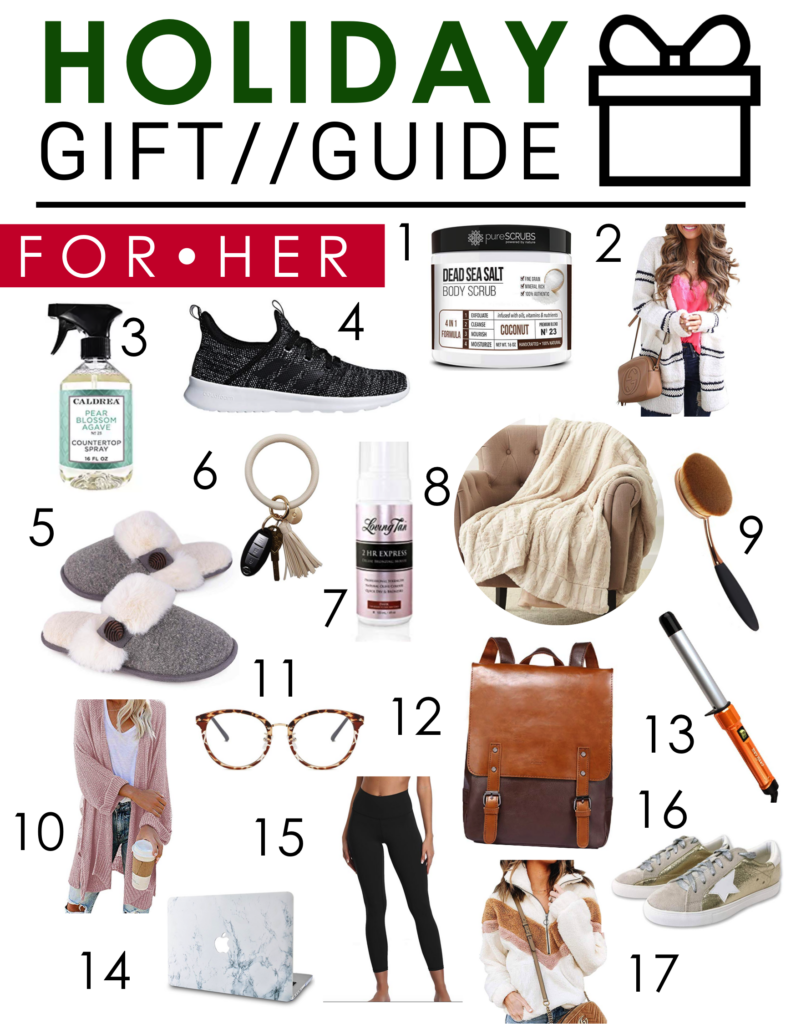 Sea Salt Scrub-I LOVE THIS STUFF! I highly recommend it!
Black and White Striped Cardigan– This cardigan is the softest thing ever-it's amazing quality and goes with everything!
Caldrea Counter Spray-HEAVEN IN A BOTTLE!
Adidas Slip on Tennis Shoes-Please don't ask me how many pairs of these I own-they are my FAVORITE!
Slippers-I have tried lots of slippers from Amazon and these are hands down the best! They also have a hard sole which I love!
Key Chain-this is so cute and functional. I love mine!
Loving Tan Self Tanner-Again…I promise I have tried them all! This is not streaky, blends well, and lasts!
Best Blanket EVER-Oh my word this is our favorite blanket in the house! Plus the size is huge!
Foundation Brush-I really love this make up brush for liquid foundation!
Lightweight Duster Cardigan-sooo so cute and tons of colors!
Blue Light Glasses-If you work on the computer or are on your phone I highly recommend a pair-these ones are so cute in person!
Brown Leather Laptop Backpack-I love this backpack for traveling or holding your laptop and more! I have had mine for 4 plus years and it has lasted!
Curling Wand-this wand is so great! It is an amazing price point and works AMAZING!
Marble Laptop Case-protect your computer in style!
Black Leggings-These are veryyyy comparable to LuLu Lemon leggings-so so soft and comfortable! The 7/8 length is my favorite!
Star Sneakers-eeeek these are a new find and I am obsessed! They are SO cute on and come in tons of colors!
Sherpa Pullover-this one is the cutest print and so cozy!
To see more gift ideas for her you can check out ALL my favorites HERE!
For Him Gift Guide
Happy Holidays and HAPPY SHOPPING!