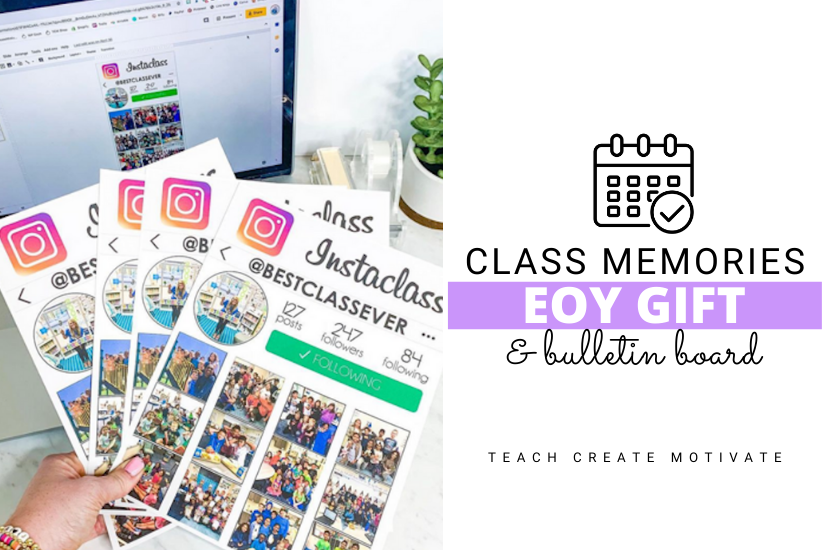 InstaClass is a bulletin board resource, but it doubles as the perfect end-of-year gift! These make memorable and easy end-of-year gifts, just simply put your pictures in, print, and go.
Here are some ways you can incorporate InstaClass into your classroom:
A Gift for EVERY Class
As we wrap up this school year, the perfect end-of-year gift can be tough to find! This personalized memento will put a smile on your students' faces!
Add memorable photos from your year together in the easy-to-use Google slide or Powerpoint where you can drag and drop your pictures in! There are multiple sizes, versions, and even a blank one to make it your own. After you've added your photos, print, share the link, or mail a copy to each of your students! There is an option for everyone!
Printable Gift
With the different size options, this is an easily customizable gift to fit the needs of you and your classroom. You can pick the size that fits the number of photos you have. The full-page makes it easy to print for your students. Make one class InstaClass or change out the photos to make it custom for every student.
Another way to use ClassGram is by creating a memory book for your students! Assigning each page a theme from a special part of the school year would be a great way to collect all your class memories in one place. Print copies of the themed pages for all students and then stick in a custom student page to make it more personalized.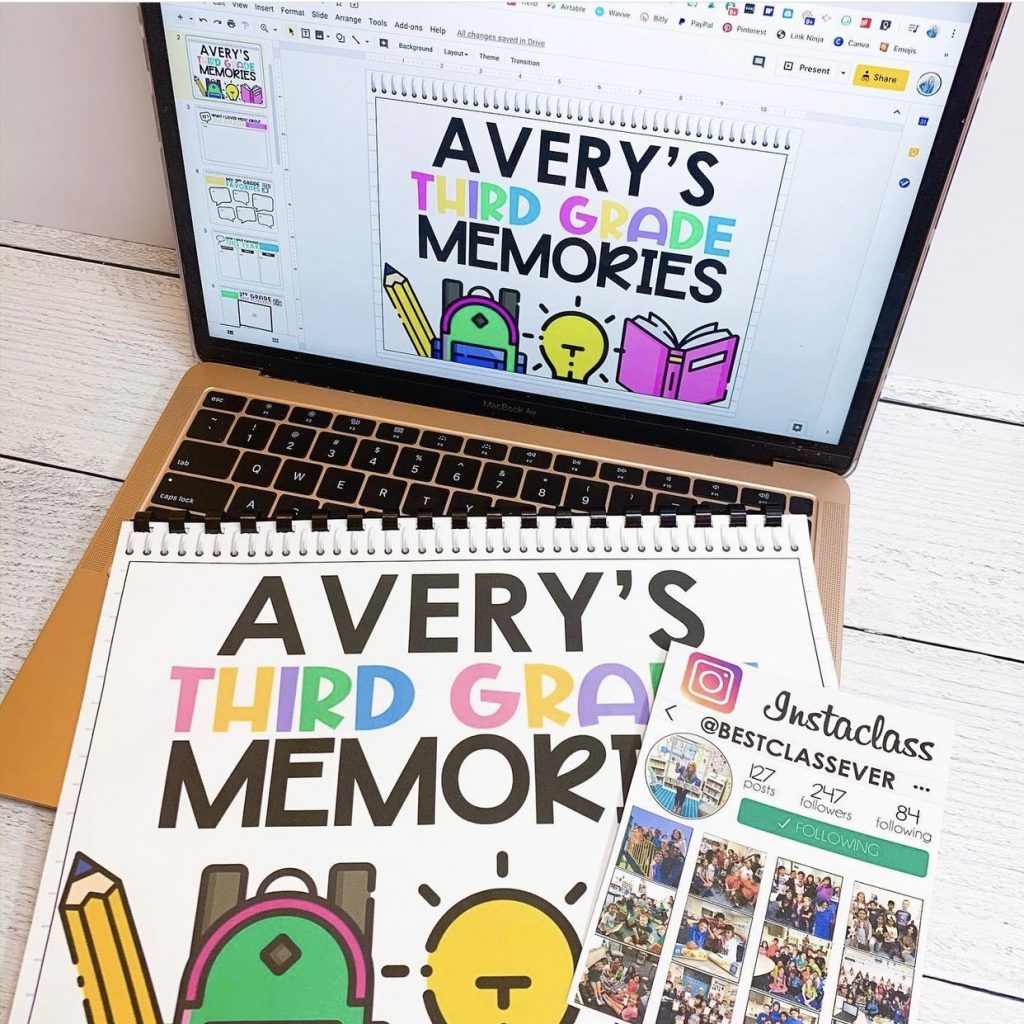 More ways to use this printable treasure:
Mail it out to your students
Hand it out in class
Laminate it to make it last
Write a note on the back to your students
Digital Gift
Are you teaching virtually or have a hybrid class? No problem! You can digitally share the link with your class or mail out a copy to each student! Students love receiving mail from their teachers. What a sweet surprise that would be!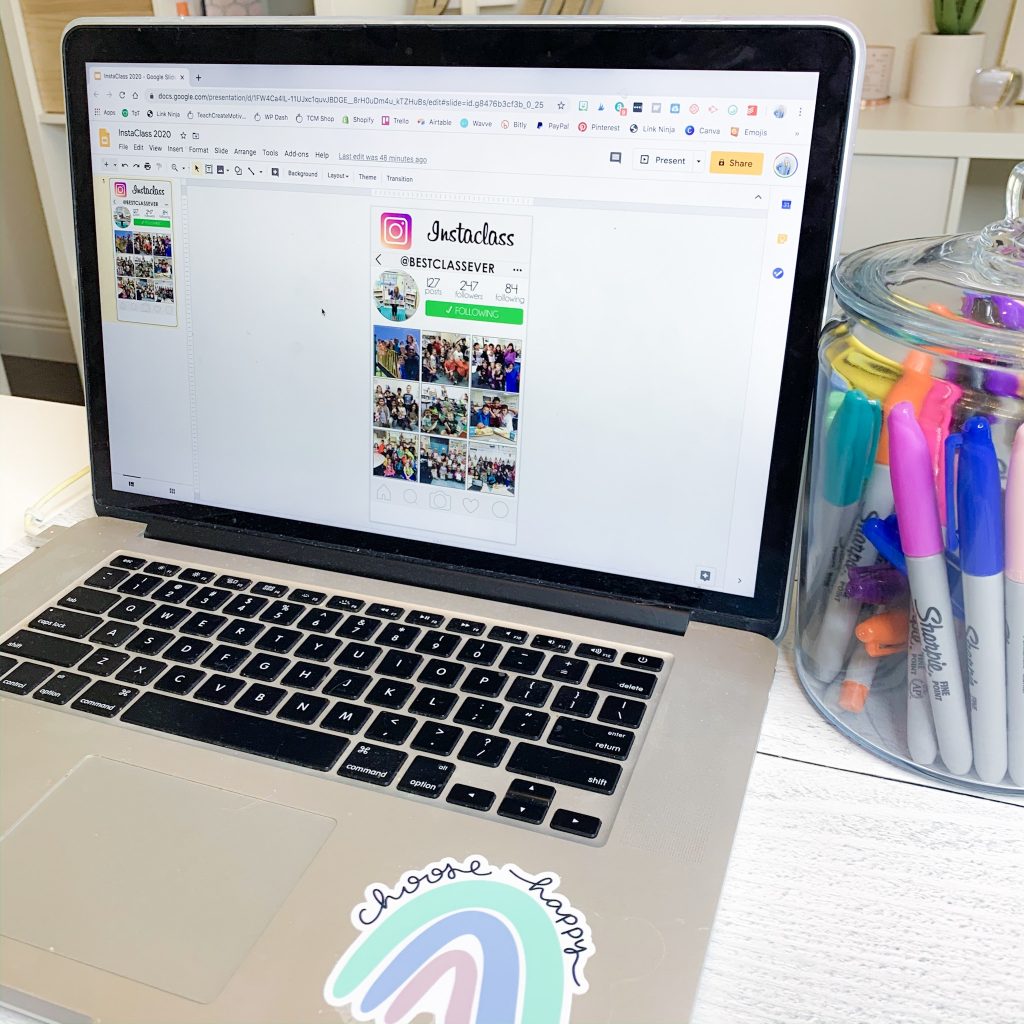 Hold a reveal party! Meeting via Zoom or Google Meet will allow you to watch your students' reactions during the big reveal. You can share the digital file link with students and their families for a virtual gift.
Ask parents to email you photos of students' learning at home. This is an excellent way for you to build on your classroom community while being apart. Encourage your students and their parents to take a picture of them reading in their favorite spot. Your students will be so excited to see their special place featured on your ClassGram!
There are so many ways you can share this resource with your students. Picking a size option is easy if you are sending it out digitally-any size will work! InstaClass can be shared by a link, on your class page, or by email. You can share it as a PDF, PNG, or as a "view only" link! Your students and their families can save the file and treasure this year's memories forever.
Ways to share your memories digitally:
Google Classroom
Google Site
Email
Class Dojo
Seesaw
Remind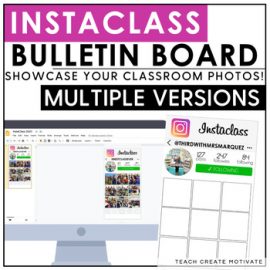 Class Gram Bulletin Board | End of the Year Student Gift
This is a modern-day bulletin board printable. Print and post pictures of what is going on in your classroom to display for your students, staff, and parents!
UPDATED to include a version to be used with Google Slides™. 2 sizes included and all versions available to choose from! Add class pictures and then share with the link, save as a PDF, or save as a picture. Makes such a CUTE end-of-the-year gift for your students!
Showcase Classroom Leadership
Make this a bulletin board or poster to display in your classroom or the hall. Post pictures of what is going on in your classroom to display for your students, staff, and parents. Students and staff alike will LOVE to see how much fun and learning is taking place!
One way to build your classroom community is to foster leadership in your students. Do your students have iPads? Encourage them to take some pictures of the class and activities that they love. You could even make it a student's job to be the class photographer for the week! Students' can email you their shots, and you can add the pictures to your Classgram from their point of view. They will be so proud when the image that they took is displayed for all to see.
Another way to use Classgram as a bulletin board is to create themes! Take pictures of your students reading in their favorite spots during Right to Read Week. Celebrate the holidays with pictures of your class participating in their holiday activities around the school. Promote goal setting and accomplishments by showcasing students meeting their reading or math goals. The options are endless!
Ways to Take Photos
One more thing, this fun insta square printer is perfect for pictures on this poster/bulletin board! The printer prints like an old-school Polaroid-square size. The best part is you can sync it to print from your phone! You can find the printer in my amazon store or linked here.
Your students (and you!) will treasure this memento for many years to come.
Don't forget to pin this post as a reference as you plan for the end of the year!