Extreme weather is a high-interest topic for so many elementary students. The Extreme Weather Digital Research Project freebie is jam-packed with engaging science, reading, AND writing!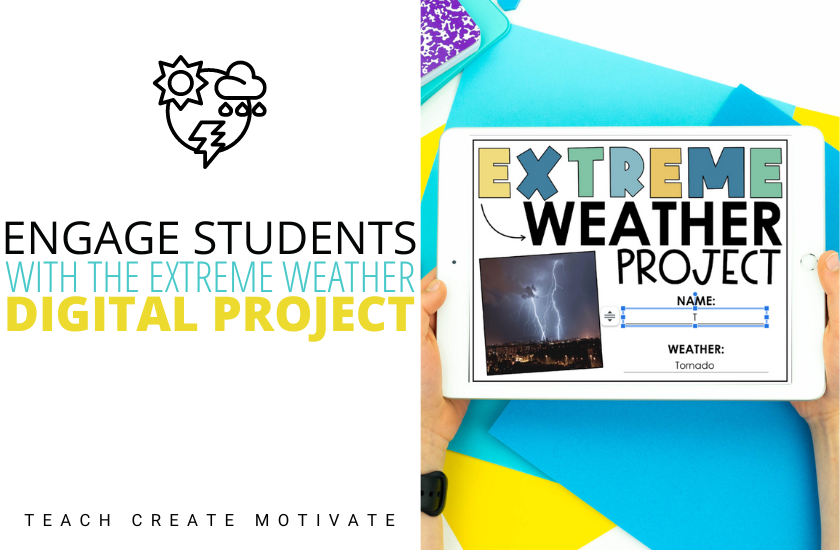 Grab the free project in this blog post and discover some easy ways to incorporate it in your classroom!
Extreme Weather Digital Research Project Freebie
Learn all about hurricanes, tornadoes, and blizzards in the Extreme Weather Digital Research Project freebie. Each weather event has BOTH an article and a video already linked up for students to use in their research.
Students will then fill out the slides with the information they learned.
5 research questions
Words to know
How are ___ formed? Where are ___most common?
3 interesting facts
Enter your info below to get it straight to your inbox!
3 Ways to Assign
The great thing about this project is that you can make it work for you and your class however you need it! Here are three different ways to assign it:
Assign each student one weather event to research
Give students a choice between the 3 weather events
Students complete the entire project
This project can easily be differentiated! Pick and choose what slides work best for your individual students. Each weather event has over 2 different research slides to choose from!
How much of the project you assign can also vary from student to student.
Foster Student Collaboration
Students can work individually or in small groups on this project to foster collaboration. I love having students work on project-based learning collaboratively because it helps build and maintain our classroom community.
Quick Ideas on How to Use the Project
Unit Wrap Up
Use the project to wrap up a weather unit. Then, assess what your students learned about extreme weather conditions. They can apply all their knowledge and maybe even learn a little more!
Mini Science Unit
Use the digital research project as a unit itself! Then, take it further and assign books about hurricanes, tornadoes, and blizzards on Epic.
Extension of Learning
This project would make a perfect extension of learning. Use it as a fast finisher option or a special project for students interested in these specific weather events.
Informational Writing
Practice researching and putting writing skills to use. Students use what they learn in the project and write an informational writing piece at the end.
No matter how you use your  Extreme Weather Digital Research Project freebie, students can showcase the reading, writing, and research skills they have learned this year. They will love learning all about extreme weather conditions in this mini-research project.
Pin the image below to revisit this blog post later!