Have you taught growth mindset in your classroom? Growth mindset adds so many benefits to your classroom community! That's why it's important to revisit every now and then. Discussing growth mindset in morning meetings and practicing it with activities is something you can do all year long.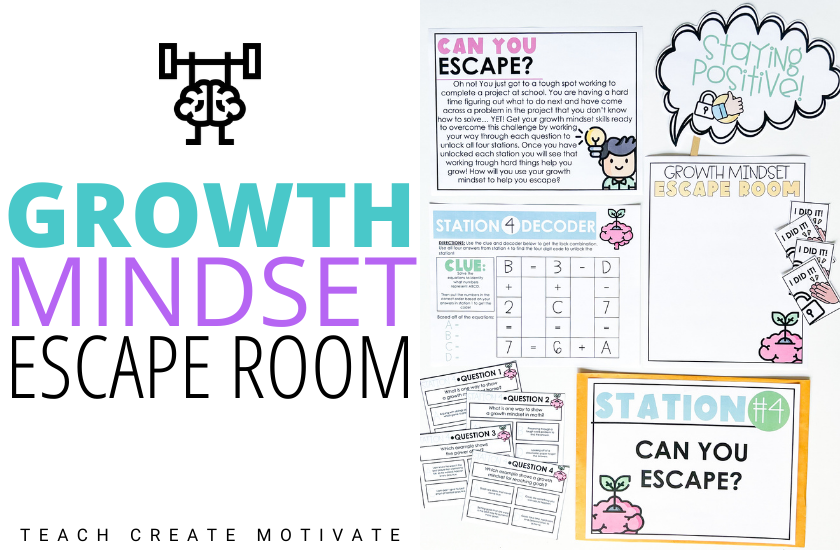 The Growth Mindset Escape Room is the perfect extension to some of the work your students have already done in practicing a growth mindset. They will apply their growth mindset skills to a real-life scenario (pictured below) to help them escape.
Set Up
One of the best things about the Growth Mindset Escape Room is that all the hard work of adding the content is already done! The scenario, questions, and answers are part of the resource. In addition, there are both digital and printable versions of this escape room.
If you are going the digital route, choose your slides at the beginning of the slideshow, assign on your learning platform, and then it's entirely ready for students to enjoy! Don't forget to print an answer recording sheet for each student so they can keep track of their answers for the decoder.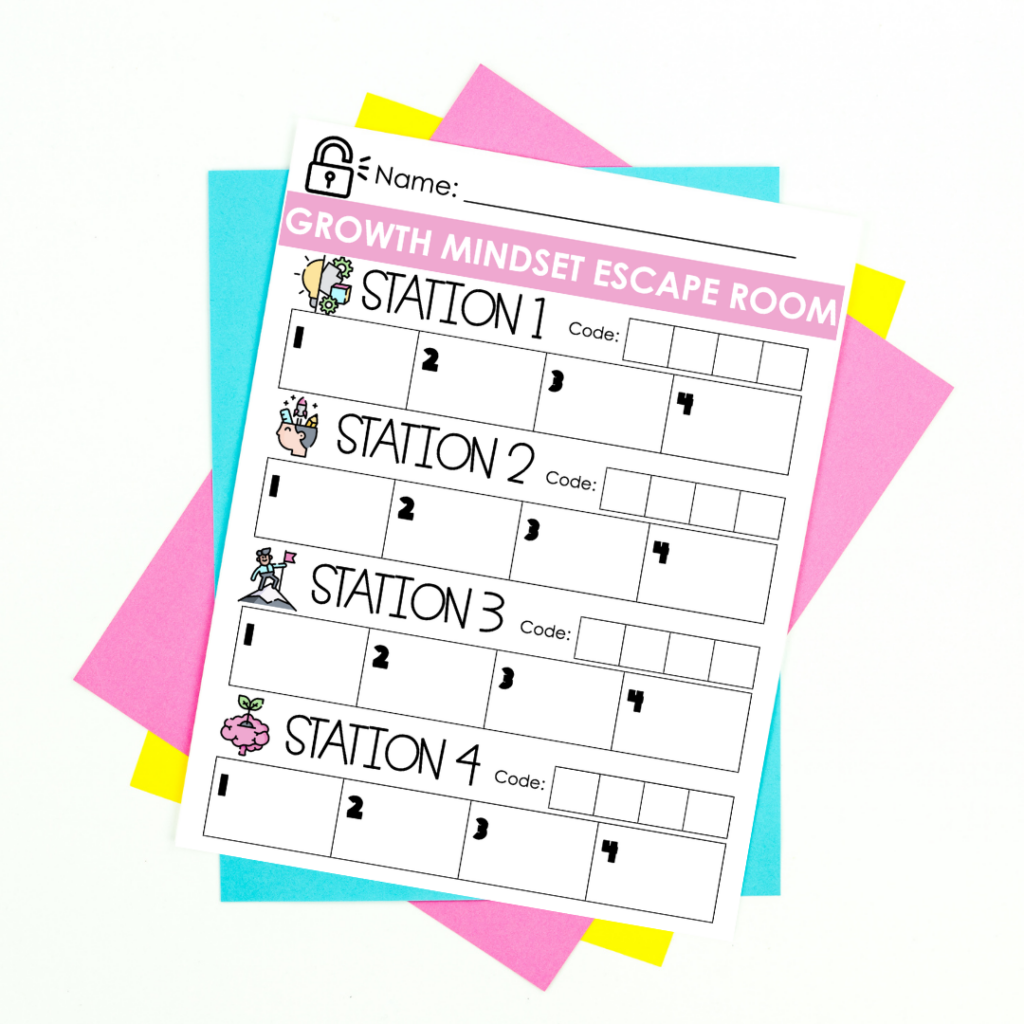 If you are going with the printable option, print the task cards, recording sheet, and any other pages you think would be a good fit for your class.
What's Inside
teacher directions
4 stations with 4 questions each (16 questions total)
4 unique decoders to solve
swag tags
photo booth props
Google Slides ready-to-use digital escape room
ready-to-use printable task cards
printable cover pages
printable recording sheet
ready-to-use or editable scenario
answer key for the teachers
How to Play
Students go through 4 unique stations with 4 questions each. As students move through the questions in each station, they will record their answers on a recording sheet.
At the end of the station, there is a decoder where they will solve a puzzle using the answers they recorded. If all of the answers are correct and input in the decoder correctly, students will "unlock" the next station. They will do this 4 times until they have completed the escape room.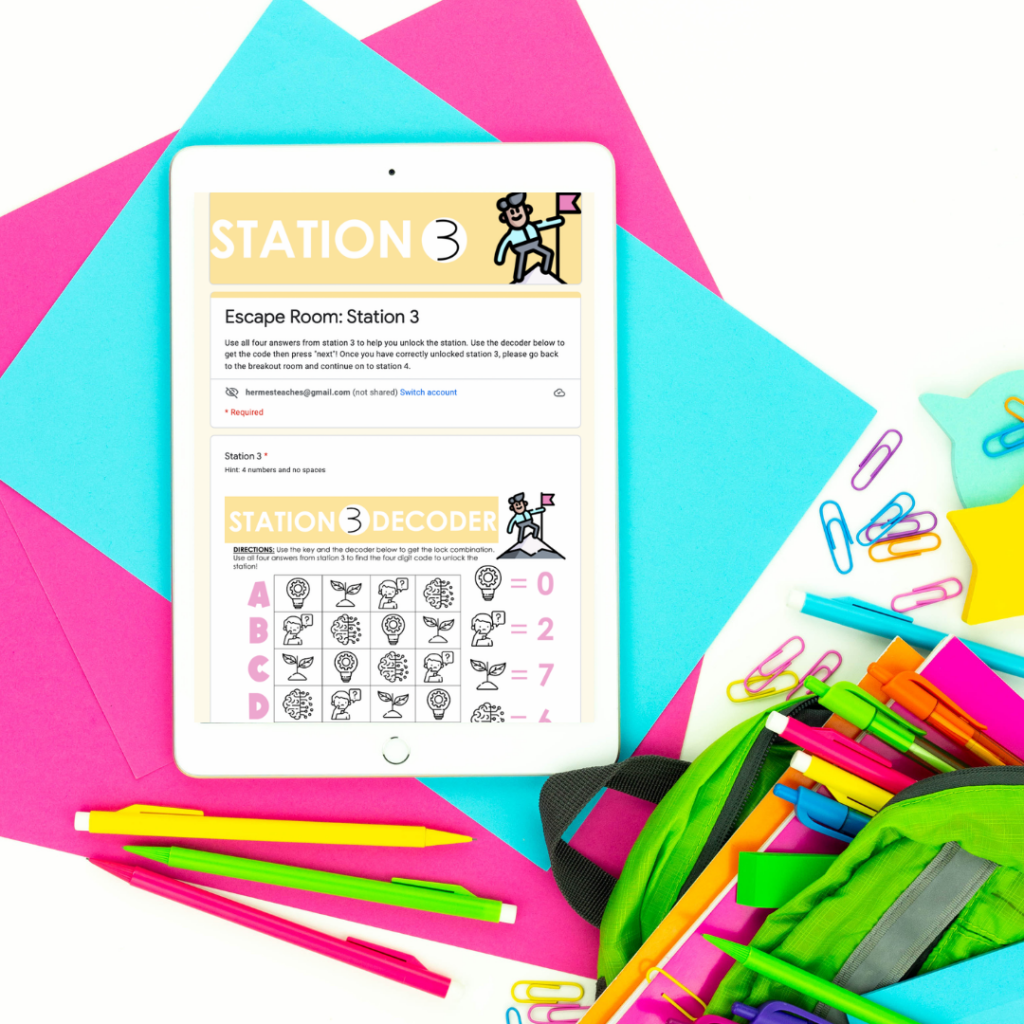 Ways to Use
The Growth Mindset Escape Room is great for individual or partner work. Do what works best for your students!
Pair this up with other growth mindset activities! You can do this after a morning meeting about growth mindset or use it for morning work throughout the week. See how to incorporate a growth mindset in the classroom all year HERE.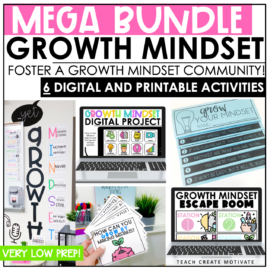 Growth Mindset Activities Mega Bundle
Growth Mindset is a great topic to discuss ALL. YEAR. LONG. Included in the bundle are the Growth Mindset Posters that are the perfect reminder that we C A N do hard things, the digital research project that ENGAGES in researching, learning, and reflecting on Growth Mindset, the Growth Mindset Flipbook comes in DIGITAL and PRINTABLE to help practice a Growth Mindset, the Growth Mindset Discussion Starters that are GREAT for Morning Meetings or to pair with a read aloud, and the Growth Mindset Escape Room to apply growth mindset skills.
Project the escape room to the whole group and have table groups work together on dry erase boards to determine the correct answer. Set a timer, and when the time is up, have all groups hold up their answer choices. This would be a fun class competition to see if you can unlock the next station together!
Use it in stations over a week. Students can just pick up where they left off on their slides or the task cards each day. They can track their progress on the recording sheet.
This project is the perfect way to apply growth mindset skills in an engaging way! Social-emotional learning can have a huge impact on your classroom community and students as individuals.
Pin the image below to revisit this post later!