Using mentor texts in the classroom is not only helpful, but it can also be purposeful. Teaching students by introducing them to a variety of texts can leave a lasting impression. Mentor texts are the perfect way to focus on specific skills for reading, while also embedding standards and skills across content areas. The mixture of texts and genres can create opportunities for students to use and apply reading skills in many ways. Mentor texts are an effective way to incorporate read alouds with a purpose!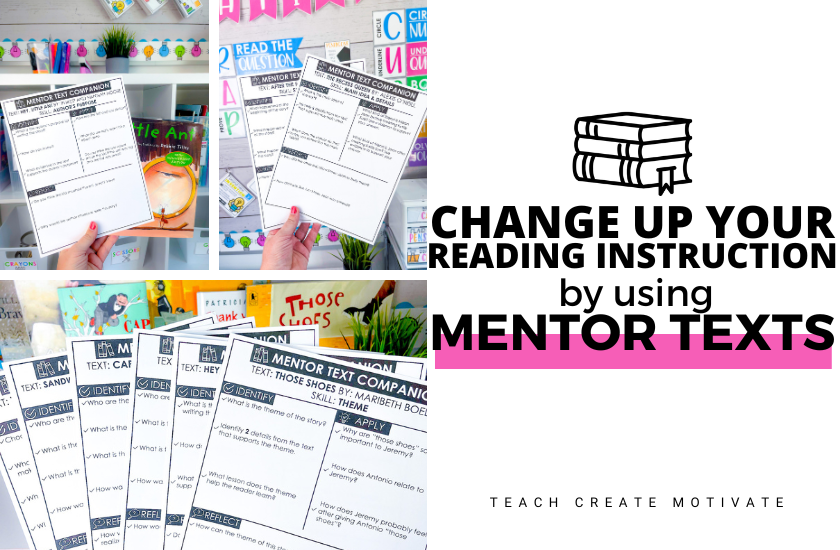 SUPPORT LEARNING IN THE CLASSROOM
Mentor text activities are a great way to support student learning in a natural and authentic way across many different grade levels. A great starting place for using mentor texts in your classroom is to choose a skill (or skills) that you want to focus on. Luckily picture books can often cover many key skills in reading, so finding a great mentor text to use isn't tough.
Using mentor texts to teach skills is almost magical! They hold so much power that can reach students on so many levels.
Not only can you use mentor texts in whole group lessons, but you can also use them when teaching small group lessons. This provides you with an opportunity to focus on important skills while also enjoying a great story.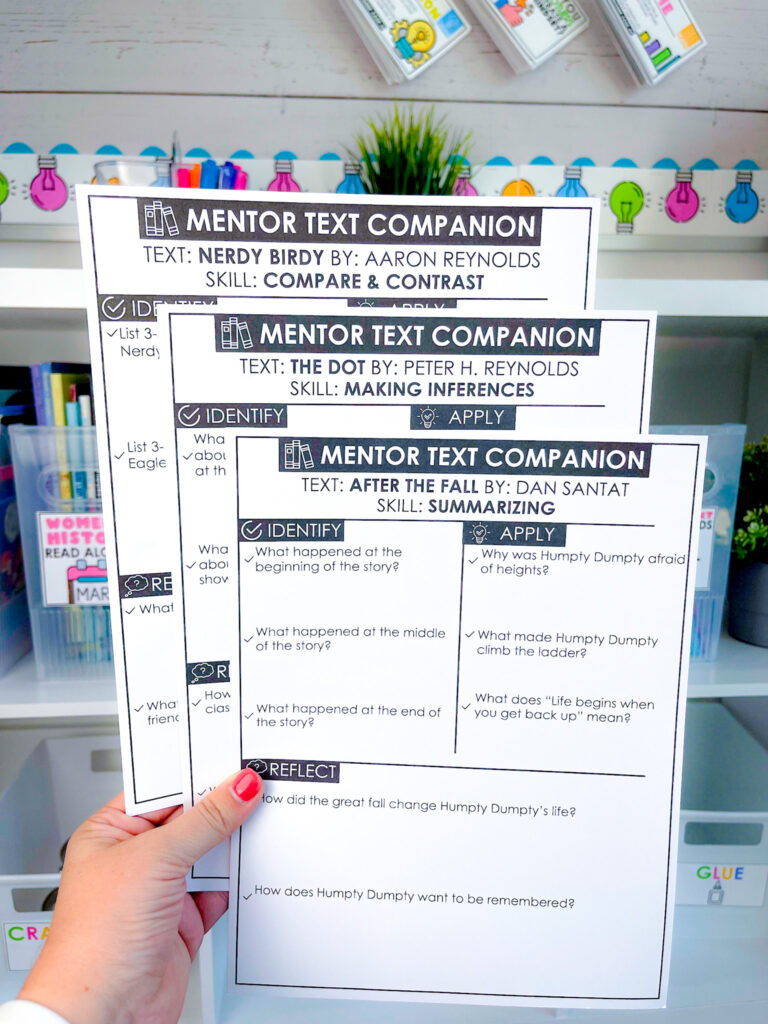 BENEFITS OF MENTOR TEXTS
Not only are mentor texts great for teaching students to become good readers, but they are also fun! There are SO many benefits to using a mentor text in your classroom.
Inspire creativity – The beautiful thing about books is there are so many ways to interpret the meaning. Using a book as a mentor text allows students to focus on various skills or elements and see them in action.
Develop writing skills – Mentor text lessons are also an excellent opportunity for students to be exposed to great writing. Students can model different styles or structures of writing to help them learn new skills.
Teach conventions and grammar skills – Teaching the conventions of writing only goes so far as a stand-alone assignment. Noticing those things in a mentor text can help students apply grammar conventions in an authentic way.
Critical reading skills – Mentor texts allow you and your students to focus on a variety of important reading skills. Choosing only one or two to focus on at a time can be hard! Students can have conversations that touch on many aspects of reading and allow opportunities for valuable discussions about many different skills at one time.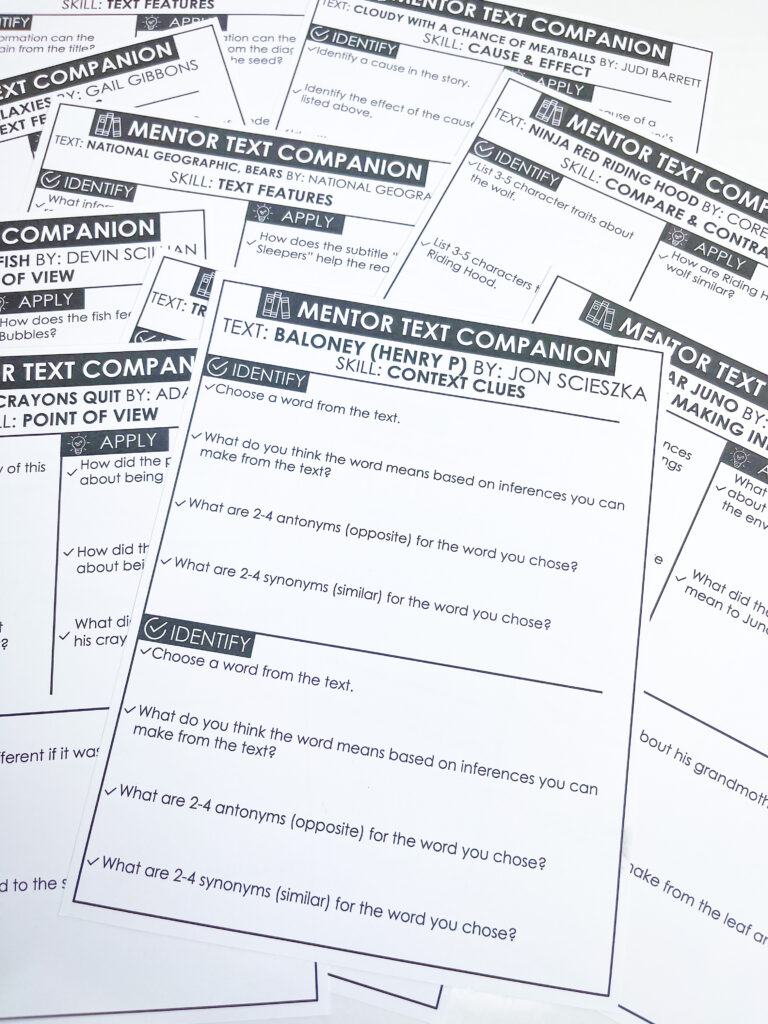 STUDENT SKILLS
Finding time to use mentor texts in your classroom can pay off! Incorporating a great book into reading instruction can become a favorite time for you and your students. Developing reading skills through the use of high-interest texts can help students gain valuable tools for reading. There are so skills you can teach with a good mentor text!
Main idea & details
Setting
Plot
Cause & effect
Theme or central idea
Social-emotional learning
Summarizing
Text structure
Story elements
AND SOOOO MANY MORE!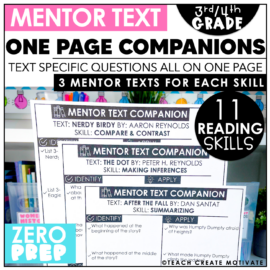 Mentor Texts
Engage students with high interest mentor texts using these printable or digital worksheets. Each worksheet focuses on a reading skill that is important for students to learn and understand. Let the one page worksheet help you check in on student understanding in a quick and meaningful way. Students are able to identify, apply and reflect for each of the reading skills.
Whether you start with your favorite books, a book from the school library, or one of the nonfiction books on your classroom bookshelf, your students will love the opportunity to practice their reading with an engaging and enriching text. The opportunities to teach valuable skills and embed concepts from other content areas are endless. There are countless good reasons to add a mentor text to your lesson plans. What are you waiting for?
I hope you can find time to use mentor texts in your classroom. They can be so impactful!
Pin this image to read the blog post later!