Searching for creative ways to build a positive student environment with LITTLE effort? Secret student is the answer!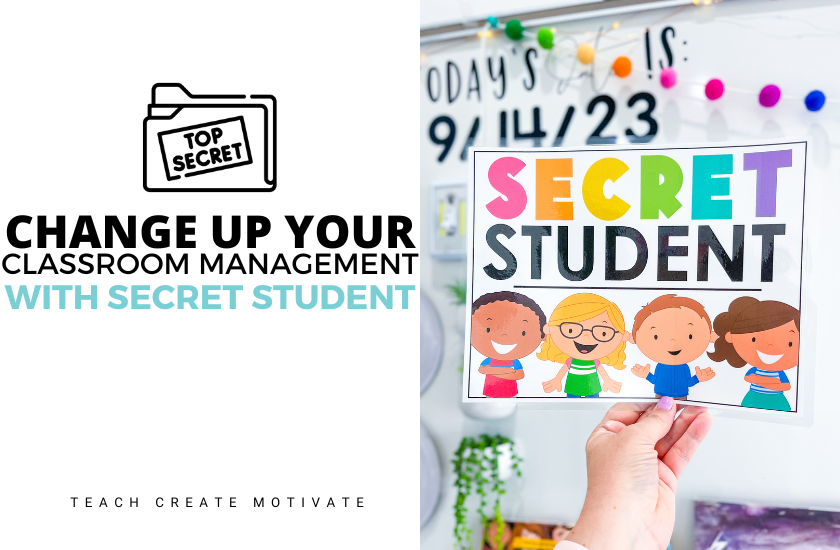 HOW DOES IT WORK?
Choose the Secret Student: At the beginning of the day (or beginning of class), choose one student at random to be the Secret Student. You can make a super simple folder or poster to keep the identity of the student hidden. Grab this freebie to hang on your white board (use magnetic tape to hang it up)! Write a student's name on the white board and hide it with the poster. It's that easy!
Define Expectations: Make sure the class knows the classroom expectations before starting each day. This is a great time for mini-lessons or reviewing those areas that need a little extra attention. You may have to go over a few more rules if you are sharing Secret Student for the first time.
Observe: Throughout the day or week, closely observe the behavior of the student without singling them out or making it obvious that they are being watched. You can share general statements of encouragement to let the secret student know they are doing a great job (but don't give away who it is!).
Recognition: At the end of the day or week, reveal the student's identity! This is a perfect time to acknowledge all of the great things the secret student did. A time to make each student feel special and appreciated! You can choose to add any extra incentives – candy, classroom coupons, stickers, etc.
Rotate the Secret Student: Repeat the process as often as needed!
I pay extra attention to the secret student all day long. This is a perfect time when you can really look for any great behavior you wish to see more of in your classroom.
Are they on task?
Ready to learn?
Is the student being kind?
Are they participating in class discussions?
Are they following school rules in and out of the classroom?
WAYS TO USE
Secret Student is a super easy and effective classroom management strategy that encourages students to follow classroom expectations in any grade level. If you have noticed a time during the day when student behavior could use a little attention, the "Secret Student" technique is a great way to manage classroom behavior.
Giving simple reminders throughout the day helps keep the good behavior happening! For example, saying something like, "I've got my eye on the secret student… and I sure hope that secret student is following along…" works like magic! Students want to know they are doing a good job and that you are noticing their hard work.
At the end of the day, if I think the secret student has had a good day and earned their reward, I make the * big reveal* by showing the name behind the sign. If not, I simply say, "Sadly, the secret student needs to work on following our classroom expectations. We get to try again tomorrow." The whole class will not know who the student is if the reward is not earned, but they will be excited for the next time a student is chosen.
Use this strategy as a way to help in any area that could use a little boost:
Independent work
Transitions
Student organization
Group work
Collaboration
The list goes on and on!
The best part…secret student can fit in with any classroom management system! No extra prep is involved and you can use it immediately! The rewards can be as big or small as you decide: write with a fancy pen, bring a stuffed animal to school, sit by a friend, line leader for the day, stickers, etc. It's a win-win!
Secret students can also be used with elementary and middle school students, and in all types of classrooms. You can choose a secret student for different class periods, an entire day, or even a week. The possibilities are endless and your students will LOVE trying to see if they are the mystery student.
Teachers like you are saying…
We used these for behavior management. They helped tremendously! Every morning, before the kids came to class, I would write down who my Super Secret Student was and I wouldn't reveal it until the very end of class. Behaviors changed for the better immediately. I wish I had found this sooner.
Pin this blog post to read again and again!