As the leaves change colors and the air turns crisp, the new season is the perfect time to use all the fall-themed things! Adding fall writing prompts and discussion starters with video clips can be a fantastic way to captivate your students' imaginations and inspire their writing skills.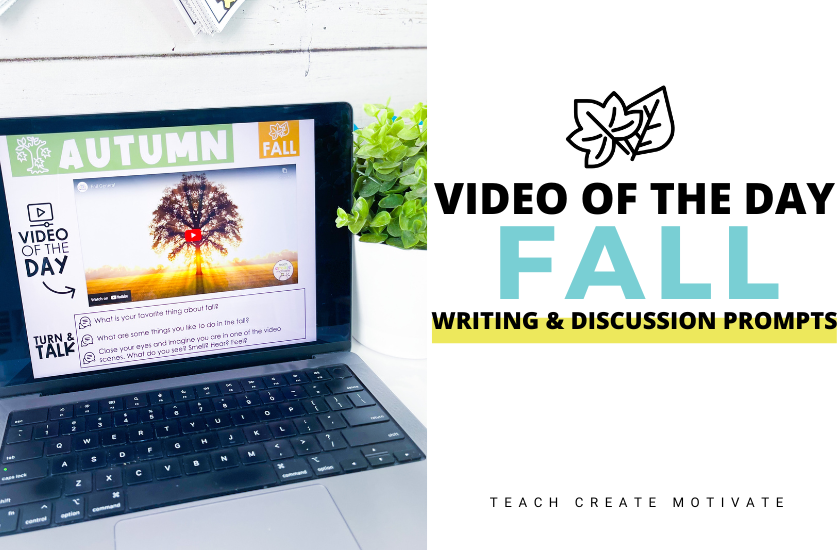 MAKE CLASSROOM DISCUSSIONS SIMPLE
It's not always easy to get all students engaged in a classroom discussion or turn-and-talk conversation. Showing a short fall-themed video clip can eliminate some of the hesitations and is one of the best ways to allow all students to share.
These Video of the Day – Fall Writing Prompts and Discussion Starters – Slides make turn and talks SUPER easy and SUPER engaging! Choose the discussion prompt you would like to use and display it. It is that easy!
CREATIVE FALL WRITING PROMPTS
Incorporating short fall-themed video clips into your classroom can be a powerful tool for inspiring creativity in your students' writing. Here are some benefits of using short video clips to encourage students to write:
Short Videos: The video clips are short and can fit into an already jam-packed schedule.
Multiple Viewings: You can show the video several times if needed since it is a minute or less. This can let students focus on different points of the video for their writing.
Visual Storytelling: Students use what they see to create a story or answer the prompt.
Creative Writing: Students can write creatively using the video clips. Maybe in ways they hadn't thought of before.
Low Prep: The writing prompts have minimal prep. They are easy to use and display.
CLASSROOM USE
There are so many ways the slides with fall video clips can be used…that's one of the best parts! Morning meeting is a great time to use the turn-and-talk discussion prompts. During the fall season, these would make a great "bellringer" type activity leading into writing. The discussion starters would also be great during stations, as an early finisher task, or even during free time after work is finished. The videos will help get students' creative juices flowing and encourage writing practice about the fall months in a fun way.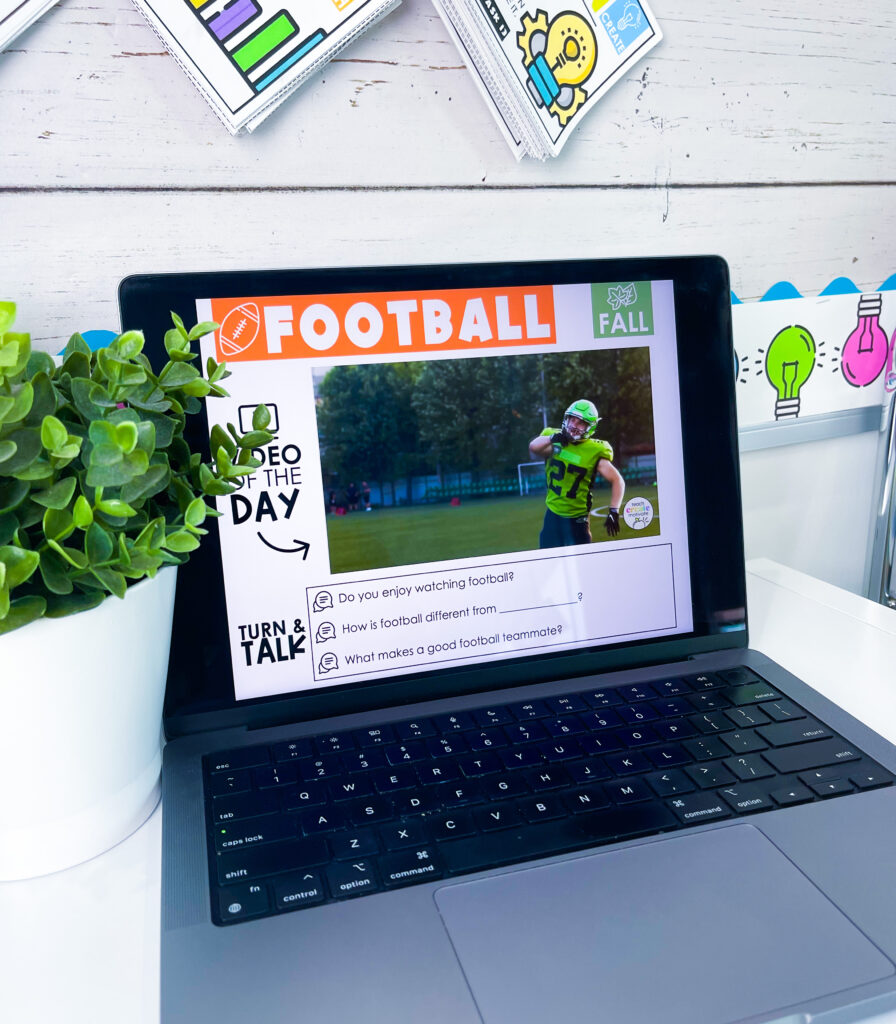 The writing prompts would be great used as a whole group, small group, or even as the entire writing lesson. You could extend the lesson to include previous skills taught in a fun fall-themed way! The fall-themed writing prompts include slides and videos about autumn activities, colorful leaves, football season, and many more.
Both the writing prompt slides and discussion prompt slides can be used with more than one grade level. From first grade to older students, use these prompts on a regular basis to encourage students to share their thoughts and have fun writing about all things fall. These videos and prompts will soon be a favorite activity as seasons change and the cooler weather approaches.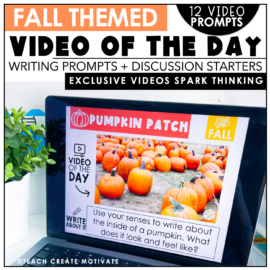 Video of the Day – Fall Writing Prompts and Discussion Starters – Slides
These fall themed slides with short video clips are the perfect way to encourage writing and discussions in your classroom. The Video of the Day – Fall Writing Prompts and Discussion Starters – Slides are so easy to use with little to no prep work. Fall activities with a purpose – writing and discussions!
I hope you find these fall-themed slides with short video clips as exciting as I do! Make it feel like the perfect fall day every day in your classroom because they are so versatile and EASY TO USE!
Pin this image to read the blog later!