Mother's Day is coming and I always like to do some fun things in my classroom with my kiddos! Their Moms love to see little gifts come home from school. As a 3rd grade teacher, I do try to make it include a good amount of writing!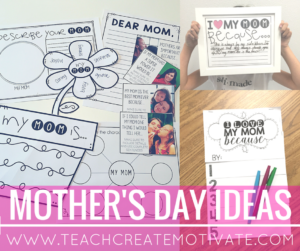 This year my students will be making a few different things. The first is a Mother's Day flipbook! I have them write 5 reasons they love their mom under each flap. Then, they can illustrate it.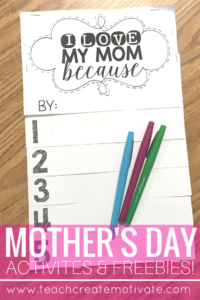 I also like them to do this flower craft using adjectives to describe their mom. We talk about what makes a "good" adjective and what makes our Mom's unique. Instead of sweet and fun, we may say she is selfless and active! 
We use writing card prompts in our stations all the time! I plan on sticking these 4 cards in our rotation for the next few weeks! The students can take their writing home too! 
You can grab all of these activities in my shop here!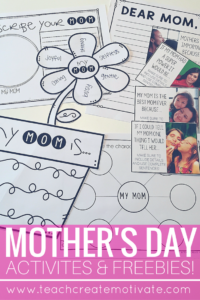 In this activity pack I also have a bubble map about Mom, draw and write about your Mom, and a letter to Mom! **For all of these activities I always have a "Aunt" or "Grandmother" option available too! 
Lastly, my students LOVE my write on signs that we take home for different events throughout the year. We have done a Thanksgiving, Valentine's Day, & St. Patrick's Day one! They will write on the frame why the love their Mom with a dry erase marker. I snap their picture of them holding the frame. I then print it on card stock or at Walgreens for super cheap! It is an adorable gift their Mom will treasure forever. Grab this sign for free here!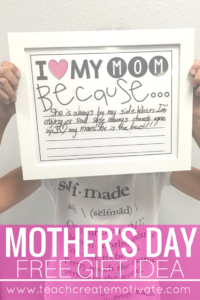 I hope you can use some of these ideas in your classroom! 🙂