Hey hey hey!
I wanted to bring you another staff sunshine idea and freebie! This one is QUICK and EASY! It is nearing the end of the year, so the time and energy we have is limited! I still think it is important to value and appreciate our staff though—ESPECIALLY during this stressful and trying time!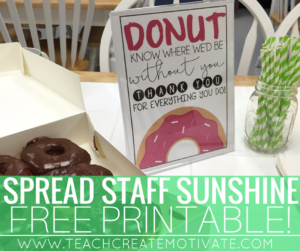 This past week I grabbed some OJ, some cute straws (of course right?!) and a few dozen donuts! I whipped up this adorable sign and BAM! Free breakfast? Yes please! I mean who doesn't love donuts when you are stressed and sleepy?! 
You can grab the sign for free in my store here!! 🙂 Have fun spreading sunshine! Your staff loves you for it!