March is such a great month to bring all kinds of new and exciting activities and books into the classroom! One of my favorite things about March is Women's History Month. While I think we definitely need to make these types of titles available to students all year round, here are my favorite read alouds for Women's History Month!
The Oldest Student: How Mary Walker Learned to Read : This is such a beautiful and true story about the nation's oldest student.
2. Dancing Hands: How Teresa Carreño Played the Piano for President Lincoln : The story of Teresa Carreño, a child prodigy who played piano for Abraham Lincoln.
3. Shark Lady: The True Story of How Eugenie Clark Became the Ocean's Most Fearless Scientist : I love this series! This is a great science picture book all about Eugenie Clark and how she learned to dive and discover.
4. The Story of Frida Kahlo : All about the life of Frida Kahlo!
5. Malala's Magic Pencil : A great book about Malala Yousafzai, the youngest recipient to win the Nobel Peace Prize.
I love a good read-aloud, but it's always great to have students reflecting! My two favorite ways to do this, whether it's all together, in small groups, or independently, are by using reading graphic organizers or reading response slides!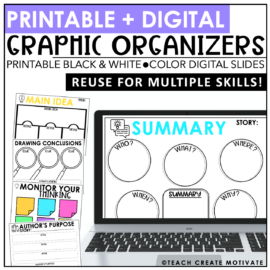 Printable & Digital Graphic Organizers
These graphic organizers are perfect for any text. Use for writing, reading or reading comprehension. You can create as digital graphic organizers as well. Vocabulary, story elements, author's purpose and many more are included.
These both require little to no prep, target multiple skills, and can be used again and again for any text!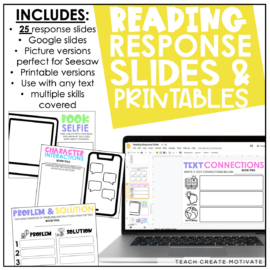 Digital Reading Response Slides & Printable Pages
These reading response slides are perfect for any text. Use them in google classroom/google slides, use the picture versions in Seesaw, or use the printable pages!
6. Black Women in Science : This amazing book celebrates the incredible Black women in STEM who have used their brains, bravery, and ambition to beat the odds.
7. Dinosaur Lady: The Daring Discoveries of Mary Anning, the First Paleontologist : A great read-aloud about the discovery of dinosaurs and female scientist, Mary Anning.
8. Sonia Sotomayor: A Judge Grows in the Bronx : I love that this book is in English and Spanish! This is the story of Sonia Sotomayor, who rose up from a childhood of poverty and prejudice to become the first Latino to be nominated to the US Supreme Court.
9. The Youngest Marcher: The Story of Audrey Faye Hendricks, a Young Civil Rights Activist : This book is a great example that you are never too young to make a difference!
10. Good Night Stories for Rebel Girls: 100 Immigrant Women Who Changed the World : Even though this says "bedtime stories", this book is packed full of stories of immigrant women who have changed and continue to impact our world.
I love building my collection of books celebrating influential women in history! Hopefully, this list can help you too. For more posts about reading click here!
Pin the image below to save this post for later!