It's time for your writing block, and all of a sudden, students are tapping their pencils or staring at a blank computer screen, looking around in a panic. Sound familiar? Teaching writing is one of those things that come easily to some and is extremely difficult for others. Here are some ways to help your struggling writers increase their confidence!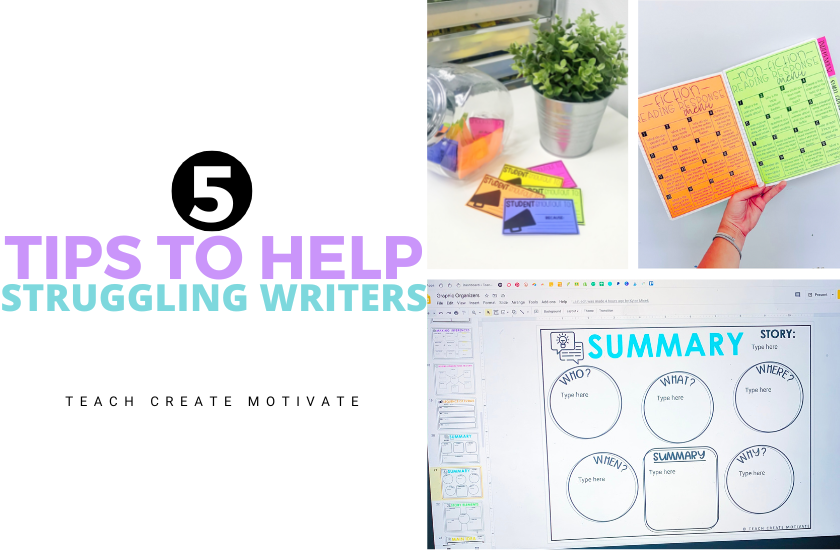 1. Simplify & Break It Down
Writing is process that has multiple steps. As a teacher, we must teach each of these steps individually before expecting our learners to write an entire paper. Focus on one writing skill at a time. Take a day and teach what should be included throughout introductions. Have students practice writing their own introductions before moving on to the body paragraphs and conclusion.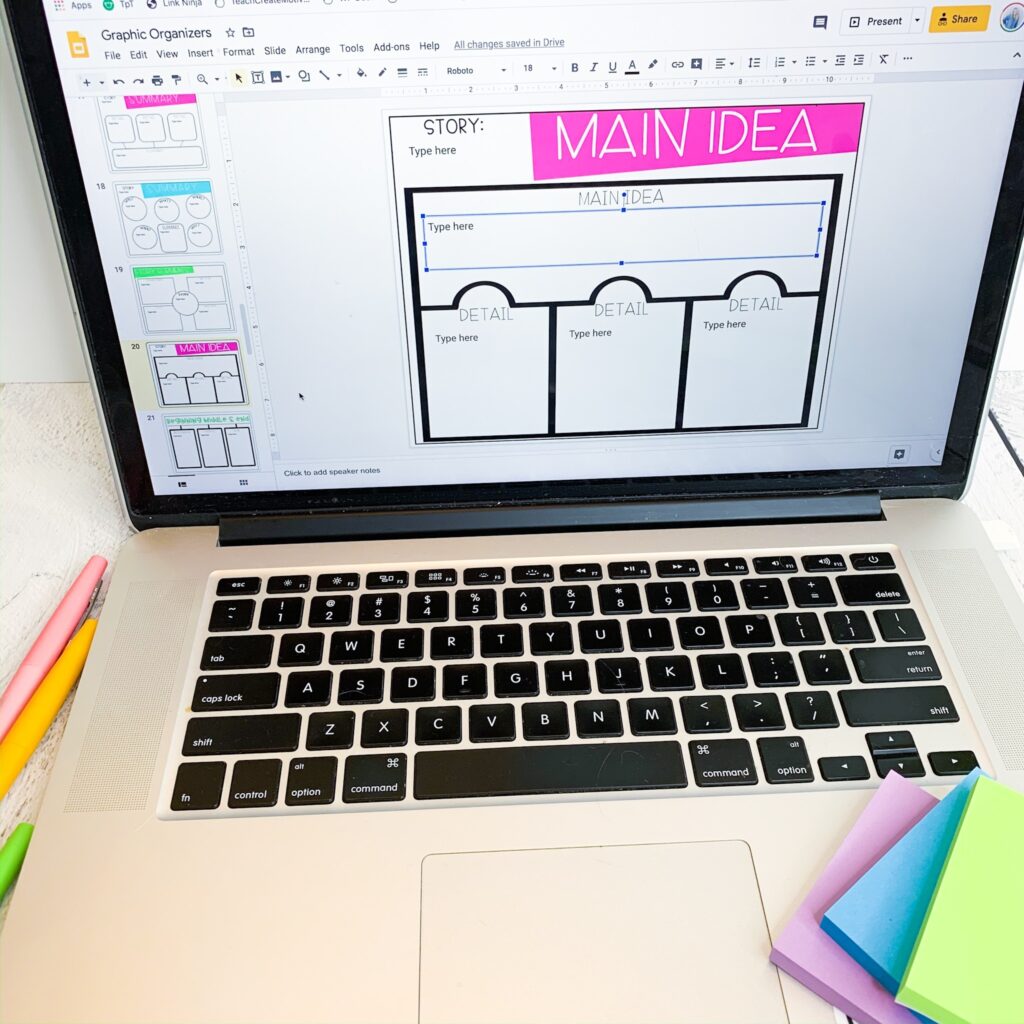 Sometimes just getting started is the hardest part! Sentence starters do wonders for students that need a visual reminder of things they can talk about. Graphic organizers can also be a helpful writing tool for many learners! These resources help make teaching writing easier by breaking down different sections of the text for better understanding!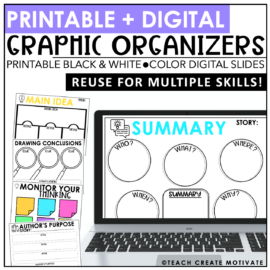 Distance Learning Digital Graphic Organizers | Reading | for Google Classroom™
These graphic organizers are perfect for any text. Use for writing, reading or reading comprehension. You can create as digital graphic organizers as well. Vocabulary, story elements, author's purpose and many more are included.
2. Give Students Choices
I can't say this enough…student choice is HUGE! I understand that we can't always allow students to write about random things, but every once in awhile it's ok to let students choose their writing topic! My suggestion is to give students the assignment details while giving them the freedom to decide what they want to write about.
When kids are excited about the subject they are writing about, they will put more effort into it and more and likely produce higher quality work. Using Digital Student Shoutouts is a fantastic way to highlight when a student really hit the mark with their writing assignment!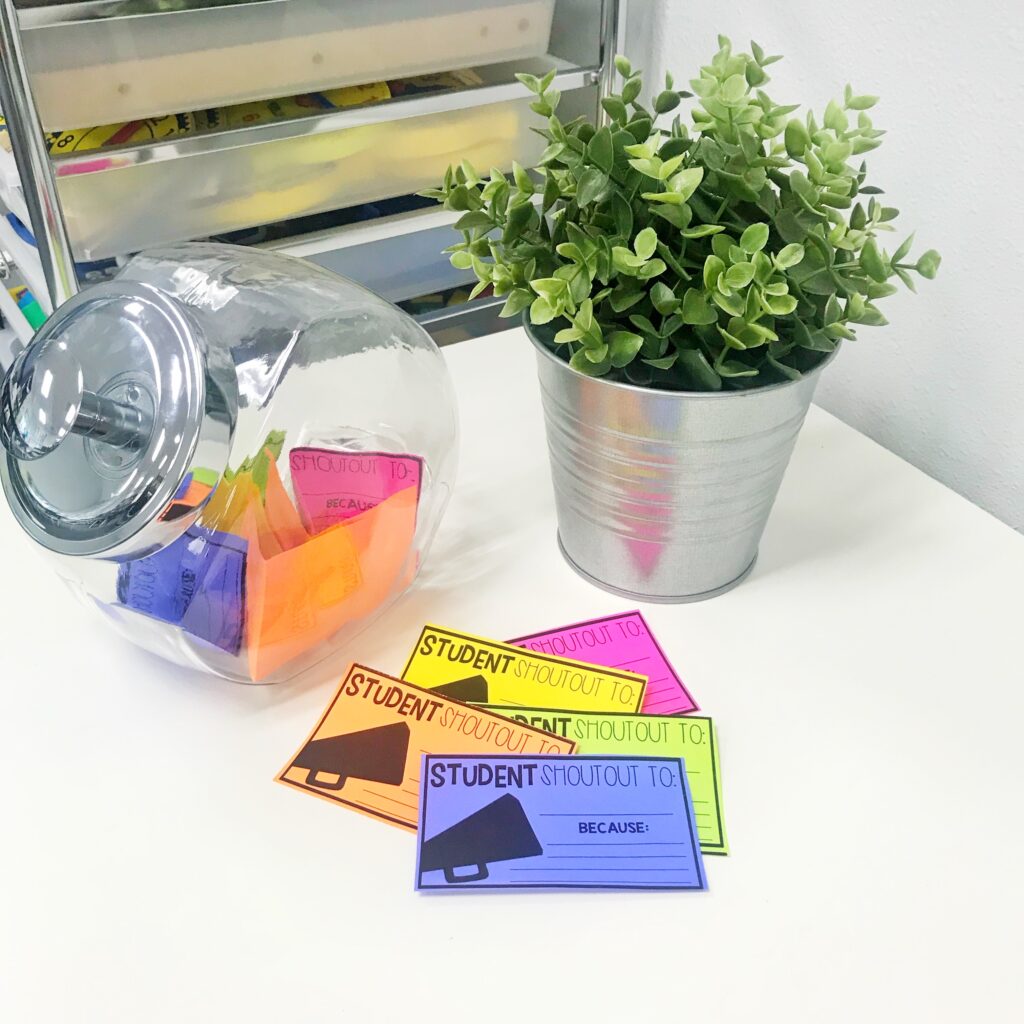 You'll instantly be able to see the boost of confidence it creates! You can also allow classmates to give each other shoutouts! Peer encouragement?! Yes, please! Shoutouts are also both printable AND digital too!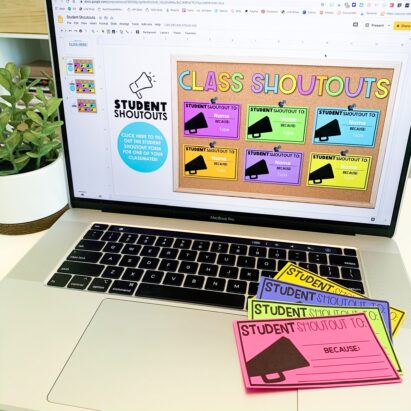 Digital Student Shoutouts
Promote classroom community with these digital student shoutouts! This freebie comes with a Google Slides Digital bulletin board and a Google form for students to fill out to give their classmates a shoutout! You can type in the shoutout slips or have your students do this!
3. Engage Them With Writing Prompts
One of the best strategies to help struggling writers is actually quite simple. Are you ready for it?! Practice writing EVERY.SINGLE.DAY!
Yes, I said it!! The only way to get better at writing is to do it more often. Does that mean students have to write an entire essay every day? Absolutely not! There are so many creative ways to incorporate writing tasks throughout your school day.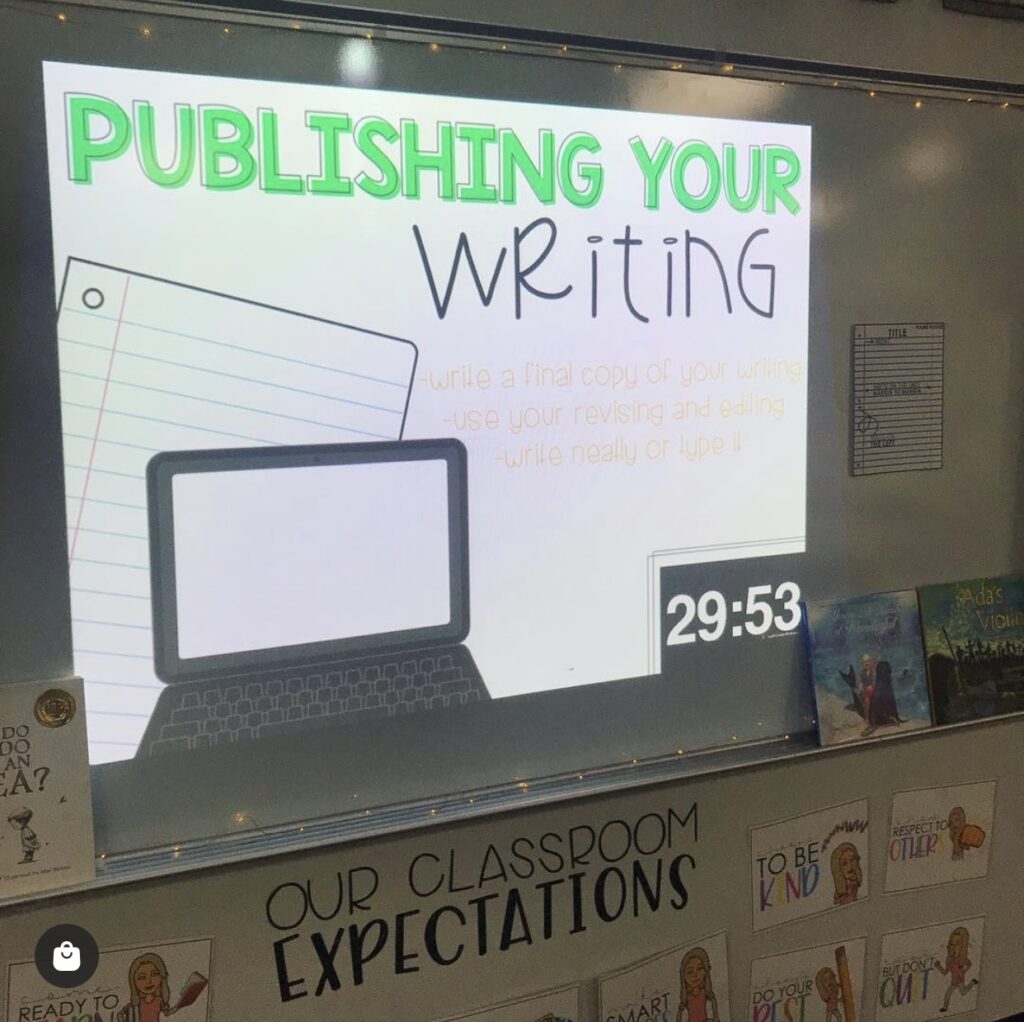 Using engaging writing prompts is one of my favorite ways to do this. These prompts allow students to have fun while increasing their writing skills! These Distance Learning Digital Writing Prompt Slides make writing fun and are so easy to use with Google Classroom and SeeSaw!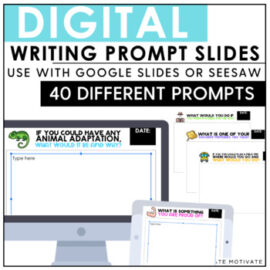 Distance Learning Digital Writing Prompt Slides | Google Classroom
Keep your students writing with these digital open ended and engaging writing prompt slides. Use them in google classroom/google slides or use the picture versions in Seesaw!
4. Model the Writing Process
Don't just tell students to write! Show them! As you write class stories together follow the teaching method of "I do", "We do", "You do". This is one of the best ways to scaffold your writing lessons. Whether you use a whiteboard, Smartboard, or JamBoard, writing stories together can be fun for everyone and builds your reluctant writers' confidence!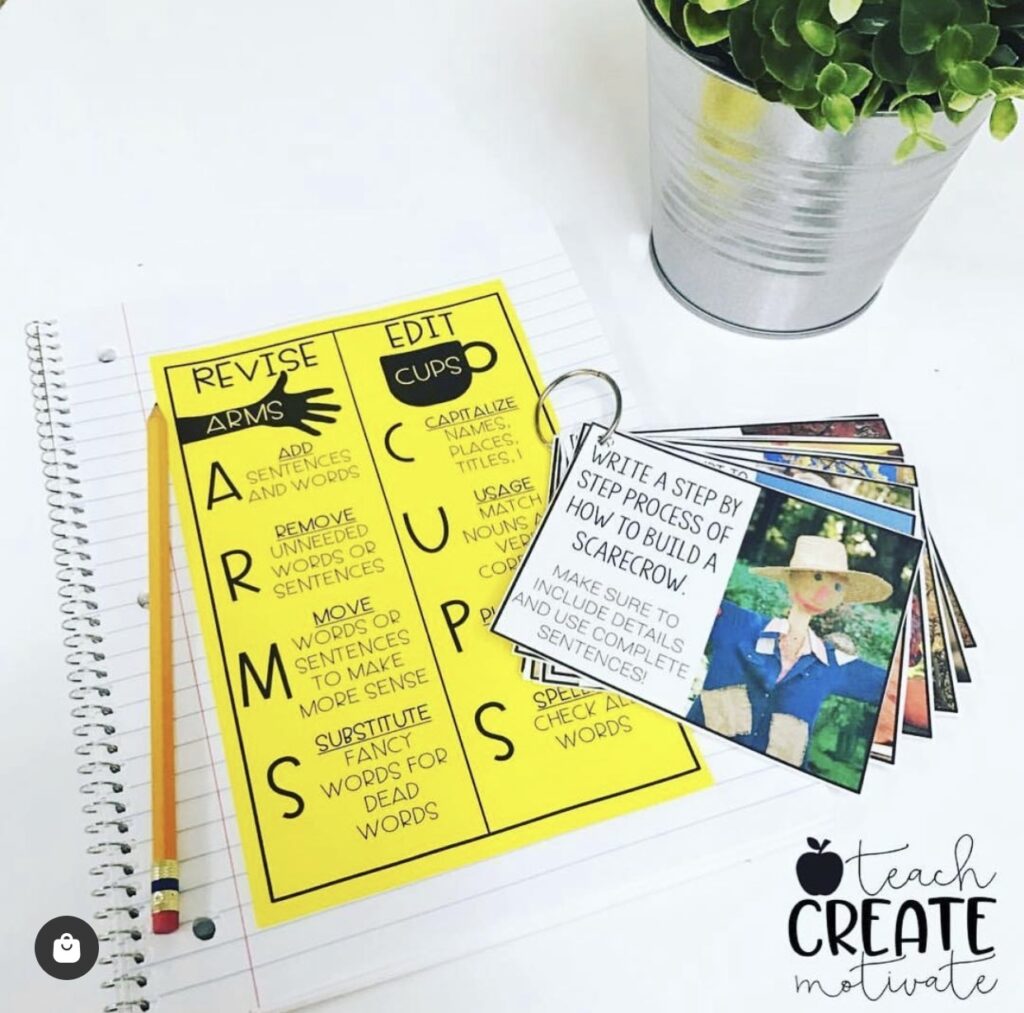 Don't forget how important brainstorming and pre-writing can be! Use your morning work time to brainstorm a list of topic ideas together as a whole class so that students feel confident when it comes time to write their individual papers.
5. Factor in the Fun
Kids love to pretend! When students tap into that pretending process, they are actually completing a type of narrative writing! It's important to remember that although we do want our students to practice some type of writing everyday, it doesn't have to be a full page paper each and every day.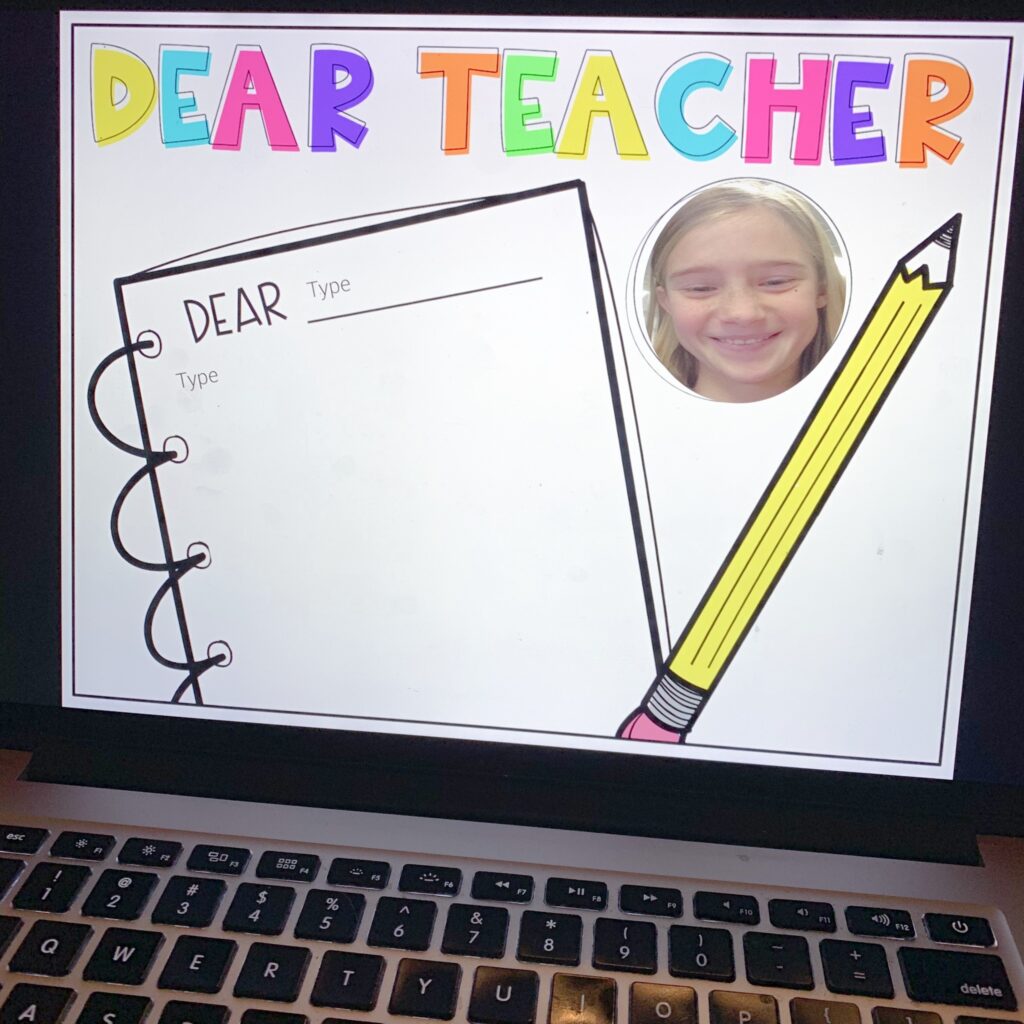 Students love to complete quick paragraph writings in their journals. One way to factor in the fun with quick writings is through themed selfie writing! These themed ideas can be used all throughout the school year and can even be used digitally! This allows students to practice those writing skills without feeling like work!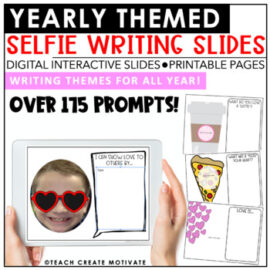 Distance Learning Digital Themed Selfie Writing | Slides | for Google Classroom™
You will love these themed and holiday writing pages. These selfie writing prompts pages can be used in print or for digital writing (version to be used with Google Slides™, Seesaw, Canvas, Teams, or PIC Collage,). Have your students "take a selfie" with over 100 writing prompts.
So even though writing can be a struggle for some of our students, there are so many fun ways to change their mindset around the writing process! By using these tips, I hope that teaching writing to your students will help get their creative juices flowing!
Pin the image below to save this post for later!