Are you looking to refresh your students reading skills for the second half of the school year? Everyone talks about the summer slump, but the winter break slump is real too!
Here are five easy ways to incorporate reading comprehension practice with reading passages into your routine to help get your students back on track.
1. Independent Reading Skill Review
Briefly go over the skill(s) you need to cover as a group. I love watching BrainPop videos on the skill for a quick refresher. You can also complete a quick anchor chart together!
Assign the skill for students to work through. The 12 reading skills included in the winter passages are:
Main Idea and Details
Cause and Effect
Theme
Context Clues
Compare and Contrast
Text Features
Author's Point of View
Story Structure (character, setting, problem/solution)
Making Inferences / Drawing Conclusions
Summarizing
Author's Purpose
Point of View
Students will read each winter-themed reading comprehension exercise and answer related questions within a particular skill set that is perfect for the winter months.
This is an excellent way for the third- to fifth-grade range of students to review skills independently. But, of course, the passages can also work for the 2nd-grade level, depending on your students.
The reading passages will allow your students to focus on isolated skills as a check-in to gauge student understanding or as a review for previously taught skills. In addition, students will enjoy reading short passages themed to the time of year, and you'll love they are getting meaningful reading practice with no prep!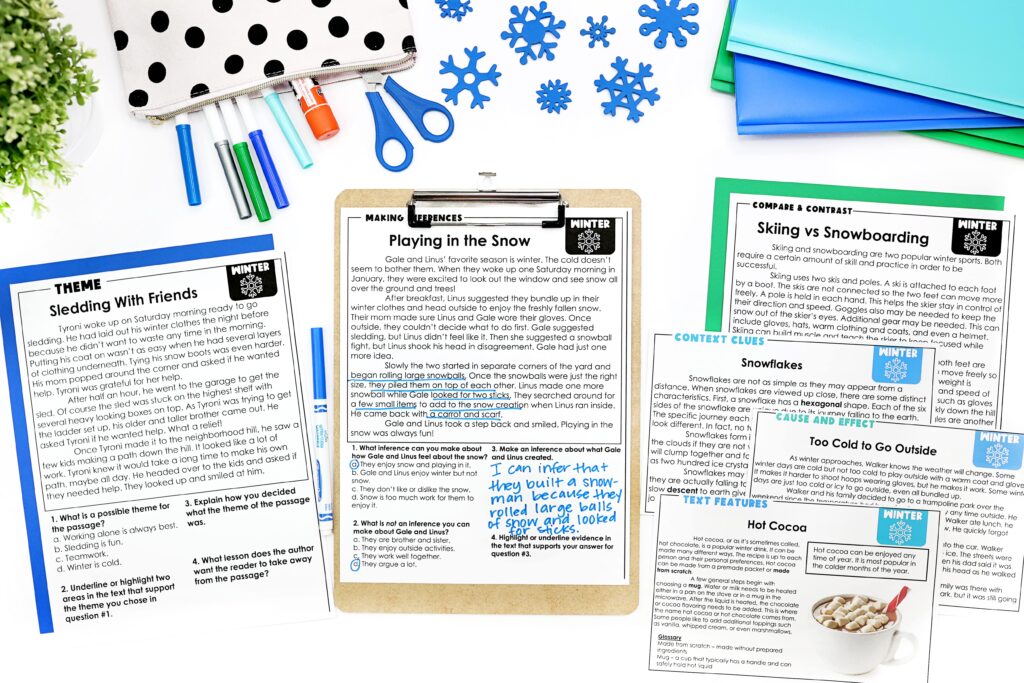 2. Reading Station Activity
Use the winter reading passages as part of a reading center. These reading comprehension passages are perfect for students to complete independently.
Easily assign the skill you want students to work on digitally through Google Slides on Google Classroom or another online learning platform. The students will either type their correct answer choice digitally or select it on the slide.
Digital Version with Audio: Passage read to the student
Digital Version: Student-friendly with the reading passage and questions on one slide
Printable Version: Full page in black and white
Printable Version: Half page in color
There are both fiction and nonfiction passages to captivate the reader and cover both essential genres. Each passage includes ready-to-assign printable and digital versions. In addition, a mix of short-answer and multiple-choice questions can be found within the set.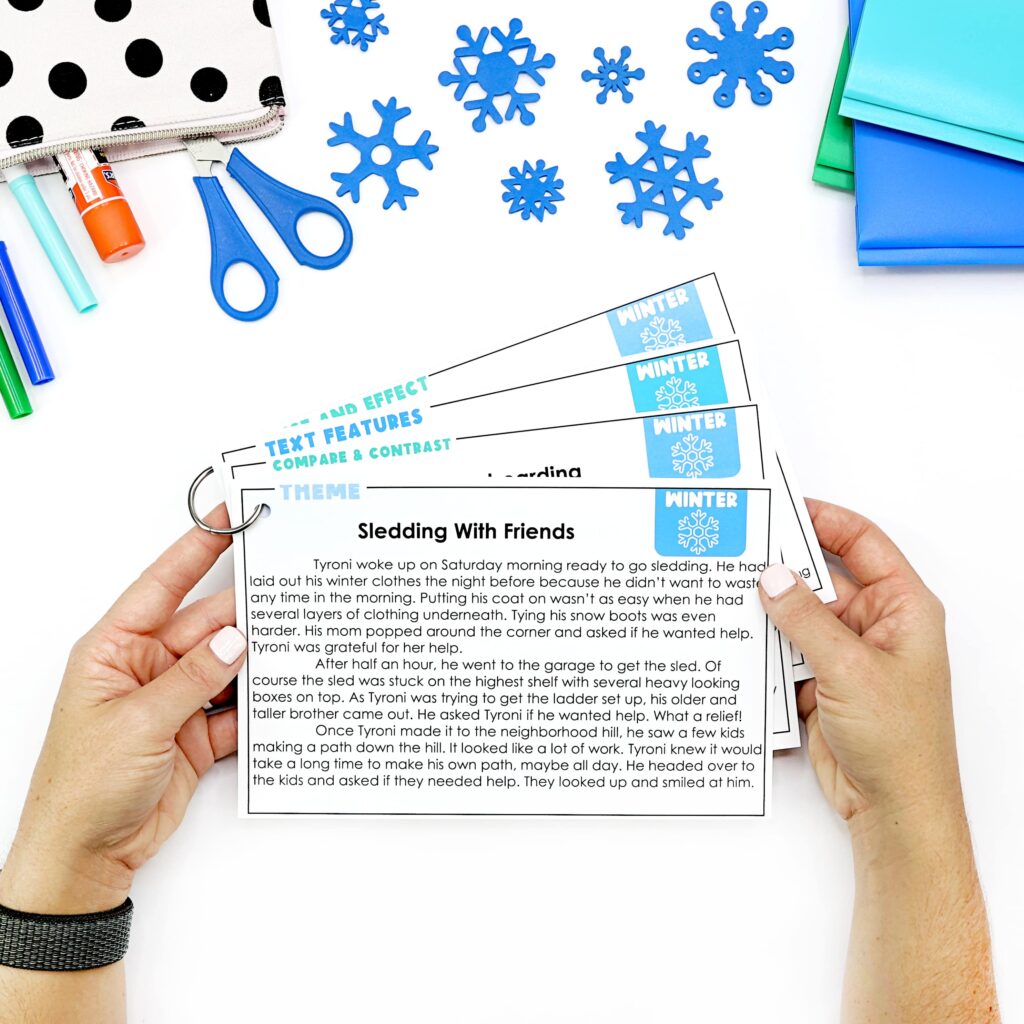 3. Quick Check or Exit Ticket
If you're spending time out of the week to review specific strategies, use the reading passages as a quick check! Print and pass out the short passage with the particular skill you want to cover to the students. Then, use their responses to evaluate who you could reteach in a small group the following week.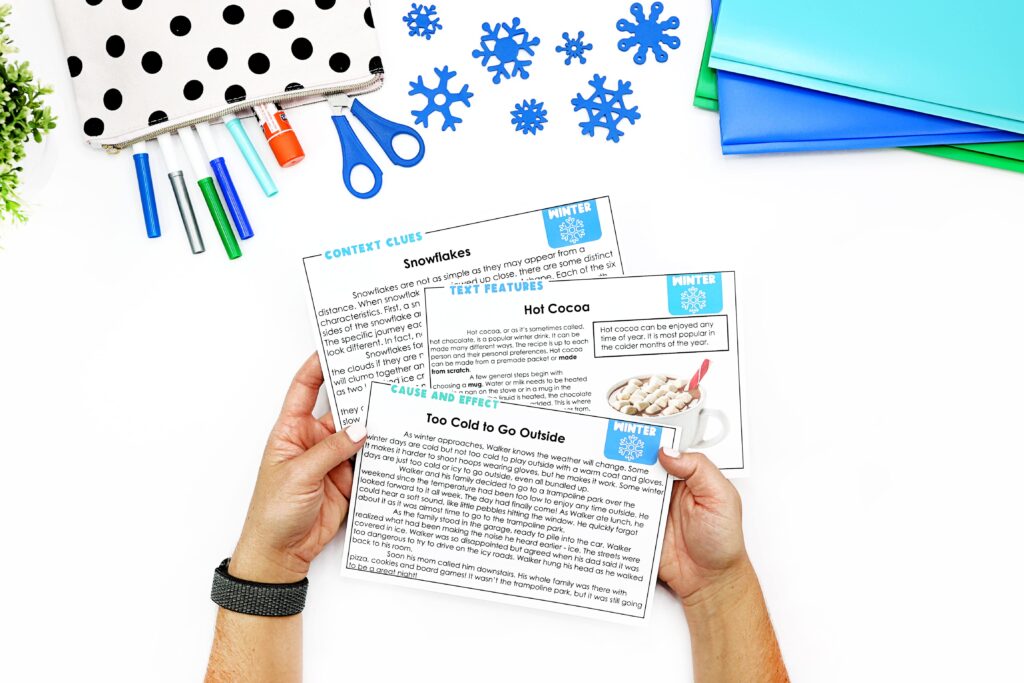 4. No Prep Small Group Lesson
These reading passages are a great addition to small group time in your classroom's daily routine! In small groups, practice reading to understand and answer questions while revisiting the text. This could really benefit students struggling to comprehend the skill and give you data on how to support them best.
You could also use these printable reading activities as close reading practice too to help students determine the main point of the passage.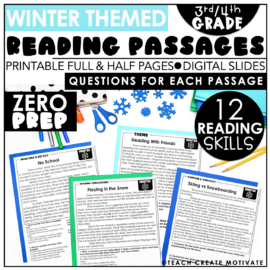 Winter Reading Passages
Winter reading passages provide you with a great resource to check in on student reading skills while matching the upcoming season. This set of reading comprehension passages and questions includes 12 ready to use winter themed reading passages with a variety of reading strategies and skills addressed in the questions. There are both fiction and nonfiction passages to captivate the reader and keep their engagement high.
5. Go Deeper with Graphic Organizers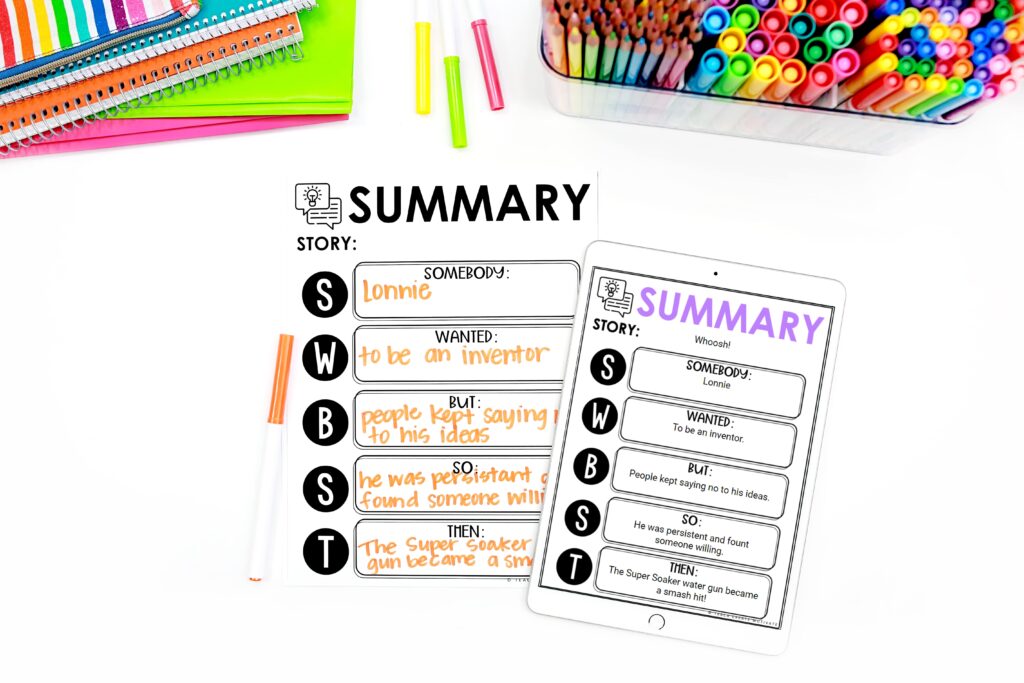 An easy way to get the most out of the reading comprehension passages is to pair them with graphic organizers! Students can use the graphic organizer to analyze the text thoroughly before answering the questions. This is a great way to get students to understand the meaning of the text.
No matter how you do it, you can make reviewing reading comprehension skills exciting and engaging with winter-themed passages!