What's one way to make SEL part of your day? Discussion!
I know…that sounds too simple, right?! Well, that's because it is that simple! The number one way to include SEL daily is just by making intentional time to discuss social-emotional topics with your students.
Here are some quick ways you can work SEL discussion into your day.
Discussion Cards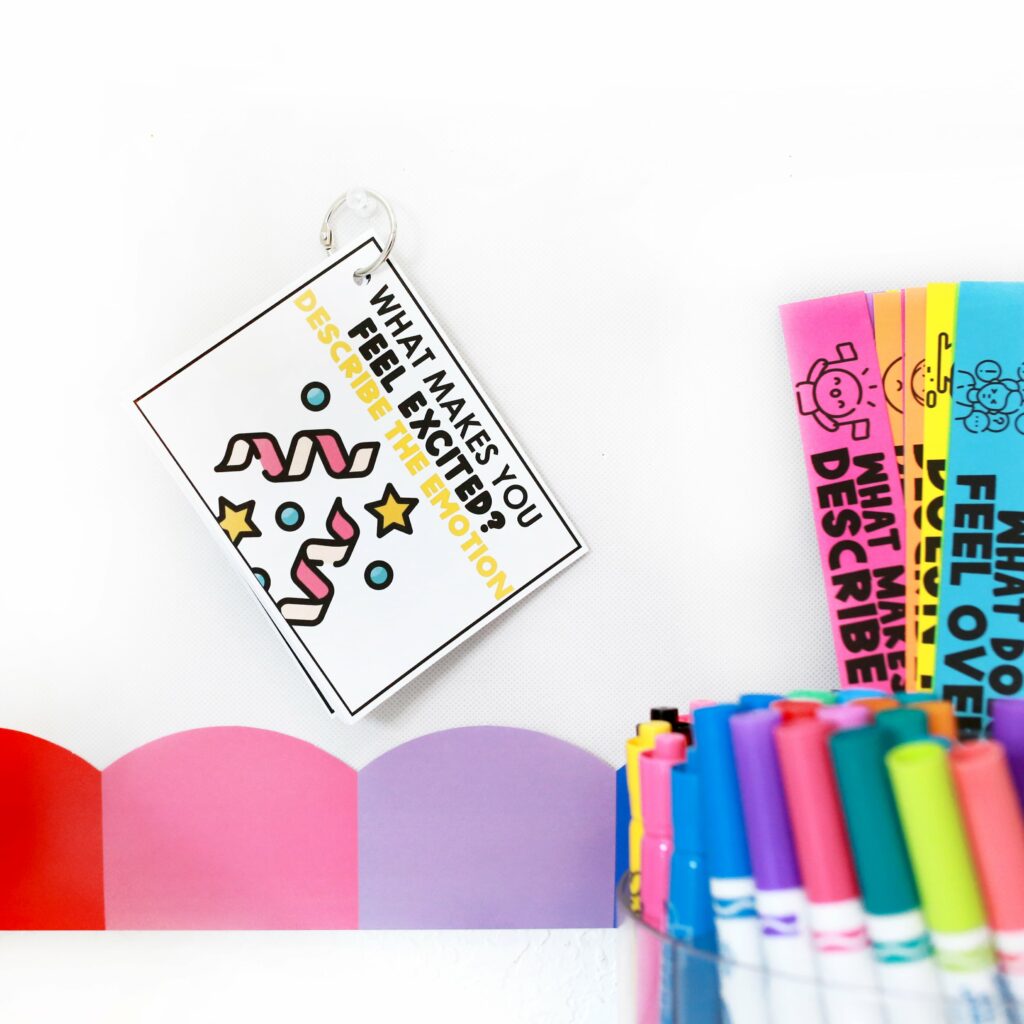 One way to include SEL into your day is by pulling a discussion card daily. Keep them on a binder ring on your whiteboard, your classroom door, or your class meeting area. You can quickly grab the cards, pick a prompt, and get the conversation going!
Prompt Examples:
What makes you feel nervous? Describe the emotion. 
How do you feel when something doesn't work out?
If you saw a friend crying, what would you do?
How do you handle a challenging situation?
How can friends support you during positive times?
What does it mean to feel overwhelmed?
How do you feel when you win?
How do you feel when you lose?
AND MORE!
These discussion prompts can lead to great conversations about growth mindset, social awareness, and positive relationships. They can even help students understand how to regulate their own emotions. SEL skills are just as necessary as academic achievements.
SEL JOURNAL PROMPTS
Journaling is the perfect way to include the SEL curriculum into your day! You can easily add it anywhere that it fits your schedule.
morning work
bell work
writing warm-up
exit ticket
end of day wind down
These prompt slips are perfect for cutting and pasting into an SEL journal. Students have the prompt right there in front of them. You could print the same prompt for all students, pick a slip at random, or give students a choice on the prompt they want to answer.
After students have journaled, take the time to meet with students and discuss their responses. You could even have students do a quick turn and talk in small groups to discuss their responses with a classmate.
Digital SEL Discussion Activity
Assign SEL discussion prompts digitally! Students may not be comfortable discussing social-emotional topics with you or their classmates, but they may feel comfortable typing out their responses.
Another option is to assign one slide to groups of students or even the whole class! Students can see each other's responses to the prompt, and it would make a great morning meeting activity to view everyone's responses and have a whole group SEL discussion.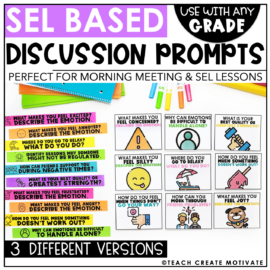 Social Emotional Learning Prompt Cards
Social-emotional learning discussions can be much easier when using these SEL prompt cards. This SEL activity is perfect for morning meetings, class meetings, whole group discussions, or even independent work. There are three formats to choose from – pick the one that best fits your classroom needs!
Incorporating SEL activities into your lesson plans allow your elementary or middle school students to reflect on social-emotional learning topics in a meaningful way.
Guiding your students during authentic discussions will help your students gain confidence in relationship skills, responsible decisions, and social-emotional skills. These essential skills are beneficial for students and help you better understand them! 
I hope you found new ways to include social-emotional learning activities in your school day!
Pin the image below to revisit this blog post later!