Read-alouds are an elementary classroom staple! You can use them for anything and everything. Using read-alouds to help your students reflect is a great way to include SEL into your day.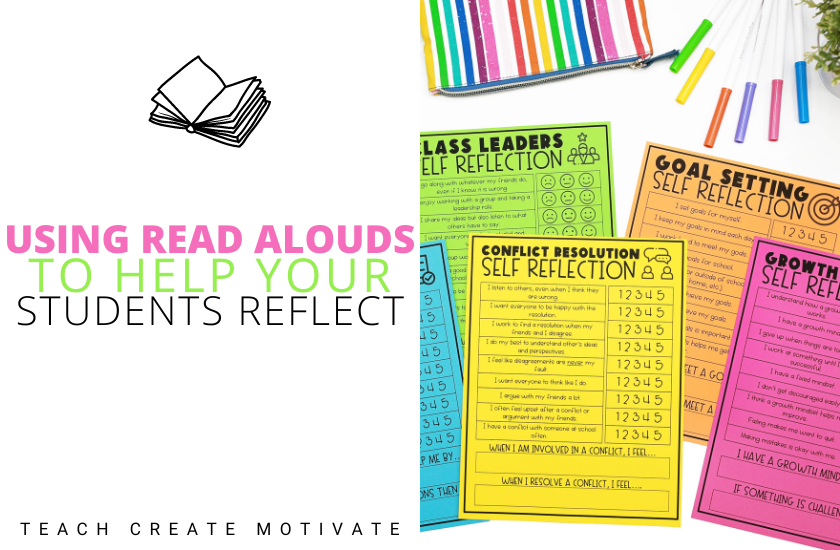 Benefits of Read Alouds for SEL
Read alouds be the number one way to cover social-emotional learning with elementary students. There are so many great read-alouds to cover all of these topics and more!
Acceptance
Honesty
Leadership
Conflict Resolution
Empathy
Friendship
Kindness
Perseverance
Respect
Responsibility
Self Control
Sportsmanship
As a teacher, you are bound to have situations with your class when it comes to all of the topics above. Kids are kids, and they are going to struggle with their social-emotional selves at times. When those opportunities arise, grab a read-aloud!
Read alouds are a great way for students to see SEL topics modeled through the characters in a text. Of course, you are also there to guide a discussion and point out ways the characters handled certain situations.
What really can make a difference for your students and really be an effective lesson is having students reflect after the read-aloud.
When students take time to reflect on a lesson, a social situation, their emotions, etc…they learn! This can be as simple as using a read-aloud to discuss friendship as a class and having them reflect on themselves and who they are as a friend.
Reflections have students thinking through and evaluating how they are with a specific topic. This, in turn, will help them grow that skill because they have now developed self-awareness just by taking the time to reflect.
KINDNESS STUDENT REFLECTION FREEBIE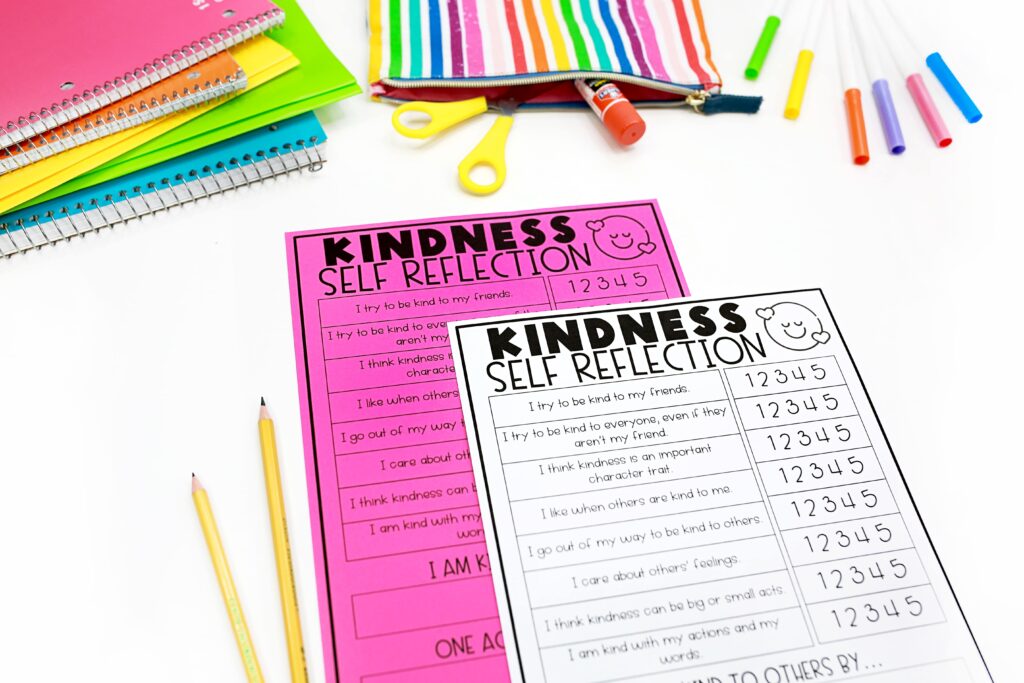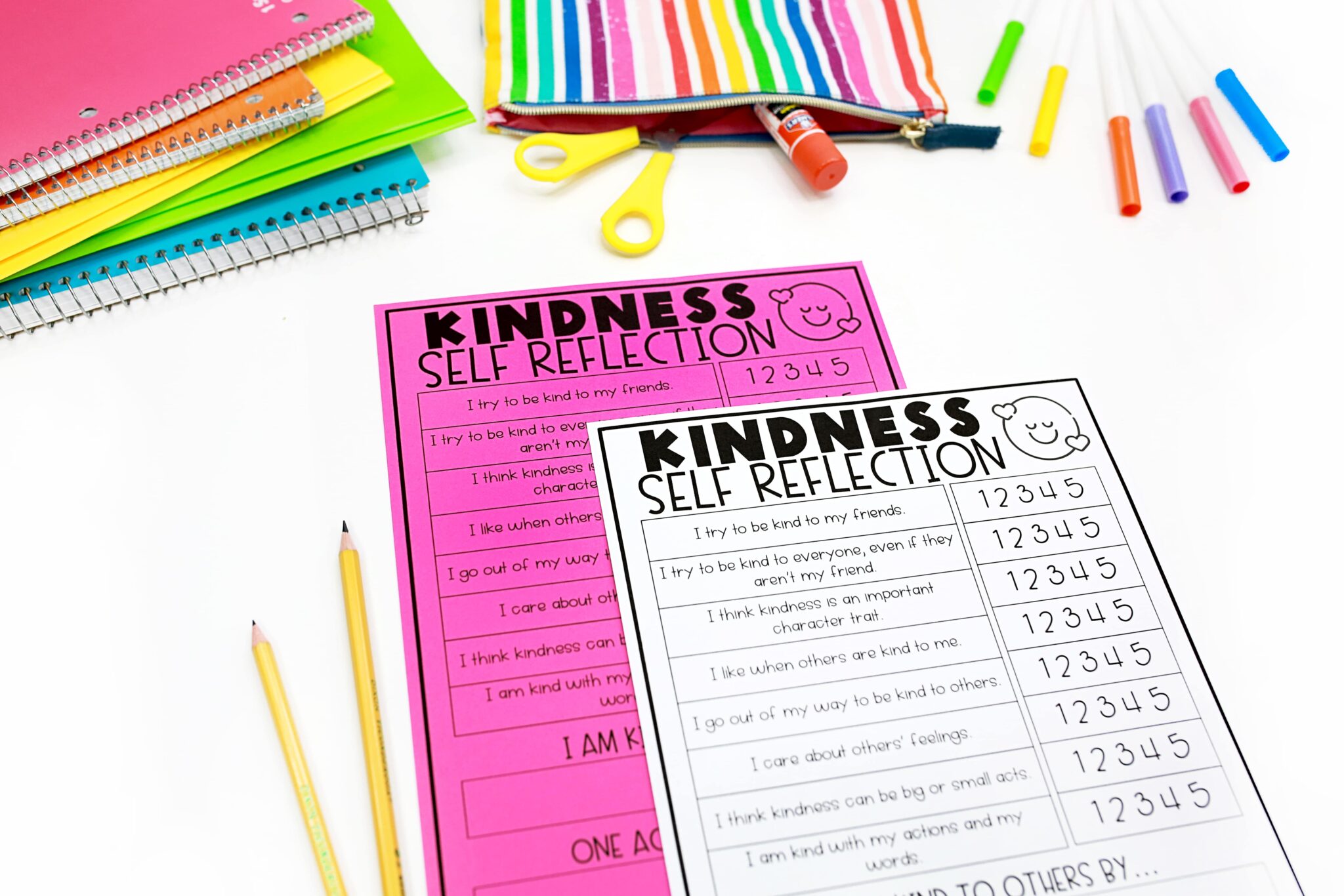 Try out the kindness self reflection rating sheets and writing prompt by entering your info below! Pair with a read-aloud, use as a discussion starter, or use with students one on one. Self reflection has many uses in the classroom.
When to Use Read Alouds with Student Reflections
Morning Meeting – Tackle social-emotional issues that are bubbling up with your class with a read-aloud and reflection.
One-on-One – Have a specific student who is struggling with sportsmanship, honesty, respect, etc.? Give them a student reflection sheet or writing prompt to complete. Then, have a discussion on what they rated themselves and/or what they wrote about. Hand them a read-aloud for independent reading that may apply to their situation.
Monthly – Pick a new topic monthly and focus on what your students need that month with a read-aloud and reflection.
Weekly – Establish "Friday Feels" during morning work, morning meeting, or at the end of the day. Pick a new topic each week, read through a read-aloud together, and have students fill out a student reflection on that topic.
There are lots of ways to use read-alouds to have your students reflect in your day-to-day schedule.
SEL Read Aloud Booklist
I've put together a list of over 50 books that cover 22 social-emotional learning topics that are perfect to use with self reflections. See it below!
Classroom SEL Reflection Topics
Pairing a read-aloud and reflection with social-emotional classroom expectations can be really beneficial too! Here are some examples of SEL classroom expectations to keep track of:
Working with Others
Organization
Goal Setting
Following Directions
Classroom Expectations
Active Learner
Use the read aloud to model the expectation in morning meeting and have students reflect at the beginning of the year. Revisit the topic at the beginning of each quarter, and students can track their growth. Keep reflections in a student portfolio or folder so you can keep track of student progress on different topics.
You can even share one or more reflections at parent/teacher conferences. Let students choose which reflection to share!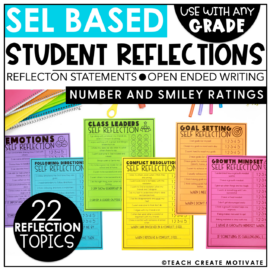 SEL Based Student Reflections
Make checking in with your students easy and meaningful! This set includes 22 low-prep SEL student reflections that are perfect for better understanding your students. Use these as a check-in throughout the year to help students navigate their emotions, listening skills, sportsmanship and more.
MORE TIPS FOR USING STUDENT REFLECTIONS
Have students share their reflections during a monthly morning meeting
Use as classroom discussion starters
Use the book list ideas provided to review the SEL topic before or after students complete reflections
Using read-alouds to help your students reflect is one of the best ways to support social-emotional learning in the classroom.