The event that took place on September 11th, 2001, can be challenging to teach. Having to search for age-appropriate sources and activities is time-consuming. That's where the Patriot Day Digital Project comes in!
In this digital project, students learn about September 11th. They will be guided with videos, articles, and passages about heroes and the ways we remember that day.
The best thing about this project is that EVERYTHING is done for you! You can easily edit, pick, and choose what you assign for your students because it is all in Google Slides.
What's Inside
Every part of this project is linked and ready to assign to students. Articles, videos, and passages are linked to guide students while learning about September 11th. Each of these resources has comprehension questions that go with it.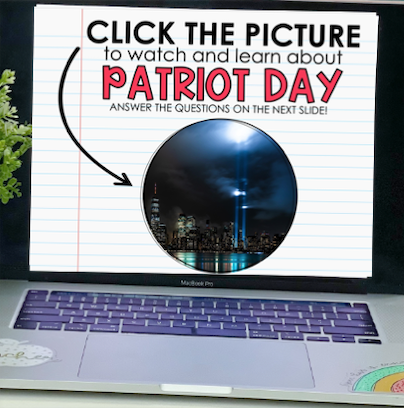 Videos
BrainPop has a GREAT kid-friendly video explaining the events that took place on September 11, 2001, and the effects of those events today. I highly recommend watching this together as a class before starting the project. Typically you have to have a subscription, but this video is free for all!
The video is also linked up for your students to watch again while completing the project, with a few comprehension questions to follow!
Topics Covered in the Passages:
Just like the videos, passages highlight different elements of 9/11. Each short passage has a couple of comprehension questions for students to answer about the text.
What is 9/11?
Patriot Day
Memorials
Animal Heroes
First Responders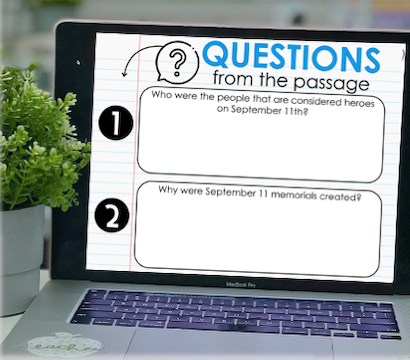 Writing Reflections
Students reflect on the information from the linked reading in the project through writing prompts. Use this as an extension activity, add it to your writing block, or use it as guided writing practice. The options are endless!
September 11th Activities/ Patriot Day Digital Project
September 11th lesson plans can be challenging. This age appropriate research project on 9-11 allows teachers and students to gain information about the historic event but also focus on the positives that came out of a tragedy. This September 11th activity is a great resource that allows you to share as much or as little information with the class as you feel appropriate.
Let your students learn and honor September 11th through a series of articles, videos, comprehension questions and writing prompts. Need more resources, a book list of great books that focus on September 11th in a variety of ways is also provided.
Graphic Organizers
The project includes a KWL chart and a bubble map. both would be great to do as a whole group or assign individually.
KWL Chart
Filling out the KWL chart together as a class might be a good starting point. To start, you can do this after watching the BrainPop video or reading one of the recommended books below. Students can fill the "W" and "L" in as they go through the project. Then, come back together when everyone finishes the project and have students share what they wrote in these categories.
Bubble Map
Students can use this to support their learning through the project. You could also fill a few bubbles together each day after students have had time to work!
Book List
Quite a few picture books highlight the events of September 11th and the people who became heroes that day. This is a sensitive topic, and reading a book together in a morning meeting while having an open discussion is a good way to start a project like this.
Not only will starting with a book help build a foundation of understanding before diving into the project, but you will be available to answer any questions that may come up.
Here are a few books I recommend on the topic!
Check your school or local library for these texts or additional resources students can reference. Many local libraries have special educator cards just for teachers! These cards allow you to check out more books than the allotted amount for the general public. Some even include perks like lost or damaged book forgiveness.
September 11th Flipbook Freebie
Here is a freebie just for you to use with your students to remember the history and the importance of September 11th! Sign up below to get these free flipbooks straight to your inbox!
Topics like the events of September 11, 2001, can be tough to teach, for many reasons, especially at the elementary level. That's why a project that is customizable and ready to go is a great place to start. No searching for appropriate videos or articles. It's already linked up!
Pin the image below to revisit this blog post later!