It's week one of the Set Up Your Classroom Series! Let's talk about classroom bulletin boards!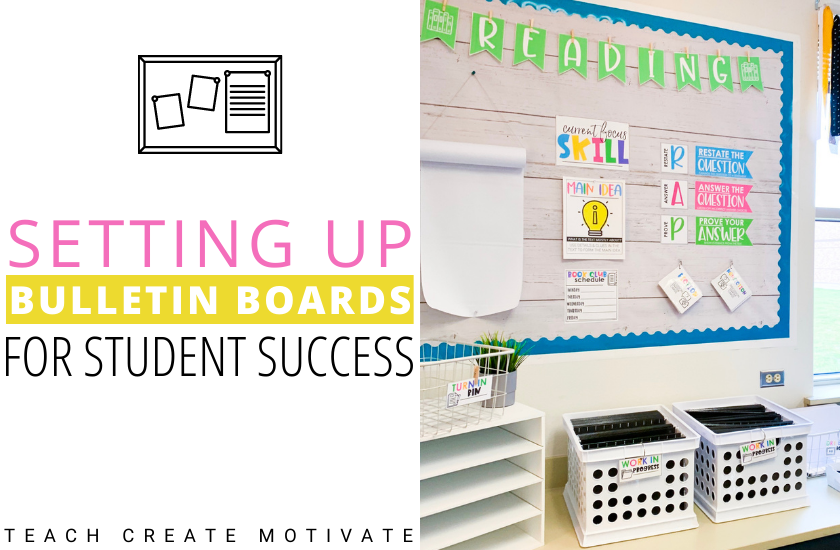 Wall space in the classroom is prime real estate! It's what our students look at every day. So many students use what we put up on the wall for support and reminders all day long. Putting up resources that support their success in the classroom is so important.
When you give every space in your room a purpose, you set up your students for success. I wanted to share a few ways to prep and plan for bulletin boards and share a few classroom bulletin board ideas.
Bulletin Board Prep
Bulletin board prep can be a little time-consuming when you are just getting started. However, the positive thing is many bulletin boards can be kept up year round. So prep is a one and done type of thing! Keep it up from the beginning of the school year to the end of the year.
Plus, if it's something you're going to put up year after year, print on cardstock and laminate! This eliminates prep in the future, and if you have to take it down over the summer, all you have to do is put it back up in the new year. No prep is needed!
Bulletin Board Materials
Here are some materials I like to have on hand when prepping and setting up bulletin boards for the year.
Make Your Own Bulletin Board
I've learned that if you don't have a designated bulletin board or as many as you need, make them!
You need some bulletin board paper (wrapping paper works great too) for the background, put up some borders, and bam, you've made your own bulletin board!
You can still staple and pin things on the wall if it's drywall, and if you have cement block, just carefully scotch tape bulletin board items to the background.
Have a Plan for Wall Space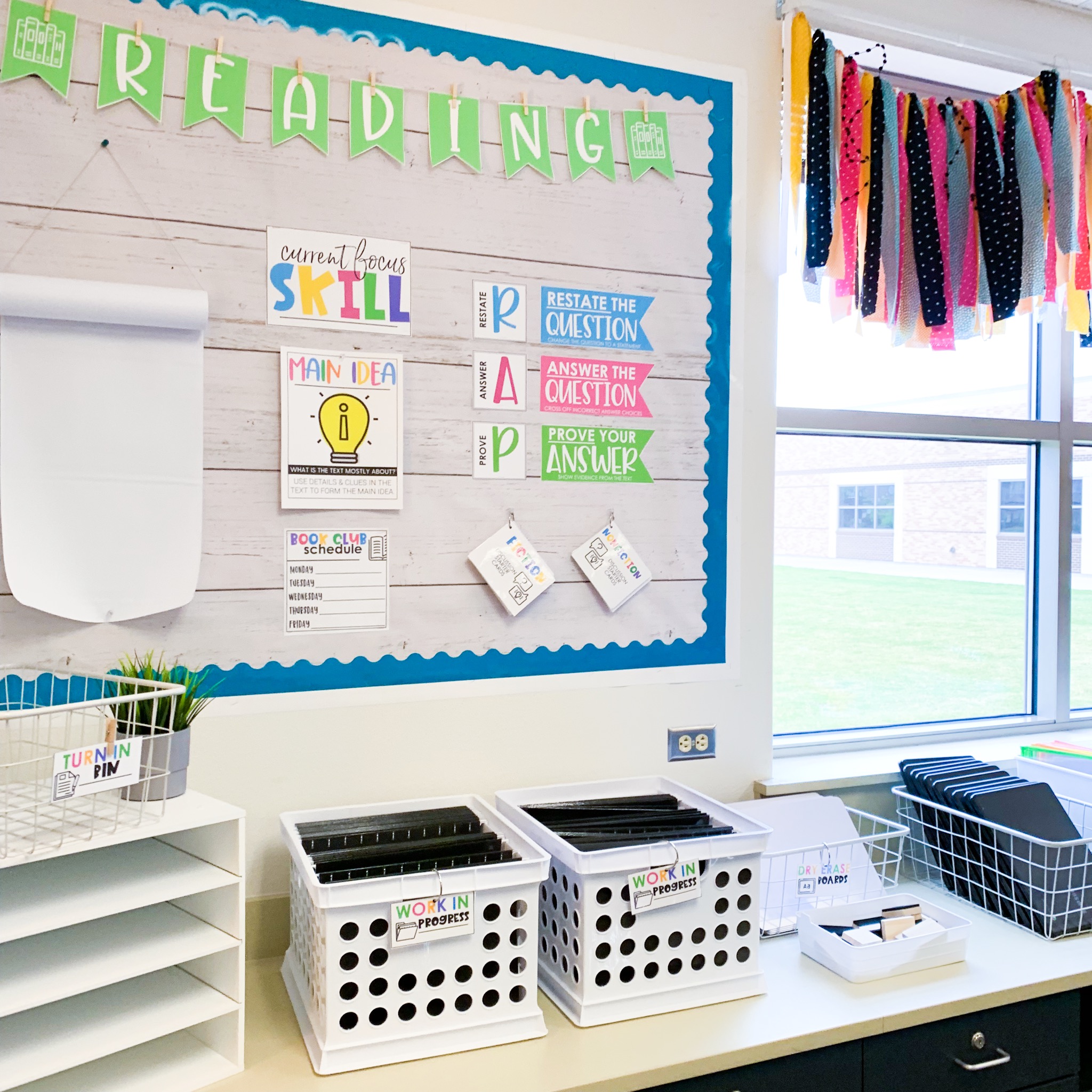 Having a plan for each space on your wall is essential! Of course, you don't need to fill every inch of the area, but breaking the room up into parts and designating a space for each category of materials you want on your walls is crucial.
This is especially important if you are self-contained and teach all or multiple subjects. Each subject area should have its own space.
If students know where to look specifically for a subject area or classroom reminder, they are more likely to use them! On the other hand, if they have to search through a bit of math here and a little reading there in multiple places, they may not use the correct strategy they're looking for or just give up.
Subject Area Bulletin Boards
Like I said above, having your subject area grouped together makes it more readable for your students! I like to call these areas "station hubs."
A station hub is where students can go to remind themselves of their math or reading strategies and grab materials they may need.
You can even have these be interactive bulletin boards. For example, hang task cards on hooks that belong to that subject area or put out bins for picking up related work or turning it in. This is a great way to keep it all together so students can easily find things!
A station hub is a one-stop-shop for it all! Students are set up for success by creating this hub because they know where to look and go every time.
Here are a few examples of station hub setups with my math and reading strategy posters.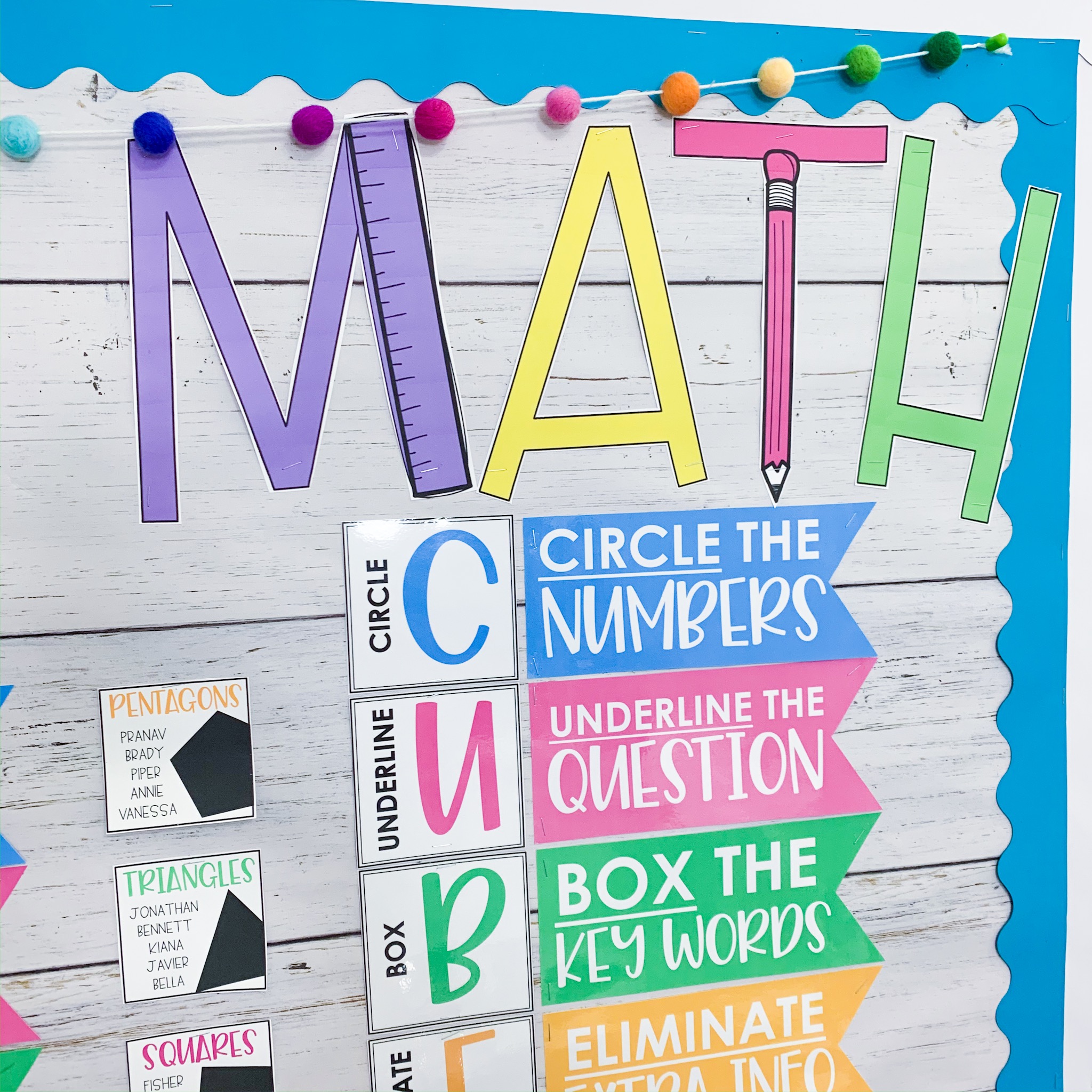 Remember, what works one year may not work for the next! It all depends on your schedule and your space.
For example, one year, you may have room to designate separate reading and math skills bulletin boards or station hubs. Another year, you might have to combine them. Do what works for you!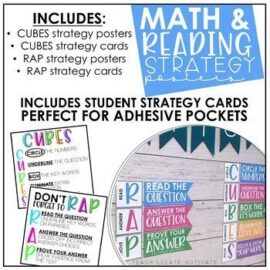 Math & Reading Strategy Posters
This resource includes posters and strategy cards for math and reading. Math strategy posters use the acronym CUBES and reading strategy posters use the acronym RAP.
Character Education Bulletin Boards
I always like to have designated wall space for social-emotional bulletin boards, growth mindset bulletin boards, or other boards that share social skills. These skills are just as necessary as academic skills for the classroom community!
Choose Kindness – Teaching our students to CHOOSE kindness daily is a MUST! Who doesn't love a positive message to look at every day? Refer to the bulletin board during your kindness talks, read-alouds, and lessons. You can even use this area to highlight students' random acts of kindness.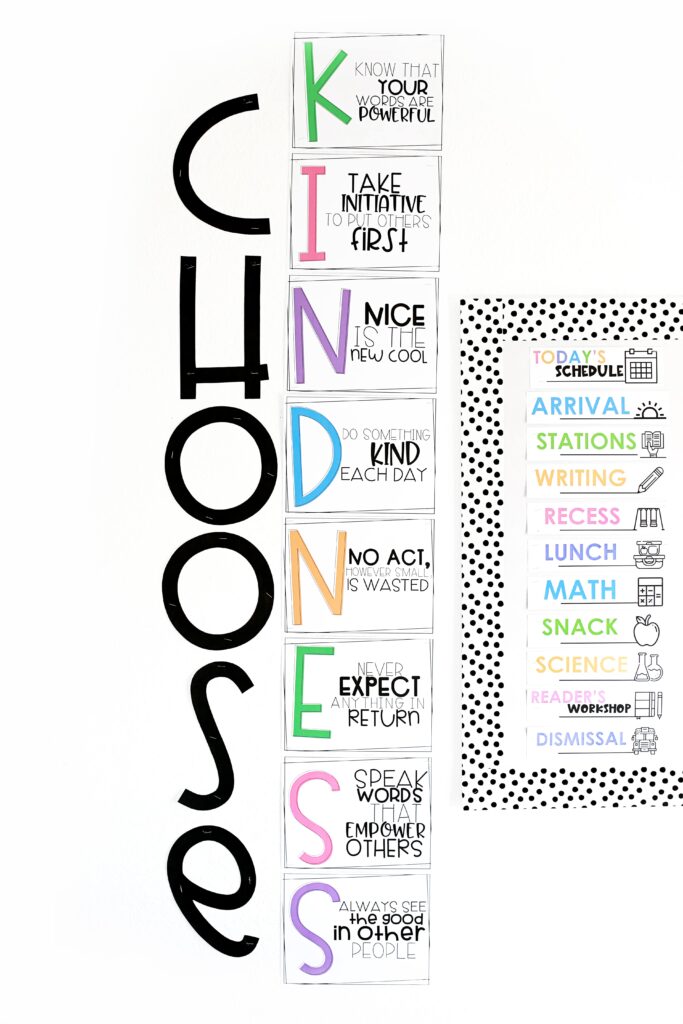 Growth Mindset – Keep a visual reminder of growth mindset and what it means hung in your classroom. You can even build lessons around each of the posters! Then, you and your students can refer back throughout the school year, especially when things get tough.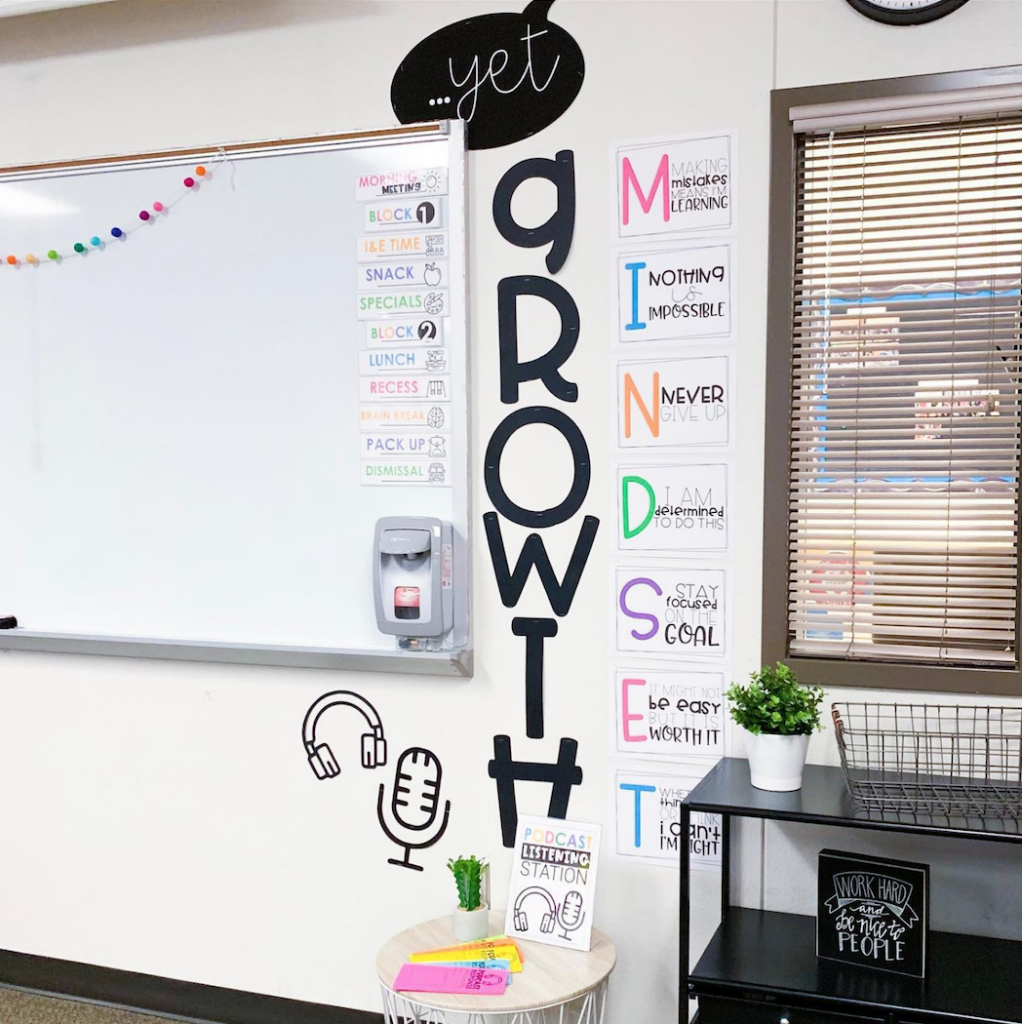 Class Leaders – Fostering student leadership in the classroom is so valuable! Put this up as a reminder to students of what makes a good leader.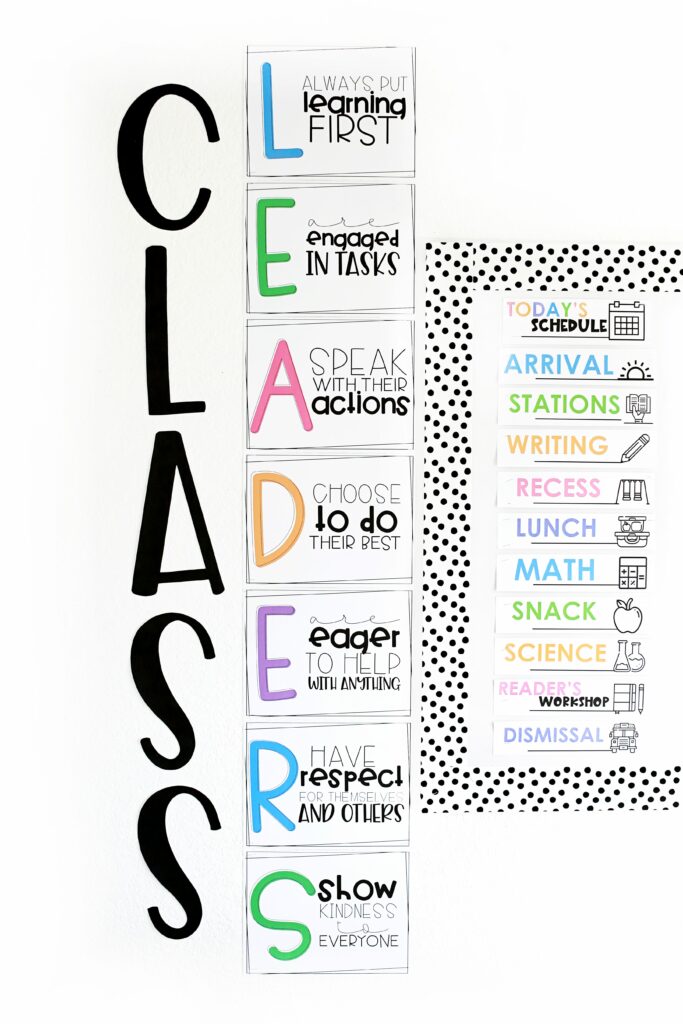 Maker Space/Create Bulletin Board – Do you have a maker space in your classroom? A maker space is somewhere where students can let their creative ideas flow. Highlight that area with this bulletin board! You can even leave room for student artwork around it.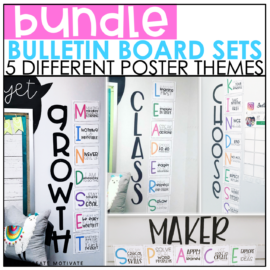 Bulletin Board Bundle
This bulletin board set works for any grade level! Put one on your classroom door or anywhere in your room. This bulletin board BUNDLE is the perfect way to support what you teach in the classroom. This bulletin board in the bundle will encourage and motivate students to choose kindness, use a growth mindset, become class leaders, and help foster their creativity.
A simple bulletin board can make a significant impact in the classroom. Bulletin boards are an effective way to expose students to important skills, strategies, and concepts. Not only can they highlight important information, but they fill our classroom walls with cute and meaningful decor!
What other easy bulletin board ideas do you have?
Pin the image below to revisit this post later!