It's week two of the "Set Up Your Classroom" series! Let's talk about easy classroom organization ideas this week!
By now, you probably know classroom organization is a passion of mine. SO MUCH thought, prep, and planning go into setting up an elementary classroom. It's truly a labor of love!
Two questions I really like to focus on when setting up and organizing a classroom for the year are:
Is this resource/item functional?
Can I use this resource/item year after year?
FUNCTIONAL CLASSROOM MATERIALS
You can grab so many cute things for your classroom that you may say, "I'll find a use for this." I mean, have you ever visited the Target Dollar Spot?! But unfortunately, many of those items just collect dust in cabinets, are forgotten about, and are never used.
It's so easy to get sucked in by everything you can buy that you find yourself with many items and resources that don't work for your space, your students, or you. I don't want that for you!
The goal is to make your classroom an inviting place that you and your students will love. Having a beautiful classroom that is also functional will help you feel right at home!
TEACHER TOOLBOX
Rule #1 of a functional classroom or home is that everything needs a place! We have so many little things that take up so much space in and around our desks as teachers. A teacher toolbox is a perfect solution to giving all of those items a home! (We need somewhere for allll those paper clips, am I right?!) I even have a DIY Teacher Toolbox tutorial to help get you started.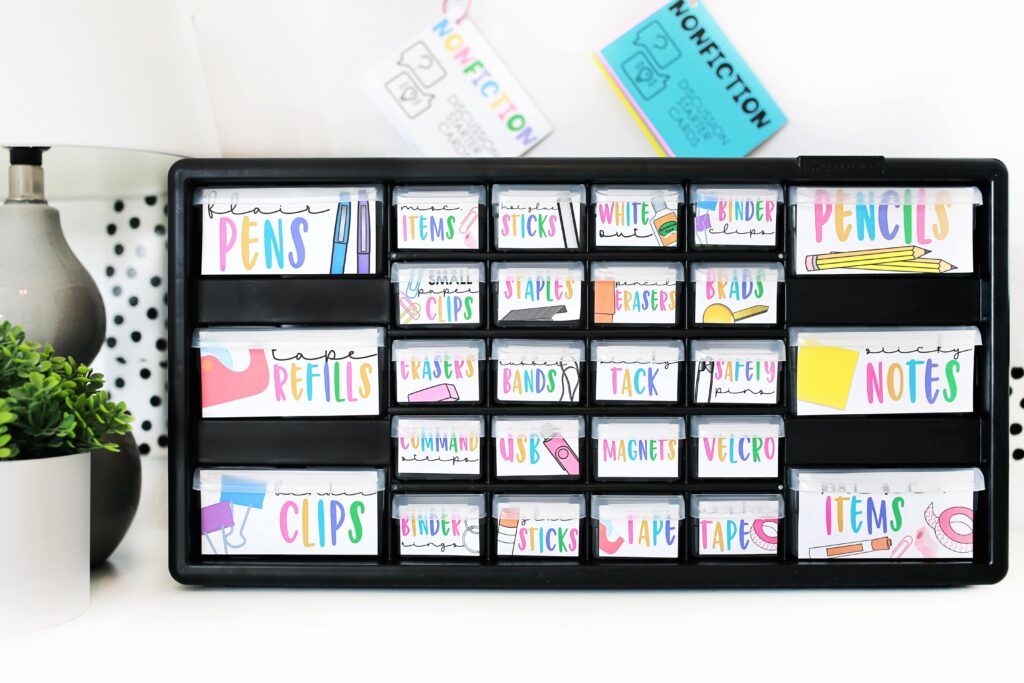 CLASSROOM STORAGE Ideas
Some of my favorite functional classroom items are drawers and bins! It seems stores come out with cuter and cuter options every year. You need storage containers for so many things throughout the year!
School Supplies
Task Cards
Clipboards
Whiteboards
Homework Turn In
Work in Progress
Papers to copy
Work to Grade
Materials to File
Lesson Plans
Important Papers
The list could go on and on and on!
Amazon, Michaels, Target, and the dollar store are some great places to buy matching bins for a cohesive and organized look. Don't forget to label them!
Teacher Tip: Book bins can go beyond books! Use book bins to organize large stacks of papers too!
Homework WAIT! Sign Freebie
This "WAIT! Does your homework fit these 3 things?" sign is so helpful in the classroom! Before turning their homework in, students have to evaluate their work for their name, completion, and quality. If it passes these three things, they turn it in under the sign!

Grab it for free HERE!
STATION HUBS
In week one of the series, I talked about station hubs and what to add to the bulletin board space. This week, let's talk about the different bins at the hub.

Two types of bins to keep at the station hub are a turn-in bin and a work-in-progress bin. That way, students go to the same place for everything, so there's no confusion. In addition, all plastic containers or drawers should have a label so students know exactly what goes in or what comes out.
I like to keep bins for materials students may need for that subject area, small groups, math centers, or book clubs. This could be whiteboards, clipboards, construction paper, or anything! Easily change these items out and store them away as needed.
SIMPLE CLASSROOM DECOR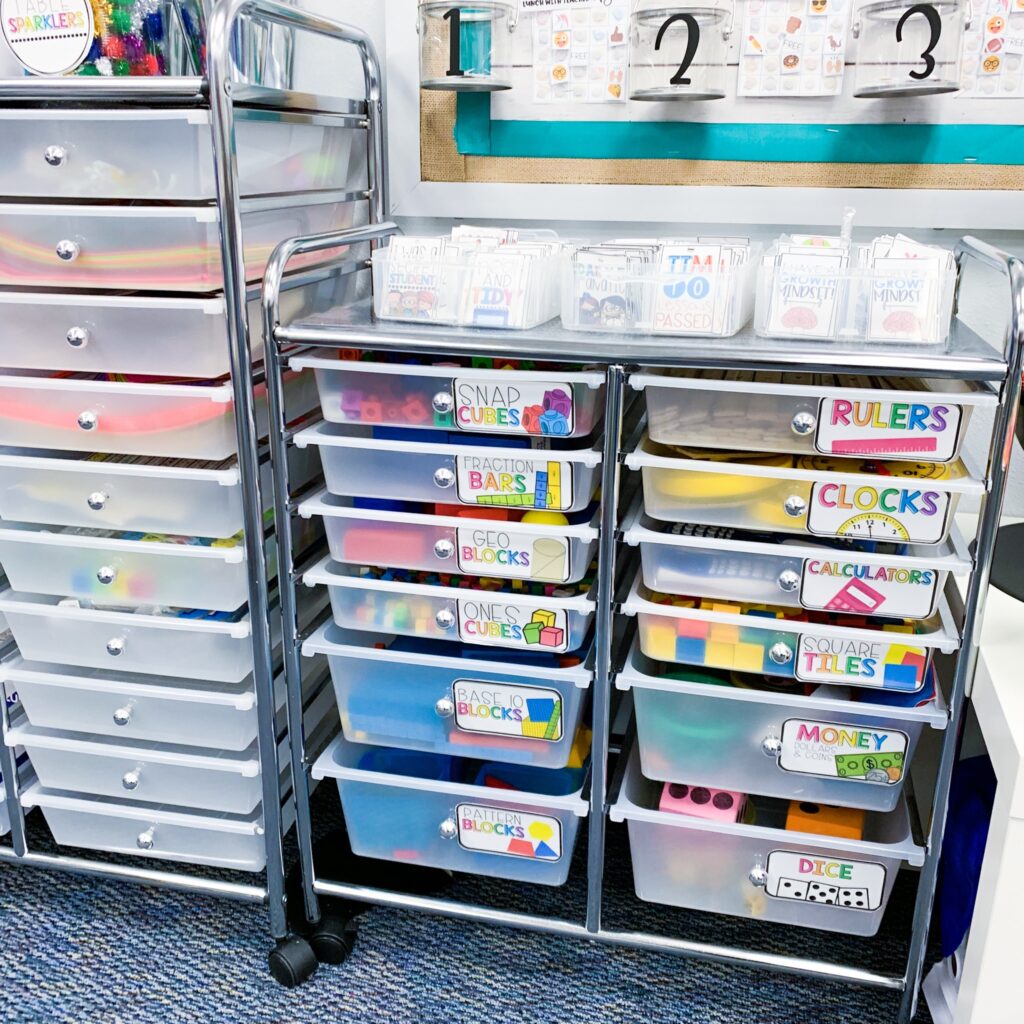 The key to having all your classroom supplies look organized is matching labels! By labeling each of your bins and drawers, you and your students know exactly where everything is. It keeps materials organized, and the bright and simple decor really pulls the entire classroom together.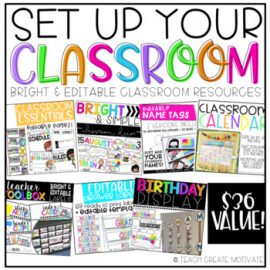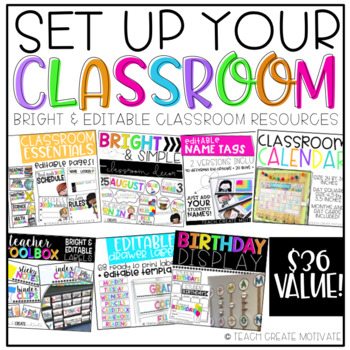 Set Up Your Classroom Bundle
This classroom setup bundle has everything you need to get your classroom ready for students! The colors are bright and simple and a great addition to any room. Use the resources year after year to keep your classroom looking beautiful and organized! Your students will love the eye-catching decor without taking away from their learning experience.
RESOURCES USED YEAR AFTER YEAR
When buying resources, grab things you can use this year and next school year. By prepping them now, you take all the extra work away in the future because you just use it again. Some of my favorite resources that can be used year after year are a classroom calendar, student name tags, and classroom labels. Reusing things year after year is a great way to save time and money!
Free Classroom Organization Checklist
While organizing, take note of what you already have, what you actually use, what can be purged, and what needs to be labeled. This will help you create a space that's functional and give you a clear picture of what you use year after year.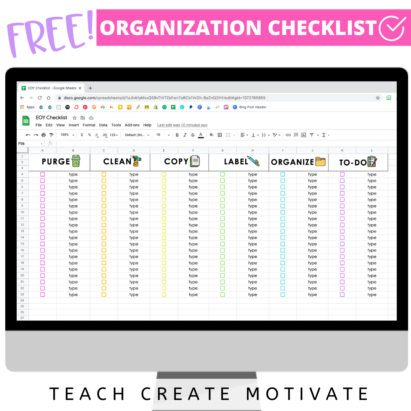 CLASSROOM ORGANIZATION CHECKLIST
Grab this printable and digital checklist template and start purging, organizing, and cleaning!
CLASSROOM CALENDAR
This big and bright calendar is a resource that can be used year after year! It takes some initial prep, but it will last for years once everything is laminated!
You can put up special dates, so you and your students are always aware of what's coming up. Have a student manage the calendar as one of your classroom jobs.
Under the calendar is where I like to keep table group management as well! The numbered pails are for table sparklers, and the mini bingo boards can also be used for classroom management. Read more about my Easy Table Group Management HERE!
STUDENT NAMETAGS
When setting up the classroom for the year, it's so important to have things labeled with student names! This helps them feel included and an essential part of the classroom community from day one.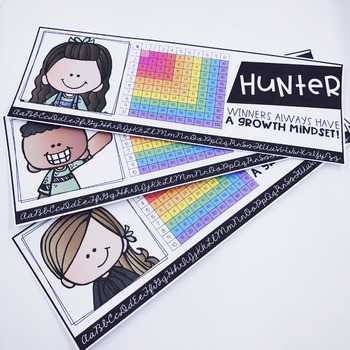 Hopefully, you get your class list before you meet your students for the year. These editable name tags make it super easy to have everyone's name ready in an organized way. Plus, you can reuse the file year after year!
TEACHER TIP: Laminate the name tags and tape them to the desk with heavy-duty packing tape. To make them last all year, hold a competition starting at the beginning of the year and do random and quarterly checks to see who took care of their name tag. Whoever has not picked at the tape, drawn on their name tag, etc., can choose a small prize.
STUDENT BIRTHDAYS
Keep everything you need for student birthdays in one place! Displaying student birthdays helps them feel special and part of the classroom community. This birthday display resource can be used year after year!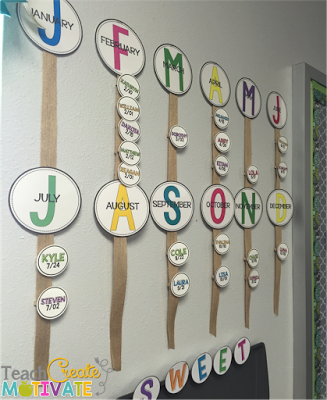 Display birthdays on a cabinet or by classroom storage. Store all your birthday items near it!
Student Birthday Postcards
Birthday sign for desk/chair
Small birthday treats (Oriental Trading or the Dollar Tree are great places to find fun birthday trinkets!)
There's nothing worse than realizing it's a student's birthday last minute and scrambling to find all the birthday supplies. Keep them all organized in one place!
SCHEDULES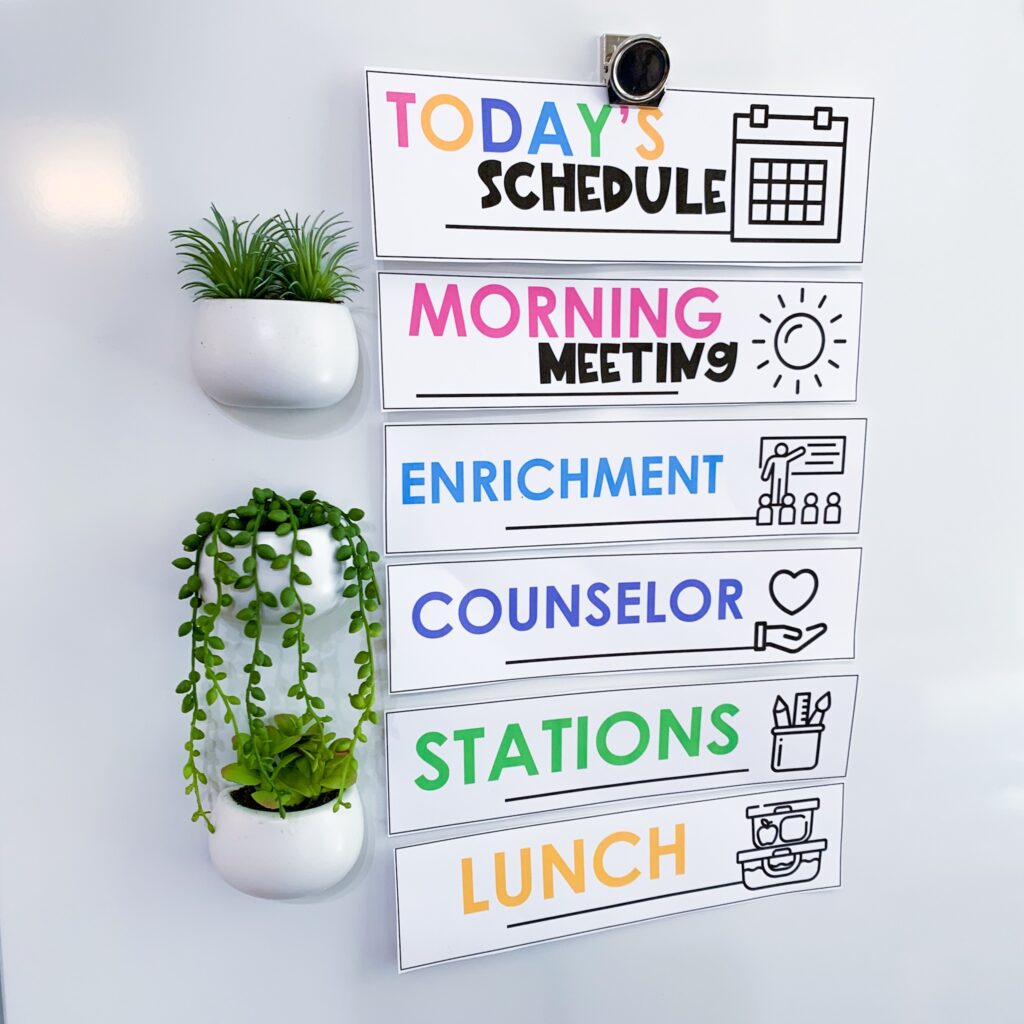 One of the things you need when setting up your classroom is your daily schedule displayed! You, your students, and school personnel benefit from displaying your schedule.
Displayed schedules:
Keep you and your students on track
Communicate to admin and school personnel what the class is doing and when
Curbs student questions about lunchtime, recess, book clubs, specials, etc.
Help students understand the routine and what to expect when (this is a HUGE must-have for a lot of students)
When setting up your classroom, have a plan for the schedule and where it will go. It should be easily found and noticed by all! The white board is a great place. If your schedule changes frequently, make it a student's job to change as needed.
Not only is displaying the schedule functional but the resource can also be used year after year. If you are in the same grade level, you may not even have to change much each year.
LABEL FOLDERS & JOURNALS
One thing I've learned over the years is to label students' folders and journals. If you don't do this, it can lead to a major disorganized mess (I've been there!) An easy way to organize this is to print the labels on sticker labels!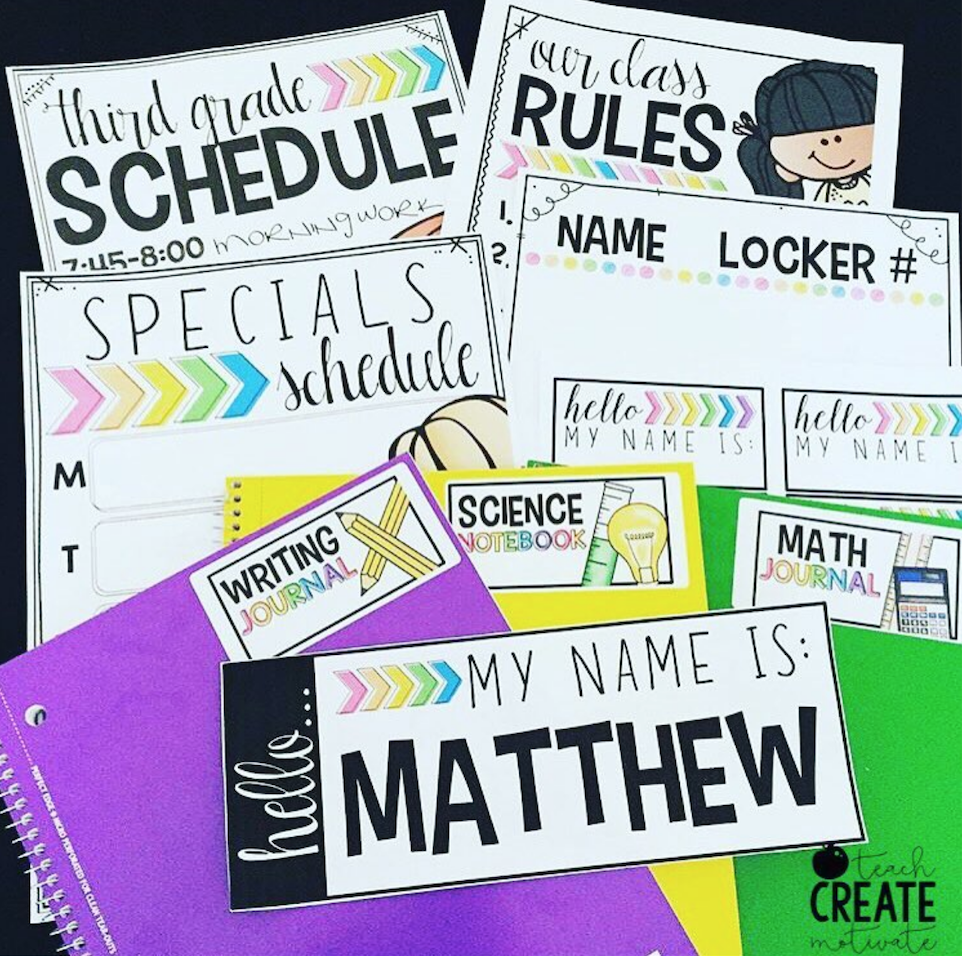 When students bring all their supplies in the first week, take time to label each and every folder and journal with a sticky label. So when you ask students to take out their reading journal, they know exactly which one, and it has all their reading work inside.
Without labels, you will have many students with a hodge podge of math, reading, science, or whatever student work inside every journal, which can be hard to sort out! This helps some students avoid having a messy desk too.
I hope you can use some of these organization tips this upcoming school year. Use the resources above year after year to keep your classroom looking beautiful and organized! Your students will love the eye-catching decor without taking away from their learning experience. Plus, who doesn't love an organized classroom?
What are some of your best classroom organization ideas?
Pin the image below to revisit this post later!