Spring fever is real y'all! Are you feeling it yet? More importantly, are your students feeling it? If you're finding it more challenging to keep your students engaged, hang in there! If you haven't tried an escape room with your class yet, now is the time. The Spring Escape Room Template is a great way to break the Spring fever!
What is the Spring Escape Room Template?
A typical escape room is a themed immersive adventure game where you are "locked" in a room with family or friends. To escape, you must complete the mission by solving a series of puzzles for the key. It is such a fun and popular trend right now, so why not bring it to the classroom to increase student engagement?
The Spring Escape Room Template is the perfect way to bring the fun of escape rooms to your class without all the work. This spring-themed escape room template is entirely customizable for what you're learning.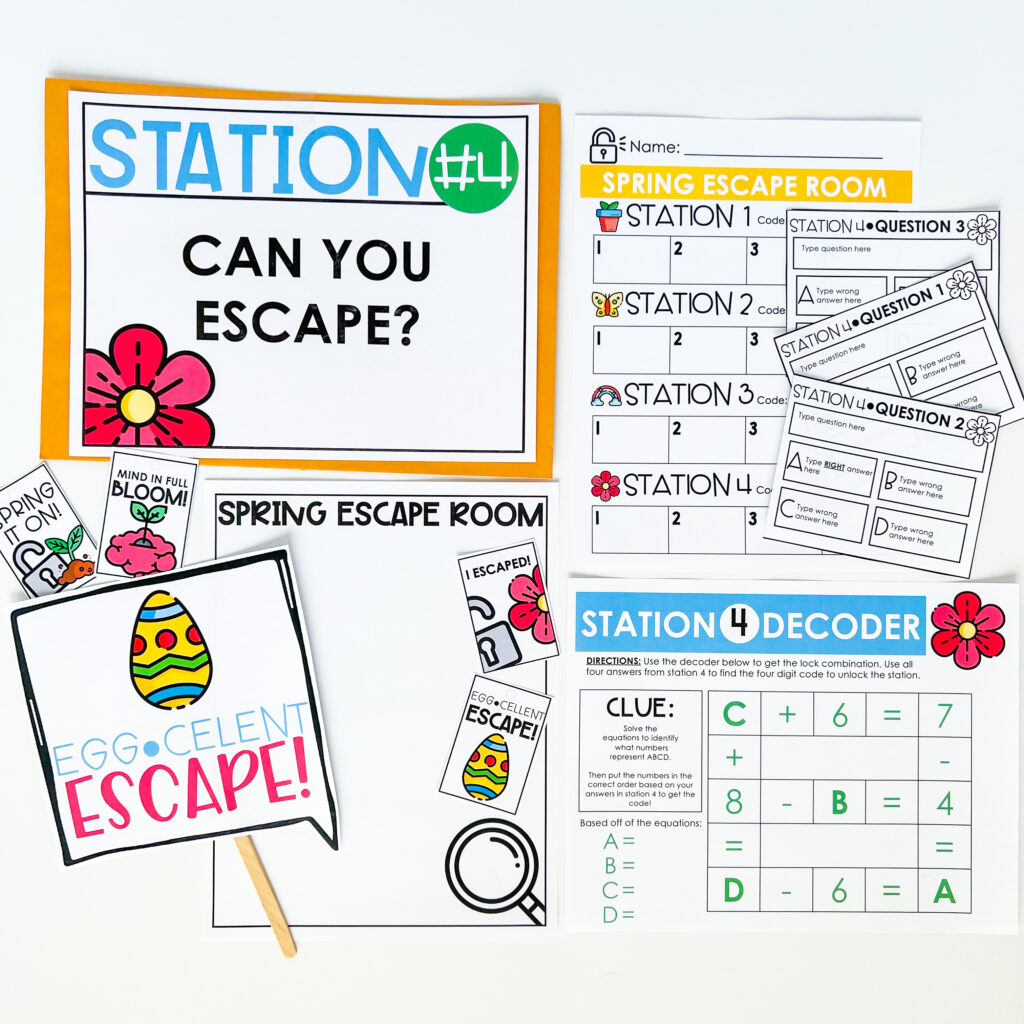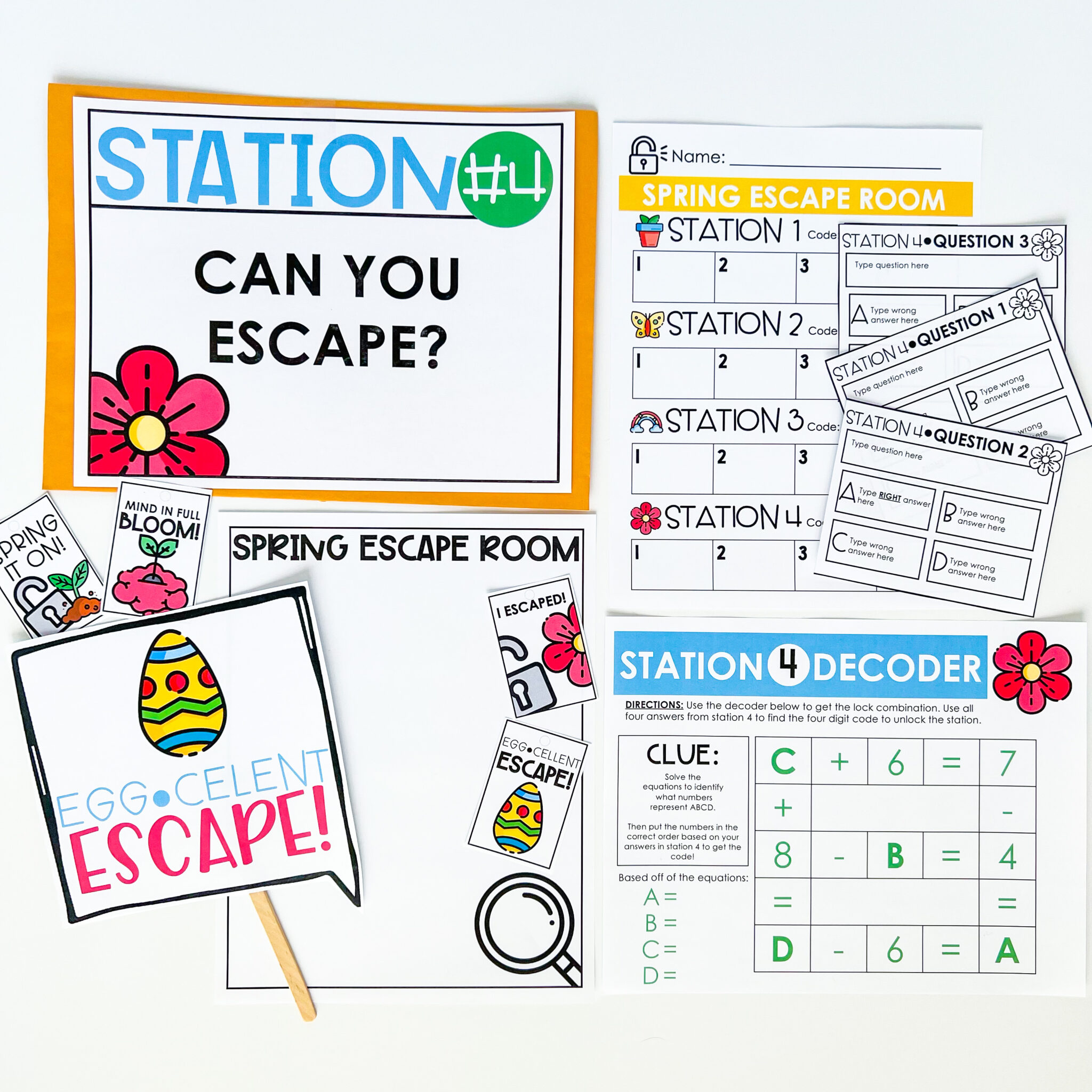 You can use this template with ANY content!
Simply use the editable files to add your own series of questions, correct answers, and wrong answers for your students to work on and review content for your class.
Since you add your own content, the escape room template is excellent for:
Math Problems
Reading
Spelling
Grammar
Vocabulary
Science
Social Studies
The options are not limited to just subjects either. You can even use the escape room template to review expectations, introduce new content, prep for tests, or even just for fun. Use it for what YOU need in YOUR classroom!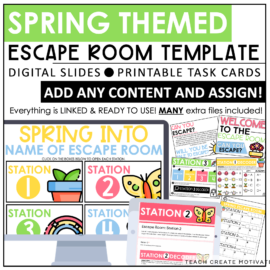 Spring Escape Room Template
Make review a lot of fun with this engaging Spring Escape Room Template! This themed escape room is the perfect activity for reading, ELA, math, science, or social studies test prep for your classroom. Simply use the editable files to add your own questions, right answers, wrong answers, and more for your students to work on and review ANY content and important skills.
You can use this as a digital escape room OR as a printable escape room to use within your classroom! Each template includes four stations with four different thought-provoking decoders. Teacher directions and tips are also included to help you get started.
How to Use This Spring Escape Room
Students go through 4 unique stations with 3-4 questions each (your choice.) As students move through the station, they will record their answers on a recording sheet. At the end of the station, there is a decoder where they will solve a puzzle with the answers they recorded. If all of the answers are correct and put in the decoder correctly, students will "unlock" the next station. They will do this until they have completed the escape room.
Students can work independently, with a partner, in a large or small group.
When students complete the escape room, celebrate with the photo booth props included in the resources! Take a photo for the ClassGram bulletin board or the end-of-year memory book. If photos are not your thing, give out the swag tags to award all the hard work. Or you can even do both!
Digital Classroom Spring Escape Rooms
The digital version uses google forms, and it does have a little less prep involved than the printable version. The slides are linked and ready to customize to any content for your own digital escape room. All you need to do is add your own questions, correct answers, and wrong answers for your students to work on in the slides.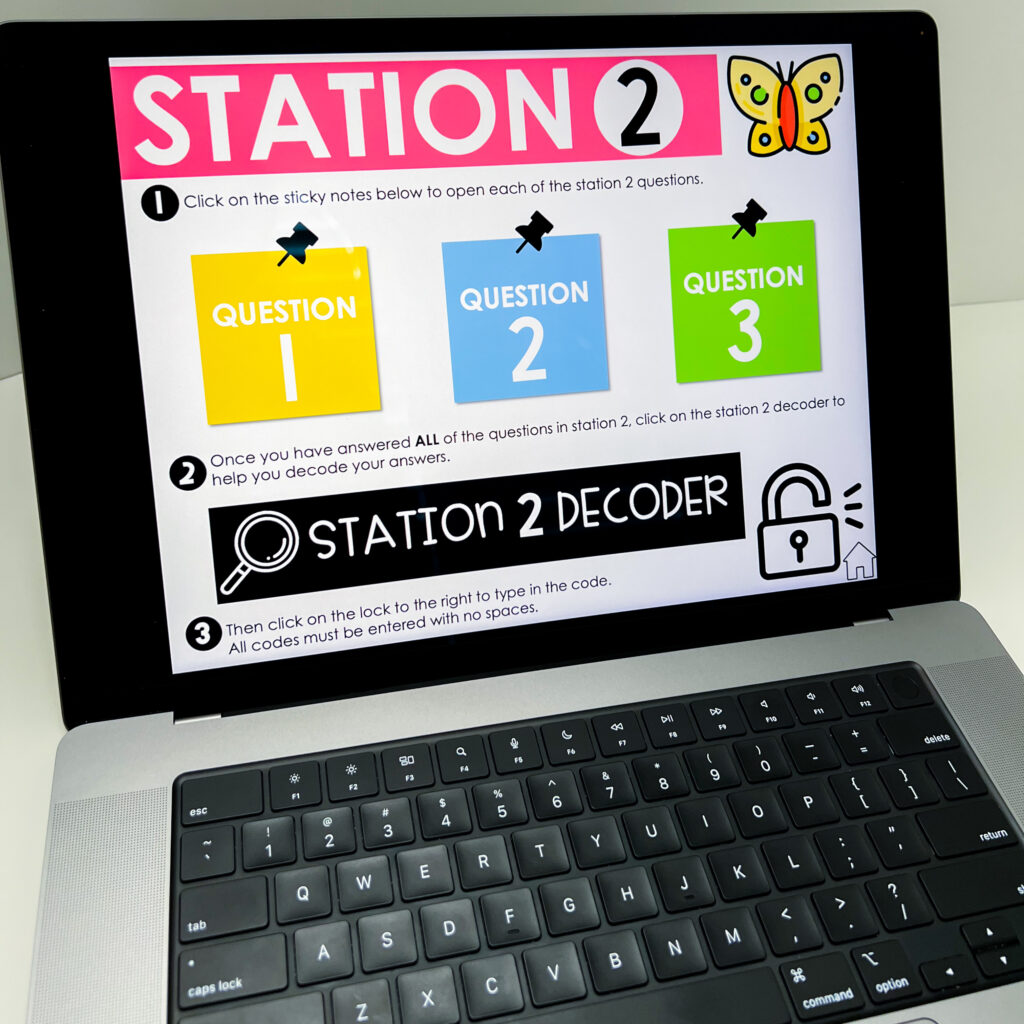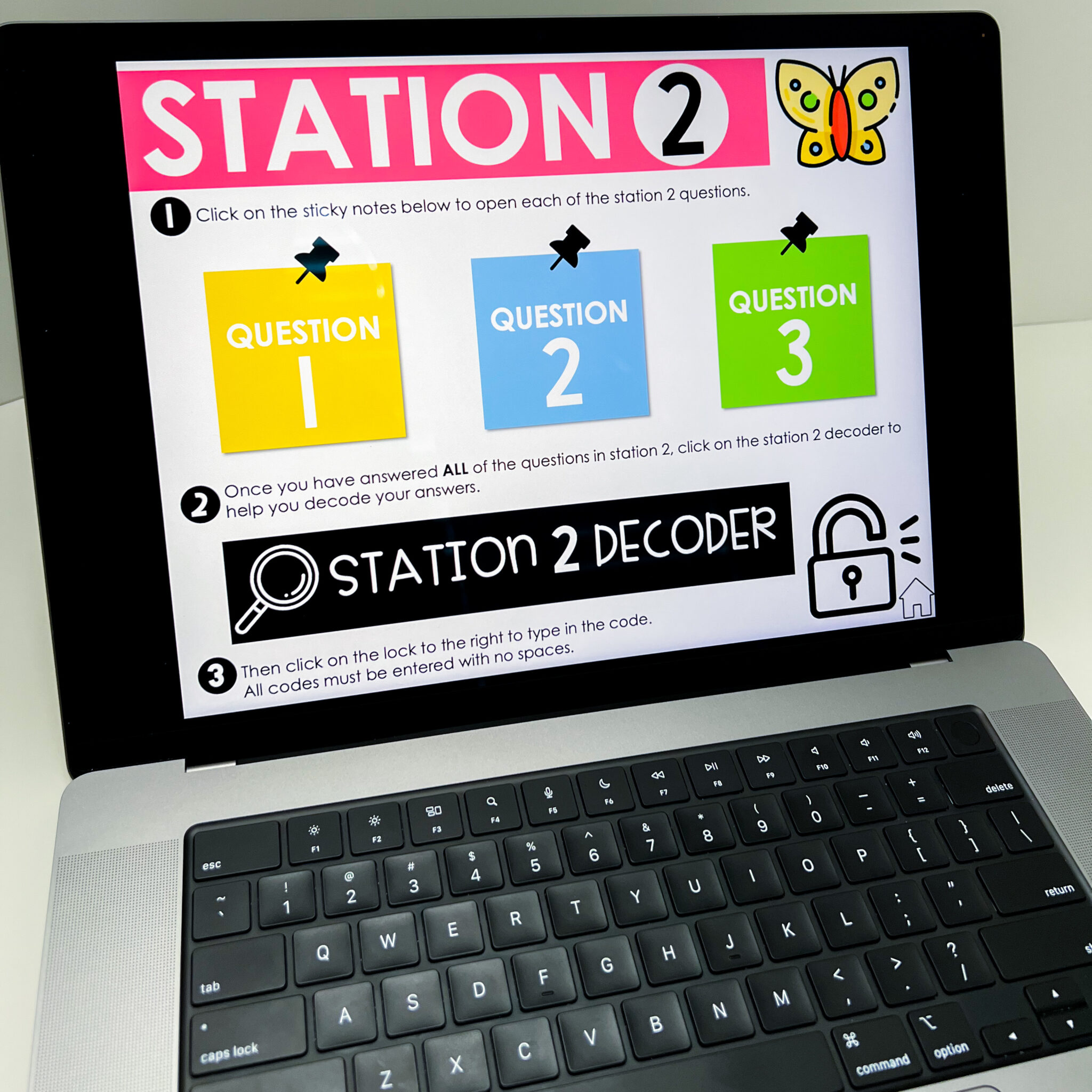 Printable
You can use the printable version's task cards to get your students up and moving around the room! This would be a great partner activity, and the final task could be a dance party or photo booth at the end! The printable version includes:
Black & white and colored options
Envelope covers and paper decoders
Task cards
Spring-themed editable teacher directions
Station Cover Pages
Spring photo props and swag tags
Editable and ready-to-use scenario pages
Ways to Foster Engagement
Escape rooms are an excellent activity when our classes are more active and chatty than usual. Try using the Spring escape room right before spring break, after spring break, for repetitive test review, the end of the year, or any other time you need to foster a bit extra engagement.
Fostering engagement is essential for student buy-in! Escape rooms can be used anywhere you need them in your routine. These digital and printable escape room ideas make them easy to use for everyone. There are so many different ways to use this popular escape room!
Station or Center Activity
Use it in stations over a week or any amount of time. Students can just pick up where they left off on their online escape room or the task cards each day. They can track their progress on the recording sheet.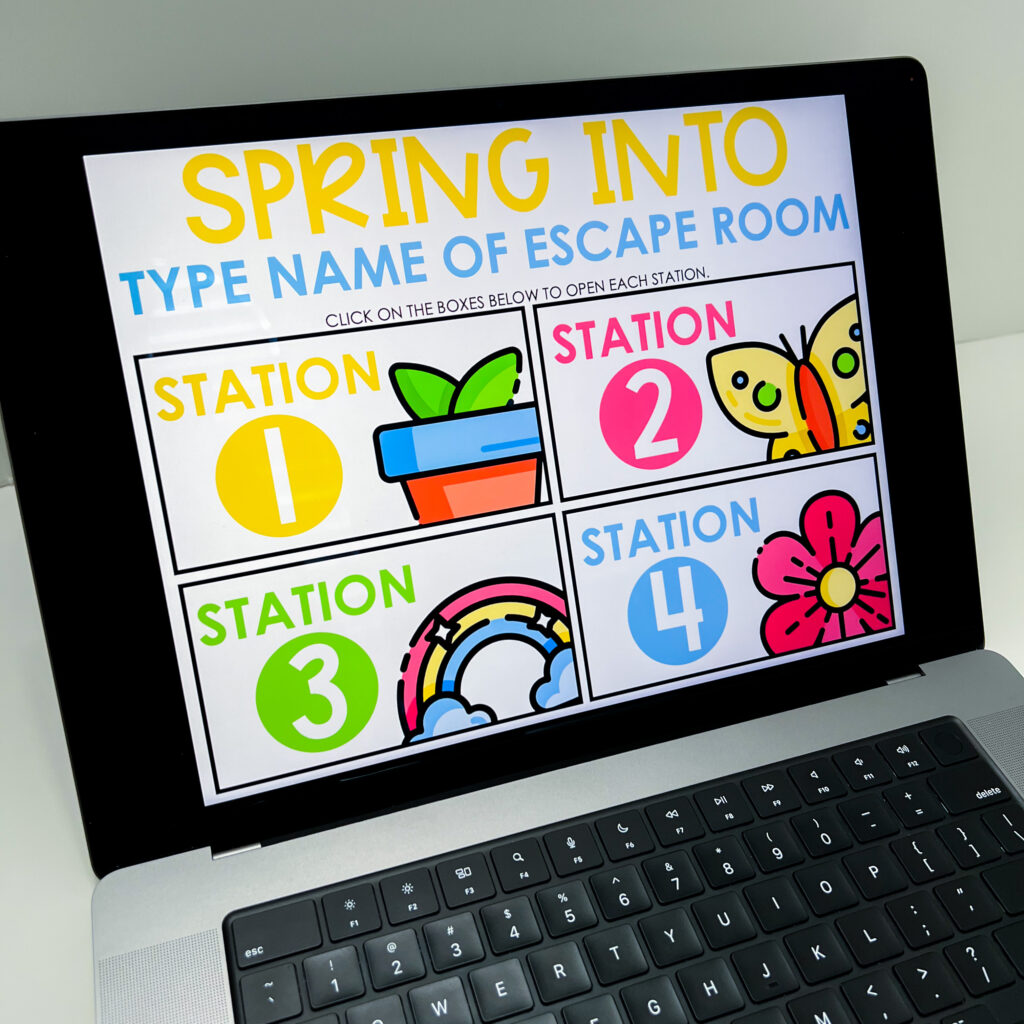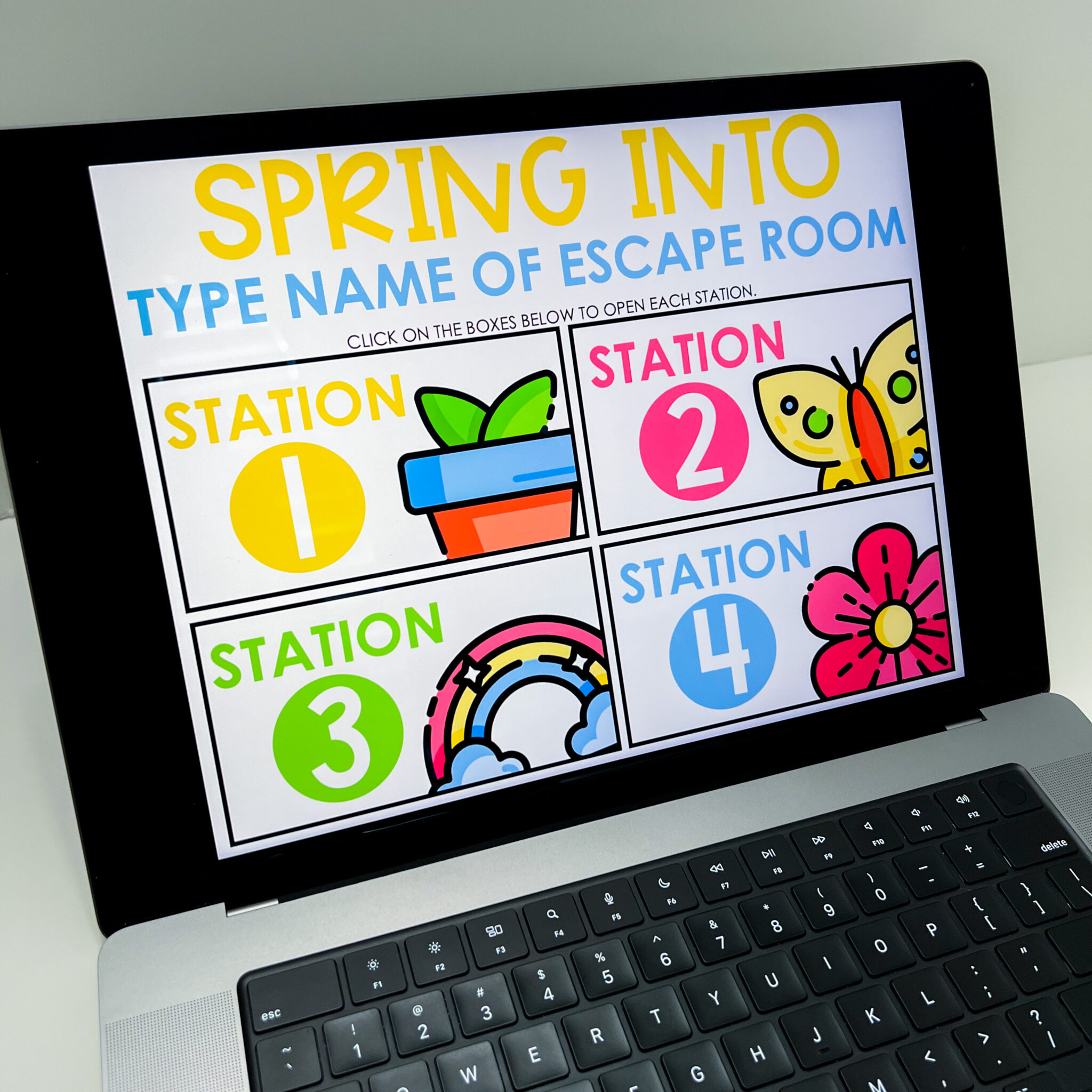 Test Prep
Have state testing or a big unit test coming up? Test review can get so dull, but it must be done! So engage your students in critical thinking with an escape room!
Small Groups
Escape rooms can even be used in small groups! For example, have students work out math word problems together using different strategies, and they can unlock the station together when they find the solutions!
Team Competition
Project the escape room to the whole group and have table groups work together on dry erase boards to determine the correct answer. Give a set time limit, and when the time is up, have all groups hold up their answer choices. This would be a fun classroom escape room challenge to see if you can unlock the next station together!
Outside Activity
As nicer weather starts to come back, use this escape room outside! Set up the printable task cards by taping them in order on the outside wall, sidewalk, or playground (if recess is over for the day.)
Students can clip their recording sheets to a clipboard and go through each station. Then, they can come to you for the decoder to get the correct passcode after answering all the questions in one station. Once they have checked their answers with the decoder, they can move to the next station until they complete the entire escape room.
Emoji Spring Escape Room Template Freebie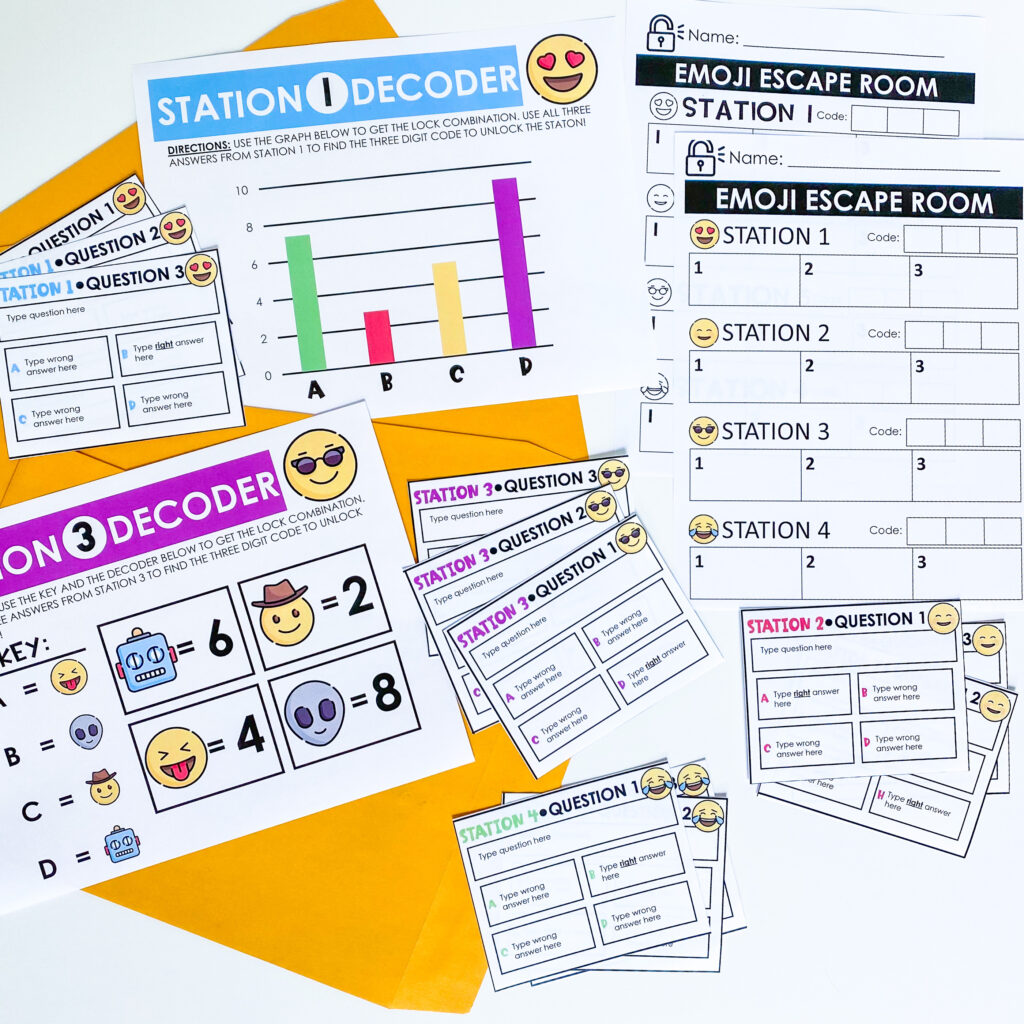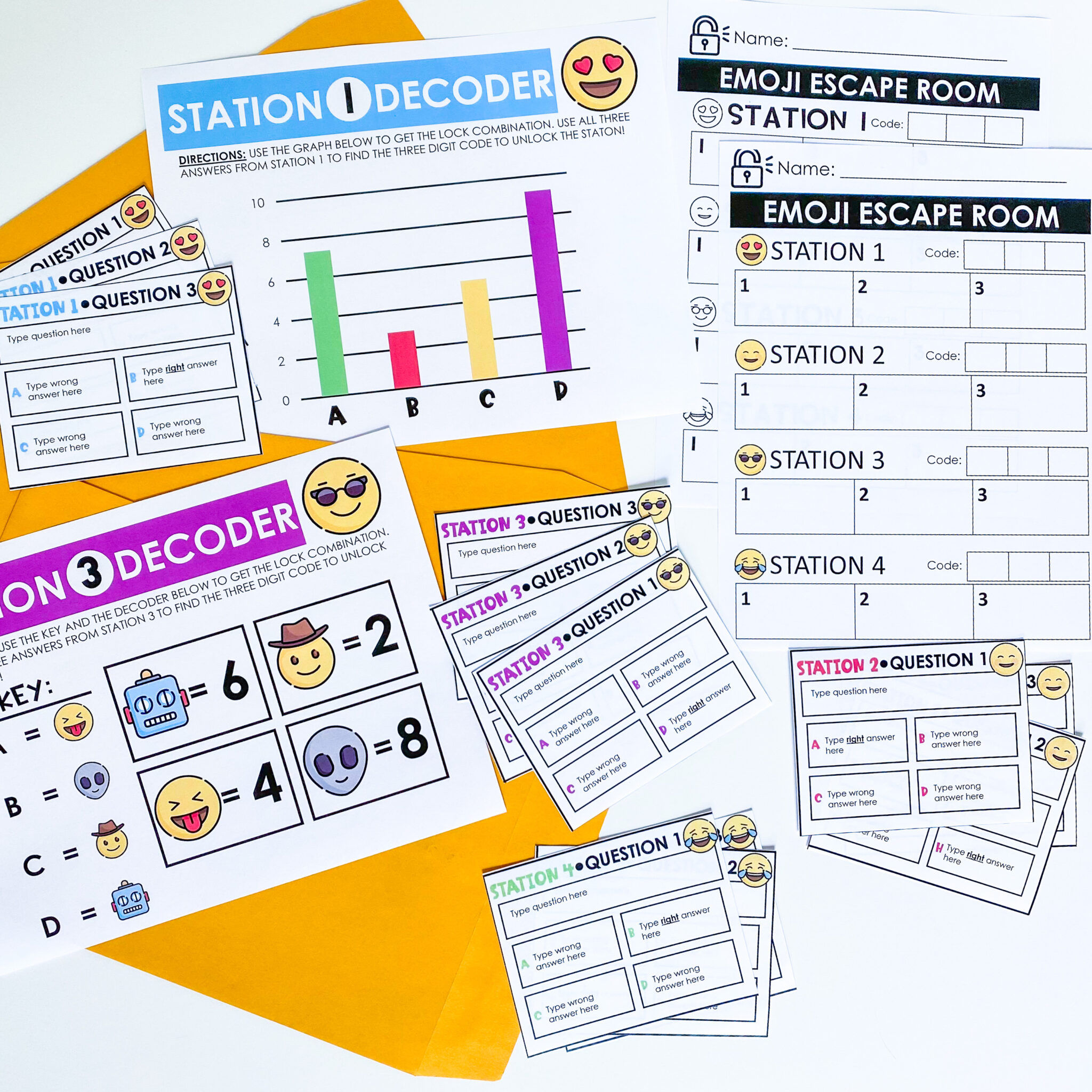 If escape rooms are something you want to try with your class, grab the Emoji Escape Room Template as your first escape room for free below! This is a fun way to grab students' attention this time of year.
What Teachers Are Saying about Spring Escape Room Templates
4th Grade Teacher, Kristin B., said, "I used to make my own escape rooms, and the creating and formatting took hours and hours! This makes all of that easier, and the kids love doing them. I try and save escape rooms for harder content when I know I need them to want to keep going when it's tough."
My students have loved all of the escape rooms I've done so far this year and they get so excited when they come in and see I've put another one up around the room! It's engaging and they're eager to work hard whether it's individually or with a partner." -Amanda B., 2nd Grade Teacher
3rd Grade Teacher, Jasmine S., said, "I am in love with these templates! They are working perfectly with STAAR prep, and the kids love each of the activities! I can't wait for more themes to be released!"
Escape Room Template Bundle
Keep the fun going all year long with the complete Escape Room Template Bundle! With 6+ themes included, there is an escape room template for every season!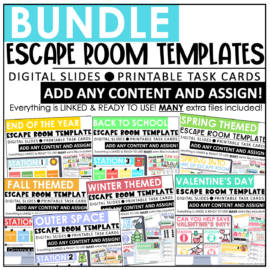 Escape Room Template Bundle
Make review more fun with this engaging Escape Room Template Bundle! This is a bundle of escape room templates! These themed escape rooms are the perfect activities for reading, ELA, math, science, or social studies test prep for your classroom. The themes included are the END OF THE YEAR, BACK TO SCHOOL, OUTER SPACE, FALL, WINTER, VALENTINE'S DAY, and SPRING.
There is a good chance your students will love this classroom activity. No matter your classroom size, escape rooms can be a powerful tool to review important information. The best part is it's a surefire way to grab students' attention.
Pin the image below to revisit this blog post later!