The first day of Spring is almost here! Spring always signals the end of the school year for me. I'm always looking for some fresh classroom ideas and activities for Spring to keep students engaged and focused.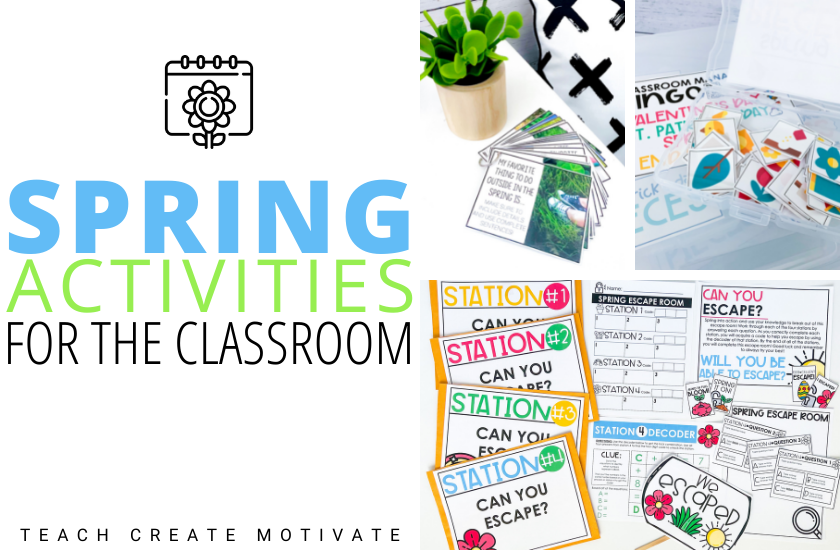 Keeping things exciting for students is key this time of year! Bringing them outside to work is one way to change things up. Another is using resources relevant to the season. Of course, as the teacher, you are probably looking for tools that are minimal prep. Here are some spring ideas that help you with all of that and more!
Spring Escape Room Template
This is the time of year when student engagement can really go south. Finding new and exciting activities can be tough! Adding in an escape room to your week could be just what you and your students need!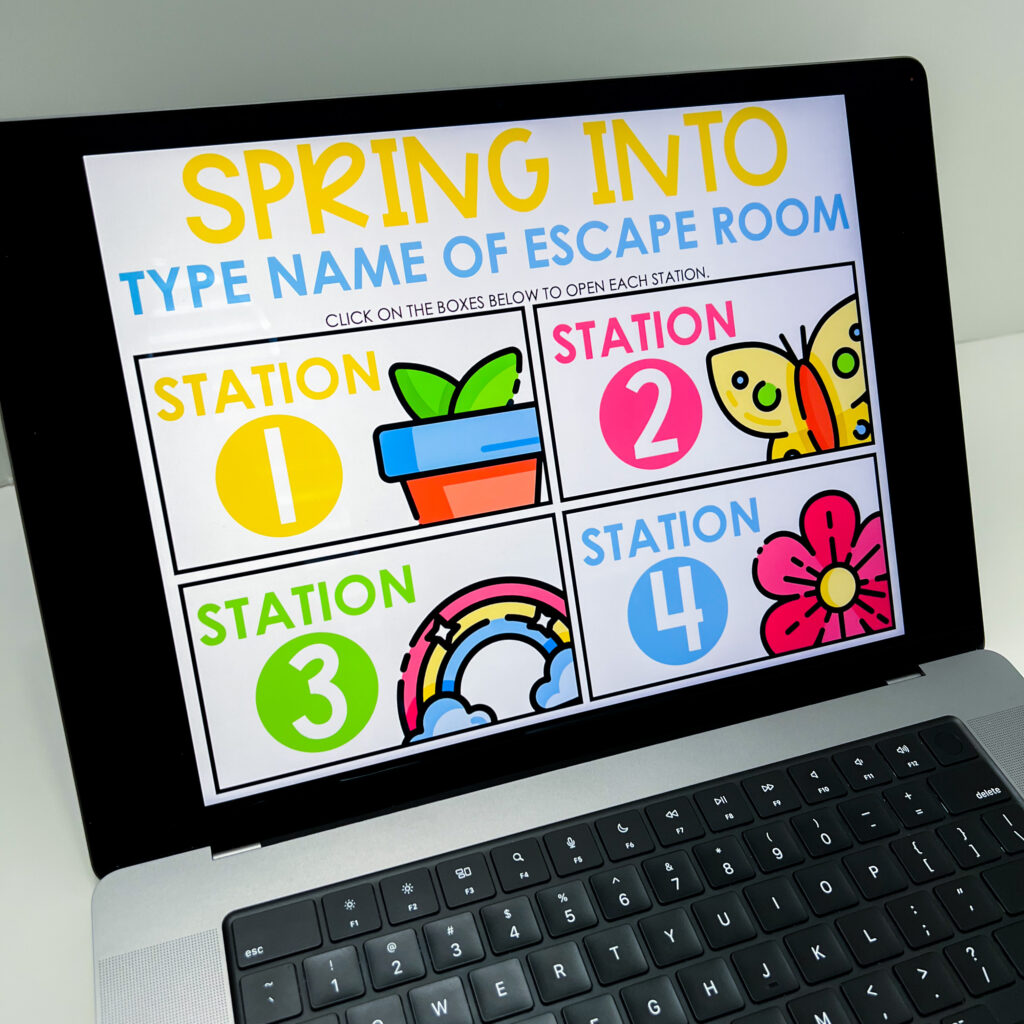 Escape room templates are so much fun for students, AND you can use them for any content! Here are the highlights…
Completely Customizable
Digtial or Printable
Themed
Simply use the editable files to add your own questions, correct answers, and wrong answers for your students to work on and review content for your class.
Since you add your own content, the escape room templates are great for:
Math
Reading
Spelling
Grammar
Vocabulary
Science
Social Studies
The options are not limited to just subjects either. You can even use the escape room templates to review expectations, introduce new skills, prep for tests, or even for fun. Use it for what YOU need in YOUR classroom!
The Spring-Themed Escape Room Template would be perfect to use right before spring break for engagement, right after for a content refresh, or to prep for a big test coming up. Read for more ways to use escape room templates here.
Spring Themed Writing Prompts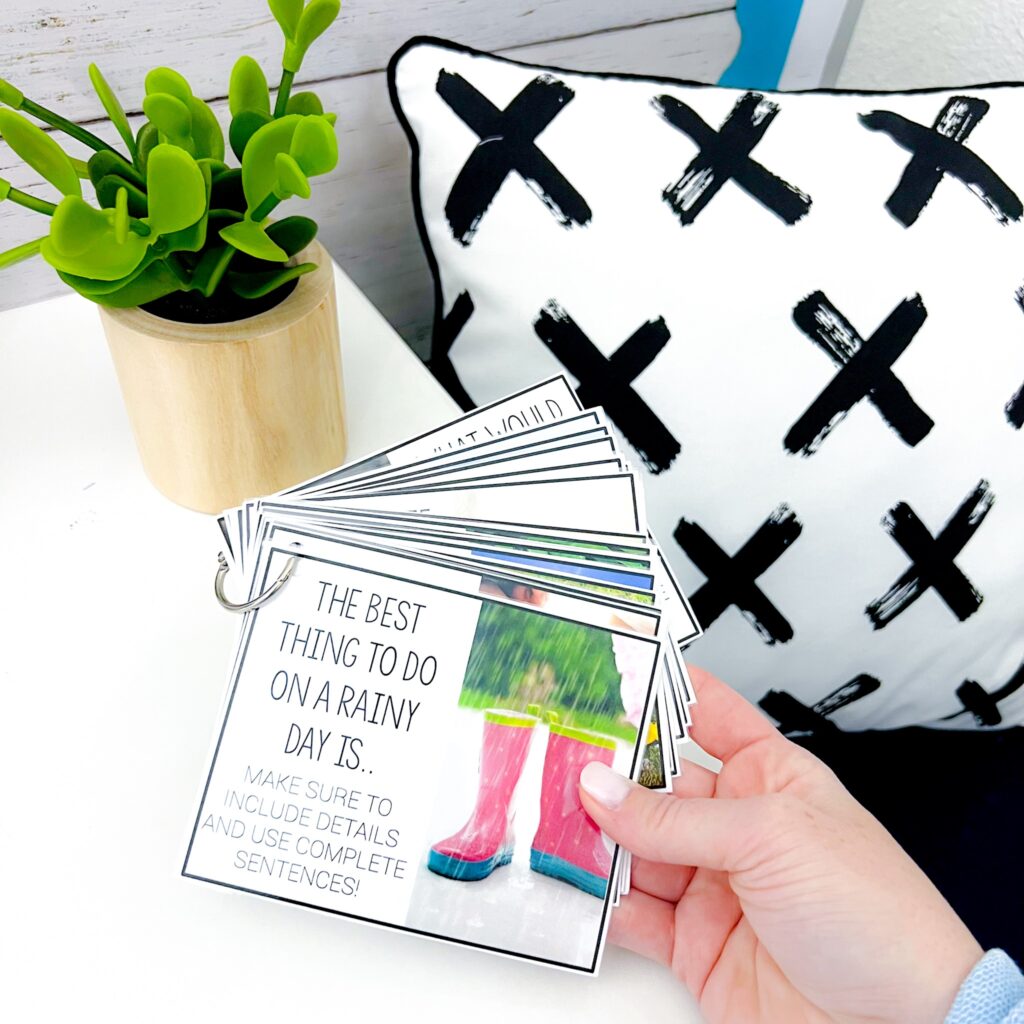 I LOVE springtime writing because you really get to see your students bloom as writers! The Spring Themed Writing Prompts are a quick and easy way to touch on writing skills throughout your day.
Writing prompts can be used in so many different ways:
Morning Work: Assign a writing prompt for morning work one or two days a week.
Warm-up: Use the writing prompts for a writing warm-up. When prompts are paired with a real photo, students will have an easier time coming up with an idea.
Fast Finisher: Some students love writing! Offer a few of the prompts as a fast finisher choice.
Station Choice: Offer the prompt as a station the first few weeks of school.
Shared Writing: Discuss how and why we use details in our writing. Show a bad example and work together to make it a strong writing piece!
Print, laminate, and put on a ring to use in any way above. They can also be assigned digitally so students can revisit throughout the week or practice their typing skills.
Get Outside
As the weather starts getting comfortable, I love to bring students to work outside! Task cards are great to bring out and work. All students need is a clipboard, paper, and a pencil! The writing prompts, escape room, and reading passages can all be easily made into task cards for this purpose. Secure them to the sidewalk, playground equipment, or building, and let students rotate around the cards until they have completed them.
Add in an extra fun element with sidewalk chalk! Students can each have a copy of the reading passage and answer the questions with sidewalk chalk on the ground. So much fun! You could even try this with the escape room too, but it might take a little more direction from you.
Spring Classroom Management Bingo
A big part of classroom management is student buy-in! So what better way to get your students to buy in than with a game?
Introduce Spring-themed classroom management bingo to your students! You can practice specific expectations with specific bingo boards or just general expectations and routine maintenance with "classroom" bingo.
Your students will be super motivated to follow through with the expectations and hold each other accountable. All you have to do is keep it consistent and hype it up! Read more on Spring Classroom Management Bingo.
Themed Selfie Writing
Selfie writing is one way to join learning with fun! There are over 15 spring-themed prompts to choose from. Students can take their selfies and write about spring break, vacation, St. Patrick's Day, Earth Day, or Easter. Each prompt includes an interactive prop to move over their selfie, making the student or character or setting the scene for the topic. So fun!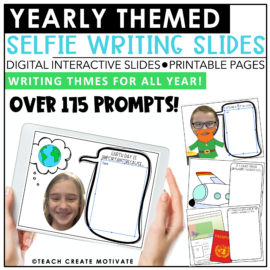 Themed Selfie Writing
You will love these themed and holiday writing slides. St. Patrick's Day, Spring, Easter, 100th Day of School, and Read Across America prompts included! These selfie writing prompts and pages can be used in print or for digital writing (version to be used with Google Slides™, Seesaw, Canvas, Teams, or PIC Collage.) Have your students "take a selfie" with over 175 writing prompts.
I hope you can grab some fresh ideas for Spring in the classroom! A well-deserved break is so close!
Pin the image below to revisit this post later!