March Madness doesn't just have to be for basketball fans! It is the perfect excuse to bring engagement into your day, week, or even the entire month!
You can really bring all of the aspects of your day into this theme-lessons, classroom management, engagement, and real-life connections. This will surely be a slam dunk!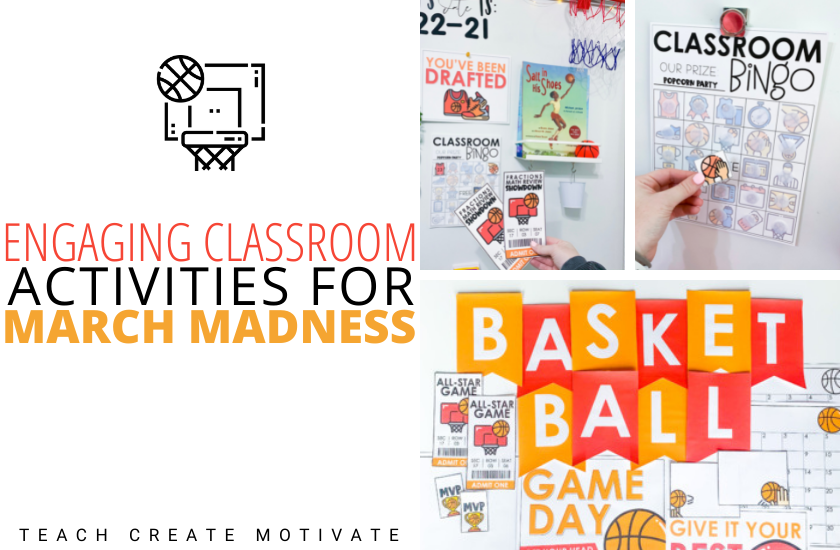 Basketball Themed Room Transformation
Anytime you can switch things up and break away from the usual routine, it will engage your students! Classroom transformations can work for ANY skill, but I love using a theme for test review! I love to make it fun and engaging, and students really buy in where there is a fun theme added to the review!
Transform your room with the Basketball Theme Room Transformation Kit. Since March Madness spans from March 13th to April 4th, you can keep the theme going all month long with all that's inside the kit!
Editable Themed Class Slides
Editable task cards to add your own content (8 designs)
Recording sheets (10+)
Printables
Swag tags
Themed décor
Basketball Classroom Management Bingo board
Basketball Wristbands
Editable Game Day Tickets
Writing Pages
Game #1-10 blank station pages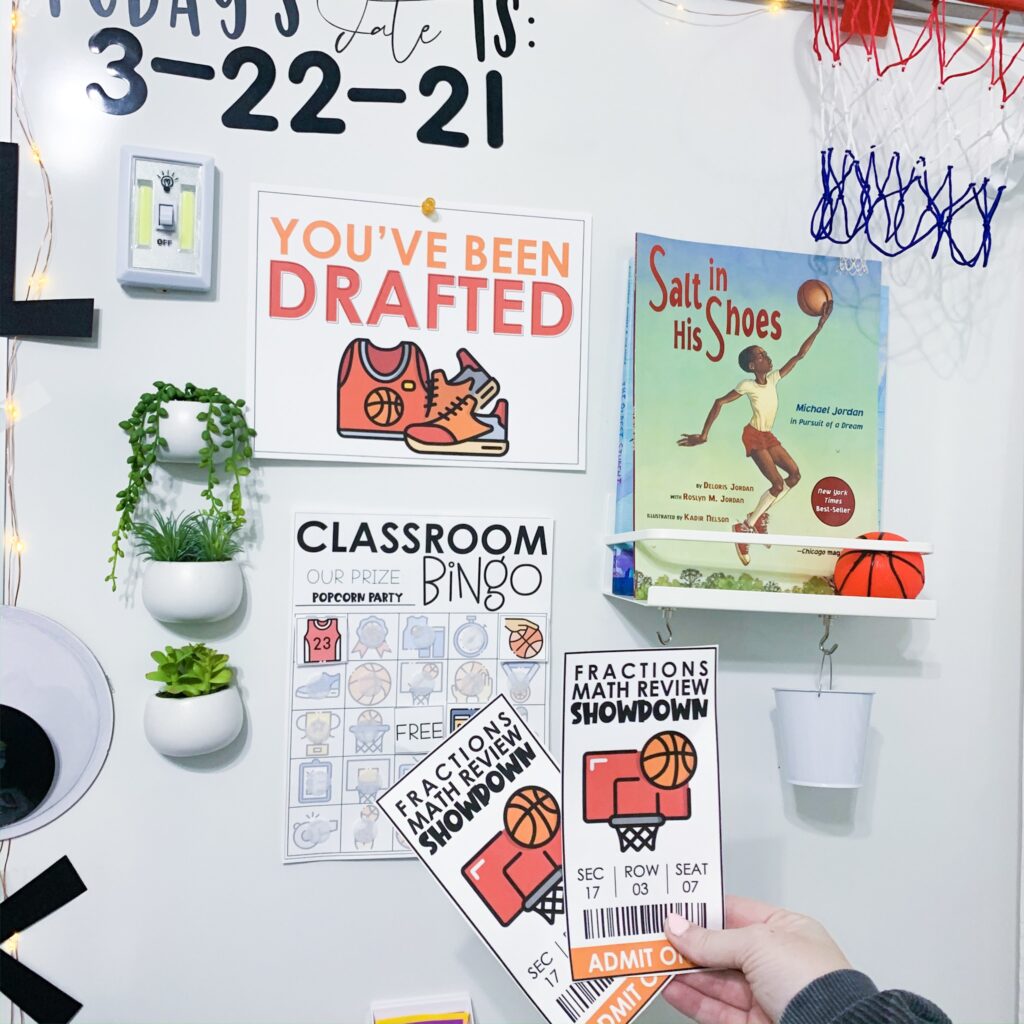 Crowd Pleasing Engagement
Slam Dunk Lesson Ideas
You'll definitely want to have a basketball hoop ready for your lessons! While teaching, call on students to answer and throw a ball into the hoop. If they make the basket, they could get some extra dojo points, classroom economy, or spin the classroom spinner.
If you can't find a hoop/ball on Amazon or the Dollar Tree, or it's not in your budget, use the trash can or recycle bin! Crumble up used or unwanted paper and have it ready to go for students to shoot their shot. Tape a line on the floor with painters or washi tape like a free throw line. Students will think it is so fun tossing paper in the trash like this!
Classroom Management "Crossover"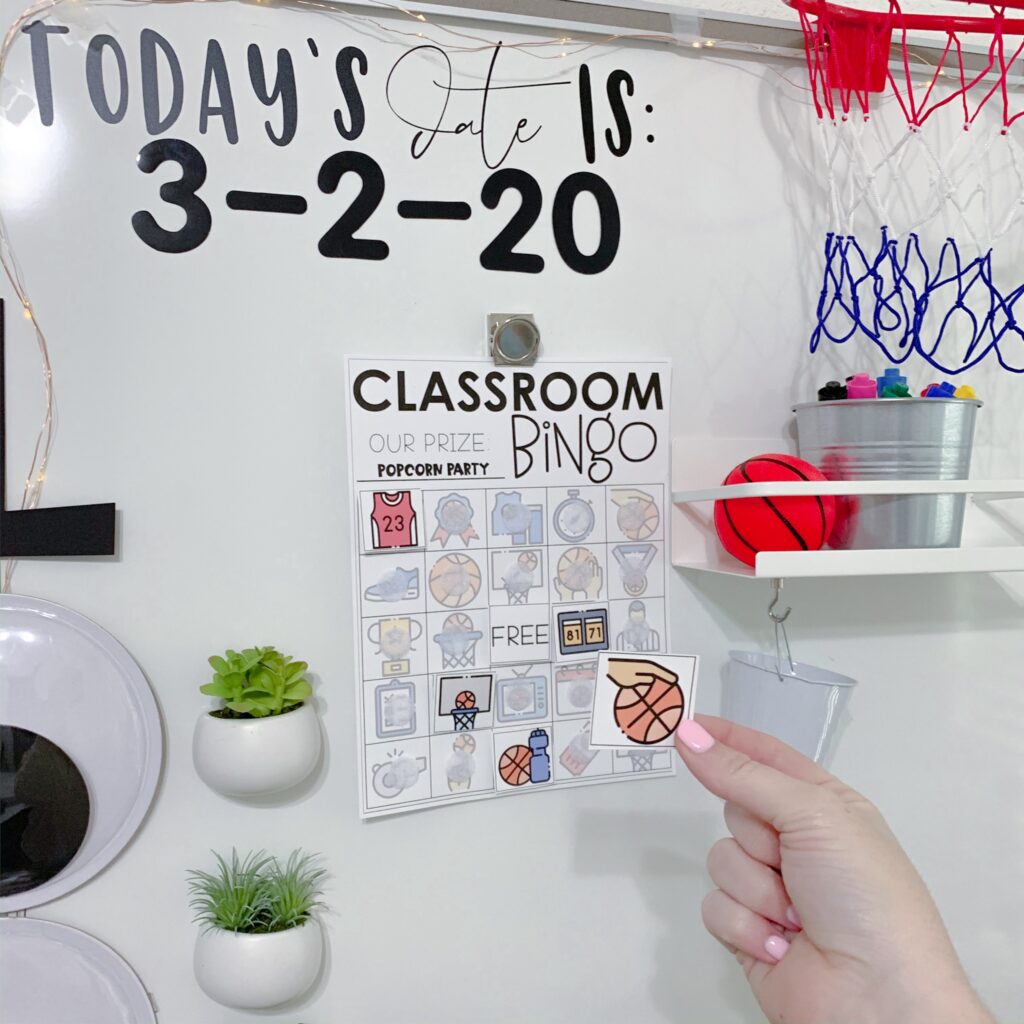 Put your class into two teams for classroom management purposes this month. Give tallies (points) for each team to "score:" You can do this with groups of tables in each team, odd or even number students, or even two separate class periods.
This system can be based on the overall behavior of the team or specific behaviors like quick/quiet transitions, on-task work, or whatever needs to be revisited.
Instead of tallies, use Classroom Management Bingo for engagement (the Basketball Room Transformation Kit comes with a basketball-themed board.) You could use two different boards for the teams, each table group could have a board, etc. They are playing against each other in a March Madness showdown!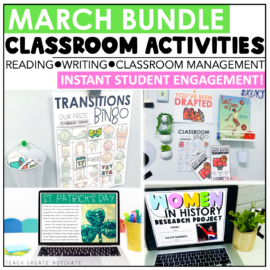 March Activity Bundle
This Bundle Includes:
⭐️ Women in History Digital Research Project
⭐️ St. Patrick's Day Bingo
⭐️ Digital and Printable St. Patrick's Day Activities
⭐️ Basketball Theme Room Transformation Kit
March Madness Freebies
Get started with your basketball-themed room transformation with these March Madness Freebies! The decorative banner is one way to change up your classroom for student engagement. A slight change in the environment can go a long way!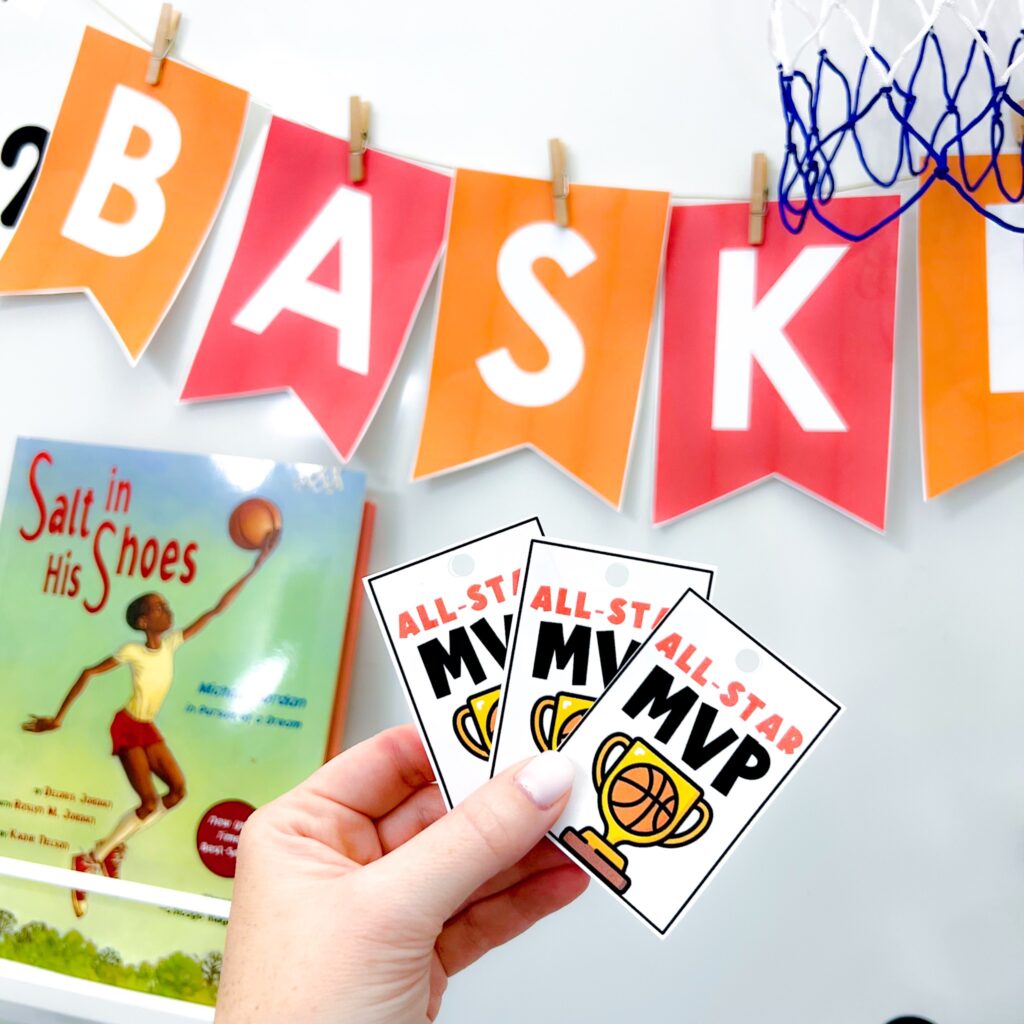 You can give out the swag tags for homework completion, attach one to an assignment a student worked really hard on, when you notice a student following expectations, and more! Grab them for free below!
Selfie Writing
Themed selfie writing is a great way to incorporate the March Madness theme into writing! Students will answer prompts, insert their selfies, and move a prop onto their photo.
If I were a famous basketball player (sweatband clipart to move on photo)
If I played in the playoffs… (sweatband clipart to move on photo)
If I won the championship… (sweatband clipart to move on photo)
Other March themes are included, too, like Read Across America Week, St. Patrick's Day, 100th Day of School, and Spring, so that you can use this all month long!
Score with a Great Book
Keep the theme going with some editable and fun bookmarks! Have them out for your class as a little room transformation kick-off when they arrive. Of course, March is also National Reading Month, so you can incorporate that as well!
There are so many ways to create fun and engaging lessons for March! There are only so many months you can do a room transformation that lasts a week or even all month long.
Pin the image below to revisit this post later!