In my mind, March starts the end of the year season. Spring break is just around the corner, and after that, the finish line is so near! This time of year is the perfect time for students to showcase the research, reading, and writing skills they've learned throughout the year. What better way to do that than through a digital research project?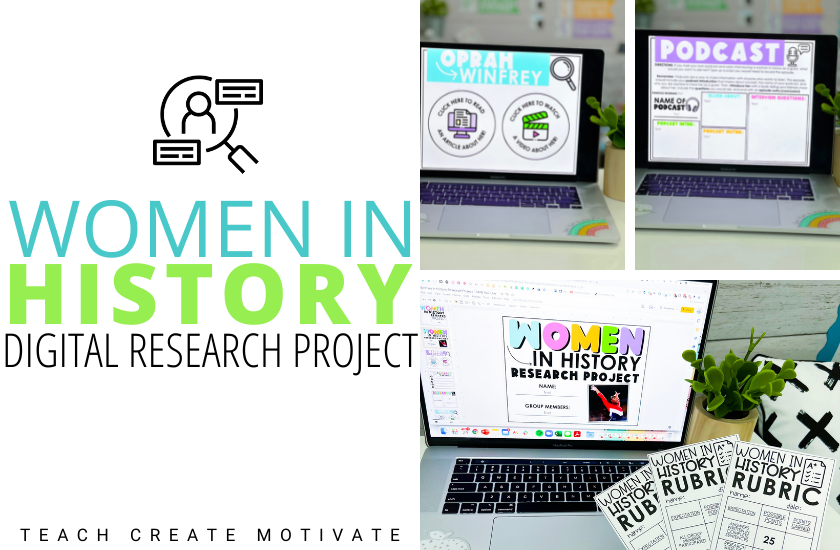 The Women in History Digital Research Project not only allows students to learn all about influential women in history for Women's History Month but also encourages students to highlight all the hard work they've put in this year!
What I love most about this project (& I think you will too) is that it is completely linked up and ready to assign, meaning there is very minimal prep for you! Just what we need in the final stretch before spring break!
What's Inside
Every part of this project is linked and ready to assign to students. All you have to do is pick and choose what slides you want to use with your class!
27 women in history (spanning multiple decades)
linked articles & videos for each woman
5 research questions corresponding to the article & video
ready-to-fill research slide for each woman
extension activities
additional research slides you can choose (or not) to assign
writing prompts
rubrics
How to Use
Each of the 27 women included has an article and a video already linked in the slides. In addition, five comprehension questions go along with the article and video.
After students research the woman with the linked article and video, they can fill out a research page with the information they learned.
what is she known for
history & background
3 interesting facts
Extension Activities
After filling out their core slides, students can work on extension activities. You could provide all the extension activities and let the students choose 1 or 2 to work on or pick which activity would be a good fit for each student and assign it that way. Students have the option of…
Interesting Facts
Addisonal Research slide
Photo Gallery
Reflect and Write
Create an Award
Create a Podcast Interview
& MORE!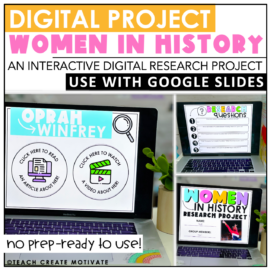 Women in History Digital Research Project
A digital research project perfect for Women's History Month! 27 women with linked articles, videos, comprehension questions, and extension slides!!
Book Companions
Check your school library or your local library for informational texts on the women for additional resources students can reference.
Many local libraries have special educator cards just for teachers! These cards allow you to check out more books than the allotted amount for the general public. Some even include perks like lost or damaged book forgiveness.
I've put together a list of 10 read-alouds for Women's History Month. Read them throughout the month in morning meeting, after lunch, or at the end of the day. Students will love sharing additional information they've learned through their research!
Assigning the Project
The digital research project can be assigned in a few different ways. Students can work independently and focus on just one or two women. Then, if you decide to have students present their research, the whole class will learn about each woman through their peers.
This would also make a great group project! Assign the entire project to a small group of students to support each other in work. You could also let groups, partners, or individuals decide on a few women they want to research.
When it is time to present the project, the class will have the opportunity to learn all about 27 different women in history! This is such a fun project and an easy way for students to practice comprehension, research, and writing skills.
Pin the image below to revisit this post later!