Looking for a way to help students stay organized? Not only are agenda slides a perfect student work organizer, but they are also easy to use, simple to implement, and super cute!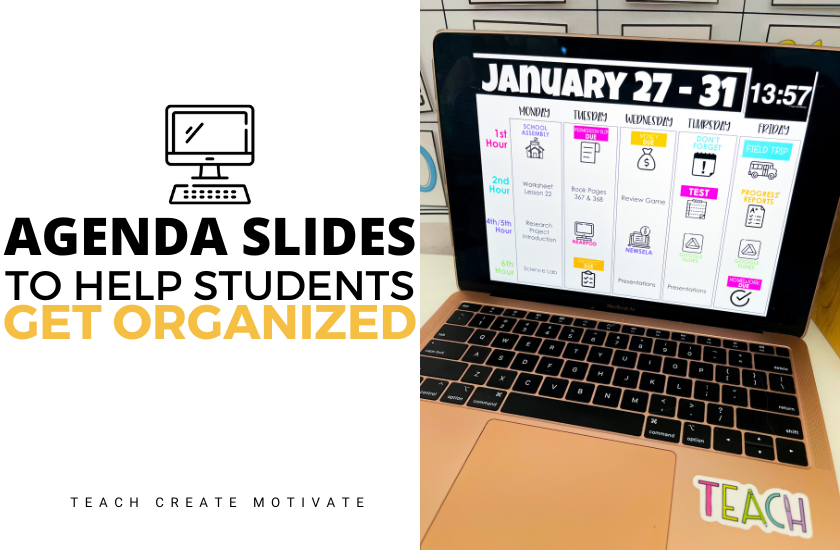 AGENDA SLIDES & ORGANIZATION
Creating a system for students to be in charge of their responsibilities can seem overwhelming. Agenda slides are an easy-to-use student work organizer that will keep you and your students on track.
The best thing about agenda slides is the structure remains mostly the same, but the content can change based on what fits your class schedule and classroom needs!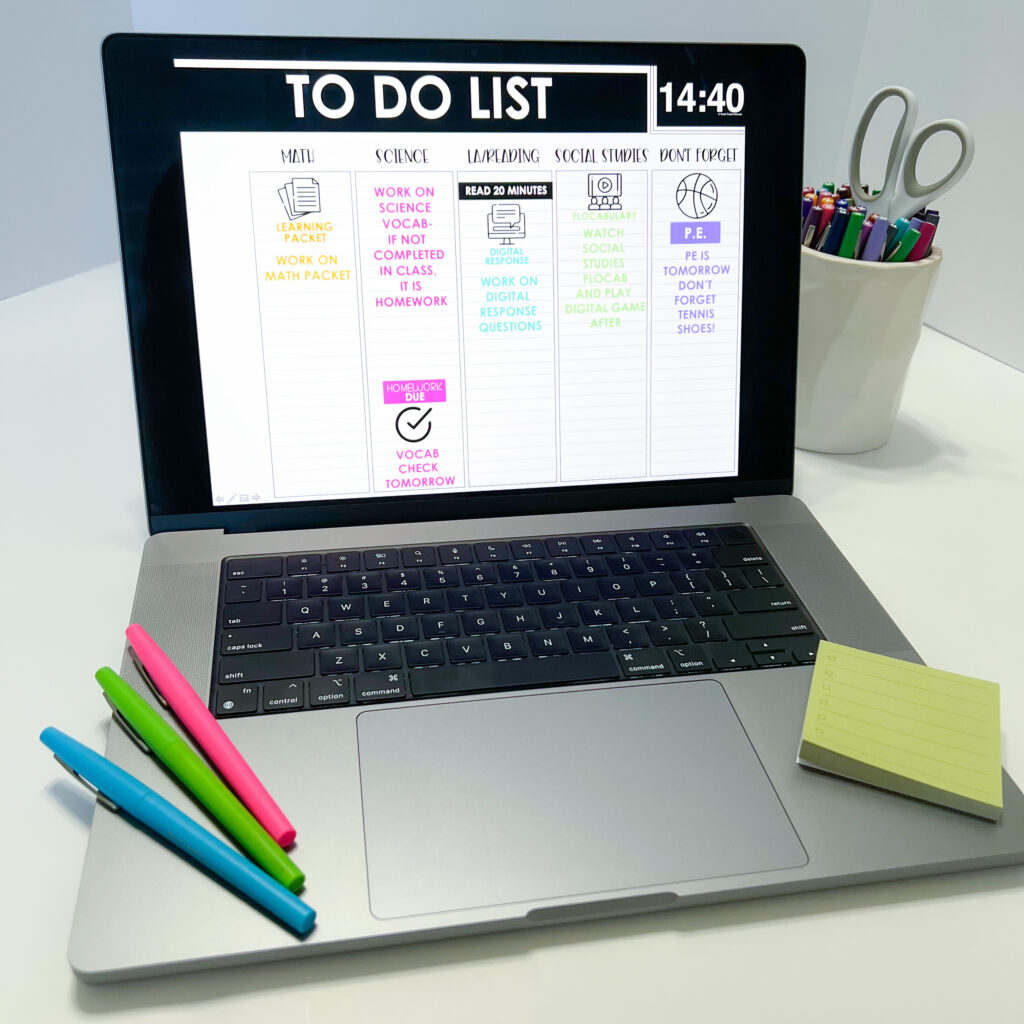 Even better than using a weekly planner or student planner, you can have to-do lists for daily and weekly assignments WITH timers! Timers are such a great way to teach time management and independence. Agenda slides are fantastic for keeping track of student assignments and other upcoming events around school.
STUDENT BENEFITS
As an educator, you want to teach your students skills that will benefit them now as well as later in life. One of those necessary skills is organization! Agenda slides are a great way to help students gain a little organization. There are SO MANY great perks of using agenda slides…
Clear layout – makes it easy for students to navigate
Able to color code – is there anything better?
Hyperlinks – add any links that students may need
Visuals – students (and teachers) can see what needs to be accomplished
Easy check-in – you are able to check in on your student's progress in just a few moments
Timers – stay on track with school work and learn time management
Agenda slides are a powerful tool that you can use with your students to help build skills needed to be successful in their school life.
HOW TO USE AGENDA SLIDES
There are lots of great ways to incorporate agenda slides into your classroom, so I wanted to share a few ideas:
Upload the agenda slides to Google Classroom, Seesaw, or whatever platform you use. Making a copy for each student gives them the opportunity to personalize the slides for their needs. Also, creating one uniform template allows you to add links, websites, and whatever is needed.
Display a To-Do list. Display a visual reminder of the daily tasks students need to accomplish to help them not forget anything. Additionally, you can include a timer to help students manage their time and (hopefully) complete the necessary tasks. You can also use the slides like a digital calendar for students to help keep them on task and working hard
Help your students keep track of assignment tasks and due dates. Using slides can give students the opportunity to practice the important skill of staying organized. Keep a "teacher" copy of the agenda slides to give yourself reminders of lesson plans, and help students keep track of assignments. These can include important action items and homework assignments, as well as class information and a daily schedule.
Use in your class for individual projects or larger assignments. Agenda slides can help you assign due dates for various check-in spots throughout the project, and can also be edited to fit different subject areas and individual needs. You can include project details like basic lists, small tasks that need to be completed, and so much more
Use for student groups. These slides can be differentiated for groups based on what they need. You can also easily adjust the dates for each group project and they are a great way to add reminders or tips. Additionally, Agenda slides can be incorporated on a regular basis into small groups, centers, and book clubs.
Departmentalized. Agenda slides are one of the best things for students who rotate classes or blocks. Agenda slides can act as a simple planner to help train students to keep track of assignments and due dates. They can be used for any main subject area or extracurricular activity.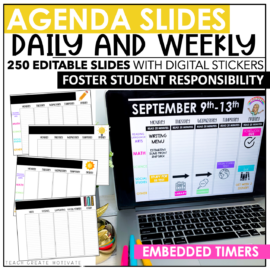 Agenda Slides
Agend Slides with timers will help you and your students create organizational patterns that will last! The agenda slides are a great way for students to learn how to be responsible for assignments, due dates and more in a simple and easy to use format.
I hope you take away a few easy organizational ideas for you and your students this year!
Pin this image so you read the blog post again!