Small groups are such an important part of classrooms, but sometimes they can feel a little chaotic. I have a great solution for your small group organization … CLASS SLIDES!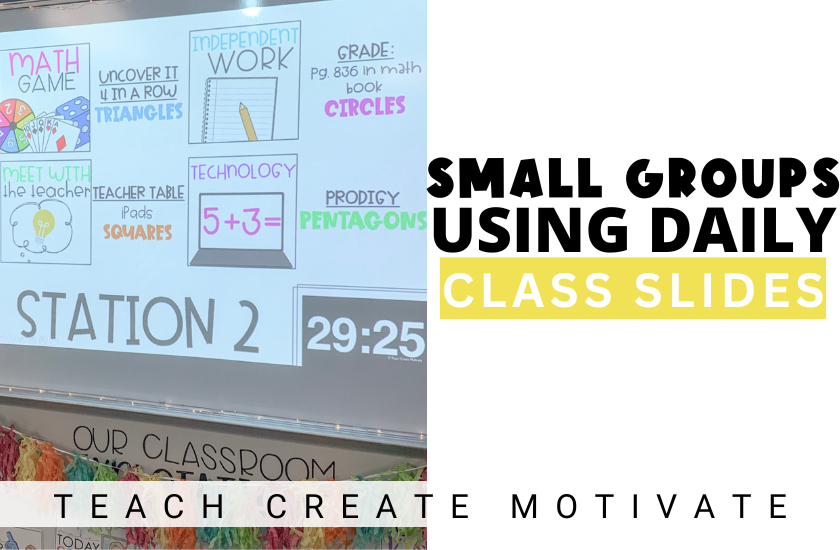 Finding a way to keep students on task, independently working, and working within the given time is a delicate balancing act. Class slides are a game changer for small group organization, and can take some of the stress off when working in small groups.
A VISUAL REMINDER
Some days it's easy to feel like a broken record repeating the directions over and over and over again! Instead of repeating yourself, put some of the responsibility on the students. Displaying your expectations or directions during small group time can be SO helpful for students. Use the stations or group slides to help you organize rotations and centers, and assign each group a different color to help students know what they are supposed to be working on. You can also use slides for small group communication and easy access to resources. Whether you are running reading groups, math groups, an intervention group, or literacy centers, class slides help keep your entire class organized and on task during small group work time.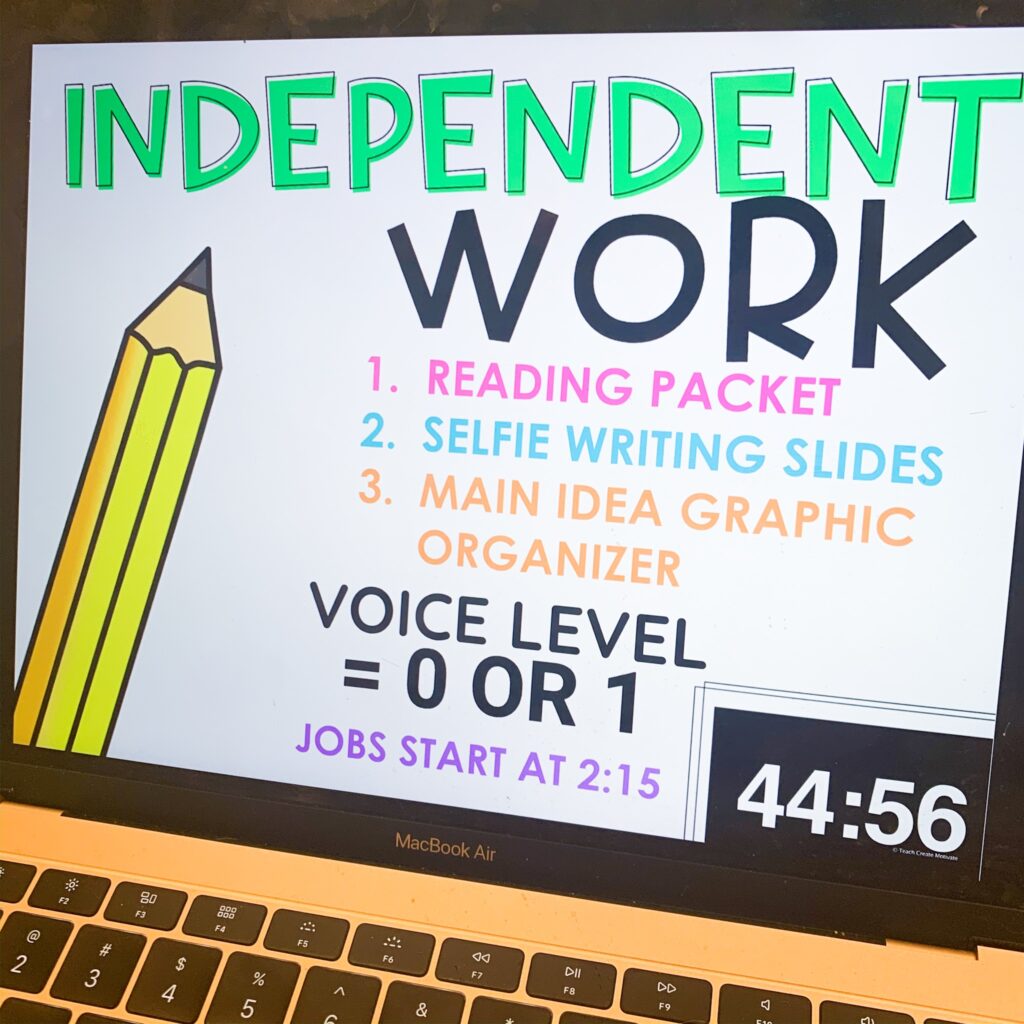 Displaying the directions gives students a place to refer back to when needed. This is a great way to encourage students to learn responsibility and know where and how to complete their work. Classroom slides help you spend less time giving directions, and create more opportunities for you to work with a small group of students uninterrupted (hopefully).
SO MANY BENEFITS!
Not only can using class slides create small groups or stations that can basically run themselves but there are also SO many good skills that students can gain.
Time management skills
High student engagement
Easy flexibility for differentiation
Streamlined classroom management
Independence
Not to mention that you gain time to work with students on small group lessons and help students on a more individualized basis. Smaller groups offer the opportunity to really understand your students and provide a chance to gain data about student learning. Class slides can also help you differentiate instruction for all members of small groups, as well as a large group. It does not matter the number of group members or group structure, you can use class slides to implement lesson plans for any grade level, all different sizes, and all academic goals.
Even better, class slides can be assigned individually and to small groups of students using Google Classroom or Seesaw! You can assign slides through online platforms for small group work and individual work times. The slides can contain assignment directions, links to a mini lesson or read aloud, or a digital activity workbook. Class slides don't have to be just for a set number of members, they can support all types of small groups and small group work to ensure that students are meeting learning goals, staying on track, and engaged in their learning.
CLASS SLIDES ARE GOOD FOR TEACHERS TOO
Let the class slides do the work for you. Not only do they keep students on track, but they can help you too! How easy is it to call out 3 more minutes from your teacher table or small group table, and 10 minutes later you still haven't moved on!? Class slides with timers will keep the whole group on track and doing their best work and within a designated amount of time, including you!
Another benefit of using class slides for personal use is that they help you stay on track and organized with lesson planning. When there are a range of student groups with different learning needs, small-group work can look very different. Use class slides as a way to help you stay organized for each small group's lesson and each group's tasks for the day.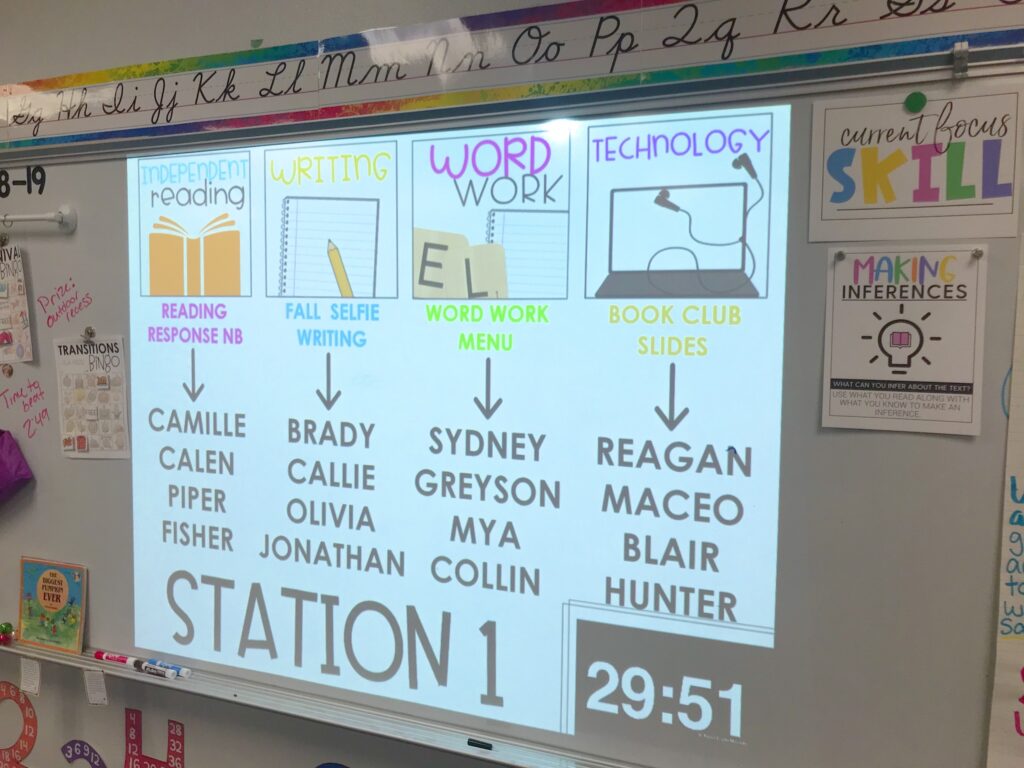 It is also super easy to add your classroom directions that can be used over and over again throughout the entire school year. It's easy to duplicate slides and use them the following week with minimal changes. The editable slides are such a great way to stay organized during small group instruction with little stress. Not to mention, admin will LOVE seeing a class that is running smoothly and completing small group work with little guidance from you – after expectations have been taught of course!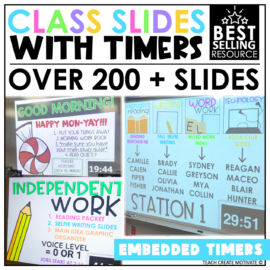 Class Slides with Timers – Classroom Behavior Management
Using timers in my classroom is one of my favorite ways to manage classroom time and my student's engagement while they're working on something. These editable slides have built in timers to fit your needs in your classroom! Help yourself stay on track with teaching and help your students learn time management and take ownership of their learning. This resource is packed full of slides to help you manage your entire day!
Let class slides do the work for you! I hope class slides are a good thing to add to your classroom to make your small-group instruction and stations easy to manage and take a little off your plate.
Be sure to pin this image so you can revisit the blog post later!