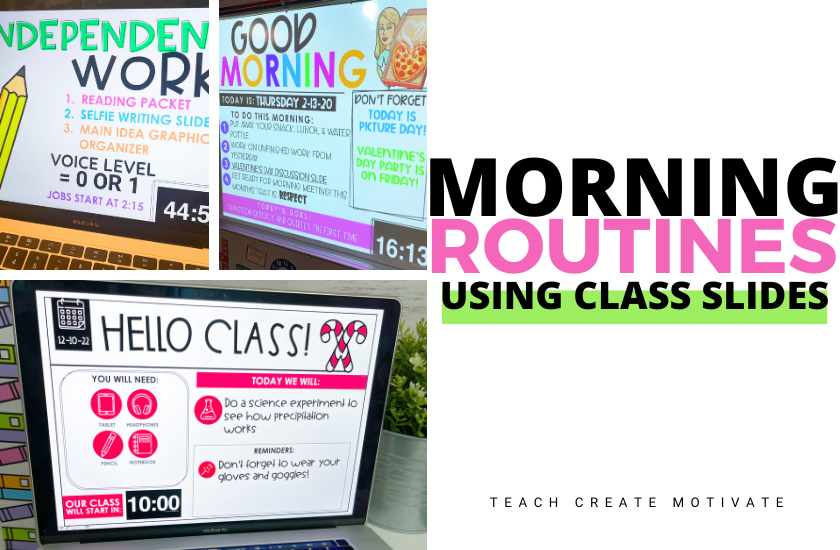 Morning classroom routines can be challenging: students entering the classroom (sometimes at different times), unpacking bookbags, putting things in the right spot, and sometimes starting morning work can be A LOT. One powerful tool that starts the school day off right and gives more independence to students is daily slides!
Class slides offer SO MANY BENEFITS!
High engagement
Consistent structure
Time management
Building responsibility
Creating student independence
Clear expectations
The list goes on and on!
DAILY MORNING SLIDES
Creating an effective classroom morning routine that promotes student independence can start your day off on the right foot! Morning slides are a great way to have directions posted for students as they enter the classroom each morning. The slides can include a morning message, directions for unpacking materials, how to get started on morning work, or rotations for morning tubs. Displaying morning slides with a timer can help students learn time management while you are free to check folders, greet students, and accomplish all the other morning tasks teachers have to do.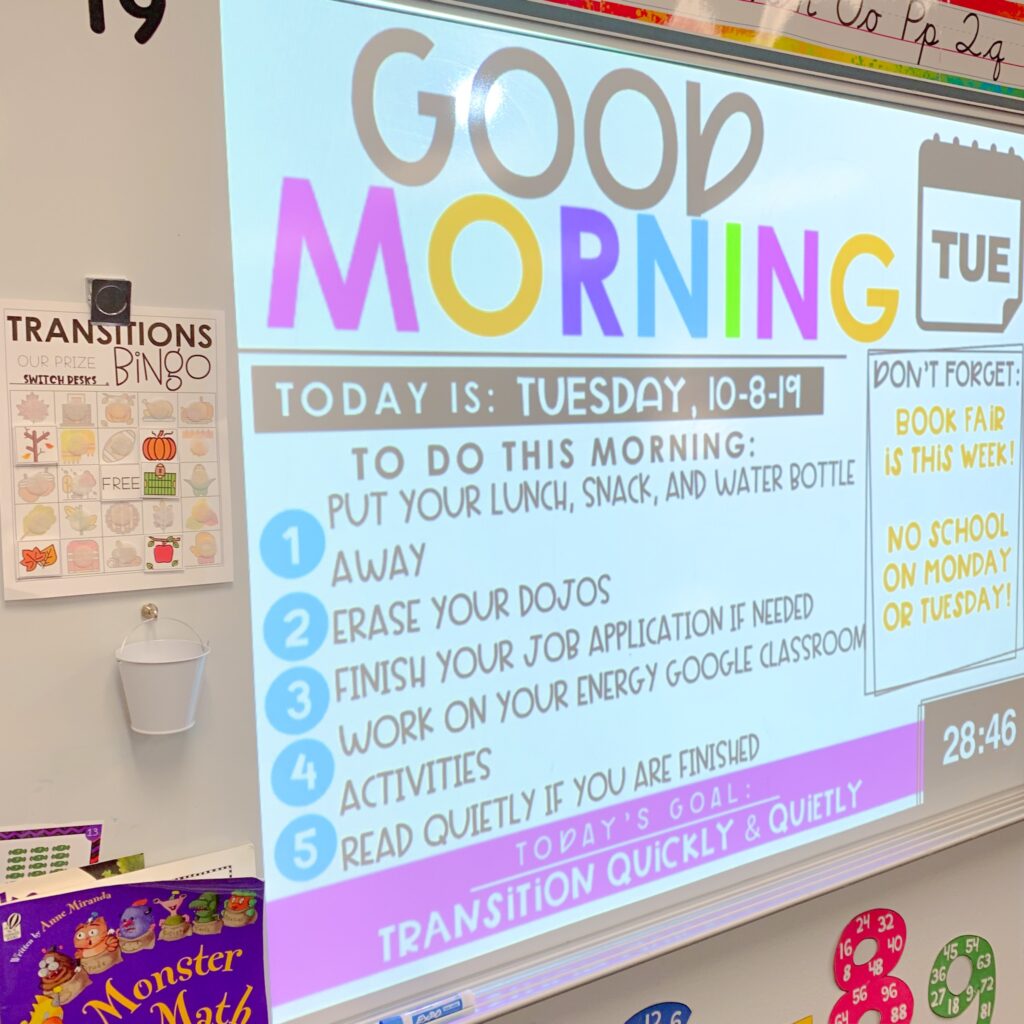 Students can navigate their mornings more independently with just a little guidance. Starting to use morning slides during the first days of school can help students learn how to complete specific tasks and what to do during morning arrival. Students can learn morning procedures and morning work activities early in the beginning of the school year so that the rest of the day can run smoothly. Whether students are completing morning packets, working on a soft start with a morning activity, or completing morning jobs, Morning slides are the PERFECT addition to any classroom!
SEASONAL SLIDES
Creating a consistent morning routine that students can follow is a great way to set students up for success. Take that one step further by using Seasonal Classroom Slides. These slides are the perfect little touch to bring the seasons into the classroom in a sweet and simple way. The seasonal slides make for a fantastic morning meeting template and are a great addition to any effective classroom management routine.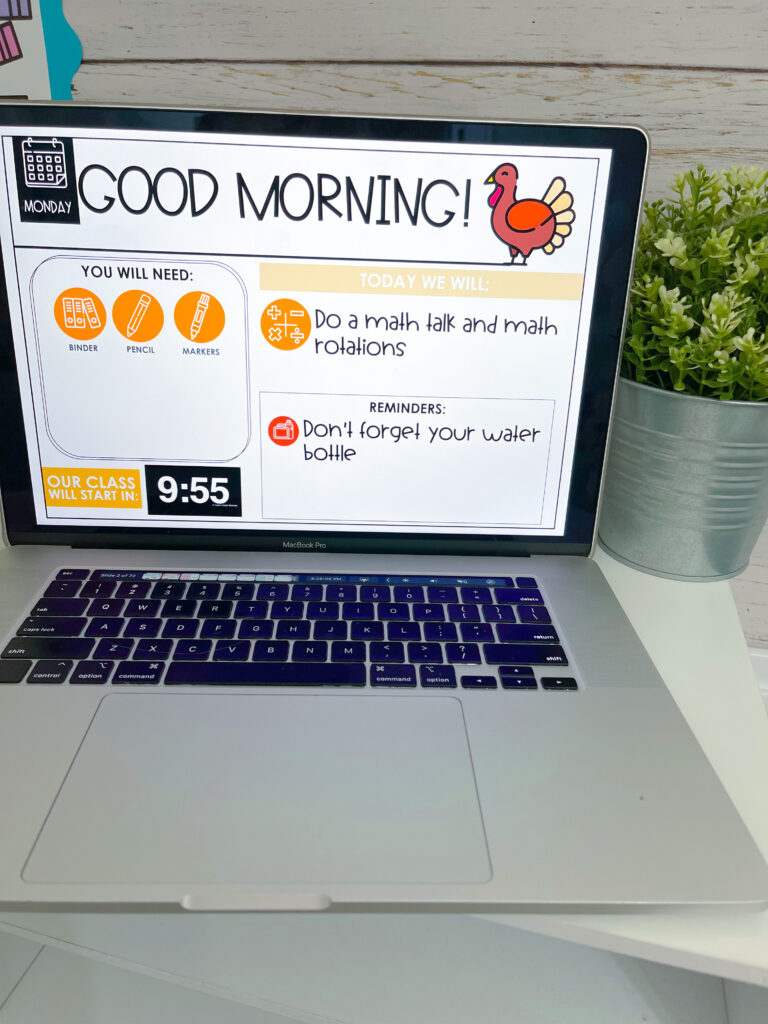 Add in a question of the day, a conversation starter, a joke of the day, morning announcements, or even a seasonal would you rather question, and your morning meetings just got a whole lot more organized AND cute! Don't forget about all of the opportunities students will have to practice social skills and interact with each other in the first few minutes of the day.
Classroom Slides
Once you use morning slides, you will LOVE the positive effect they have on your students. So much so that you will definitely want to use class slides ALL DAY LONG, not just the first few minutes of class! Class Slides are the perfect way to help your students transition throughout the day. Clearly displaying expectations and/or directions can be so beneficial for students, while also saving so much time.
Class slides create an opportunity to display must-do/may-do options, bell ringers, or independent work. The slides can include a list of tasks, the classroom morning schedule or daily routine, spiral review skills, academic skills, and different things students can do if they are early finishers or are ready for a different activity. Slides are the best thing to use in every classroom, from younger children to 5th grade students and middle schoolers.
Let class slides help you make your classroom a place where students are learning independence and responsibility in a meaningful and authentic way every single day!
Teachers like you are saying…"This is a game changer! Not only does it help me stay on track and manage my time it also helps my kiddos stay on track. I love the variety of slides and bold colorful graphics. So glad I found this resource!"
Pin this image to visit the blog post later.