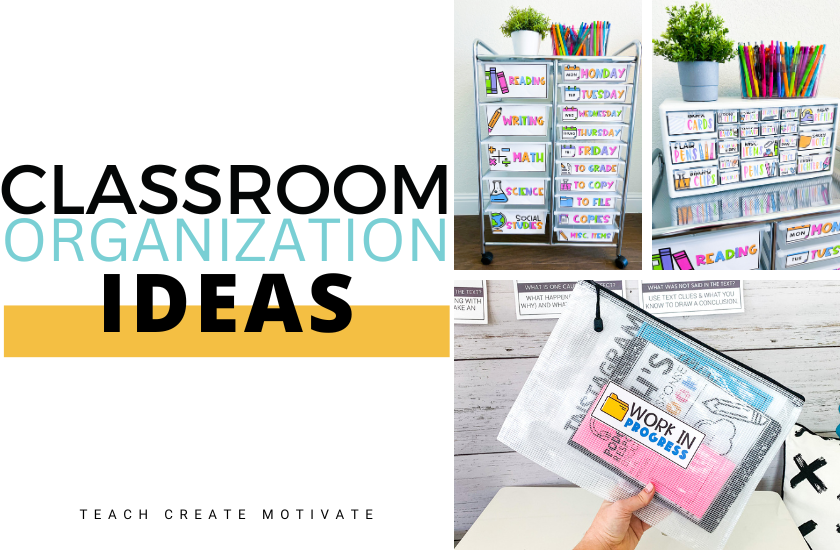 Classrooms are a place of learning, growth, and lots and lots of materials. With so many things in a (usually) small space, organization is key! Here are a few classroom organization ideas you are sure to love!
TEACHER CARTS
One of my favorite classroom organization ideas that is so versatile is a cart! There are literally hundreds of ways to utilize the drawers.
Teacher supplies
Subject materials
Sub Tub and emergency sub plans
Personal items
Manipulatives
Extra materials
Student supplies
Student assignments
Absent work
The list goes on…
Deciding how to set up your cart drawers is up to you! If a teacher cart is what you need, you can designate drawers for your copies for all the days of the week, grading, lesson plans, extra copies, etc. You could also add a little extra color and style by adding cart labels! It is a great way to keep yourself and your classroom supplies organized.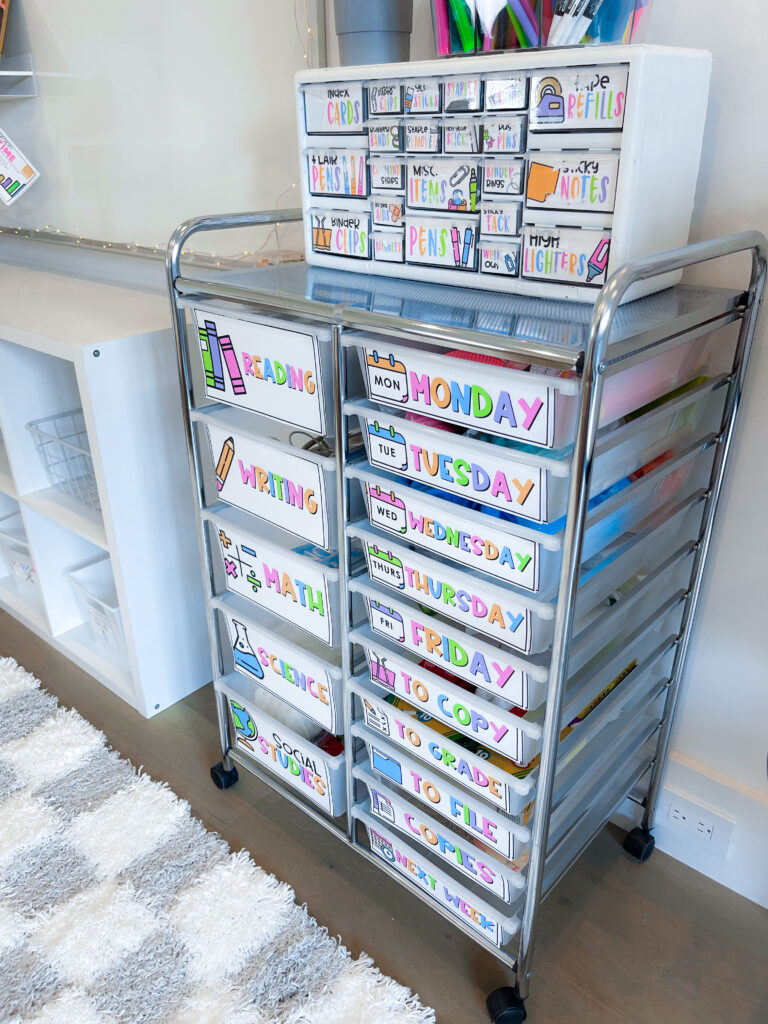 Maybe a student cart is what your classroom organization needs. The cart could serve as a turn-in spot for student work, a place to get materials, a place to keep work for absent students, or even a great place to store stem bins. Whatever you decide, a cart is a great idea to help organize your classroom in many different ways!
TEACHER TOOLBOX
Finding a place for all the small items in your classroom is super important! Creating a teacher toolbox is one of the best classroom organization ideas. Instead of tossing supplies in desk drawers or even worse, here – there – and everywhere around your entire classroom, create a useful organizational system that is easy to use and keep up on. Using a toolbox is the perfect solution for storing all the things…
Paper clips
Index cards
Push pins
Tape
Binder clips
Pens
And more!
A teacher toolbox is not only a great tool for organization, but it also looks SUPER CUTE with a few labels! Instead of having a messy desk at the end of the day, use a toolbox to make sure everything stays in its right place with easy access. Here is a DIY Toolbox Tutorial with simple tips and tricks to help you get started!
ORGANIZE WITH MESH BAGS
Classroom organization is needed for so many different aspects. One super helpful organization tool is mesh bags. They are definitely a game changer when it comes to classroom storage ideas. The boxes are pretty inexpensive but have so many uses!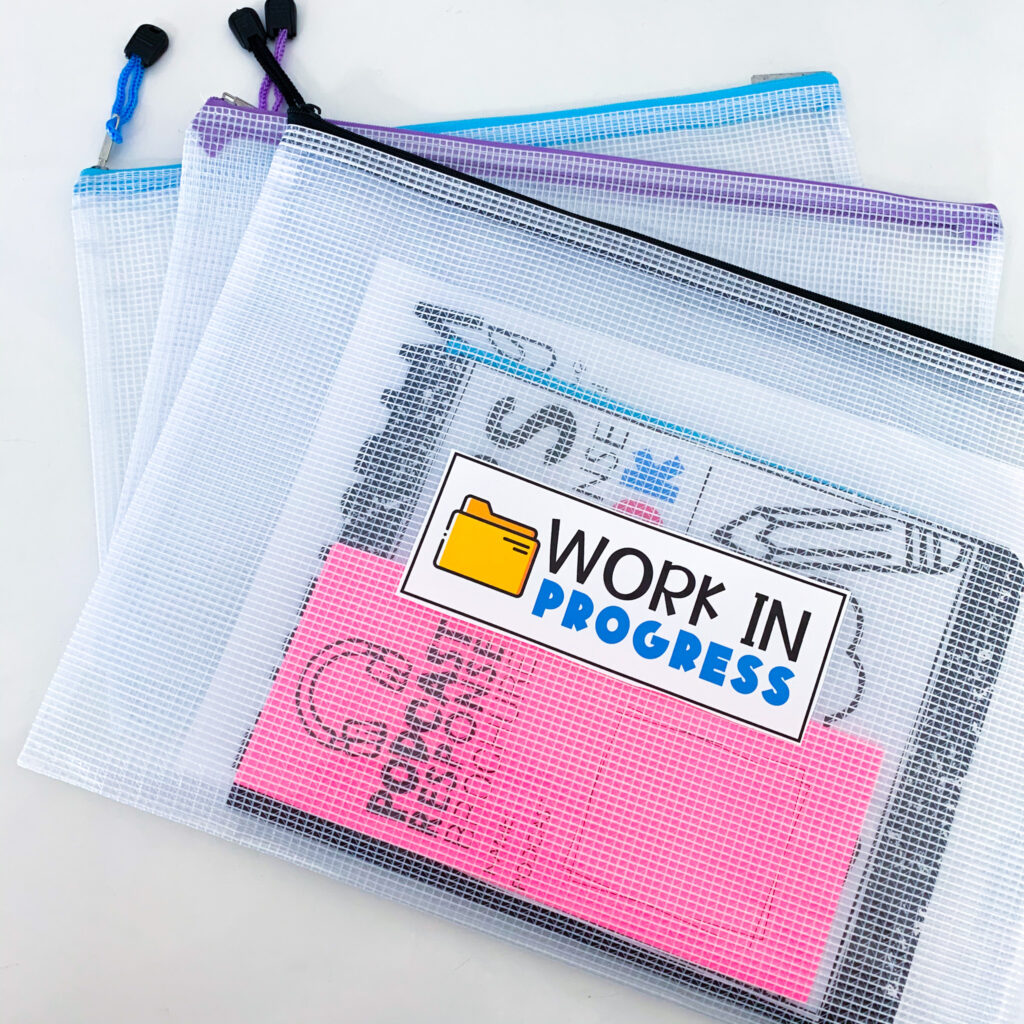 The mesh bags are my favorite way to organize stations. They can be filled with all the materials needed for each station, making it super easy for students to have what they need. Another good idea for using the mesh bags is to use them to store math games! Plastic bags can sometimes break or not be the right size for what you need. There are different sizes of mesh bags, so you can find the size that best works for your classroom needs!
IRIS BOXES TO ORGANIZE
Iris boxes have SO many uses. Not only do they look nice, they are SUPER functional and are one of my favorite storage solutions. The larger Iris boxes are perfect for classroom management games. They are also the perfect way to keep units together with all the pieces (or a room transformation kit!). Use these plastic containers instead of losing small pieces when they fall out of a folder or get lost in a filing cabinet.
The smaller Iris boxes are so handy to keep around. They are just the right size to keep important forms, papers, classroom materials, items for small groups, or whatever you need all in one, easy-to-see spot. These storage containers are for sure 10/10!
Maybe you found some brand new teacher organization ideas or a way to better use what you already have! Classroom organization can be a big task, but starting with one or two easy classroom organization ideas is the best way to begin! A well-organized classroom will make all the difference in creating and maintaining a well-functioning classroom.
Pin this blog so you can revisit it later!