Given the circumstances going on right now with COVID-19 I know there is a lot of talk with schools going to a digital learning format for a while, if they haven't already. I thought I would put together some tips for if this were to occur for you and your students. I have included some free resources at the end as well!
Google Classroom
If you use Google Classroom you know how it can make the adjustment to digital learning that much easier. Here are some of my best tips for using Google Classroom if you and your students are home:
-Classroom Discussions: Use the discussion feature to easily post classroom discussion questions. This could be used to post math problems, reading skill questions, read aloud discussions, science questions, etc!
–Attach PDFs/Images: Easily attach a PDF of a resource you would normally print. If you want to just show one page, take screenshot using your computer and attach it as an image. Include written instructions for what you want your students to do with the attachment.
–Use digital resources: Of course using resources created specifically for digital learning are perfect for this type of teaching. You can see all of my digital resources here, and then I will link some of my favorites below that will be perfect for this need.
–Digital Graphic Organizers
–Digital Selfie Writing
–Interactive Discussion Slides
–Famous Person Digital Research Project
–Environment Digital Research Project
–Science Digital Activities
–Seasonal Digital Activities
–Post a Video of you teaching/explaining something : If you want to teach something specific or explain in more detail, use your phone or computer to record yourself. You could even record yourself reading a book. Then attach that to a Google Classroom post.
–Use google forms: this is a perfect way to give quizzes and get some grades
Use podcasts:
Podcasts are a great assignment for at home learning. I have en entire post on how to use podcasts with your students HERE. You can have them listen at home and fill out a brochure you send home.
Other amazing tools:
Nearpod
I have a few blog posts about how to use their free membership. They have TONS of digital lessons and activities that can be easily used if you are teaching from home.
Flipgrid
I absolutely love Flipgrid. This tool allows your students to upload a video of anything. I have used it to have my students answer questions a about a read aloud, science lesson, math problem, ANYTHING. You can also record a video as an example and with clear instructions.
Loom (offering FREE for teachers and students to use now!)
Loom allows you to record your screen and/or yourself in videos and then send them out to your students. For example, if you have a ppt slideshow you want to explain or teach with, you can record your screen and your voice to send to your students. Plus, It's free!
Brainpop
If your school or district provides this amazing tool, don't forget about these videos for helping teach different topics and skills! You can attach a link to Google Classroom, Seesaw, Class Dojo message, or an email.
Epic
Epic is the absolute best. Assign titles you want your kids to be reading on their device or computers or let them just use it to read new titles while they are out of the classroom.
They have made lots of resources free for teachers to use due to school closures.
FREE, unlimited use for the time being!
If you have time to send home information before closing or doing digital at home learning days, here are a few things to try and send home!
-Log in information for any apps or websites
-Google Classroom Class Code
-Google Classroom tips and reminders on how to use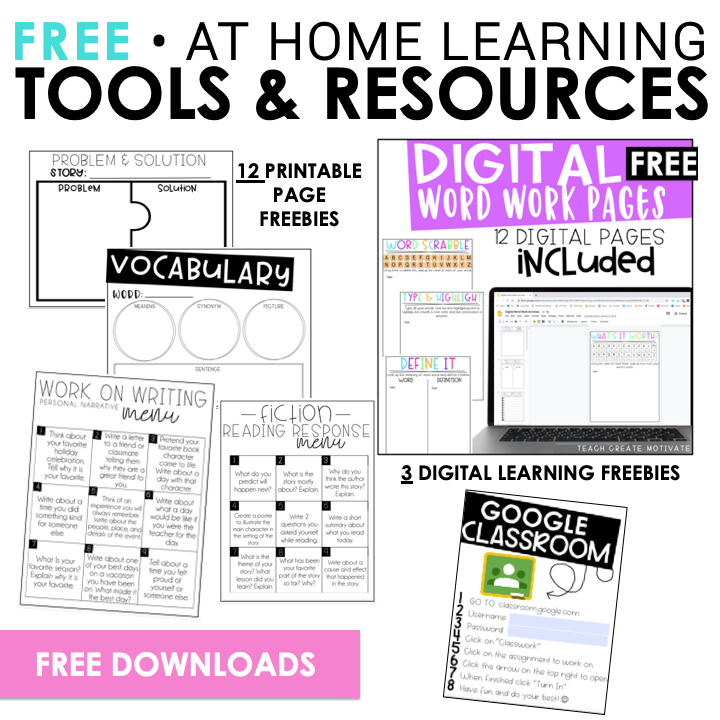 I put together some free resources for you! You can get these straight to your inbox with the form below (if you are already on the list, you can put in your email again to receive them!):
-Digital Word Work Activities
-12 Printable pages (graphic organizers & reading/writing menus)
-Log in info editable pages (google classroom and computers)
-Google Classroom Info Presentation
Want to save this post for later? Pin the image below!