Meet the teacher is such a whirlwind of a day! It's so fun getting to meet all your new students and their families for the year, but it also can be a little chaotic with so many new people coming in and out of your classroom.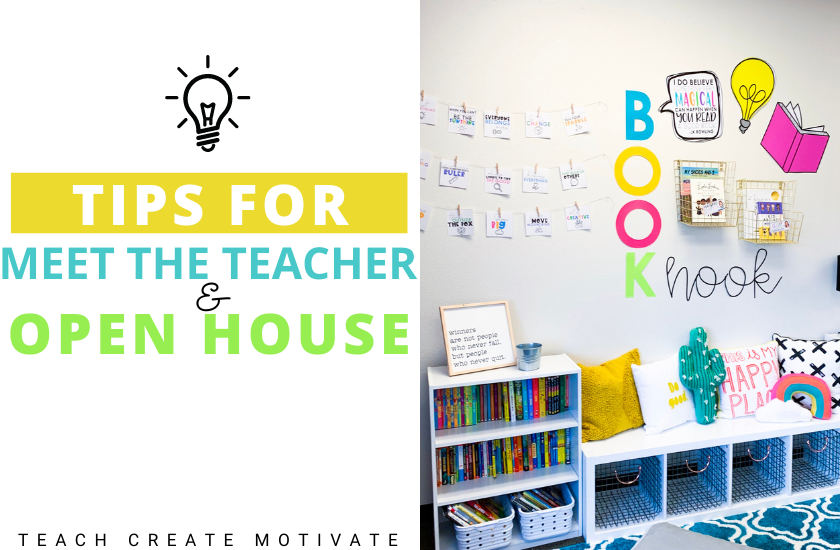 Keeping the whole thing organized is key to a successful and (mostly) stress-free Meet the Teacher event.
BACK TO SCHOOL NIGHT STATION SIGNS FREEBIE
I've found the best way to organize Back to School Night is by making stations for families to go through as they drop in. This way, you are available to greet everyone without having to answer many questions about where things go, how they can sign up for something, etc.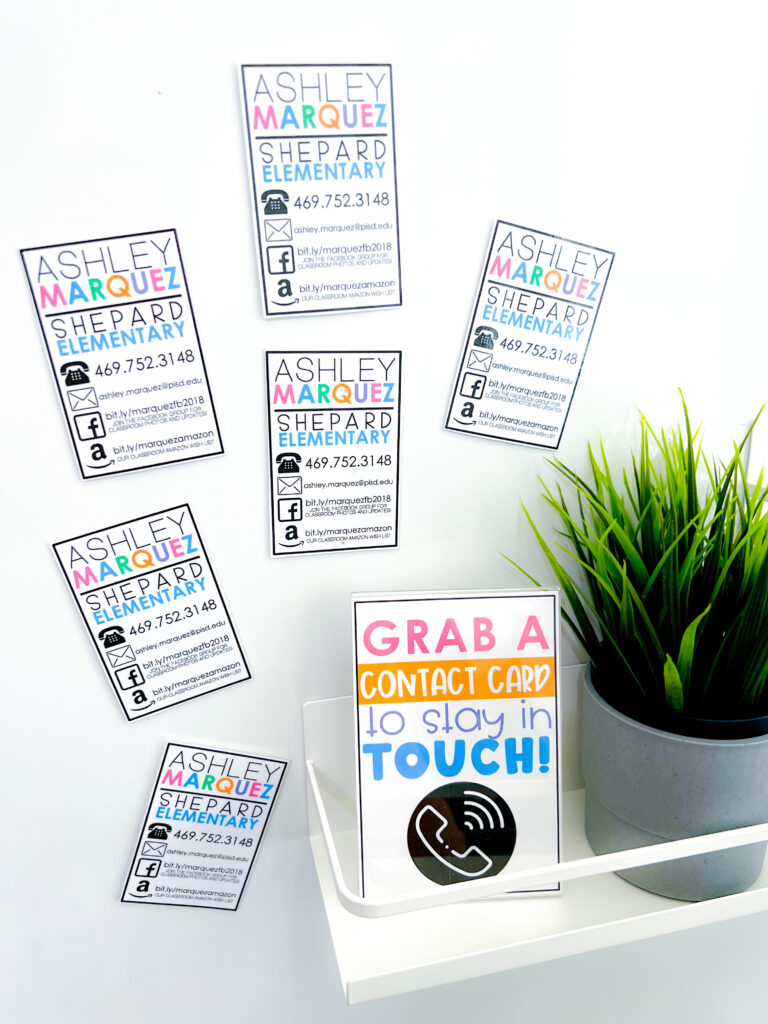 Get the Back to School Night Stations Signs freebie by entering your info below!
Setting up your stations is super easy!
1. Grab stand-up photo frames from IKEA, Amazon, or Party City.
2. Before the big day, print out the signs you need for your stations using your Back to School Night signs freebie.
3. Fill the frames with the signs. (print 2 of each sign so you have a front and back and families can view it from all angles)
4. Set out any bins, technology, or directions by each sign that families may need.
Trust me. Once you use the stations, you'll never go back! So here are a few tips and ideas on what to include on the big day to make your open house a breeze!
Teacher Contact Cards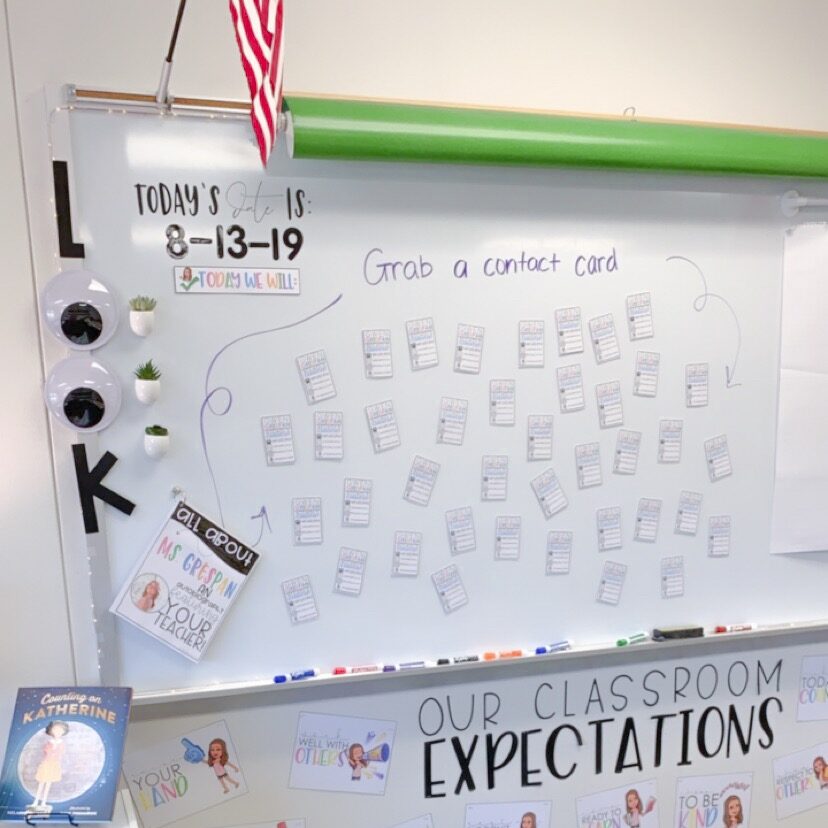 It's no secret open communication with students' families is so valuable! Often, families get your contact info at the beginning of the year, and it gets lost in the shuffle of back to school. Families either have to contact the office or hope their child remembers to give you a note.
Teacher Contact Cards are perfect for giving to families during the back-to-school season! Simply input your teacher details into the editable templates, and your parents will be set up with all the contact information they need to keep in touch.
These teacher contact cards contain the following icons or images:
Phone
email
Facebook
Amazon
Instagram
website
Twitter
Remind
Bloomz
QR code blank space (you could also use this space for Class Dojo!)
Google Classroom
Google Site
With various combinations on one card, all you have to do is pick which one works for you. As a result, families will have all the important information they need in one place!
TEACHER TIP: Print the cards on cardstock, laminate, and put a magnet on the back so they can stick it to their fridge at home!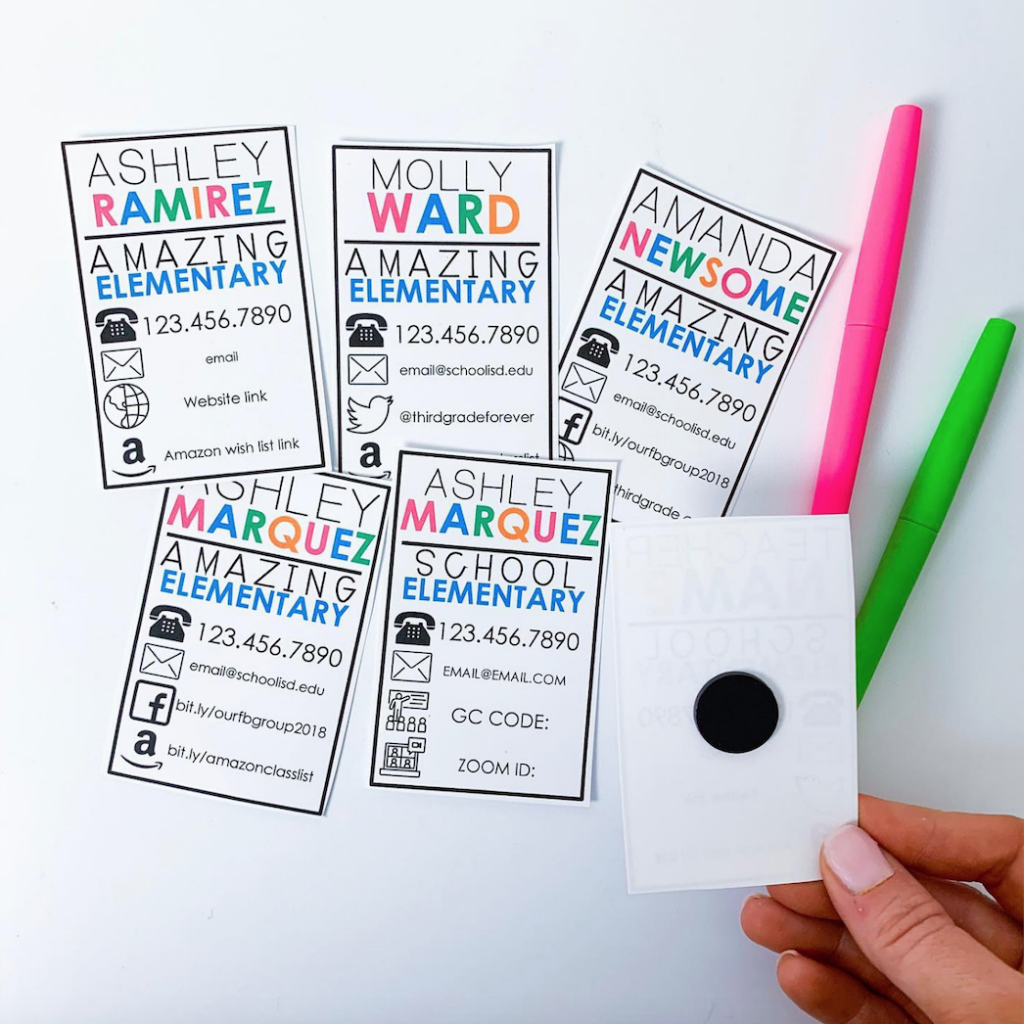 Class Photo Booth
What parent doesn't love a good photo op? Set up a back-to-school photo booth for students and their families. Students will love posing with the props in their new classroom. Follow this tutorial on how to make a classroom photo booth.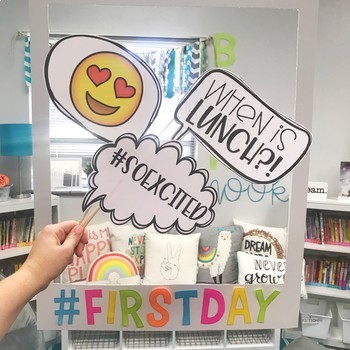 All About Your Teacher Book
Set this book out at open house! Your students and their families will love learning all about their new teacher! Then make it an addition to your classroom library! Students will even read it throughout the year-they'll practically have it memorized!
Classroom Wishlist Freebie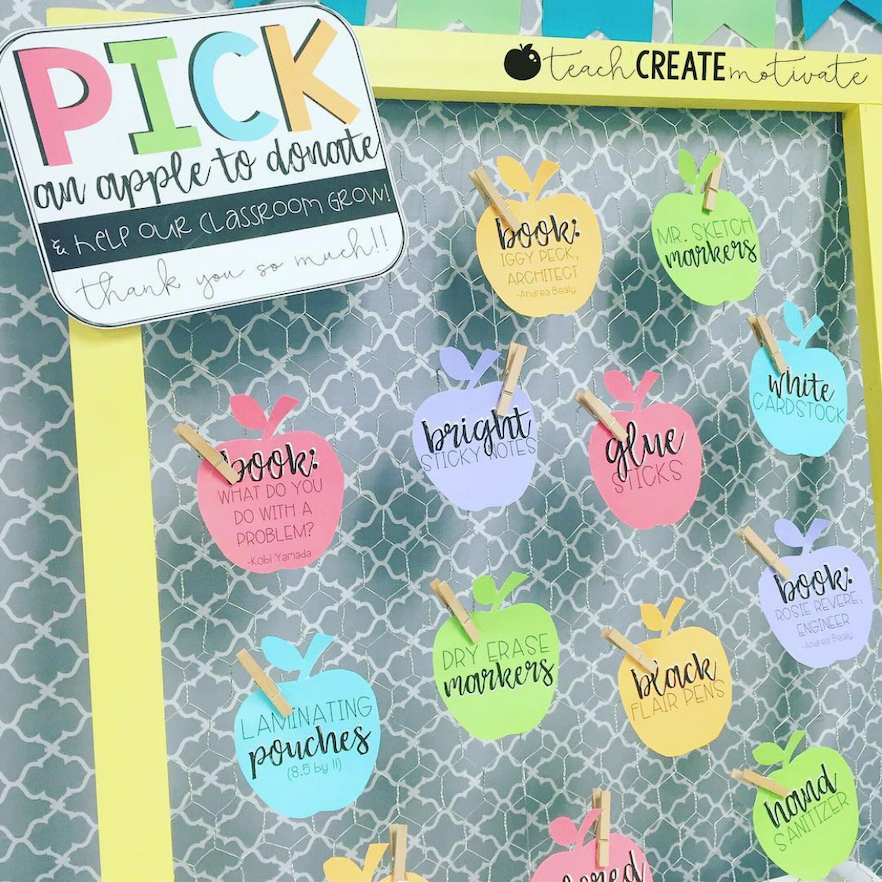 Post your classroom wishlist by the door as students and their families exit. Then, families can grab an apple off the display and donate one of the needed items to your classroom.
This is optional but allows families to donate a much-needed supply to the classroom if they wish! Get the "Pick an Apple" Sign and supply apples for FREE by clicking the button below!
The free resource includes the "Pick and Apple" sign and apples with supplies:
Colored Flair Pens
Mr. Sketch Markers
White Cardstock
Colored Cardstock
Bright Sticky Notes
Black Flair Pens
Hand Sanitizer
Glue Sticks
Glue Bottles
Dry Erase Markers
Laminating Pouches
Printer Paper
3 Editable Book apples
6 different colored editable apples to add your own!
Sweet Treat
Set up a small table with cupcakes, donuts, muffins, or any other treats you want! This station is optional for back-to-school night but adds a welcoming touch for students and their families.
Student Forms
Have you ever sent home necessary forms for families to fill out only for them to never return? I have! Set up a station where families can fill out forms needed for the school or your classroom.
Go digital and set up Chromebooks, tablets, or laptops and have a Google Form created for them to fill out. This way, you have all the student info in one place without shuffling through papers.
Having a few paper options is important as well! Some adults may be intimidated by technology and prefer paper and pen. Options are your friend!
Some ideas of forms to include:
Volunteer form
Guardian Contact Info
Student Information
School-issued permission slips
Transportation information
Meet the Teacher Slideshow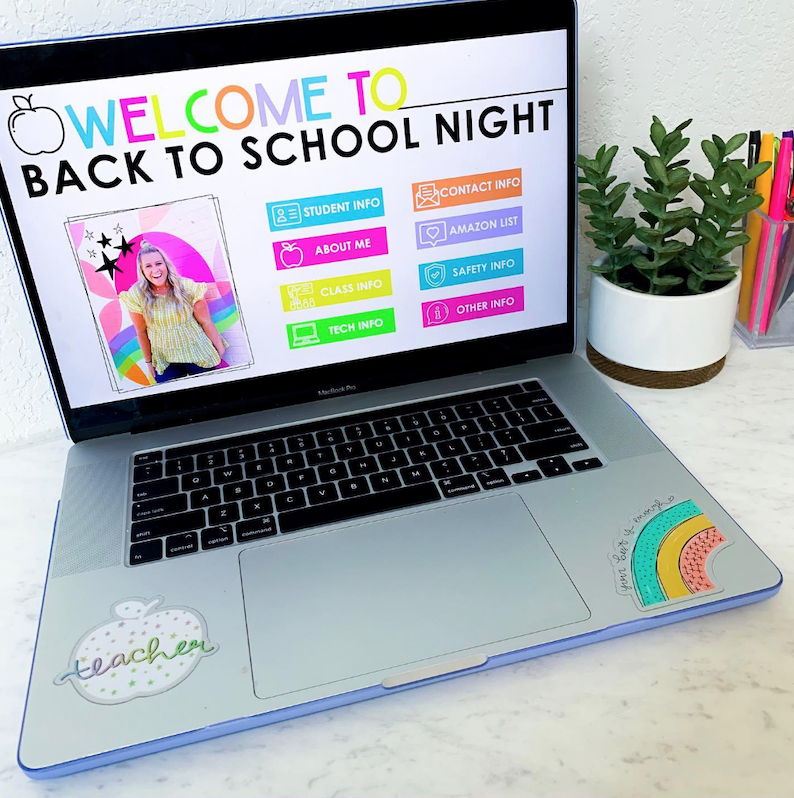 If you have a few devices (Chromebooks, iPads, student computers, etc.), set up a meet the teacher slideshow for families to click through at their own pace.
Designate a table with 3-5 devices with the slideshow ready to go. The editable meet the teacher slideshow includes everything they need to know about your class and more!
About the teacher (family, pets, fun facts, etc.)
Class Info (weekly schedule, class schedule, rules, lunch, recess, subjects, etc.)
Contact Info
District Site/ School Information
Safety Info
Tech Info
Websites
Extras: Amazon Wishlist, Class Facebook/Instagram
One thing you may want to add to the slideshow is a Google Form where families can fill out their contact info. This will gather their email so you can send the slideshow to them in the next few days.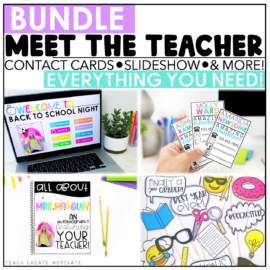 Meet the Teacher/Back to School Night Bundle
Want to make the beginning of the school year super easy? Check out this bundle! It will make Meet the Teacher Night cute, organized and easy to prep! Get everything you need for an open house to help welcome students and families to a new school year. The beginning of the school year can be so hectic, use these products to start your year on a successful path.
Supply Drop Off
Community Supplies
If you have community supplies like tissues, wipes, paper towels, hand sanitizer, etc., designate a space for families to put these items.
Label exactly where each item goes so you have minimal organizing to do afterward. Milk crates with a supply label stuck to them work great! If you have cabinets or cubbies, you could label the cabinet/cubby the supply goes in, and families/students can store the supply there!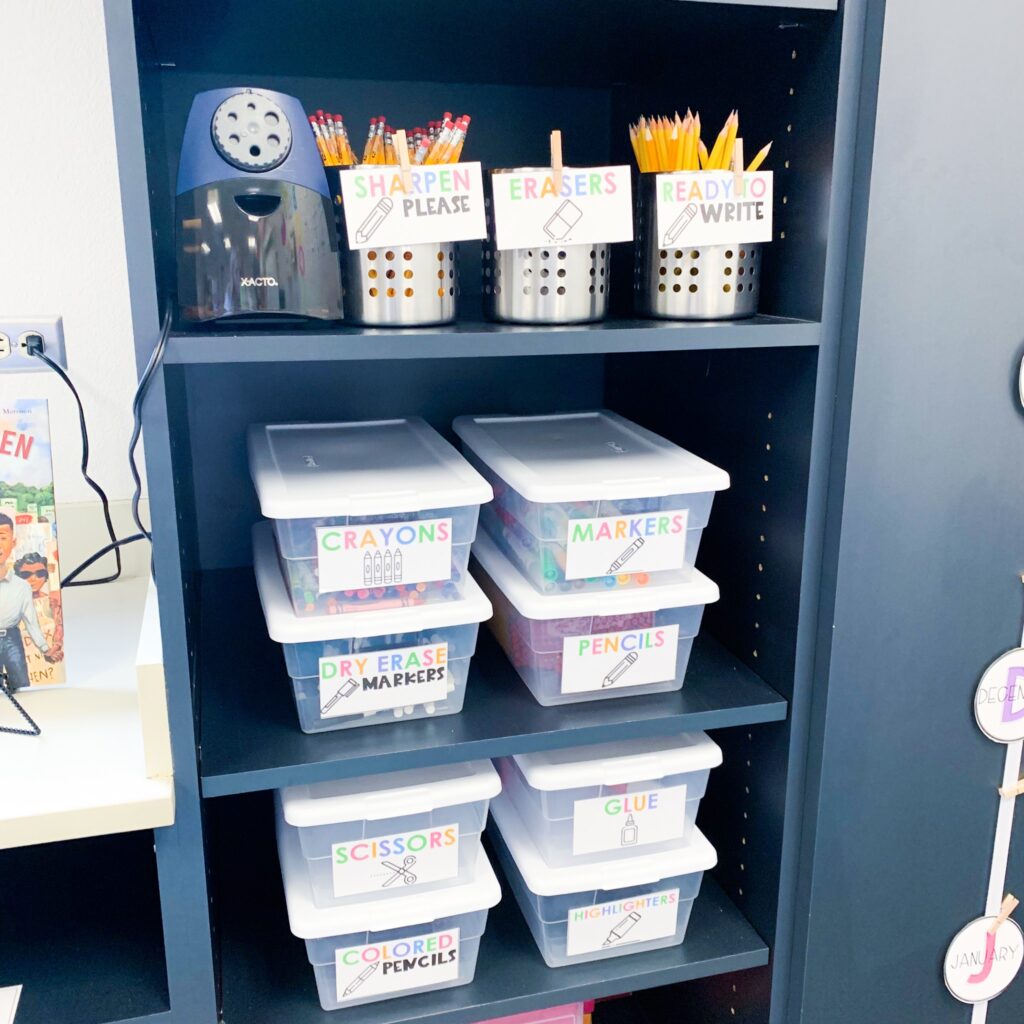 TEACHER TIP: If you laminate your labels, dab hot glue on the back and stick it to the surface it belongs on. Hot glue sticks waaaay better than tape. It lasts and pulls off surprisingly easily! I do not recommend this for painted surfaces.
Student's Personal Supplies
Sometimes students bring it all to back-to-school night. Having students' desks or cubbies labeled with their name tag ahead of time will save you a lot of headaches!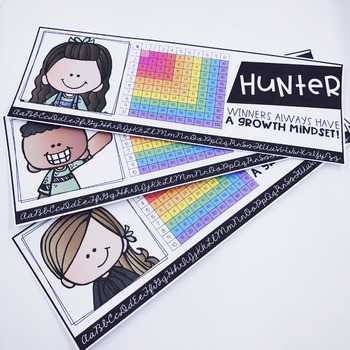 Students and their families can unload the school supplies at the student's desks or cubby, and you won't have to worry about getting all this done with everyone on the first day of school.
TEACHER TIP: Have a few extra nametags handy. New kiddos can get added to your roster last minute! It's the worst when you don't have the same thing for them like everyone else, and they don't feel included. Yes, they may not be printed names like everyone else yet, but something is better than nothing!
TEACHER TIP: Have a few copies of the school supply list for students and families who may need one! There are always a few!
Sign-in Sheet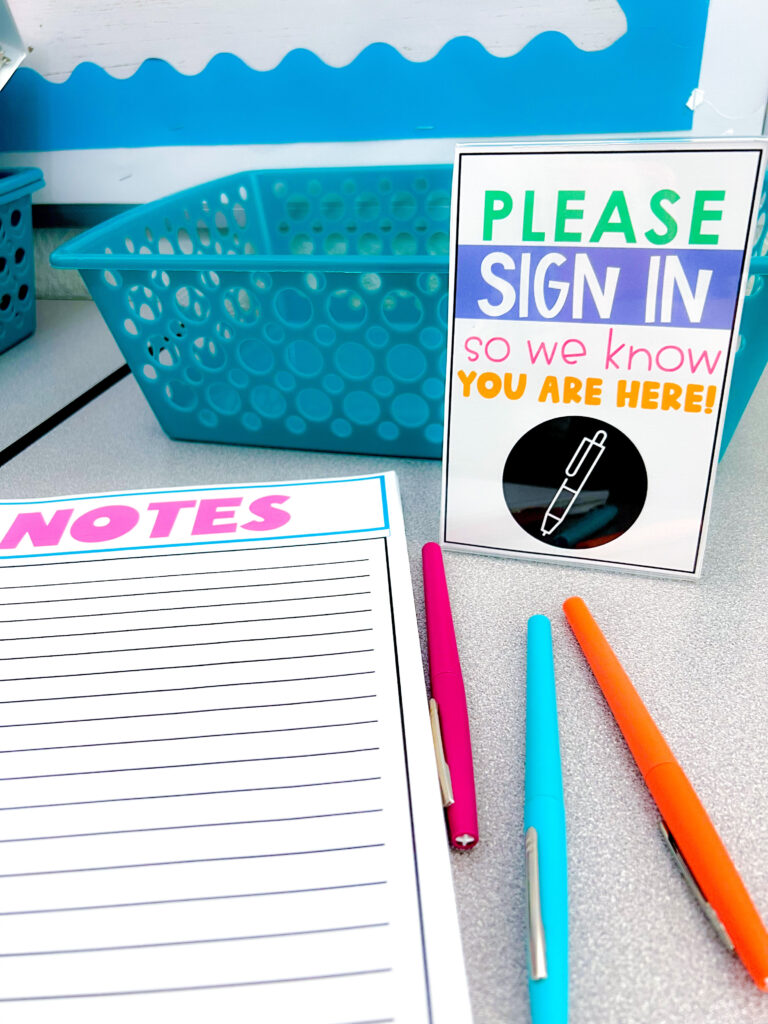 This may be one of the most important stations- a sign-in sheet! Get a gauge of who came to Meet the Teacher Night and who did not. This way, you can send all of the information to the list of parents and know which students may need some extra support on the first day!
I hope you snagged some great ideas for curriculum night, back to school night, meet the teacher, open house, or whatever your school calls it! The first meeting with your students and their families is so special!
Pin the image below to revisit this blog post later!