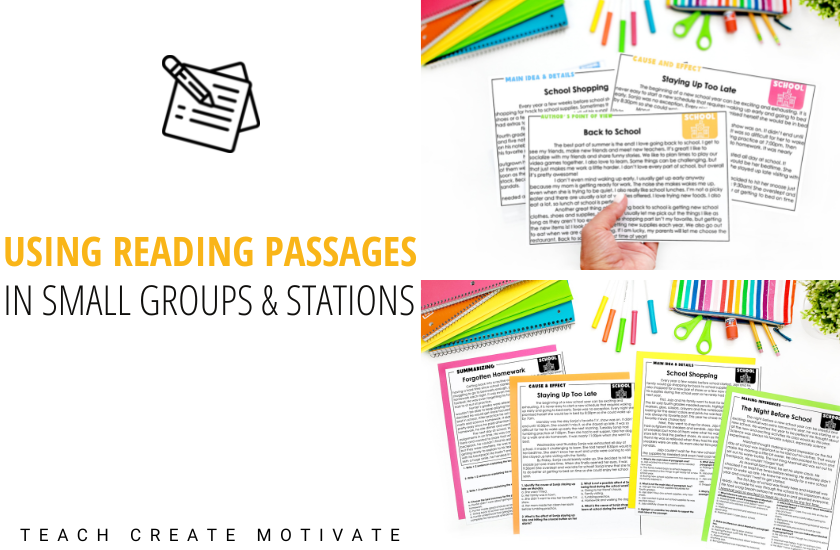 READING PASSAGES IN SMALL GROUPS
In the primary grades, small groups are pretty straightforward when it comes to reading instruction. When you get into the upper elementary grade range, that's when it can be a little tricky to plan for small groups. That's where reading passages are great to have on hand to practice all kinds of skills.
Reading passages can guide instruction on isolated skills or as a check-in to gauge understanding of previously taught reading comprehension skills.
Short reading passages make it so easy to review essential reading skills.
Main Idea and Details
Cause and Effect
Theme
Context Clues
Compare and Contrast
Text Features
Author's Point of View
Story Structure (character, setting, problem/solution)
Making Inferences / Drawing Conclusions
Summarizing
Author's Purpose
Point of View
GUIDED INSTRUCTION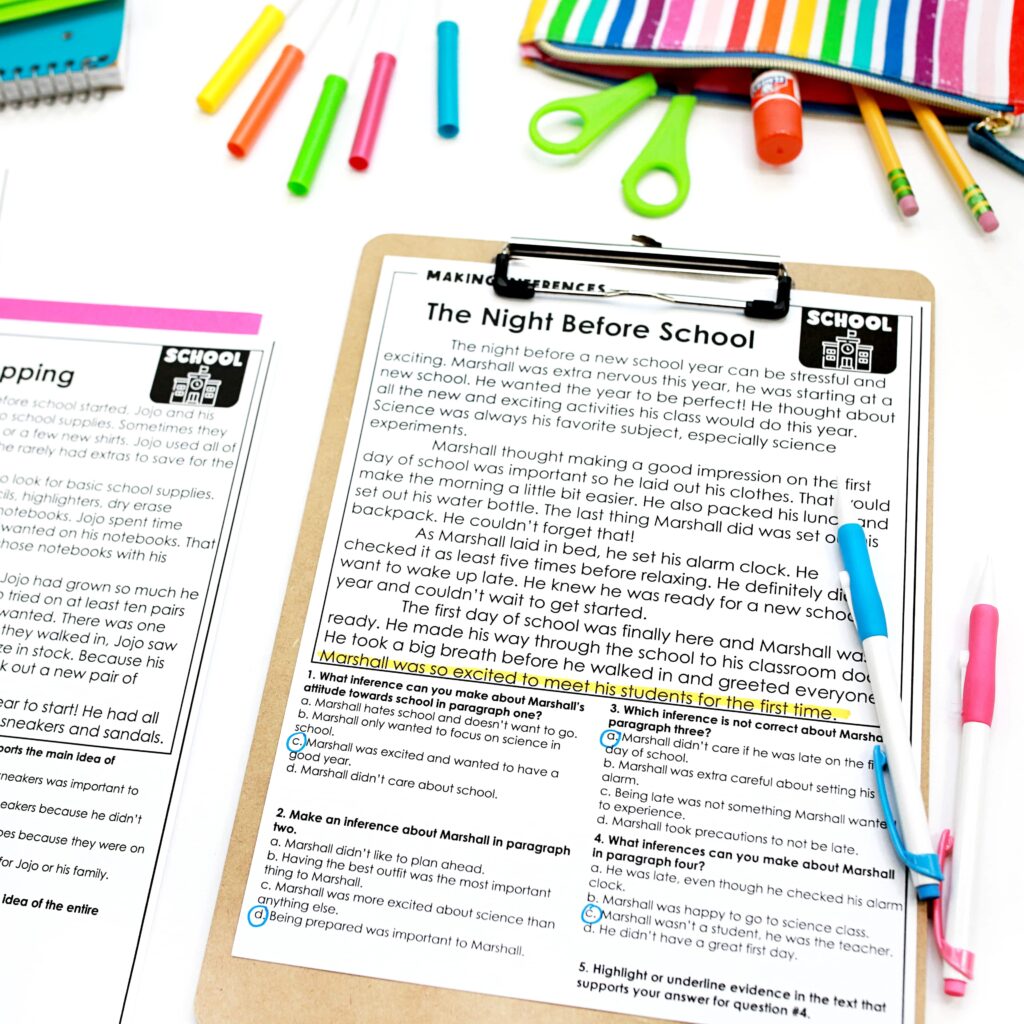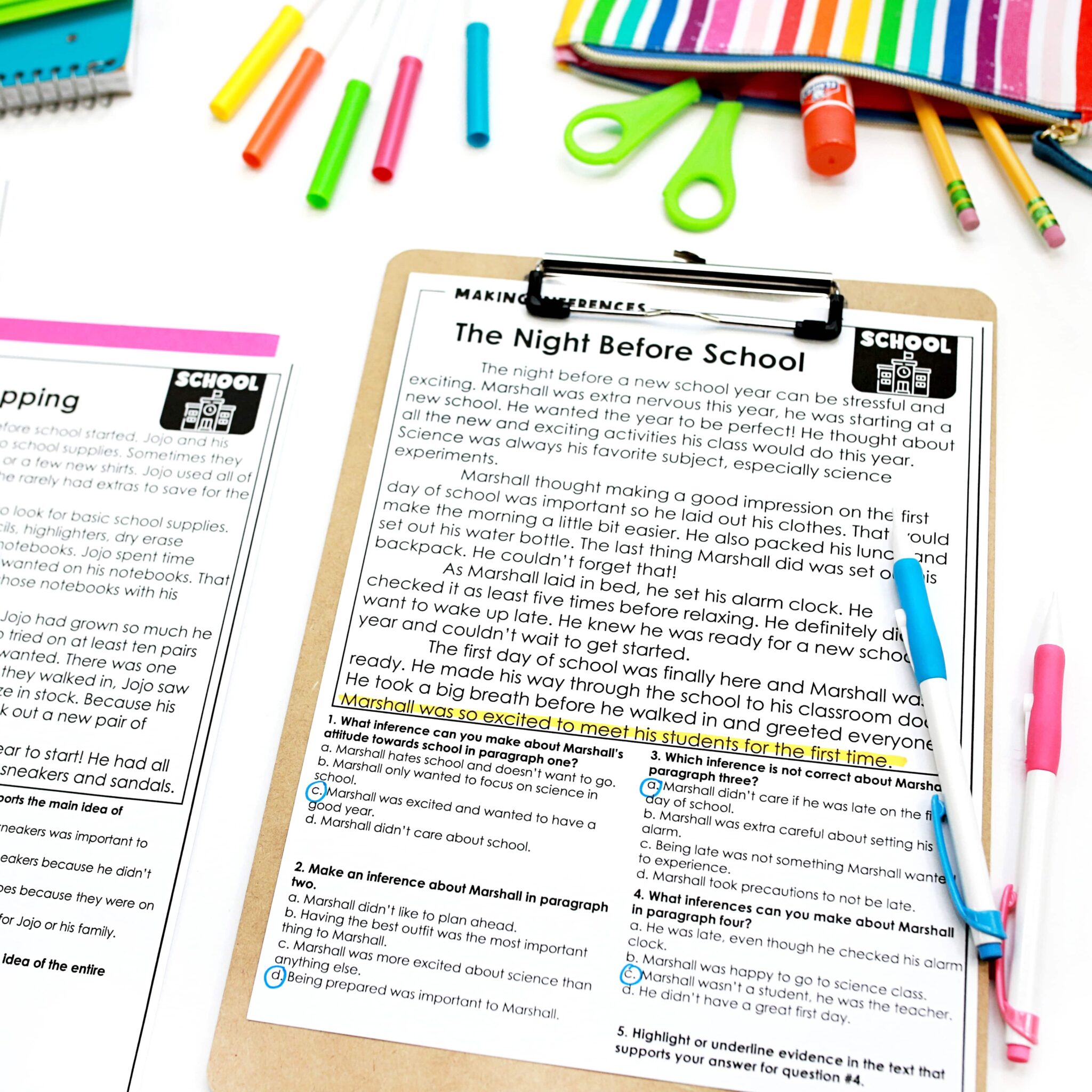 After you've initially taught the skill, use a reading passage for guided instruction in a small group. This is an excellent opportunity to work with students individually and practice the skill together in a text while having purposeful discussions on keywords, the main point of the passage, and the context to look out for with that particular skill.
You could also pair the reading passages with graphic organizers! Pairing with a graphic organizer will help young readers understand the reading content better. It may also help them when they are answering text-dependent questions. Make one together as a small group.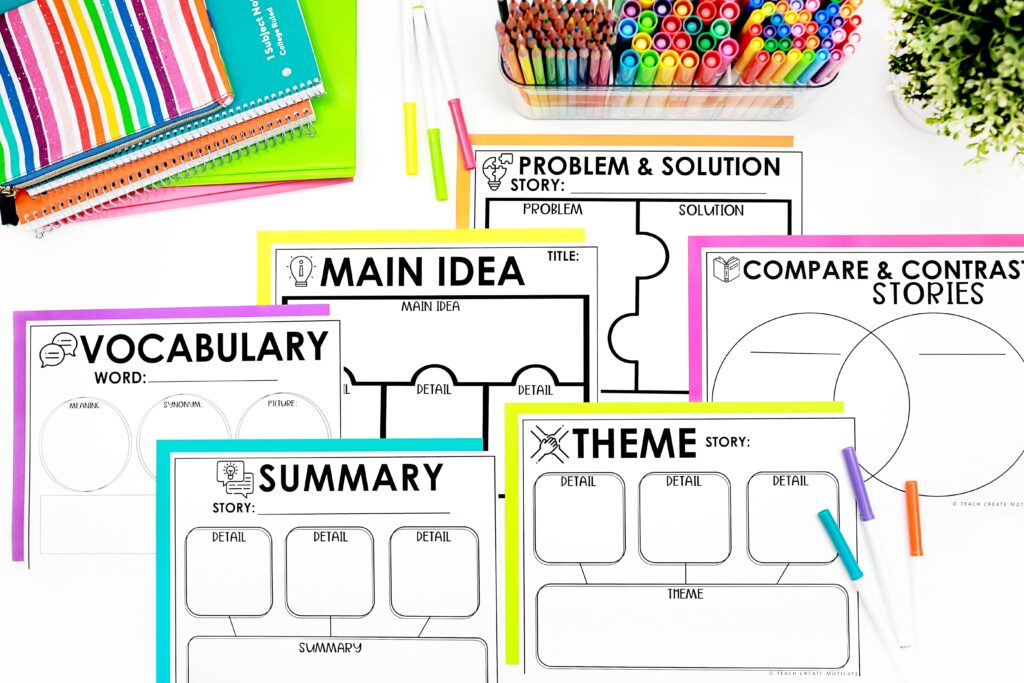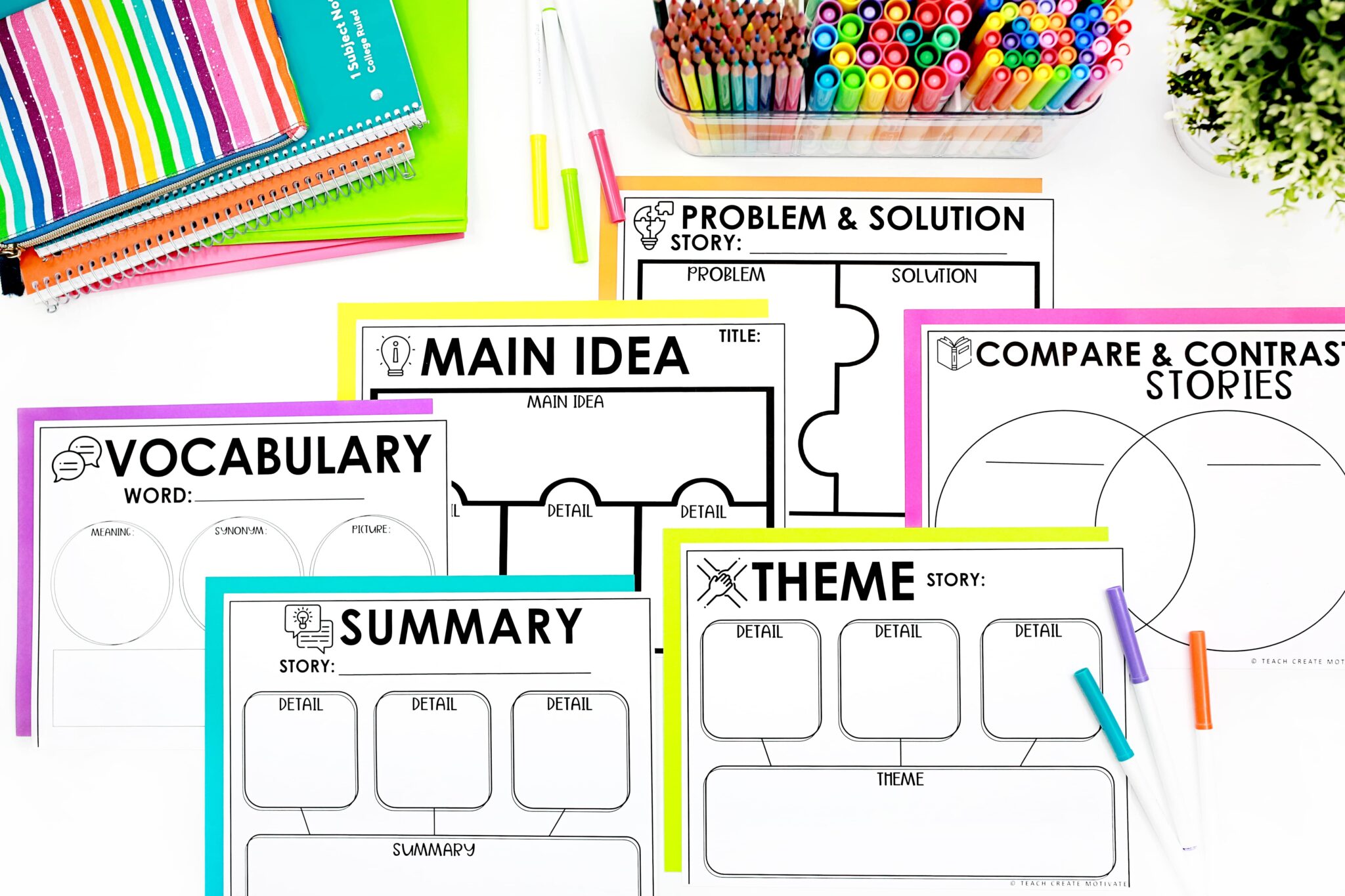 CHECK FOR UNDERSTANDING
Use reading comprehension passages in small groups to check for understanding. Then, use the data you collect to inform your whole group instruction or determine if students need more time and strategies with that skill.
STRATEGY PRACTICE
Use the short answer and multiple-choice questions to teach strategies in small groups. It's so helpful to sit down with students in a more individualized setting where you can work through different reading strategies together.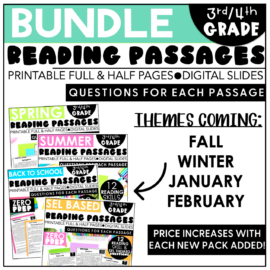 Reading Comprehension Passages with Questions Bundle
Get a full year's worth of themed reading comprehension passages and questions. These ready-to-use reading passages include at least 10 skills for each theme.
The reading passages will allow your students to focus on isolated skills as a check in to gauge student understanding or as a review for previously taught skills. Students will enjoy reading short passages themed to the time of year, and you'll love they are getting meaningful reading practice with no prep!
READING PASSAGES IN STATIONS
There are so many different ways to run stations in a classroom. It depends on your teaching style, grade level, and class on how stations go and what is expected of students. I'll share some ideas on how reading passages can be seamlessly included in centers or stations.
THE "LIST"
I know you've seen the must-do/may-do lists, or maybe this is how you do station time in your classroom. Some classes really thrive off of this style, and for others, it is a huge flop. This concept could even be on a case-by-case basis with individual students.
Put reading passages on the "must do" list. Students will have no problem completing this task with a short text and just a handful of comprehension questions. You can easily take this for a grade or use it to understand who may need more support with that particular skill.
STATION ROTATION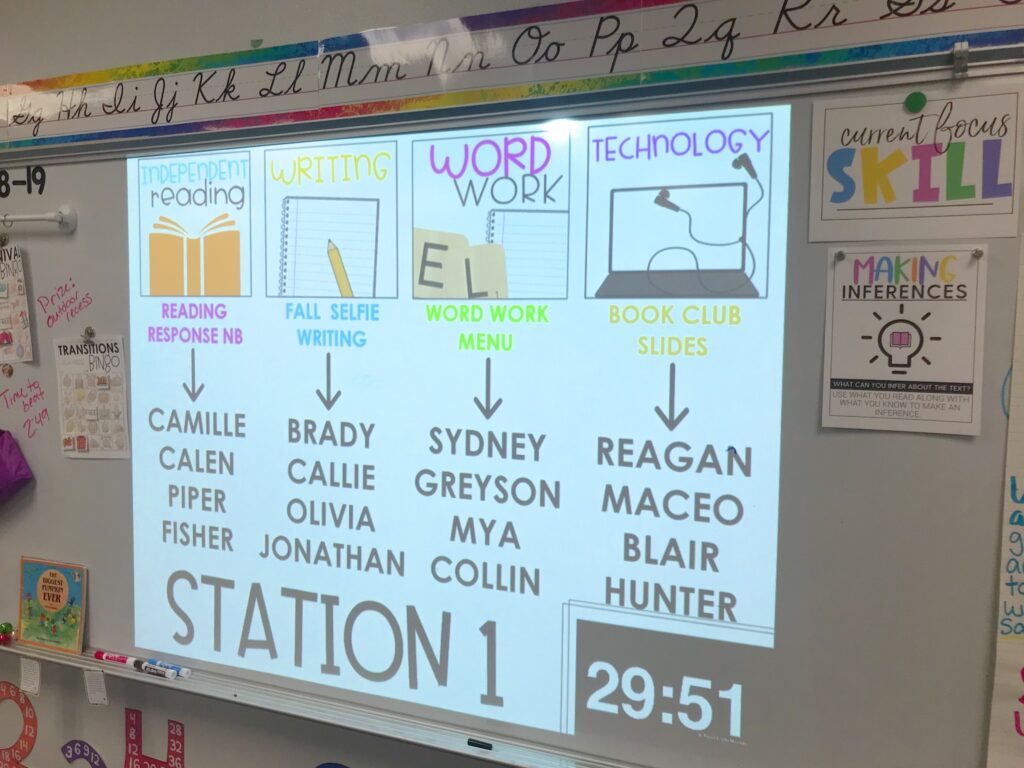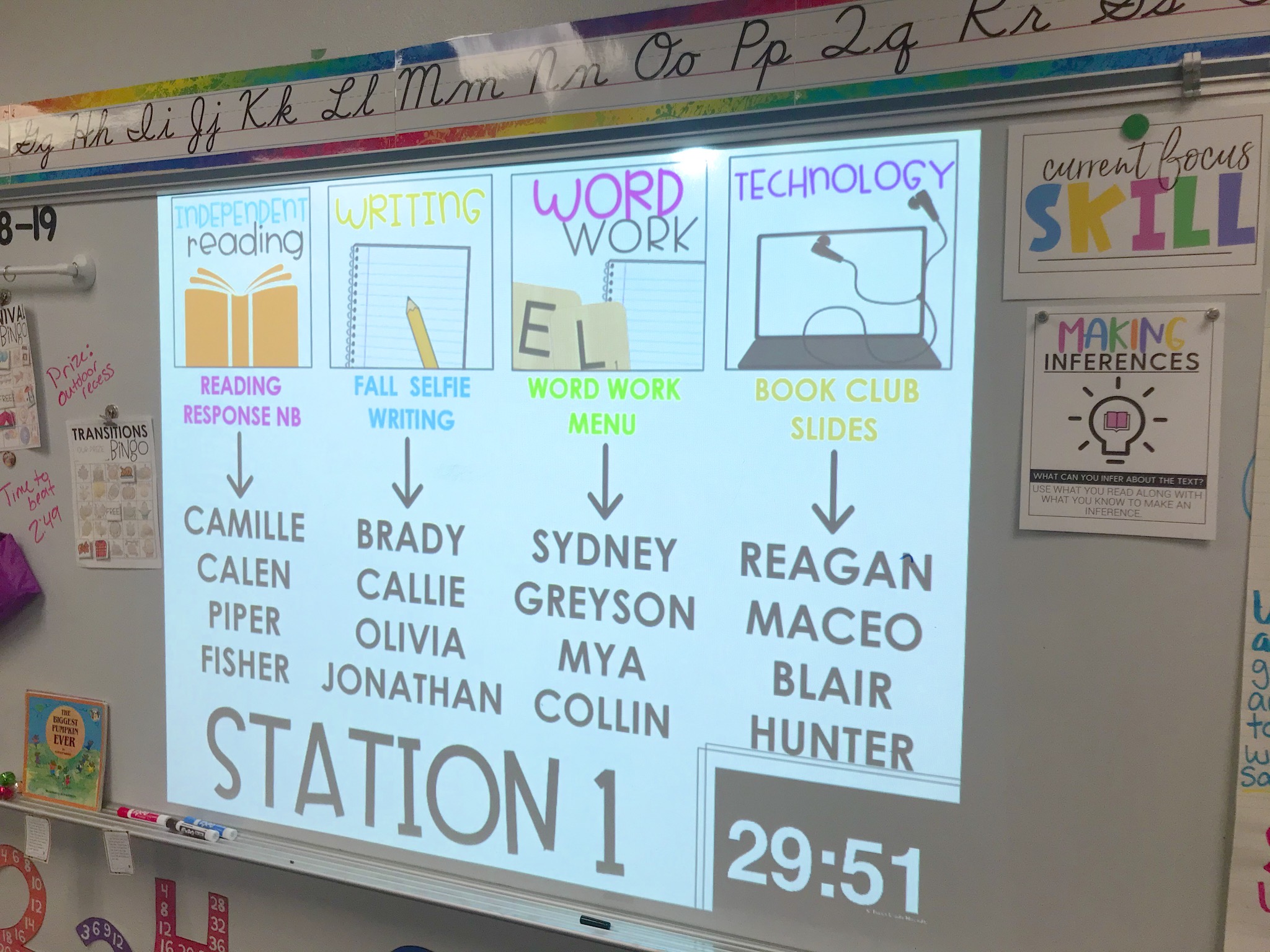 When thinking about stations, this is the most popular style that comes to mind. For example, if you have a class of 20, you may have four groups of 5 students. These are your small groups, and they rotate through different activities at certain times. Class slides with timers are perfect for this!
Make reading passages with the related questions a rotation. Students would read the short text and answer the questions that go with the text. Depending on how long your stations are, there are a few different ways to use them!
If you have 20-30 minutes long stations, give students one day to complete the reading passage and questions. If they don't finish, they could always stick it in their "work in progress" folder to finish when they have time.
Give students two days to complete the reading passage and questions. On the first day, they could do a quick read-over. Then, on the second day, they could reread the short passage and answer the set of questions. This way, they have multiple exposures to the text and can have a deeper understanding of the content. Kind of like they were reading close reading passages.
Like the must-do/may-do list, make the reading passage a station for the whole week. Then, once students have it completed, they can use that time frame to independently read or work on their "work in progress."
ACCOMMODATE STUDENTS WITH DIGITAL AND PRINTABLE OPTIONS
DIGITAL Options
If students are working on the passages individually, you can accommodate students' needs by assigning the reading passage digitally with audio so that the passage is read aloud to students who would benefit from that.
Assign one of the digital versions of the reading passage for stations so students don't have one more paper to keep track of. This can make it easier for you to sift through and check too! This is great practice if your students take reading assessments online.
PRINTABLE IDEAS
Print out the reading passages with questions for small groups so that students can mark up the text while you work through it together.
If you are using the passages to check for understanding, print them in half pages. Not only does this save paper, it also signals to students that the task is just a "quick check," so it's less intimidating.
SEL Reading Passages Freebie
If reading passages are something you want to try in your small group or station time, grab some Social Emotional Learning Reading Passages for free!
Cover skills like the ones below, all while covering a social-emotional topic too!
Main Idea & Details
Story Structure
Summarizing
Compare & Contrast
Pin the image below to revisit this blog post later!