Our students come with a lot of experiences and stories just waiting to be told. They just don't know how to get all of their ideas on paper!
Having students writing right away at the beginning of the year is critical! The summer slump is real, and a lot of times, it shows its face in writing.
Think about it… many families are having their kids practice math facts, sight words and are probably encouraging them to read a book or two. But how many families are having their kids write?
One way to get students back into the groove of writing for the year is writing prompts with pictures.
Back to School Writing Prompt FREEBIE
Many students are reluctant writers and need a lot of support to get going. Using pictures is a great way to help students come up with something to write about.
Try back-to-school writing prompts for FREE! The 12 prompts include real photos for added support in ready-to-use digital or printable formats.
The prompts include a variety of topics to write about like:
"If you were the teacher for the day, what would you do?"
"Why do you think school is important?"
"What does your perfect first day of school look like?"
and 9 more!
FREE!
Back to School Writing Prompts
Grab these 12 back-to-school writing prompts! Each prompt includes a real photo to help support all writers. Ready-to-use digital and printable options are available!
Ways to Use Writing Prompts
Writing prompts can be used in so many different ways:
Morning Work: Assign a writing prompt for morning work one or two days a week.
Warm-up: Use the writing prompts for a writing warm-up. When prompts are paired with a real photo, students will have an easier time coming up with an idea.
Fast Finisher: Some students love writing! Offer a few of the prompts as a fast finisher choice.
Station Choice: Offer the prompt as a station the first few weeks of school.
Shared Writing: Discuss how and why we use details in our writing. Show a bad example and work together to make it a strong writing piece!
Why real photos?
We all have those students who say, "I don't know what to write about!"
Offering prompts with real photos gives them options and provides context!
Real photos help students make a connection to their personal life.
A photo gives context to the prompt.
Students can write from the perspective of the person in the photo.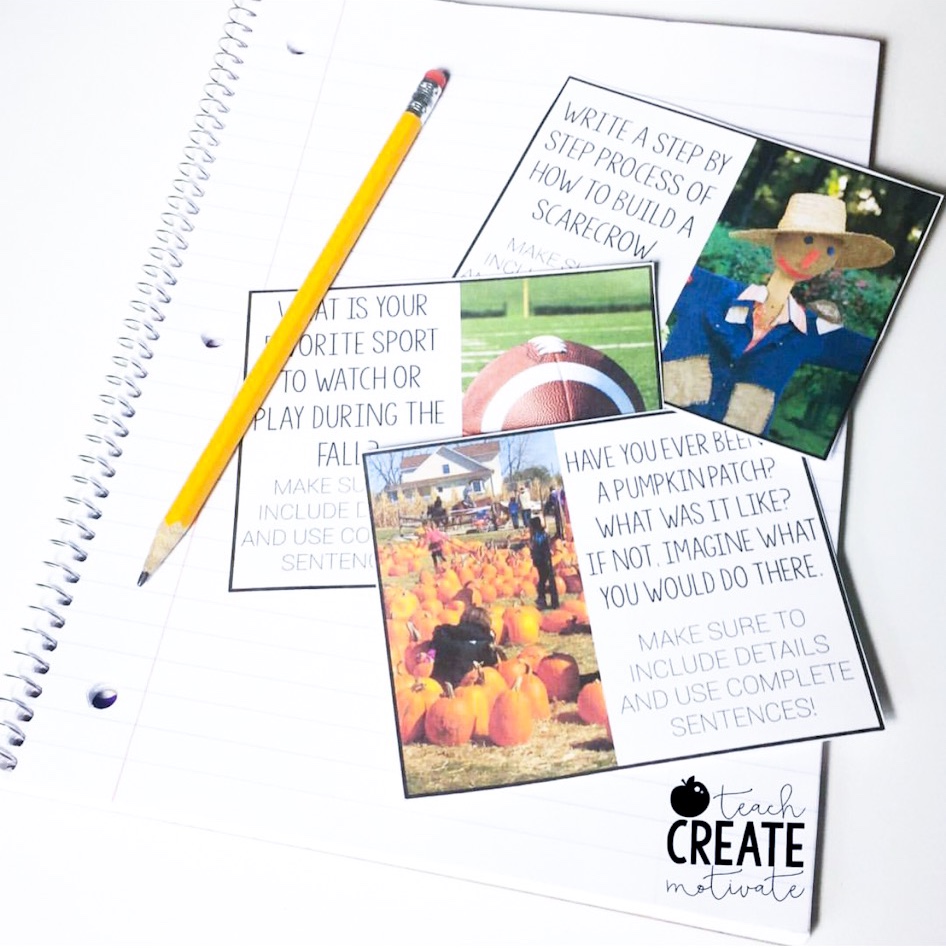 Some students simply don't want to write about themselves. They get serious writer's block! The point is to get them writing. Give them the option to write from the perspective of the person in the photo! It takes away the pressure of writing about themselves.
Support for All Writers
Using photos to support students writing is especially helpful for reluctant writers and ELLs. Students will be able to make even more connections because of the photo!
Each prompt is a simple question that can easily be rephrased into a sentence stem for additional support.
All prompts come with the reminder, "Make sure to include details and include complete sentences!" No matter what level of writing they are at, all of our students definitely need that reminder, especially at the beginning of the year!
Supporting your students' writing has never been easier than with writing prompts with real photos!
Prompts for All Year
Themed writing prompts are the perfect way to introduce fresh topics all year long! Great for writing about holidays and different seasons!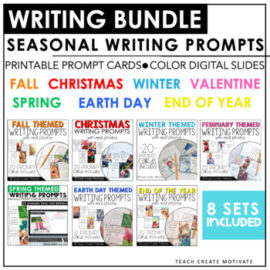 Writing Prompt Growing Bundle
125+ writing prompts with real photos for seasons and holidays over the school year!
Pin the image below to save this post for later!